This profile is part of a investor education campaign. The profile provides detailed information which was sourced and approved by MGX Minerals Inc. in order to help investors make better investment decisions. The Company's support of Investing News Network ensures we can continue to bring you unbiased, independent news and information.
Resource Investing News Featured Stock
Overview                                                                                           
MGX Minerals (CSE:XMG) is a diversified Canadian mining company engaged in the development of large-scale industrial mineral portfolios in western Canada. The Company operates lithium, magnesium and silicon projects throughout British Columbia and Alberta. MGX recently released a maiden N.I. 43-101 compliant mineral resource estimate for its Driftwood Creek magnesium project, which outlined 8 million tonnes grading 43.31% magnesium oxide. In January the Company received a 20-year Mining Lease for Driftwood Creek. Additionally, the Company recently acquired the Sturgeon Lake lithium brine project in west-central Alberta, The Company's lithium brine land position to over 487,000 hectares throughout the Province. For further information, please visit the Company's website at www.mgxminerals.com.
Investment Highlights
Ownership of the majority of known magnesite occurrences in British Columbia.
100-tonne bulk sample and a maiden NI 43-101 Resource Estimate recently completed for the Driftwood Creek magnesium project.
Near-term production with low capital development costs and a straightforward permitting process.
Magnesium recovery rates of 93.4 percent using conventional reverse flotation methods and removal of up to 70 percent of silica and 30 percent of calcium oxides.
Environmentally friendly operations – magnesium processing results in virtually no tailings.
Recently acquired 100-percent interest in 370 square miles of lithium properties surrounding existing wells in Alberta.
Historical assays identified brines with levels of lithium reported up to 140 Mg/L-the highest reported levels of lithium for existing wells in Alberta.
Free for Immediate Download
Magnesium Market: Growing Demand for Strategic Metal
Considered a critical strategic metal by the United States and the European Union, magnesium oxide (MgO) is a critical component for the production of many of modern life's most important essentials, from fertilizers and animal feed to automobiles and smartphones. The global magnesium market is expected to grow at a CAGR of 5.73 percent by volume during the period 2016 to 2020.
The three important magnesium oxide industrial products are: caustic calcined magnesia (CCM), dead burned magnesia (DBM) and electro fused magnesia (EFM). EFM and DBM are used mostly in the refractory industry-to-line furnaces, making the materials essential for producing steel, cement and glass. CCM is used in chemical markets such as agriculture, pulp and paper and waste and water treatment.
MGX Minerals is looking at niche markets for magnesium oxide, including in waste water treatment and the manufacturing of wallboard. Magnesium oxide is beginning to significantly replace lime as the PH-balancer in the treatment of waste run-off from factories and mines, which is currently the largest use of CCM. Magnesium oxide in wallboard is commonly used in Asia. Exterior and interior wallboards made with magnesium oxide are known to be fire-resistant, mold proof, non-toxic, offer some structural integrity and hold up well in water.
Currently, nearly 80 percent of global magnesium production comes from China, and North America is home to only two operating magnesium mines. MGX Minerals' Driftwood Creek project offers a potential low-cost, reliable source of magnesium oxide to the North American market.
Key Projects
British Columbia: Driftwood Creek Magnesium Project
MGX Minerals' Driftwood Creek property covers 776 hectares across three mineral tenures in the historic Golden mining district of the East Kootenay region of British Columbia. Currently, there are only two magnesite deposits in production in the US and Canada. The company believes that Driftwood Creek could be one of the best undeveloped magnesite properties in North America.
MGX Minerals has secured a 20-year mining lease for the Driftwood Creek magnesium project, and a 100-tonne bulk sample and NI 43-101 have been completed. Results include:
Measured and Indicated mineral resource totaling 8.028 million tonnes grading 43.31 percent magnesium oxide.
Inferred mineral resource totaling 846,000 tonnes grading 43.20 percent magnesium oxide.
Bulk of resource is located less than 100 meters from surface, creating opportunities to expand mineral resource along strike and at depth with further drilling.
Upcoming PEA in 2016 and first production in 2017
MGX Minerals recently completed a 16-hole infill drill program, totaling 1,211.5 meters with lengths ranging between 31 and 184 meters, at Driftwood Creek. The program successfully intercepted large intersections of magnesite mineralization consistent with past drilling and 3D modelling. Step out drilling has intercepted magnesite mineralization along strike both to the East and West ends of the known resource. This is MGX Mineral's third diamond drill program completed at Driftwood.
Assay data will be used to upgrade the resource estimate and incorporate the data into a NI 43-101 compliant Preliminary Economic Assessment (PEA).
MGX Minerals plans to submit a Mine Plan and Operating Permit application by the end of 2016, with mine construction and assembly slated for Spring 2017, and commencement of mining operations in the Fall of 2017.
Excellent infrastructure, environmentally friendly
Driftwood Creek is located close to excellent infrastructure including roads, railways, electricity and a local labor force. The low-cost natural gas available in southeastern British Columbia offers another competitive advantage: the operating cost of calcining at 1650oC is estimated to be $60 per tonne of feedstock.
The mineralization at the property is potentially amenable to low-cost, open pit mining methods, as industrial minerals and magnesite projects are often essentially quarries rather than traditional mines. The environmental issues are limited in that magnesium oxide is of benefit to the environment and is used as fertilizer. Tailings would be limited to impurities only, primarily silica (SiO2) that may be saleable as a by-product representing approximately 5 percent of total mined ore.
High-grade zones identified
Two high-grade mineralized zones have been identified to date – the Eastern and Western zones. Magnesite mineralization has been traced over a strike length of 1,900 meters to a maximum width of 220 meters, with the strike remaining open in both directions and at depth.
Metallurgical work on both the Eastern and Western zones of the property was completed by SGS Lakefield Research in 2008. At that time, the preliminary flow sheet and reagent scheme that were developed resulted in the recovery of magnesite concentrate as silicate flotation tailings in concentrations of 91 percent to 92 percent.
In the summer of 2014, MGX Minerals completed an eight-hole drill program over the Eastern Zone for a total of 1,400 feet.
The Phase II drill program at Driftwood Creek in 2015 focused on the Western Zone of the property, spanning 1,102.5 meters across 12 holes. The results confirmed significant continuity of magnesite mineralization within the zone and also suggested that mineralization may extend further at depth than delineated by historic drilling.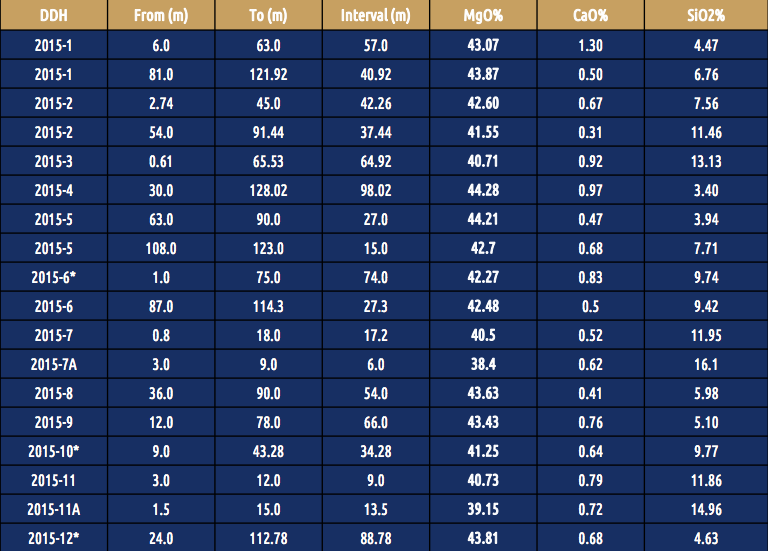 Fast track to production
MGX Minerals reached a major milestone at Driftwood Creek in January 2016 when it received provincial approval for a 20-year mining lease for the project. The company is now focused on moving the project to production.
Site evaluation and engineering studies are underway at the proposed magnesium oxide processing mill site in Cranbrook, British Columbia. The Cranbrook mill complex covers 38-hectares within a fully-serviced industrial park which includes natural gas, water, power and rail access.
In February 2016, the company commenced construction and improvements to the haul road, with the help of First Nations-owned Dominion Excavation, in support of the recently completed 100-tonne bulk sample.

British Columbia: Fran Gold Property
The Fran Gold property encompasses 10,200 hectares across 15 mineral tenures in the Omineca mining division of central British Columbia. A total of 87 historic diamond drill holes spanning more than 15,000 meters have been completed to date in the Bullion Alley zone, where three parallel gold-bearing trending Quartz veins are traced for several hundred meters.
MGX Minerals released initial results in October 2016 from its field work at its 100-percent owned Fran gold property where numerous high-priority drill targets with significant gold and copper exploration potential have been identified.
Work focused on further defining large-scale positive magnometer anomalies in the Fran East zone, located 35 kilometers southwest of the Mount Milligan mine. Field crews completed a 100-meter spaced soil sampling program at Fran East and collected 260 soil samples and 15 rock samples. Assay results are pending.
Pond Magnesium Acquisition
MGX Minerals reported in July 2016 it has acquired the Pond dolomite occurrence 60 kilometers north of Cranbrook, British Columbia. Significant past work has taken place at Pond, including diamond drilling and geochemical sampling. COMINCO completed eight drill holes and outlined two mineralized zones, North and South, traced along a strike length of 6.3 kilometers.
Marysville Magnesite
MGX Minerals recently expanded its Marysville magnesium claims to more than 480 hectares. Marysville is located 25 kilometers north of Cranbrook, British Columbia and features a stratabound layer of magnesite mineralization hosted in the Lower Cambrian Cranbrook Formation. This mineralized structure spans approximately 10 to 20 meters in width across an intermittent strike length of 4.5 kilometers. COMINCO historically excavated a 2,700 tonne bulk sample on the northern portion of the deposit, which is part of the claim block recently acquired by the company. Fieldwork and assays recently completed on the deposit included 10 rock chip samples taken from the Mag 2 claim. Ten samples taken over a 700-meter strike length averaged 41.7 percent magnesium oxide. The company plans to conduct additional fieldwork, including geologic mapping and sampling, to prioritize drill targets and further delineate the deposit laterally down dip.
Alberta: Lithium Brine Properties
MGX Minerals recently acquired a 100-percent interest in 370 square miles of lithium properties in Alberta, Canada. The properties surround existing wells where historical assays have identified brines rich in lithium, potassium and magnesium with historic levels of lithium reported up to 140 Mg/L-the highest reported levels of lithium for existing wells in Alberta.
Home to past producing oil fields, the area has excellent infrastructure in place including roads, power and wellheads. The properties include six permits in the Fox Creek area with wells that have historic lithium values ranging from 115 Mg/L to 140 Mg/L in the lithium-bearing Leduc and San Hills formations. Also included in the acquisition are six permit applications covering various locations in Alberta such as the Keg River, Winterburn and Woodbend Group formation which have reported historic lithium values ranging from 95 Mg/L to 140 Mg/L.
MGX has acquired these permits with the long-term strategic goal of turning Alberta's barren oil fields into producers of lithium compounds used in the new energy industry. Alberta offers a significant advantage over traditional lithium brine locations globally with an extensive infrastructure including roads, equipment, skilled labor and capital. Large lithium resources have traditionally been associated with remote locations and long development times, something MGX is focused on changing.
Fast-track to production
A properties-wide evaluation is now underway including the examination of existing wellhead data of the Fox Creek lithium properties. So far, the company has reported that well 3-24-62-18W5's last production report shows a 97.5 percent brine production to oil ratio and a lithium concentration of 130 Mg/L. According to MGX, the findings suggest the well is ready for immediate production of lithium-bearing brine without any additional drilling or significant infrastructure improvements.
MGX expects to complete a scoping of suitable production locations in Fox Creek shortly and to begin confirmation sampling of wells shortly after, which will help to provide samples for metallurgy and process technology evaluation. The company has engaged the services of Derek Stonehouse, a well-respected oil and gas industry expert whose decades-long experience includes the identification and drilling of over 140 horizontal wells. With the help of Stonehouse, MGX is evaluating the most appropriate processing technologies for producing lithium brines associated with oil fields.
In August 2016, MGX Minerals acquired the 133,000-hectare Sturgeon Lake project, tripling its Fox Creek lithium land position. Located southwest of Valleyview, Alberta, the property consists of 15 contiguous industrial and metallic mineral permits encompassing 132,773.74 hectares. Mineral permits overlie the Sturgeon Lake oilfield, which has been producing hydrocarbons since the mid-1950s from the Devonian Leduc Formation at depths of approximately 2,500 meters to 3,100 meters below surface.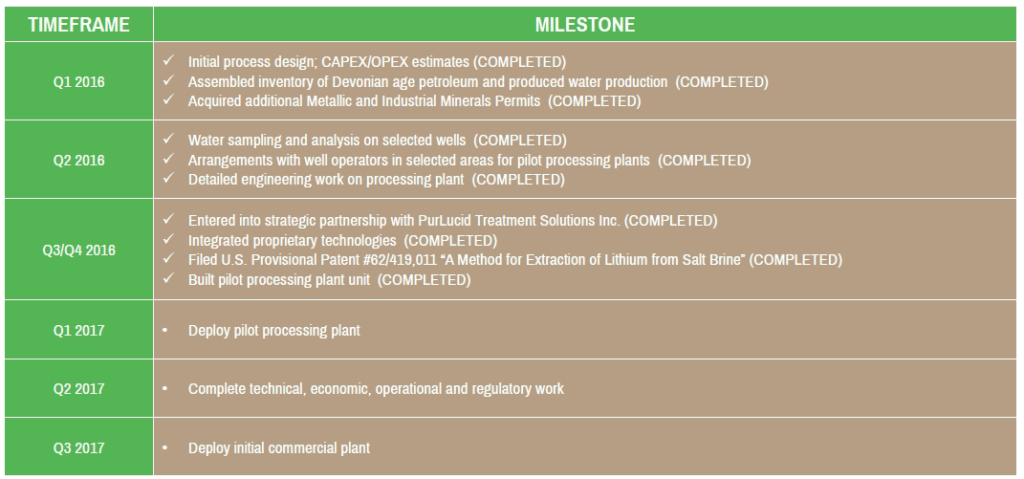 Strategic Partnerships
MGX Minerals recently acquired PurLucid Treatment Solutions Inc., overcoming a major hurdle in the oil well lithium brine separation process. The company has entered into a binding Letter of Intent to acquire an initial 50-percent interest in PurLucid in exchange for a C$5 million staged investment over two years and the right to acquire a 100-percent interest for an additional investment of C$10 million. PurLucid has exclusive licensing to proprietary and patented technology that separates oil to a high degree of purity from lithium-bearing brine.
Patent Pending
MGX Minerals filed a U.S. Provisional Patent in November 2016 for a method to extract lithium from salt brine. This step protects the company's global rights under U.S. laws for a year, during which time MGX Minerals will decide on which countries to include in formal additional filings.
If accepted, the patent will have a duration of 20 years. The patent application is extensive and comprehensive in its description of a modern industrial process that may significantly advance both operating and development timelines for lithium carbonate production from salt brines. The patent covers a proprietary processing method to rapidly produce lithium carbonate from salt brines and eliminate the traditional, time-consuming solar evaporation process, which involves evaporating lithium brine outdoors in large ponds before processing.
Silicon Properties
High silicon dioxide content of rock samples from the MGX Minerals' Longworth and Wonah silica properties compare favorably with other silica sand producers operating near Golden, British Columbia. Impurity compounds of interest approach specifications considered suitable for production of silicon metal, glass making, filler applications and ferrosilicon. Development of these properties could support new silicon metal production, which requires the high-purity quartzite form of silica found at the properties. There are currently no silicon metal producers in western North America. Advancement of the MGX Minerals' properties has the potential to provide feedstock in support of the development of west coast production and for export to the high-demand markets of the Pacific Rim.
Longworth Silica Property
MGX Minerals released assay results in May 2016 from fieldwork at its Longworth silica property. Rock chip samples were taken from exposed bedrock surfaces. Average assay samples from the Longworth silica property within the Snow zone averaged 99.34 percent silicon dioxide, with some measuring up to 99.9 percent.
The 100-percent owned Longworth silica property consists of 15 contiguous claims covering 1,198 hectares about 80 kilometers northeast of Prince George, British Columbia. Longworth is listed as one of the top silica occurrences in British Columbia by the BCGS. Longworth features four zones of high purity silica: Snow, Rain, Long and Doll zones.
Consolidated Silver Standard Mines conducted exploration and metallurgical work at Longworth during the 1980s. Reports suggested positive results as a potential feed source for silicon metal smelting. Of the 42 samples collected and analyzed, 28 met required chemical specifications with silica dioxide levels ranging between 98.84 and 99.80 percent. Twelve of 16 samples also boasted acceptable levels of thermal shock resistance for production of silicon metal.
Additional metallurgy and exploration work on the Snow and Rain zones at Longworth are planned for the near future.
Wonah Silica Property
Assay results released from rock chip samples taken from exposed bedrock surfaces during recent fieldwork at MGX Minerals' Wonah silica property reported the South and Central zones averaged 99.4 percent silicon dioxide, with some samples measuring up to 99.9 percent. The Wonah silica property consists of two minerals claims covering 166.5 hectares located about 45 kilometers northeast of Cranbrook, British Columbia.
A total of 11 rock chip quartzite samples were taken from a ridge where steeply dipping Ordovician age Wonah Formation quartzite is exposed over a total strike length of approximately 850 meters. The Wonah Quartzite forms two lenses- the Central zone, which has been traced for approximately 500 meters, and the South zone, which has been traced 350 meters along strike.
Additional metallurgy and exploration work on the South and Central zones at Wonah are planned for the near future.
Management
Jared Lazerson – President, CEO and Director
Jared Lazerson has worked in the mining and technology industries since 1994 with companies including Osprey Systems (GPS and Digital Mapping), United Helicopters, Copper Island Mines and Manto Resources. He holds a BA in International Relations from the University of Pennsylvania.
Michael Reimann, Ph.D – CFO and Director
Michael Reimann graduated in Engineering Physics from the Royal Military College of Canada, and obtained a Ph.D. in Physics from the University of British Columbia. He has over 45 years of experience in senior corporate management in both public and private companies. Most recently he served as CFO of Skana Capital Corp and PNG Gold Corp, both TSX-V listed companies.
Andris Kikauka, P. Geo – Vice-President of Exploration and Director
Andris Kikauka is a geologist with over 30 years of experience. From 1996 to 2012 he was the Project Geologist overseeing exploration programs at Goldrea Resources. Kikauka is Project Geologist for Rio Minerals, a mineral exploration and geotechnical consulting firm, and is a director of American Manganese Inc. (TSX-V:AMY), which is focused on mineral properties and commodities used in the steel industry. He was previously a director of Navarre Resources (TSX-V:NRV.V) from 1991 to 1996. He holds a B.Sc. in Structural Geology, Mineralogy and Petrology from Brock University.
Lyndon Patrick, LLB) – Director
Lyndon Patrick is a Vancouver-based, independently practising lawyer. He has practised in British Columbia since 2001 in the areas of litigation and real estate. He holds an LLB from the University of Alberta, and an MA and BA from the University of British Columbia. Patrick is an independent director of the company.
David Read, MBA – Director
H. David Read has been a financial analyst for approximately 40 years. He is a former director of Geostar Metals Inc. (TSX.V:GOS) and of Mena Hydrocarbons Inc. (TSX.V:MNH). He holds a BA from University of British Columbia and an MBA from Stanford University. Read is an independent director of the company.