Global Leader in Hemp-Derived Cannabinoids
This profile is part of a paid investor education campaign.*
Overview
Isodiol International Inc. (CSE:ISOL) (OTC:ISOLF) (FSE:LB6A.F) (the "Company" or "Isodiol"),  a global CBD innovator specializing in the development of pharmaceutical and health and wellness products and is now supporting the pharmaceutical industry at large with its recently approved CBD as an Active Pharmaceutical Ingredient.
Isodiol International Inc. is the market leader in pharmaceutical grade phytochemical compounds and the industry leader in the manufacturing and development of CBD consumer products.
Isodiol is the pioneer of many firsts for the cannabis industry including commercialization of 99%+ pure, pharmaceutical grade cannabinoids, micro-encapsulations, and nanotechnology for the highest quality consumable and topical skin care products and most recently received approval as having the first CBD designated as an Active Pharmaceutical Ingredient as was announced April 26, 2018.
Isodiol's objective is to become the worldwide leader in the development and sales of CBD based pharmaceuticals and consumer wellness products. Its mission is to create a cultural movement by building awareness and social acceptance throughout the world.    Isodiol maintains exclusive and unrestricted access to large scale hemp production capacity and leverages its patented, natural, GMP extraction methods to avoid costly synthetic manufacturing processes. The extracted CBD can be delivered as raw material or formulated into oils, cosmetics, foods and pharmaceutical products.  Globally, legislation is being passed to allow hemp cultivation, production and manufacturing for CBD products.  Isodiol is working with local health authorities globally to develop and implement regulatory standards for product quality and has multiple clinical studies and trials being conducted
Isodiol's growth strategy includes the development of over-the-counter and pharmaceutical drugs, expanding its phytoceutical portfolio and will aggressively continue international expansion into Latin America, Asia and Europe.
CBD Product Supplier with a Global Reach
Target Markets and Brand Segments
Isodiol is a world leader in the sale of cannabis derivatives and manufactures many finished products. The company also maintains exclusive agreements to supply phytoceutical derivative solutions to product manufacturers and formulators.
Isodiol has several channels for distributing its products to a wide-range of markets. The company has relationships with chemical wholesalers who distribute to research & development clinics studying the potential for the use of cannabinoids in therapeutic applications. Through its online portal, Isodiol also sells its products to researchers in smaller quantities than available through wholesale. The company supplies CBD products to pharmaceutical companies for research, clinical trials and product roll-out. Isodiol supplies CBD to nutraceutical companies for consumer products marketed as natural remedies for pain and inflammation and enhancing mood and mental focus. The company also supplies its products to cosmetic companies who use cannabinoids in anti-aging, skin damage repair and other beauty products.
Isodiol has four main product segments: bulk, pharmaceutical, consumer and 'non-cannabis' CBD products. These are developed with the seed and hemp procured from licensed seed banks and large-scale hemp and hops farms, and Isodiol controls the process from 'seed to crystalline'.
Bulk Products:
Cannabinoid extracts that include crystalline, oils and concentrates.
Target markets include chemical distributors, pharmaceuticals, cosmetics and retail.
Pharmaceutical products:
Topical and over-the-counter products including the Rapid Patch, Rapid Cream and ISODERM™, which used advanced patented technology and offers the most effective form of CBD available in the marketplace.
Target markets include pharmaceuticals and health care providers.
Consumer Products:
Isodiol, which produces bulk products derived from hemp and designs its own line of ingredient technologies and finished products.
IsoSport™ provides hemp-based health and fitness products aimed at supporting the unique performance needs of athletes.
Pot-O-Coffee™ brand of coffee, tea and hot cocoa infused with cannabis extracts in both K-Cup™ and ready-to-drink form. Isodiol has signed a definitive licensing agreement with Canopy Growth Corp for the retail distribution of these products.
CannCeuticals luxury skincare brand specializing in anti-aging formulas that use micron-encapsulated CBD™.
BeTru Organics, a brand of holistic products that support the body's endocannabinoid system. Be Tru Wellness, the company's subsidiary, signed a distribution agreement with Threshold Enterprises.
Target markets include nutraceuticals and retail.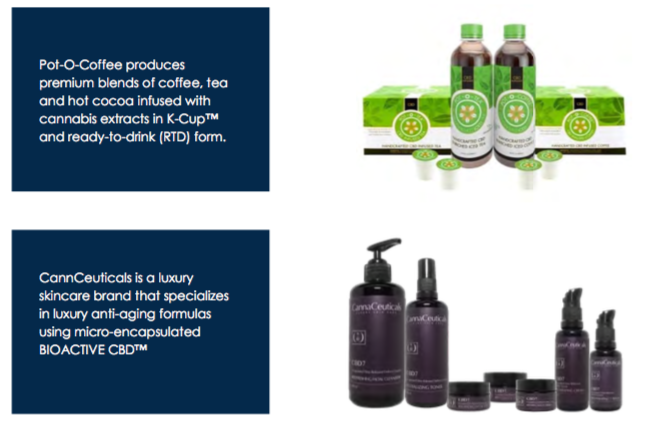 Non-Cannabis CBD Products
Isodiol has also developed a line of ImmunAG™ products, which host a completely natural herbal complex designed to help support the endocannabinoid system. This line of products are THC-free and may play a role in addressing age-related cognitive functions, control stress and anxiety, and body discomfort.
Partnerships and Licensing Agreements
As a component of their growth strategy, Isodiol has embarked on a number of licensing agreements with companies in the medical and cannabis spaces. The first of these was the licensing agreement with Canopy Growers Corp for the distribution of products under the Pot-O-Coffee™ brand.
Since the start of 2018, the company has entered into multiple other agreements that support the development of Isodiol as a whole and the production and distributions of its products. A sample of these agreements are described below.
In early January, the company entered into a 10-year licensing agreement Level Brands Inc, an innovative marketing and brand development firm. Within the agreement, Isodiol and Level Brands are developing consumer products under the lifestyle and wellness brands led by Level's Chairman Emeritus Kathy Ireland, kathy ireland® Health & Wellness and Ireland Men One. As part of this agreement, the companies launched three new CBD product categories: CBD oral sprays, CBD pain-relieving cream and CBD edibles.
Only a few days later, the company released a statement regarding a supply agreement with Namaste Technologies Inc, an online retailer for cannabis delivery systems globally. Under this agreement, Isodiol will be a provider of phytoceutical products to Namaste and these products will be sold through select distribution channels on the e-commerce platform.
Isodiol also announced a licensing agreement with Livecare Health Canada Inc, a group dedicated to providing patients with access to real-time medical care through the use of their Telehealth Platform. Under the agreement, Isodiol with license Livecare's platform for all cannabis, cannabis-derived, cannabinoid and phytoceutical products and related services, for which it will pay a royalty fee. Livecare has committed to customize the platform to this effect and will assist with its marketing and deployment.
"Isodiol is extremely proud of this innovative step, where our consumers will now have the ability to consult with medical experts via the Telehealth Platform technology," said Agramont.
In April and May 2018, the company signed letters of intent with Agrima Botanicals and Zenabis, respectively, to supply 99.5 percent pharma-grade CBD from its GMP-certified production facility in the UK. Under the proposed agreements, Agrima would inport up to 5,000 grams of CBD isolate per month for R&D purposes and Zenabis, a Canadian licensed producer, would import 3,000 grams per month for the same purpose.
In May 2018, Isodiol announced a binding agreement to acquire 51 percent of Farmtiva LLC, a California-based hemp cultivator that also provides farming and distribution support to farmers and industry participants. In partnership with the Imperial Valley Conservation Research Center, Farmtiva will be planting the first California hemp crop in mid 2018.
Summary of Investment Highlights
Expanded presence worldwide, particularly across the Americas, the UK and Australia and New Zealand
Distribution Channels in North America, Latin America, South America, Europe, including mainstream channels such as FARMA USA (Brazil), Threshold Enterprises, and United Natural Foods (UNFI).
Signed Definitive Licensing Agreement with Canopy Growth Corporation (WEED:CA) for Company's Pot-O-Coffee and Pot-O-Tea.
Brazilian Health Regulatory Agency (ANVISA) approval of ISODERM™ and ISODIOLEX™, enabling both to be prescribed by doctors and neurologists for the treatment of Epilepsy and Parkinson's Disease.
Acquired 99% of Purodiol Do Brasil Ltda (PUR-Brazil). PUR-Brazil supplies Purodiol pharmaceutical products under ANVISA regulations and is currently involved in multiple clinical studies and trials.
Announced product placement of Pot-O-Coffee and Pot-O-Tea in select WinnDixie stores throughout East Coast.
Signed Licensing Agreement with Level Brands Inc, where the companies will work to develop and market consumer products for subsidiaries Kathy Ireland Health & Wellness and Ireland Men One (I'M1).
Signed a Licensing Agreement with Livecare Health Canada Inc, granting Isodiol the exclusive right to use Livecare's Telehealth Platform relating to all cannabis, cannabis-derived, cannabinoid and phytoceutical products.
Announced Partnership with Europe's leading MMA promoter, Cage Warriors, through its brand Iso-Sport™.
Reported unaudited Q3 revenues for the period ended December 31, 2017 of $5.89 million CDN for net operational profit of $202,254 CDN – a 16% increase from Q2.
Completed acquisition of Biosynthesis Pharma Group Limited ("BSPG") in the UK. BSPG is actively involved in multiple clinical trials and studies globally and produces an MHRA approved Active Pharmaceutical Ingredient (API) CBD Molecule for use in pharmaceutical applications.
Signed Letter of Intent to acquire 100% of leading specialty vape retailer KURE Corp, a company with unaudited fiscal 2018 revenue of 8.8 million USD.
Signed Definitive Agreement to acquire premier bottling facility, Azure Bottling LLC, with full capacity running approximately 5.3 million bottles per month.
Announced further international expansion in Latin America with Scythian Biosciences Corp for distribution in Argentina, Jamaica, and Columbia.
Commenced development of a new state-of-the-art processing facility in Yunnan, China that will process over 15 metric ton of hemp biomass daily for the extraction of cannabinoids and terpenes for use in medical, nutraceutical, food and cosmetic industries.
Signed Definitive Agreement to acquire a 19.9% equity stake in Compass Cannabis Clinic and obtained exclusive CBD distribution rights for its family of brands through the Compass distribution network.
The Company's wholly owned subsidiary BSPG Laboratories, LTD. has received government approval from United Kingdom's Medicines and Healthcare Products Regulatory Agency (MHRA), in accordance with The Human Medicines Regulations 2012 (SI 2012/1916), for the manufacturing of the active substance Cannabidiol (CBD) under certificate number: UK API
Management
Marcos Agramont – Director, CEO
Marcos Agramont has been a leading innovator in the Cannabis Industry for the last five years developing products for domestic and international channels. He has pioneered delivery systems, regulations and processes for major brands in order to meet safety standards and compliance. He was instrumental in implementing innovative delivery apparatuses with concise servings, at a time when no accurate measuring of dosage for general usage existed.
He has helped introduce CBD to the pharmaceutical global markets including Japan, Latin America, the European Union and Australia. He intends to make a continued contribution to the industry by joining Isodiol and will help bring the Company and its family of brands to the forefront of Cannabis Bioscience and CBD Pharmaceuticals.
Troy Nihart – President
Troy Nihart has over 20 years of business development and entrepreneurship experience and has been an integral part of the CBD industry over the last 4 years. He has been instrumental in the development of an international supply chain for the US Market of hemp derived CBD and has developed some of the most recognized brands in the cannabis industry.
Aman Parmar – Chairman
Aman Parmar's corporate experience includes twelve years working with both public and private companies in the Health Care, Resource, Manufacturing and Real Estate sectors. He has extensive experience in the capital markets and has been involved in corporate restructurings and financings for both public and private companies. He obtained a Chartered Accountant designation in 2012 and holds a Bachelor of Technology in Accounting from the British Columbia Institute of Technology.
---
*Disclaimer: The profile provides information which was sourced and approved by Isodiol International in order to help investors learn more about the company. Isodiol International is a client of the Investing News Network (INN). The company's campaign fees pay for INN to create and update this profile page, to which links are placed on Investingnews.com and channel newsletters.
The company description, investment highlights and catalysts were sourced by INN and approved by the company. INN does not guarantee the accuracy or thoroughness of the information contained on this page.
INN does not provide investment advice and the information on Investingnews.com profile should not be considered a recommendation to buy or sell any security.
INN does not endorse or recommend the business, products, services or securities of any company profiled.
Readers should conduct their own research for all information publicly available concerning the company.