This profile is part of a paid investor education campaign.*
Resource Investing News Featured Stock
Overview
Isodiol International LLC (CSE:ISOL, OTC:LAGBF, FSE:LBGA.F) is a market leader in pharmaceutical grade phytochemical compounds and the industry leader in the manufacturing and development of phytoceutical consumer products for the pharmaceutical, nutraceutical and cosmetic markets. The company has developed proprietary ISO 9001 and GMP-certified cannabinoid production and purification methods to formulate high quality CBD products under its ISODIOL brand.
Isodiol has conducted many firsts for the cannabis industry including commercialization of 99 percent plus pure, bioactive pharmaceutical grade cannabinoids, micro-encapsulations, and nanotechnology for the highest quality consumable and topical skin care products. The purest cannabinoids in the market, ISODIAL CBD products are made from industrially-cultivated hemp by Isodiol's group of partner growers. The company generated approximately $5.9 million in sales during its eight months of operations in 2016.
Moving forward, the company's growth strategy is focused on expanding its phytoceutical portfolio by developing over-the-counter and pharmaceutical drugs while also agrressively pursuing international expansion into Latin America, Asia and Europe.
Investment Highlights
Pioneer of many firsts for hemp-derived CBD products, including 99-percent pure crystalline isolate, micro-encapsulation and nano technology.
Proprietary purification processes are ISO 9001 certified and GMP certified.
Strong intellectual property portfolio with 20 pending trademarks.
Industrial-scale hemp cultivation superior to synthetically manufactured cannabinoids.
Isodiol's growth strategy includes:

Development of over-the-counter and pharmaceutical drugs,
Seeking joint ventures and acquisitions to expand its portfolio of brands and subsidiaries, and
Aggressively continuing International expansion into Latin America, Asia and Europe.

Generated approximately $5.9 million in sales during last eight months of 2016.
Completion of $4.14 million private placement in June 2017
CBD Product Supplier with a Global Reach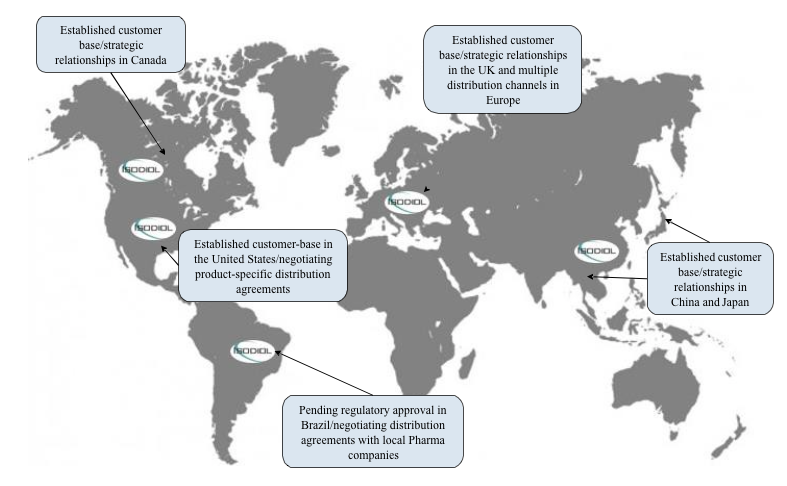 Target Markets and Brand Segments
ISO is a world leader in the sale of cannabinoid crystalline and manufactures more than 25 cannabinoid-infused products.
ISO has several channels for distributing its products to a wide-range of markets. The company has relationships with chemical wholesalers who distribute to research & development clinics studying the potential for the use of cannabinoids in therapeutic applications. Through its online portal, ISO also sells its products to researchers in smaller quantities than available through wholesale. The company supplies CBD products to pharmaceutical companies for research, clinical trials and product roll-out. ISO supplies CND to nutraceutical companies for consumer products marketed as natural remedies for pain and inflammation, and enhancing mood and mental focus. The company also supplies its products to cosmetic companies who use cannabinoids in anti-aging, skin damage repair and other beauty products.
ISO has three main brand segments:
ISODIOL:
Cannabinoid extracts that include crystalline, oils and concentrates.
Target markets include chemical distributors, pharmaceuticals, cosmetics and retail.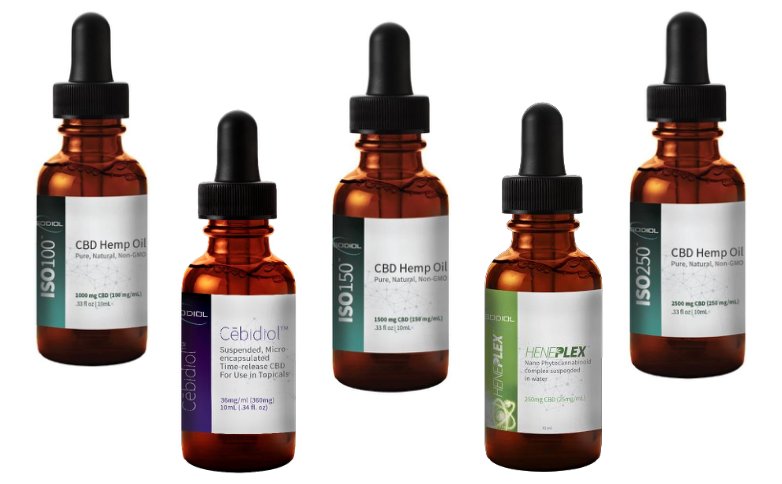 ISO Medical:
Topical and over-the-counter products including RapidCBD and IsoDerm.
Target markets include pharmaceuticals and health care providers.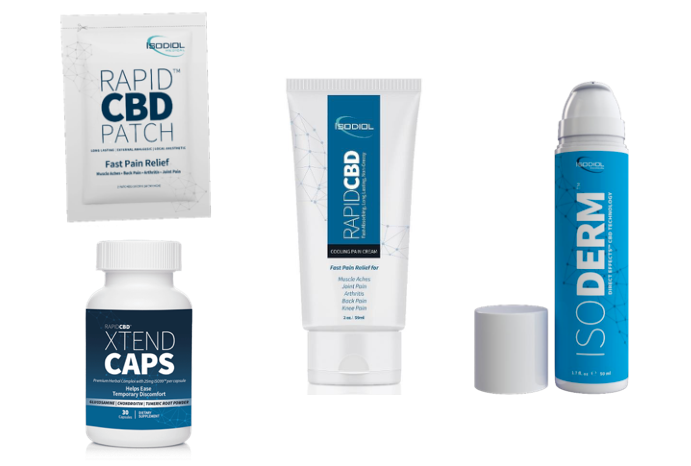 ISO Sport:
Health and fitness products including Heneplex and Cebediol.
Target markets include nutraceuticals and retail.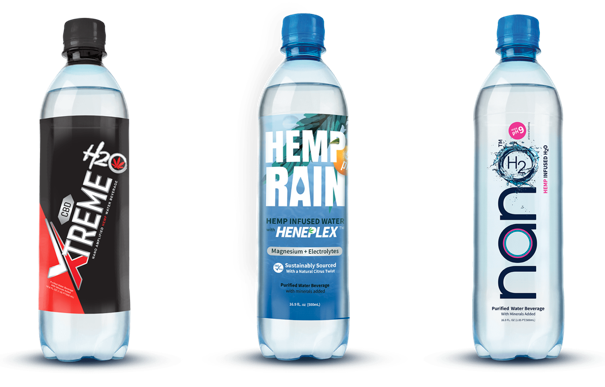 ISO International has several new products undergoing research and development.
CBD Product Sales in 2016
ISO International sold eight different product brands into the market in 2016, including ISODIOL, CBDNaturals and ISO Medical. ISODIOL products accounted for approximately 80 percent of those sales.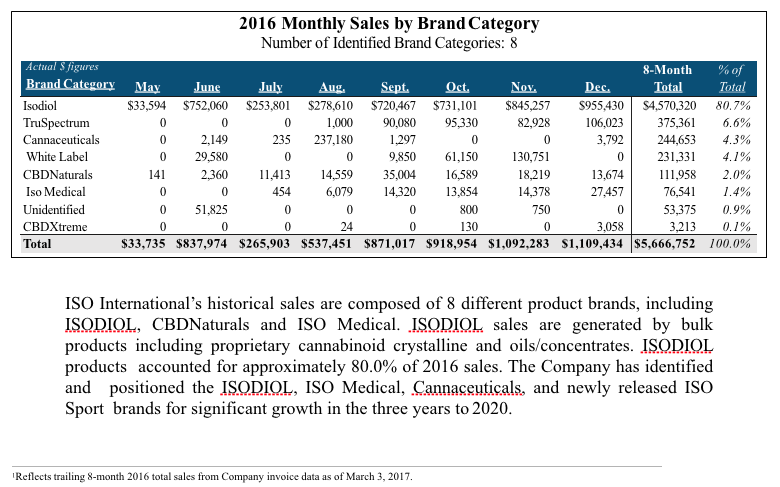 ISO's 2016 sales fall under 7 product categories, including crystalline and oils/concentrate products which represented approximately 87 percent of sales.
Sales Forecast 2017 and Beyond
ISO is positioning its ISODIOL, ISO Medical, Cannaceuticals and newly-released ISO
Sport brands for significant growth between 2017 and 2020. The company forecasts Topical products sales going forward will increase substantially following multi-year distribution contracts associated with the Cannaceuticals, White Label and ISO Medical brands.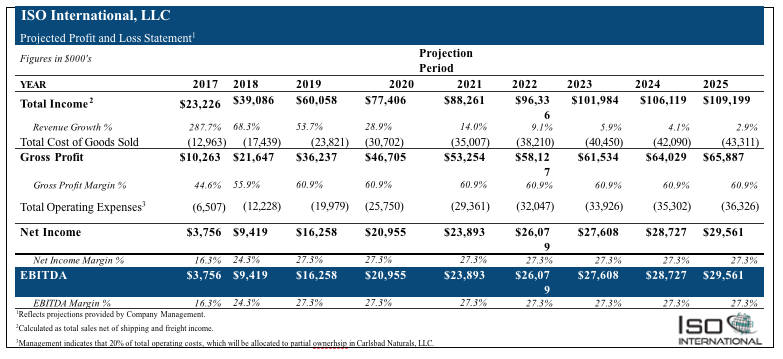 Management
Marcos Agramont – Director, CEO, COO
Mr. Agramont has been a leading innovator in the Cannabis Industry for the last five years developing products for domestic and international channels. He has pioneered delivery systems, regulations and processes for major brands in order to meet safety standards and compliance. He was instrumental in implementing innovative delivery apparatuses with concise servings, at a time when no accurate measuring of dosage for general usage existed.
Mr. Agramont has helped introduce CBD to the pharmaceutical global markets including Japan, Latin America, the European Union and Australia. He intends to make a continued contribution to the industry by joining Isodiol and will help bring the Company and its family of brands to the forefront of Cannabis Bioscience and CBD Pharmaceuticals.
Bryan Loree – CFO
Mr. Loree has approximately ten years of experience providing chief financial officer, accounting, financing, and management services to numerous issuers on the TSX Venture Exchange, Canadian Securities Exchange, and private companies. Mr. Loree is a CPA, CMA and possesses a BA from Simon Fraser University.
Soheil Samimi – Director, VP Sales – Canada
Mr. Samimi background includes management positions within leading technology companies, as well as being the successful founder of various start-ups which revolutionized the automated retail and digital media kiosk marketplace, working closely with major retailers, grocers, pharmacies and c-store chains in North America.
Soheil is currently serving as the CEO of a British-Columbia based company within the Canadian hemp and cannabis industry, with ventures for licensed production, clinics and retail operations, in addition to leading the largest distribution of non-psychoactive CBD products across Canada.
Troy Nihart – President
Troy has over 20 years of business development and entrepreneurship experience and has been an integral part of the CBD industry over the last 4 years. He has been instrumental in the development of an international supply chain for the US Market of hemp derived CBD and has developed some of the most recognized brands in the cannabis industry.
Dan Zuckerman – VP Sales – USA
Mr. Zuckerman has worked in the cannabis space for over four years, with such accomplishments as growing his past post to become the number three edible company in California. Prior to establishing himself in the cannabis space, Mr. Zuckerman was the Director of Military Sales for Monster Energy responsible for managing over 1 million cases per year in energy drink sales. Further, as Vice President of Sales of Monster Energy he focused on the organization's secondary brands in the Hansen's portfolio such as Hansen's Natural Soda and Hubert's Lemonade.
Ron Canfield – Senior Marketing Manager
Ron is a marketing professional with 12+ years of multi-faceted business experience spread across automotive, consumer products, luxury goods, digital technology, and SaaS industries—from startup through Fortune 500 enterprises. In his broad background, Ron has a successful record of managing rebranding campaigns, multi-million dollar marketing budgets, developing corporate PR & social media programs, and managing eight-figure product portfolios with year-over-year growth.
---
*Disclaimer: The profile provides information which was sourced and approved by Isodiol International in order to help investors learn more about the company. Isodiol International is a client of the Investing News Network (INN). The company's campaign fees pay for INN to create and update this profile page, to which links are placed on Investingnews.com and channel newsletters.
The company description, investment highlights and catalysts were sourced by INN and approved by the company. INN does not guarantee the accuracy or thoroughness of the information contained on this page.
INN does not provide investment advice and the information on Investingnews.com profile should not be considered a recommendation to buy or sell any security.
INN does not endorse or recommend the business, products, services or securities of any company profiled.
Readers should conduct their own research for all information publicly available concerning the company.