Deep Value Gold Resources in Canada's Yukon
This profile is part of a paid investor education campaign.*
Overview
Golden Predator Mining Corp. (TSXV:GPY) is a gold exploration company focused on advancing key Yukon projects with significant exploration upside, good infrastructure and community support. The Company is actively exploring on its 3 Aces Project and the advanced Brewery Creek Project, a past-producing brownfields project with a 2014 Preliminary Economic Assessment prepared in accordance with NI 43- 101.
The 3 Aces Project is an orogenic gold target consisting of 1,734 claims covering 357 km² (35,700 ha) in southeast Yukon. The Company has to-date focused exploration on the 13.5 km2 Central Core Area, a broad gold-in-soil anomaly, where numerous orogenic gold-bearing quartz veins have been discovered. Exploration over the past two years has systematically advanced the project by establishing: (1) high gold grades can be reliably sampled; (2) gold mineralization is in predictable stratigraphic structural locations; and (3) gold grades have robust continuity within the recognized controlling features.
Results support a stratigraphic structural model that predicts extensive lateral and vertical continuity of the 3 Aces mineral system. The Company is developing targeted drilling programs to establish continuity between the Central Core Area and other mineralized zones along the 35 km strike of the 3 Aces property. Orogenic gold deposits are among the world's largest and richest such as the California Mother Lode Belt and the Juneau Gold Belt.
The Brewery Creek Project is a past producing (1996-2002) heap leach gold mining operation, operated by Viceroy Resource Corporation which shut down primarily due to low gold prices. The 180 km2 property is accessed by an all-weather gravel road 55 km east of Dawson City, Yukon. All necessary permits required to conduct additional exploration are in place. The Brewery Creek Project holds a Type A Water License with an expiry date of December 31, 2021, subject to the restrictions and conditions contained in the Yukon Water Act and Regulations and a Quartz Mining License (QML) with an expiry date of December 31, 2021. The Brewery Creek project has a Socio Economic Accord with the Tr'ondek Hwech'in.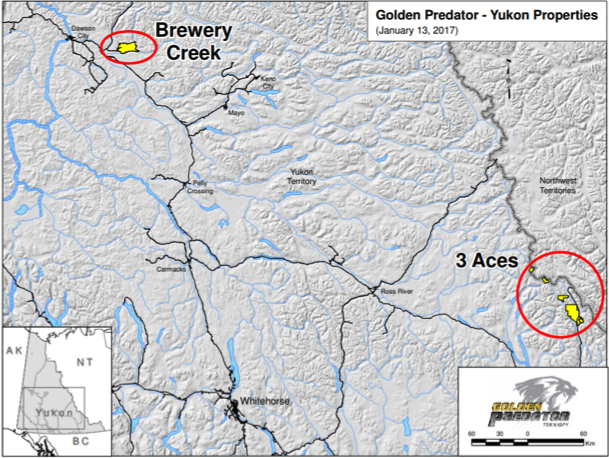 3 Aces Project Highlights
The 3 Aces Project – 357 km2 (35,700 hectares),100% owned (subject to underlying royalties)
Located in readily-accessible Southeastern Yukon (40km South of the Past Producing Cantung Mine)
Orogenic Gold Model, with similarities to other major gold deposits such as Kensington, AK; Muruntau, Uzbekistan; and the California Mother Lode District
District scale potential

Includes at least 6 mineralized areas, all located within and along favorable stratigraphic and structural zones that extend over 35km along trend

Extensive gold-in-soil anomalies identified within the 13.5km2 Central Core Area

Several mineralized veins discovered to date, many with visible gold occurrences

High-grade gold project – approx. 300 drill holes to date drilled in the Central Core Area:

112 holes (37%) with an intercept of 5g/t gold or more
83 holes (27%) with an intercept of 8g/t gold or more

Road Accessible – newly constructed bridge allows for year-round work programs along with full access to the Nahanni Range Road

Road will see significant improvements as announced with Federally/ Provincially funded Yukon Resource Gateway Project

776 Bulk Sample Processed at the Company's Processing Plant

953.4 troy ounces gold recovered
Average calculated grade of the bulk sample was 46.18 grams per tonne
+85% gold recoveries achieved using conventional gravity processing (no chemicals)
2018 Program underway – bulk sampling and drilling
2017 Program

~ 20,000 m of drilling
Nearly 10,000 soil samples and 1,000 rock chip samples
Over 6,000m of trenching
Field Reconnaissance and mapping

2017 Program Results

Conceptual project model was developed and successfully tested, demonstrating favorable litho-structural horizons host gold mineralization across the Central Core Area
Established close space continuity of gold grades at the Ace of Spades target
Drill tested Hearts-Clubs Corridor, Spades and Diamonds Targets

2013 Kaska Nation Exploration Agreement in place
Operates under Class IV Mining Land Use permit 
Brewery Creek Project Highlights
Past open pit heap leach producer from 1996-2002
Year-round access via paved/gravel roads, 17 km from grid power line, local labor and regularly scheduled air service
Permits and licenses include a Type A Water License and a Class IV Mining Land Use Permit
Preliminary Economic Assessment (PEA) Completed in Q4 2014
Metallurgical and Geotechnical Drilling completed in September 2016 and 2018
Pre-tax NPV at 5% ranged from $18.1 million at $1150/oz. gold to $114.5 million at $1500/oz. gold with IRRs ranging from 12% to 45% with corresponding gold prices. Post-tax NPV at 5% ranged from $4 million at $1150/oz. gold to $69.36 million at $1500/oz. gold with IRRs ranging from 7% to 32% with corresponding gold prices. All dollars are in US$.
Mine life of 9 years with seasonal mining and crushing scheduled for 230 days per year at 7,500 tonnes per day and year round leaching
Open pit heap leach operation in combination of reprocessing former heap leach material
Recover 372,000 ounces of gold from eight open pits and old heap leach material
Metallurgical recoveries for the open pits range from 70% to 82.9% and averaged 45% for the former heap leach material
Life of Mine capital costs of $89.4 million including contingency
Cash cost of $788/oz. gold
Permits and licenses include a Type A Water License and a Quartz Mining License, both with an expiry date of December 31, 2021. A Class IV Mining Land Use Permit which expires on July 5, 2022.
2012 Socio Economic Accord with the Tr'ondek Hwech'in in place
2018 diamond drilling/metallurgical testing along with exploration drilling took place at Brewery
The preliminary economic assessment is preliminary in nature, that it includes inferred mineral resources that are considered too speculative geologically to have the economic considerations applied to them that would enable them to be categorized as mineral reserves, and there is no certainty that the preliminary economic assessment will be realized.
Community Initiatives
Golden Predator continually strives to be an industry leader as a good corporate citizen of the Yukon. In May 2018, Golden Predator launched the Kaska Nation Elders-in-Residence Program, a first of its kind for the exploration and mining sectors. The Elders-in-Residence Program, at the 3 Aces Project in southeast Yukon, works directly with Ross River Dena Council and Liard First Nation Elders to support learning and understanding, promote cultural awareness and share wisdom/and teachings as part of the exploration process. The Company is proud to pioneer this innovative and unique initiative. A few additional innovative initiatives in 2018:
Golden Predator hosted the Dena Kayeh Institute at its Environmental Testing Program March 2018
Brewery Bees
Elders in Residence
Local Companies Engaged (2017)

Expenditures, 50%=Yukon and First nation Companies
Employment, 70%=Yukoners
50% of those First Nations
Yukon Mint Gold Coins
Elders meeting at the Watson Lake GPY Office
CEO, Janet Lee-Sheriff with one of Golden Predator's largest shareholders, Rob McEwen, McEwen Mining, as he buys the first Gold Coin from the Yukon Mint in May 2018.
Management
Janet Lee-Sheriff—CEO
Janet Lee-Sheriff brings 25 years of public, governmental and private sector experience to the role of CEO having served in senior officer-level positions with several public companies. Previously, Lee-Sheriff managed Cabinet Policy and Intergovernmental Affairs for the Conservative, Liberal and NDP governments of the Yukon, developed the Yukon Economic Forums and delivered gold conferences for GATA in Dawson City, Yukon, Washington, DC and London, England. She founded the Yukon Mines Legacy Foundation and the Yukon Gold Mining Alliance. Lee-Sheriff has a long history of pro-actively working with the Yukon First Nations. As founding director of the Yukon Mines Training Association, she secured $20 million in federal funding for aboriginal mine training. She has successfully negotiated and implemented a number of socio-economic and exploration agreements between the company and several Yukon First Nations. Lee-Sheriff is a recipient of the Queen's Jubilee Commemorative Medal awarded for outstanding achievements by Canadians and is a graduate of Queen's University.
Greg Hayes, CA—Chief Financial Officer
Greg Hayes, a Chartered Accountant since 1997, previously served as the Chief Executive Officer for Golden Predator Mining Corp. and Nothern Tiger Resources Inc. He also served as the Chief Financial Officer of Shear Minerals Ltd. Hayes brings considerable experience to the Golden Predator Board of Directors from both the public and private sectors. Working with international and Alberta-based accounting firms, he has serviced clients ranging from small, private businesses to multinational corporations. Most recently, Hayes has been providing financial consulting services to junior exploration companies.
Jeff Cary—3 Acres Project Geologist
Jeff Cary has worked in the mineral exploration sector for over 30 years focusing on projects across the western United States and Canada's Yukon. Cary previously worked with Golden Predator from 2010 to 2012 managing exploration projects in the Yukon. He also worked as a Senior Geologist for Battle Mountain Gold Inc. from 1991 to 2001 where he was part of a multi-disciplinary team which produced a positive feasibility study on a 6 million ounce gold reserve. Cary previously held the position of Exploration Geologist for Kinross Gold and has worked as a consulting geologist for Kinross Gold, Eurasian Minerals Inc., Anthill Resources Ltd. and Energy Metals Inc. His responsibilities throughout his career have included design and implementation of multi-year drill programs, resource estimation, 3-D structural modelling, budget management, project generation, data compilation and evaluations. Cary is a member of the Geological Society of Nevada, the Society of Economic Geologists and the American Institute of Professional Geologists. He holds an M.S. in Geology from Western Washington University and a B. S. in Geology from Fort Lewis College and is a former Instructor with Fort Lewis College Geosciences Dept. in Durango, Colorado.
Mark C. Shutty—Senior Geologist
Mr. Shutty is a Certified Professional Geologist with over fifteen years of experience in exploration, environmental and mining geology. His direct experience with Golden Predator's core technical group spans over ten years, and includes management of early to advanced-stage precious metal exploration projects and resource evaluations, as well as, involvement in uranium, base and strategic metals projects across the Western US and Canada's Yukon. Mr. Shutty's previous experience includes working with, or consulting for: Phelps Dodge, BHP, Newcrest, Energy Metals Corp., Uranium One, Callinex Mines and Alicanto Minerals. His key areas of focus include geological data synthesis, sample analytics, applied geostatistics and resource estimation.
Mr. Shutty is a Member of the Geological Society of Nevada, the Society of Economic Geologists and the American Institute of Professional Geologists. He holds a B. Sc. in Geology from Fort Lewis College in Durango, Colorado, and has a Citation in Applied Geostatistics from University of Alberta.
Mr. Shutty is a Qualified Person for geological evaluation and mineral resource estimation for National Instrument 43-101 technical disclosure.
Board of Directors
William M. Sheriff, MSc—Director
An entrepreneur and visionary with over 30 years' experience in the minerals industry and the securities industry, William Sheriff was the founder and previous Chairman and Chief Executive Officer of Golden Predator Corp. Prior to founding Golden Predator, Sheriff was a pioneer in the uranium renaissance as co-founder and Chairman of Energy Metals Corp., and was responsible for compiling the largest domestic uranium resource base in US history before the company was acquired by Uranium One Corp for $1.8 Billion. Sheriff also serves as Chairman of enCore Energy Corp. He co-founded and previously served as Chairman of Till Capital and EMC Metals Corp., and as a Director of Western Lithium USA, Uranium One, Midway Gold Corp., Eurasian Minerals and Starcore International Mines Ltd. Sheriff was also a registered representative, holding positions with A.G. Edwards and Mitchum Jones and Templeton, in addition to having his own securities firm. He holds a B.Sc degree (Geology) from Fort Lewis College, Colorado and an MSc in Mining Geology from the University of Texas-El Paso and owns one of the largest privately held mining databases in the world.
Richard (Rich) J. Goldfarb, Ph.D.—Director & Exploration Management Council Chairman
Rich is the globally recognized authority on orogenic gold deposits having served 36 years with the U.S. Geological Survey's Mineral Resources Program. Dr. Goldfarb is a Research Professor at the Colorado School of Mines, an Adjunct Professor at the University of Western Australia, a Distinguished Overseas Professor at China University of Geosciences, Beijing, China, as well as, a private consultant.
Dr. Goldfarb's expertise and research highlights include:
Exploration targeting of orogenic gold deposits;
Global metallogeny, with emphasis on temporal/spatial distribution of gold deposits;
Geology of ore deposits in the North American Cordillera, with emphasis on orogenic gold and accretionary tectonics;
Distribution and geology of lode gold deposits in China and central Asia; and,
Geochemical applications to the understanding of ore genesis.
Dr. Goldfarb obtained his PhD Geology from the University of Colorado, and is the recipient of many awards from scientific organizations around the world. He is a Fellow and Ex-President of the Society of Economic Geologists and an Honorary Lifetime Member of the Society for Geology Applied to Mineral Deposits. He has senior authored or co-authored more than 225 papers and has delivered over 200 presentations in 31 countries. 26 of his papers on gold deposits of the Northern Cordillera were jointly authored with fellow council members Craig Hart and/or Lance Miller.
Dr. Goldfarb was named to the Company's Board of Directors in October 2017 and will continue to serve the Company as a Director as well as the Chair of the Exploration Management Council.
Dennis Fentie—Director
Dennis Fentie served as the Premier of the Yukon from 2002 to 2011, having first entered politics in 1996 as the MLA for Watson Lake. He has represented both the Yukon Party and the New Democratic Party during his tenure. As Premier he also served as Minister of Finance, Minister responsible for devolution, land claims and Yukon Energy Corp. and as the Minister of Environment. Fentie's priorities included rebuilding the Yukon economy, formalizing relations with First Nations and revitalizing the mining industry. During his tenure the unemployment rate in Yukon declined from 9.8 percent to approximately 4 percent, annual mineral exploration expenditures grew from $7 million in 2002 to over $300 million in 2011 and the value of mineral production grew 264 percent. He currently is a private businessman residing in Watson Lake, Yukon.
William B. Harris—Director & Audit Committee Chairman
Mr. Harris is a partner of Solo Management Group, LLC, an investment and management consulting firm and previously served as President and Chief Executive Officer of Hoechst Fibers Worldwide, the global acetate and polyester business of Hoechst AG.   At Hoechst Fibers Worldwide, Mr. Harris managed the $5 billion operation, comprised of 21,000 employees and production locations in 14 different countries. Within Hoechst AG and its subsidiaries, Mr. Harris held various positions, including Chairman of the Board of Grupo Celanese S.A., a publicly traded company in Mexico with sales in excess of $1 billion, Vice President of Finance, Chief Financial Officer, Executive Vice President and Director of Celanese Canada Inc. a publicly-traded company in Canada and was Vice President, Treasurer and Chairman of the Audit Committee of Hoechst Celanese Corporation.   He also served as the Chairman and Executive Committee member of the American Fiber Manufacturers Association.
Mr. Harris is a graduate of Harvard College (BA in English) and Columbia University Graduate School of Business (MBA in Finance).
Mr. Harris is a Director and member of the Audit Committee for enCore Energy Corp. and Chairman of Scandium International Mining Corp. He previously served on the Board of Directors for several public companies including Gold One International Limited, Potash One Inc., and Energy Metals Corporation.
Bradley Thiele—Director
Bradley Thiele, a Professional Engineer, is an independent mining consultant with over 45 years of extensive industry experience. He served as Vice President of Project Development for the Meadowbank Gold Project of Cumberland Resources Ltd. from 2002 until 2007, through the acquisition of that company by Agnico-Eagle. Thiele's broad range of expertise includes underground and open pit designs, development, operations and engineering throughout northern and western Canada, providing services to Newmont Mines, Pioneer Metals Corporation, United Keno Hill Mines Limited, Minnova Inc., Fairfield Minerals, and Placer Group. He obtained his B.Sc in Mining Engineering from the University of Saskatchewan.
Tony Lesiak—Director
Tony Lesiak is Managing Director and Global Head of Mining Research for Canaccord Genuity Corp. (Canada). He is responsible for coverage of the Canadian large capitalization precious metal equities and has been researching the metals and mining sector for 20 years. Prior to rejoining Canaccord Genuity in September 2013, he was Managing Director and Senior Mining Analyst at Macquarie Capital Markets. Lesiak was a Principal and Senior Mining Analyst at Genuity Capital Markets from 2007 to 2010 and previously held senior positions in mining equity research at UBS (Toronto) and HSBC (New York and Toronto). He earned a B.Sc in Geology and an MBA (Rotman) from the University of Toronto and holds an International MBA specializing in Economics from Johannes Kepler University in Austria.
Stefan Spears—Director
Stefan Spears has over a decade of experience as an executive in the resource exploration and mining industry. He began his mining career at Goldcorp in 2002, and in 2005 joined McEwen Capital Corporation to focus on resource sector investments. In 2008 he joined McEwen Mining as Vice President in charge of U.S. Projects. After successfully founding Coreprint Patterns Inc., an innovative sand casting pattern manufacturer whose repeat clients have included several multi-national corporations in the mining and industrial sectors, Spears rejoined McEwen Mining to address Special Projects with a focus on corporate development and to tackle technical challenges in operations. He has experience in gold exploration in Canada, USA and Mexico, and was involved in raising over C$400 million in equity capital for exploration and development projects. Spears holds a B.Sc. degree in civil engineering from Queen's University. He is also a board member of Inventus Mining Corp.
The Exploration Management Council
The Exploration Management Council was formed in June 2018. The Council assists management and field staff at Golden Predator in reviewing, interpreting, advising and planning on exploration and technical matters relating to the Company's mineral exploration projects. The Council will also identify new opportunities in Yukon, Alaska and British Columbia.
Craig J.R. Hart, Ph.D., FSEG, FGAC
Craig Hart is the Director of the Mineral Deposit Research Unit (MDRU) at the University of British Columbia (UBC) where he initiates and facilitates a wide range of mineral exploration industry-sponsored research projects focused on gold and porphyry systems, regional metallogeny and exploration methods. His current research efforts are directed towards developing new exploration tools and strategies for gold and porphyry deposits.
Craig integrates field and mapping data with geochronology, geochemistry and geophysics to develop new geological platforms, exploration concepts and targets. His significant research impacts are in developing intrusion-related mineral deposit models, understanding redox controls on intrusion-related metallogeny, and on the evolution of cordilleran magmatism.
Craig has been a UBC faculty member since 2009 and has contributed to the training and successful graduation of more than 40 MSc and PhD students, as well as, 20 Post-Doctoral Fellows and Research Associates.  Most of these former students and researchers are now active contributors to the mining and exploration industry.
He was previously a Senior Research Fellow at the Centre for Exploration Targeting at the University of Western Australia (UWA) in Perth, Australia where he pursued research on the gold metallogeny of China and Mongolia.  Most of his early career was with the Yukon Geological Survey where he undertook regional mapping and metallogenic research in the northern Cordillera.
Craig has degrees from McMaster University (BSc 1986), University of British Columbia (MSc 1995) and University of Western Australia (2005) separated by employment in the exploration industry and with geological surveys.  He is an author or co-author on more than 200 geological manuscripts, maps, reports and published contributions.  His publications include many of the authoritative works on intrusion-related gold deposits of Yukon and Alaska, as well as description of the gold mineralization throughout Yukon's upper Hyland River valley area.  He presents numerous invited scientific presentations and short courses throughout the world.  He was awarded the Boldy Award in 2005 by the Geological Association of Canada for best presentation, was the 2010 Society of Exploration Geologists Distinguished Lecturer, and was the winner of the Audience Choice Award and a top five finisher of the Integra Gold Rush Challenge in 2016.
Lance Miller, Ph.D. PG
With over 30 years in the minerals industry, Lance Miller currently serves as Vice President of Natural Resources for NANA Regional Corporation, an Alaska Native Corporation. NANA owns the land on which the Red Dog Mine, one of the world's largest zinc mines, has operated since 1989 as a model of responsible resource development.
Lance has been Projects Manager for NovaGold, Chief Geologist for Echo Bay mines on the Alaska-Juneau Project, and Projects Manager for Eurasia for Placer Dome. During this work, Lance conducted due-diligence programs on the giant Natalka and Sukhoi Log gold deposits in Russia and carried out the early structural geology analysis on the Donlin Creek (39.0 million ounces) deposit in SW Alaska which lead to the identification of new mineralized corridors and subsequent resource expansion.
Lance is Chairman of the Alaska Minerals Commission, an Executive board member of the Resource Development Council, a member of the Council of Alaska Producers and is on the University of Alaska Anchorage Geosciences advisory board. Lance previously served as the Executive Director of the Juneau Economic Development Council leading the US Department of Defense technology transfer, business loan and entrepreneurial/business initiative. He also previously served as a member of the Alaska Geological Mapping advisory board, member of the Alaska Climate Impact Assessment Commission, and Past President of the Juneau Douglas Ice Association and the Foundation for Glacier and Environmental Research. He was a founding member of AlaskaInvestnet.
Lance has authored and co-authored over 25 scientific publications and holds a Ph.D. in economic and structural geology from the University of Arizona, an M.S. in economic geology from the University of Alaska and a B.S. in geology from Stanford University.
William (Bill) E. Threlkeld, MSc, PG
Bill is currently the Senior Vice President-Exploration for Seabridge Gold Inc. He has been instrumental in the design and execution of exploration and resource delineation programs and deeply integrated in the overall strategy of Seabridge. His team's successes include the discovery, definition and expansion of the Courageous Lake deposit, NWT, and the Mitchell, Iron Cap and Deep Kerr deposits which have made the KSM project in British Columbia the largest gold reserve in Canada. Previously, from 1991 to 1997, Bill was Exploration Manager and Vice President of Placer Dome and was responsible for all exploration activity and investment in Latin America.  Bill directed programs that resulted in the discovery and delineation of a number of gold deposits including Las Cristinas, Venezuela (9.7 million ounces), Cerro Crucitas, Costa Rica (2.3 million ounces) and Mulatos, Mexico (2.0 million ounces).
Bill obtained his MSc in Economic Geology from the University of Western Ontario and is registered as a professional geoscientist in British Columbia and the State of Washington.
---
*Disclaimer: The profile provides information which was sourced and approved by Golden Predator in order to help investors learn more about the company. Golden Predator is a client of the Investing News Network (INN). The company's campaign fees pay for INN to create and update this profile page, to which links are placed on Investingnews.com and channel newsletters.
The company description, investment highlights and catalysts were sourced by INN and approved by the company. INN does not guarantee the accuracy or thoroughness of the information contained on this page.
INN does not provide investment advice and the information on Investingnews.com profile should not be considered a recommendation to buy or sell any security.
INN does not endorse or recommend the business, products, services or securities of any company profiled.
Readers should conduct their own research for all information publicly available concerning the company.