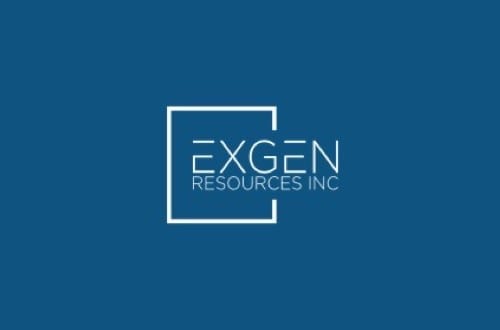 ExGen Resources
From Discovery to Potential Cash Flow
Overview
ExGen Resources Inc. (TSXV:EXG,OTC Pink:BXXRF) is pursuing a project accelerator business model, bringing partners to fund exploration and development activities on its projects. The company currently has six projects, all located in mining-friendly jurisdictions in North America which cover the exploration spectrum from drill-ready to extensively-drilled with a historical resource. The project accelerator business model provides shareholders with exposure to the entire mining cycle, from new discoveries to advanced exploration and cash flow visibility. The use of partners to fund property expenditures also reduces the technical and financial risks typically associated with mineral exploration and development.
ExGen's flagship development-stage asset, the Empire Mine property, has been optioned out to Phoenix Global Mining Ltd. (LON:PGM,OTCQX:PGMLF), an AIM-listed mining company focused on base and precious metal development in North America. The Empire Mine property is located in Custer County, five kilometers from MacKay, Idaho. ExGen owns a 20 percent carried interest in the project until the start of construction, a 2.5 percent net smelter royalty (NSR) and 3.4 percent of Phoenix common stock. This makes ExGen the second-largest shareholder in Phoenix.
As the current operator, Phoenix is scheduled to release an updated resource estimate as well as a feasibility study in the near term. The Empire Mine has shown significant blue-sky potential as a result of the ongoing step-out and regional exploration program, which has expanded the strike length to 3.5 kilometers. Recent step-out drilling has also shown significant copper grades of more than 10 percent over 1.5 meters, providing evidence of a high-grade sulfide system under the existing oxide resource.
The existing NI 43-101 resource estimate for the surface oxide zone at the Empire Mine includes the following:

Notes:

(1) Mineral resources that are not mineral reserves do not have demonstrated economic viability. Inferred mineral resources are that part of the mineral resource for which quantity and grade or quality are estimated on the basis of limited geologic evidence and sampling, which is sufficient to imply but not verify grade or quality continuity. Inferred mineral resources may not be converted to mineral reserves. It is reasonably expected, though not guaranteed, that the majority of inferred mineral resources could be upgraded to indicated mineral resources with continued exploration.
(2) The mineral resources captured within optimized pit shell meet the test of reasonable prospect for economic extraction and can be declared a mineral resource. Open-pit resources are reported at a total copper cut-off 0.184 per cent based on a $3.25/pound Cu price. No value was given to the gold, silver and zinc in determining the reasonable prospect for economic extraction of the resource.
ExGen Resources has optioned its Gordon Lake gold property in the Northwest Territories, Canada to Blue Lagoon Resources Inc. (CSE:BLLG). Gordon Lake has seen limited historical exploration work. However, a regional-scale geophysical anomaly has been identified on the property, which includes a strike length of one kilometer. Blue Lagoon Resources has the option to acquire an 80 percent interest in the property in an agreement that includes C$250,000 in exploration expenditures during the first year of the option, cash payments and shares of BLLG. In addition, upon exercise of the option, Blue Lagoon will grant ExGen a 2.5 percent net smelter return royalty.
ExGen's Company Highlights
Diversification:

Six projects in mining-friendly jurisdictions in North America.
Commodity groups include base, precious and strategic metals.
Projects across all exploration stages, from discovery to feasibility development.

Discovery to potential cash flow:

Empire Mine partner-funded feasibility study and ongoing drilling.
100 percent-owned DOK project in British Columbia's Golden Triangle hosts porphyry discovery.
Gordon Lake hosts high-grade gold.

Minimal dilution:

Partner-funded exploration and development.
Low overhead.
Low property maintenance costs.
All projects partner-ready, with no further spending required.

Management owns 10 percent of the company's shares.