Advancing its High-Grade Montalembert Gold Project in Quebec's Abitibi Mining District
This profile is part of a paid investor education campaign.*
Overview
Enforcer Gold Corp. (TSXV:VEIN) is a junior mining exploration company earning a 50% interest in the Roger Porphyry Gold-Copper Project and a 100% interest in the Montalembert Gold Project, both located in Quebec, Canada. The province of Quebec consistently ranks as one of the world's top ten mining investment jurisdictions.
Both projects are situated in the world-class Abitibi greenstone belt, which has produced more than 180 million ounces of gold and over 450 M tonnes of copper-zinc ore since the early 1900s.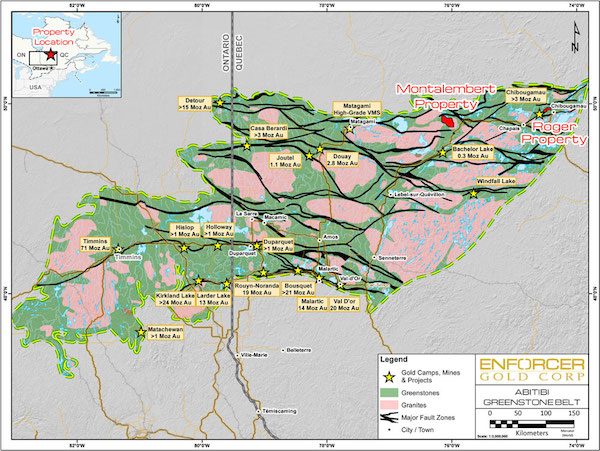 Investment Highlights
Favorable Location – Mining-friendly jurisdiction of Quebec; projects have road access and nearby infrastructure
2017 program at Montalembert confirmed high-grade gold potential; drilling of OR79 discovery in February 2018
Advanced-staged Roger porphyry gold-copper property with historical resource estimate; drilling to bring to current resource status begins in late February 2018
Well financed – $3.5 million in cash; market cap $5.2 million
Tight share structure – Management, insiders and institutions hold 52%; notable strategic shareholders include Osisko Mining
Strong community engagement
Montalembert Gold Project, Quebec
The Montalembert project is located 35 kilometers north of the currently producing Bachelor Lake Gold Mine, 230 kilometers northeast of Val d'Or and 125 kilometers west of Chibougamau. Both Val d'Or and Chibougamau are centers for mining and exploration services. The 26,645-hectare land package is easily accessed year-round via a network of logging roads and the paved Route 113 which passes within 5 kilometers of the property. Enforcer is earning a 100% interest in the project from Globex Mining Enterprises Inc. (TSX: GMX).
Gold-bearing vein structures at Montalembert are classic shear-hosted quartz-carbonate gold mineralization, which is the most significant source of gold in the Abitibi greenstone belt.
2017 Exploration Program
Enforcer's first ever exploration program at Montalembert included a high-resolution airborne Mag-EM survey over the original 7,300-hectare property followed by IP geophysical surveying in areas of known vein occurrences, prospecting, trenching, channel sampling and 5,784 m of diamond drilling in 45 holes.
The Company's primary focus was on two well-exposed parallel vein structures, the Galena and No. 2 veins. The more robust No. 2 vein structure has been exposed on surface and intersected by drilling over a 600 m strike length (open) and to 140 m depth. Trenching and channel sampling along the No. 2 vein returned some remarkable assay results, including 3,310 g/t gold over 1.0 m and 105 g/t gold over 2.0 m.

2017 Channel Sample on the No. 2 Vein graded 3,310 g/t gold over 1.0m
The 5,784 m diamond drilling program intersected shear zone structures in all 45 holes. Mineralization grading over 0.5 g/t gold was found in 27 of the holes and visible gold was noted in 5 holes drilled on the No. 2 Vein. Notable drill hole assays on the No. 2 vein include 197.13 g/t gold over 1.2 m, 17.50 g/t gold over 1.0 m and 8.51 g/t gold over 1.0 m.
Prospecting during the 2017 program led to the discovery of the northern No. 2 vein extension as well as the new OR79 zone located 1.5 km WSW of the Galena-No. 2 vein area.
2018 Montalembert Project Exploration Program
The 2018 program is scheduled to commence in February 2018 with the drill testing of the new OR79 zone, where gold is associated with sulphide mineralization in shear-hosted quartz veins in altered mafic and granitic rocks. Assay results from 22 grab samples of isolated outcrops range from 0.50 to 9.19 g/t gold and 9 saw-cut channels returned up to 3.72 g/t gold over 0.4 m. A 20 line-km IP survey is in progress and preliminary results indicate a broad area where anomalous sampling results are coincident with both high resistivity and high chargeability anomalies. A NW-trending structural break interpreted from geophysics also transects the discovery area. A 1,500 m diamond drilling program is set to commence shortly.
Roger Porphyry Gold-Copper Project, Quebec
The 987-hectare Roger project is located 5 km from the mining center of Chibougamau and has all-season road access. Enforcer is earning a 50% interest in the project from SOQUEM.
Roger is an advanced-stage exploration property containing the Mop-II porphyry gold-copper deposit. A 2006 NI 43-101 compliant mineral resource estimate on the deposit by Scott Wilson Roscoe Postle Associates Inc. for SOQUEM totalled 3.24 Mt of Inferred Resources at an average grade of 1.61 g/t gold and 0.04% copper for a total 167,200 ounces of gold. The mineral resources were estimated using a 1.0 g/t gold cut-off grade and an average long-term gold price of US$500 per ounce. [N.B.: Enforcer considers the 2006 estimate as a historical resource estimate that has relevance to the project; however, a qualified person for the Company has not done sufficient work to classify it as a current mineral resource and as such it should not be relied on.]
Subsequent to completion of the 2006 estimate, SOQUEM drilled an additional 60 holes on the property totalling 15,456 m of diamond drilling. In 1988, an underground exploration program on the deposit included 1,177 m of underground development and 1,433 m of underground drilling in 23 core holes. In total, 54,906 m of diamond drilling have been completed on the property.
Although historically explored as a higher-grade, vein type deposit, the Mop-II is now being evaluated for its for its high-tonnage, low-grade gold-copper potential.
2018 Roger Project Exploration Program
The 2018 Phase 1 exploration program is scheduled to commence by end of February and is budgeted at $500,000 including 3,000 m of diamond drilling.
Several holes will be drilled to verify historical results as well as deepening of holes that ended in mineralization. The results of the 2018 Phase 1 drilling will be compiled and modelled with the historical (1957-1989) and more recent drilling by SOQUEM (2008-2013) to prepare a current mineral resource estimate on the Mop-II gold-copper deposit.
Management
Steve Roebuck — President, CEO and Director
Steve Roebuck is a registered professional geoscientist with over 25 years of international mining and exploration experience. Most recently he was the President of Scorpio Gold Corp., a 40,000 oz/year gold producer with assets in Nevada. Mr. Roebuck has been the VP of Exploration for two publicly listed companies with interests in gold, diamonds, iron ore and base metals. Early in his career he worked as a mine and exploration geologist at Placer Dome's Sigma Mine in Val d'Or, QC, Aur Resources' Bachelor Lake Mine in Desmaraisville, QC, and Royal Oak Mines' +8 million oz. Giant Mine in Yellowknife, NT.
Antoine Fournier, MSc, géo — VP Exploration
Antoine Fournier is a professional geologist with over 25 year's exploration and corporate management experience. Most recently he oversaw the restructuring of Big North Graphite to CobalTech Mining and was part of management and board until Cobaltech's subsequent takeover in December 2017 by First Cobalt. From 2014 to 2016, Antoine was chief geologist with Monarques Gold and played an instrumental role in redefining the company's exploration activities and acquisition of its exploration assets in the Abitibi greenstone belt. Earlier in his career he assisted in the spin-off and creation of Threegold Resources and through 2012 was responsible for the acquisition of exploration assets, financings and exploration activities as part of management and board.
Fiona Fitzmaurice, BA, ACCA – CFO
Fiona Fitzmaurice is a chartered certified accountant with over 12 years experience in accounting and financial control. Most recently she was the financial controller for Noront Resources Ltd. and was involved in several private placements, prospectus filings, flow-through financings and corporate audits. Prior to joining Noront, Ms. Fitzmaurice acted as a senior accountant and controller for both private and publicly listed start-up companies. She holds a BA in accounting and finance from the Athlone Institute of Technology in Ireland.
Christian B. Scovenna — VP Corporate Development and Director
Christian Scovenna has over ten years of experience in capital markets, business development and investor relations. As Managing Director at a boutique firmMr. Scovenna lead six portfolio companies within the group, raising capital, business development and internal IR for the group. He also spent four years with Frontier Merchant Capital Group as Director & Senior VP of Operations and most recently as Managing Partner with Lions Edge Capital. Over the years, Mr. Scovenna has been successful in completing various M&A acquisitions and raising capital.
David Hladky, PGeo —Director
David Hladky is a registered professional geoscientist with over 18 years of international exploration experience. His positions have included Senior Geologist and Project Manager for projects in the Yukon, British Columbia, Argentina and Peru, and most recently he was a Project Manager and Qualified Person on the Morelos Sur and El Barqueno Projects in Mexico, where Cayden Resources was purchased by Agnico Eagle Mines for $205M. Mr Hladky also worked several years with Great Panther Silver in the exploration of its Guanajuato mine and Km 66 project in Mexico.
Brendan Purdy, LLD, JD — Director
Brendan Purdy is a practicing securities lawyer focused on technology and resource issuers. He has extensive experience with respect to public companies, capital markets, reverse takeovers and other facets fundamental to the natural resources sector. Prior to receiving his JD from the common-law section at the University of Ottawa, Mr. Purdy completed a Bachelor of Management and Organizational Studies degree from the University of Western Ontario, majoring in finance and administration.
John Scott — Community Relations Advisor
John Scott played for 8 seasons in the National Hockey League and was voted MVP in the 2016 All-Star game. Prior to his professional hockey career, Mr. Scott received a BSc in Mechanical Engineering from the Michigan Technological University in 2005.
---
*Disclaimer: The profile provides information which was sourced and approved by Enforcer Gold in order to help investors learn more about the company. Enforcer Gold is a client of the Investing News Network (INN). The company's campaign fees pay for INN to create and update this profile page, to which links are placed on Investingnews.com and channel newsletters.
The company description, investment highlights and catalysts were sourced by INN and approved by the company. INN does not guarantee the accuracy or thoroughness of the information contained on this page.
INN does not provide investment advice and the information on Investingnews.com profile should not be considered a recommendation to buy or sell any security.
INN does not endorse or recommend the business, products, services or securities of any company profiled.
Readers should conduct their own research for all information publicly available concerning the company.