Overview
The global battery metals market is a rapidly growing billion-dollar industry. This market represents the raw materials used in the production of batteries such as lithium, nickel, cobalt, manganese and graphite. With the increasing popularity of electric vehicles, energy storage systems, consumer electronics and electric alternatives to everyday applications, the demand for these metals has seen unprecedented growth.
In 2019, analysts valued the market at US$11.3 billion and projected it to grow at a CAGR of 8.2 percent and reach US$20.5 billion by 2027. A rapid surge in the renewable energy industry has many looking to the battery mineral and metal exploration and development companies to supply the demand, which shows robust projections across global markets.
Battery Mineral Resources (TSXV:BMR,OTCQB:BTRMF) is a Canadian multi-commodity resource company focused on exploring, mining and bringing essential battery minerals to market through project development and production. Its unparalleled management team and high-quality asset portfolio set the company apart from other emerging battery metals players.
BMR stands as the largest claim holder across all minerals in the Ontario Cobalt Belt, which is one of the most richly endowed mining regions in the world. It currently has a robust asset portfolio, including its McAra, Gowganda, Iron Mask, Island 27 projects in Ontario and additional projects in the works across the province and Quebec. As a first-mover in the district, the company has led efforts in recognizing the potential of multiple new, at-surface and high-grade primary cobalt discoveries in this region.
In March 2021, BMR acquired the near-term cash flow Minera Altos de Punitaqui copper-gold project in Chile, which consists of a centralized process plant fed by four satellite copper deposits — San Andres, Cinabrio, Dalmacia and Los Mantos. The past-producing mining operation leverages easy road access to local population centers and presents outstanding exploration opportunities across its classic IOCG and manto style copper-gold-silver veins.
The company's cobalt reach extends into the prolific mining district of Idaho with its three 100 percent owned properties covering 14 significant cobalt prospects in the state. Bonanza, Desert and East Fork properties are strategically positioned near the home of eCobalt Solutions Idaho cobalt project, the only advanced stage, near term, environmentally permitted, primary cobalt deposit in the U.S.
Another exciting addition to the BMR portfolio is its highly prospective graphite assets located in South Korea and lithium assets in prolific U.S. mining districts. The Guemam and Taehwa projects are two past-producing graphite mines, which leverage close proximity to excellent lithium-ion industrial infrastructure and considerable yield and high-grade graphite potential.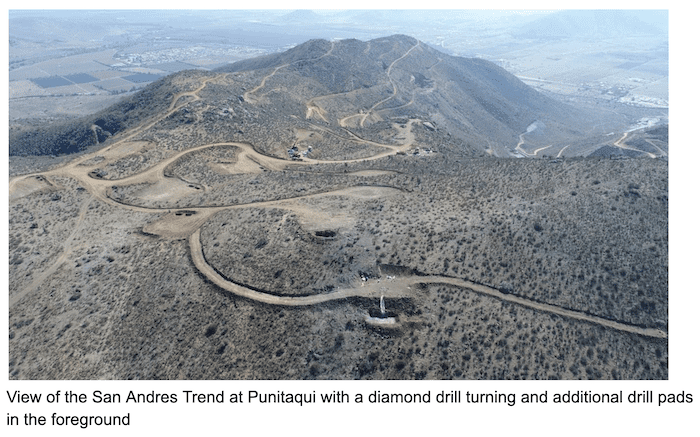 The next steps for the company involve extensive drilling in Chile and a 9,000-meter drilling program across its assets in Ontario, targeting eight cobalt silver prospects. Exciting development work and operational construction in the near future could propel exploration and drilling forward significantly. Positive drill results at its Idaho properties also present higher-than-expected cobalt grades and exploration opportunities.
Battery Mineral Resources Corp.'s management team consists of leaders with extensive operational and development experience. Combined with a stellar and supportive shareholder portfolio, the company is primed for exceptional economic growth and well-funded development.
Battery Mineral Resources' Company Highlights
Battery Mineral Resources is a multi-commodity resource company focused on discovering, acquiring and developing battery metals projects (cobalt, lithium, graphite, nickel & copper), in North and South America and South Korea. It's poised to become a premier and sustainable supplier of battery minerals to the electrification marketplace.
BMR is currently developing the Punitaqui Mining Complex and pursuing the potential near-term resumption of operations at the prior producing Punitaqui copper-gold mine.
BMR is the largest mineral claim holder in the historic Gowganda Cobalt-Silver Camp, Canada. It controls a robust portfolio of cobalt assets across the prolific Timmins & Sudbury and Rouyn & Val d'Or Quebec areas.
Its Canadian cobalt portfolio consists of McAra, Gowganda, Iron Mask, Island 27, Fabre in Quebec and several additional highly prospective projects in politically stable jurisdictions of Ontario.
Additional battery mineral exposure includes its strategically acquired graphite assets in South Korea and lithium properties in prolific mining districts like Nevada and California.
BMR's management team combines seasoned experts across related industries in finance, resource development and battery mineral exploration.
Click here to follow Battery Mineral Resources on LinkedIn
Battery Mineral Resources' Key Projects
Minera Altos de Punitaqui Copper Complex
Minera Altos de Punitaqui (MAP) is an integrated copper and gold mining complex located in the region of Coquimbo, Chile approximately 50km south of the Andacollo copper mine owned by Teck Resources. The 8.095-hectare asset consists of a centralized process plant that is fed by four satellite copper deposits – San Andres, Cinabrio, Dalmacia and Los Mantos. The fully permitted operation also leverages excellent road access and widespread mineralization.
MAP boasts a past production history and near-term production potential. Cinabrio and San Andres mining zones leverage underground portal access and Mantos-type copper mineralization up to 30 meters thick. The Dalmacia drill target contains copper-silver-gold mineralization which is structurally controlled. All regional targets offer immediate exploration and district-scale potential to BMR.
After its acquisition in March 2021, BMR has been quick to begin development on the asset. The company plans to immediately commence restart activities at the site to resume mining and milling operations which will be carried out in conjunction with an aggressive regional exploration campaign to better define historical mineral resources and add new resources for mining in the future. Re-start is projected to begin within 12 months to a potential annual EBITDA of US$50 million per annum.
Canadian Cobalt Exploration Projects
BMR controls a large 1,100-kilometer squared land package in the Ontario Cobalt Belt, which hosts multiple high-grade and widespread mineralized targets. The company has conducted geotechnical assessments and assays on the property with samples from outcrop revealing target prospects that present up to-21 percent cobalt values.
The project portfolio consists of McAra, Gowganda, Iron Mask, Island 27, other additional Ontario properties and highly prospective cobalt assets in Quebec. The projects access well-serviced mining networks and infrastructure with excellent exploration, development and mining suppliers in the prolific Timmins & Sudbury and Rouyn & Val d'Or Quebec areas. BMR stands as the largest regional landholder with extensive claim packages in the Elk Lake and Gowganda mining camps.
Over 42,244 meters have been drilled on 20 cobalt-silver prospects across seven properties. McAra has a measured and indicated resource of approximately 1,124,000 pounds of cobalt and stands as the highest-grade cobalt dominant deposit worldwide in more than 50 years with grades upwards of 1.5 percent cobalt. Exciting next steps for the company's Ontario cobalt assets include a 9,000-meter drilling program and a projected centralized processing plant at Gowganda.
Idaho Cobalt Projects
Battery Mineral Resources has 434 mineral claims in three 100 percent owned properties covering fourteen significant cobalt prospects within a three by six kilometer cobalt-copper mineralized zone. Its properties include Bonanza, Desert and East Fork assets located in the historic cobalt-copper Blackbird mining district approximately 30 kilometers west of Salmon, Idaho.
The largest Bonanza hosts multiple surface and subsurface shoots of copper-cobalt mineralization hosted along contact with gabbro sill. Historic drilling results demonstrated cobalt grades ranging 0.4 percent to 0.58 percent with anomalous gold from surface level to 100 meters deep. All projects host excellent high-grade copper-cobalt discovery potential.
Graphic Assets — Geumam and Taehwa, South Korea
BMR has 100 percent ownership of Guemam and Taehwa graphite exploration projects containing high-purity flake graphite deposits. Both assets are past-producing mines with existing local infrastructure and near-term production potential. Advantageous positioning in South Korea puts BMR close to established and booming battery industries in Asia.
Guemam is located 20 kilometers from South Korea's second-largest lithium-ion battery factory and has a maiden NI 43-101 resource. Indicated mineral resources on the property stand at approximately 101-kilo tons containing 6.6 percent graphite grades. The Taehwa project also has excellent discovery potential with historical mineral resource estimates of 99,000 tons of graphite at 6.8 percent and additional inferred mineral resource of 70,000 at seven percent graphite grades.
Battery Mineral Resources' Management Team
Lazaros Nikeas — Executive Chairman
Lazaros Nikeas has over 15 years of strategy and capital markets advisory for resource, chemicals and industrial companies, with over US$25 billion of M&A transactions completed. He is currently a principal investment manager of Weston Energy LLC, a Yorktown Partners LLC portfolio company with investments in energy minerals assets. Nikeas was previously a partner of Traxys Capital Partners, a private equity firm backed by The Carlyle Group.
Martin Kostuik — CEO & Director
Martin Kostuik has over 28 years of diversified experience in the mining industry as a mining engineer and senior executive. He was the president and director for the last four years at Arizona Gold Corporation and before was CEO and director of Rupert Resources Limited.
Previously, Kostuik built a broad base of experience in operations, engineering, exploration and capital projects with various companies including Luna Gold (Equinox), Barrick Gold Corporation, Taseko Mines Limited and DMC Mining Services.
Jack R. Cartmel — CPA, CA, CFO
Jack R. Cartmel is a finance executive with over 15 years of experience in the mining industry with expertise in M&A, IPOs, taxation, public company accounting and disclosure and financial and risk management. Previously, he held a position with TSX-listed Monument Mining, a mid-size gold producer in Asia and White Tiger Gold, a mid-size gold producer.
Peter Doyle — VP of Exploration
Peter Doyle has over 40 years of experience in all aspects of mineral exploration from regional reconnaissance to project evaluation and development, in a variety of geological terrains throughout Canada, the U.S., South America and Australia. He was previously with PT Freeport Indonesia, Gold Fields and Troy Resources.
Jacob Willoughby — VP of Corporate Development & Strategy
Jacob Willoughby is a geologist and MBA graduate with nearly 17 years of diversified experience in mining capital markets. He has worked as a mining analyst for over eight years, covering exploration and development companies globally in both precious and base metals. Willoughby also worked as a capital markets consultant, an investor and as a director and senior executive.
Willoughby was most recently VP of Research and Analyst at Red Cloud Securities in Toronto. Prior, he was a partner and mining analyst at Beacon Securities. He began his career in mining equity research at Paradigm Capital, where he worked for five years. He also spent two years as President and Director of Aldridge Minerals, a Canadian public company with assets in Turkey and Papua New Guinea.
Click here to follow Battery Mineral Resources on LinkedIn
---
INN does not provide investment advice and the information on this profile should not be considered a recommendation to buy or sell any security. INN does not endorse or recommend the business, products, services or securities of any company profiled.
The information contained here is for information purposes only and is not to be construed as an offer or solicitation for the sale or purchase of securities. Readers should conduct their own research for all information publicly available concerning the company. Prior to making any investment decision, it is recommended that readers consult directly with Battery Mineral Resources and seek advice from a qualified investment advisor.
Request an Investor Kit
EXCITING upcoming projects!
IN-DEPTH reliable insights!
SUCCESSFUL growth strategies!
VALUE-BASED content!
Battery Mineral Resources