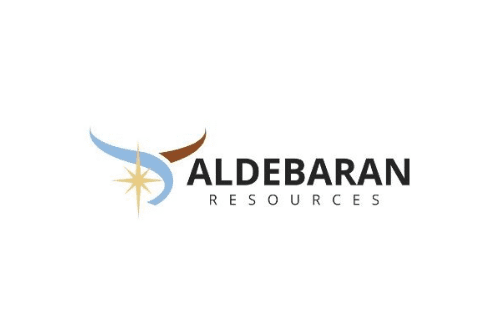 Aldebaran Resources
Unlocking A District of Copper-Gold Deposits in Argentina
Overview
Argentina is moving up the ladder as one of the hottest mining jurisdictions in the world. With new legislation and pro-mining support from the national government, investors should expect to see an uptick in exciting mineral exploration and project development opportunities, especially in the mining friendly provinces within the South American country.
Argentina sits along the Andes mountain range giving it access to one of the world's metal-rich jurisdictions. In 2021, Argentina created a program to incentivize production for exports, facilitating the flow of foreign currency companies that would be allowed to send abroad for loan and dividend payments. This program comes at a prime time as Argentine authorities estimate that the country could triple its mining exports from US$3.4 billion in 2019 to US$10 billion by 2030. Copper, lithium, gold and silver mining especially present exciting investment opportunities for potential investors in the coming years.
Aldebaran Resources (TSXV:ALDE) (OTCQX: ADBRF) is a Canadian mineral exploration company specializing in identifying and exploring highly prospective copper-gold projects with the potential to become large-high-quality deposits or mines in the future. The same core management team leads the company Regulus Resources (TSXV:REG) and is the former management of Antares Minerals Inc, which they founded in 2004 and sold to First Quantum Minerals in 2010 for C$650 million.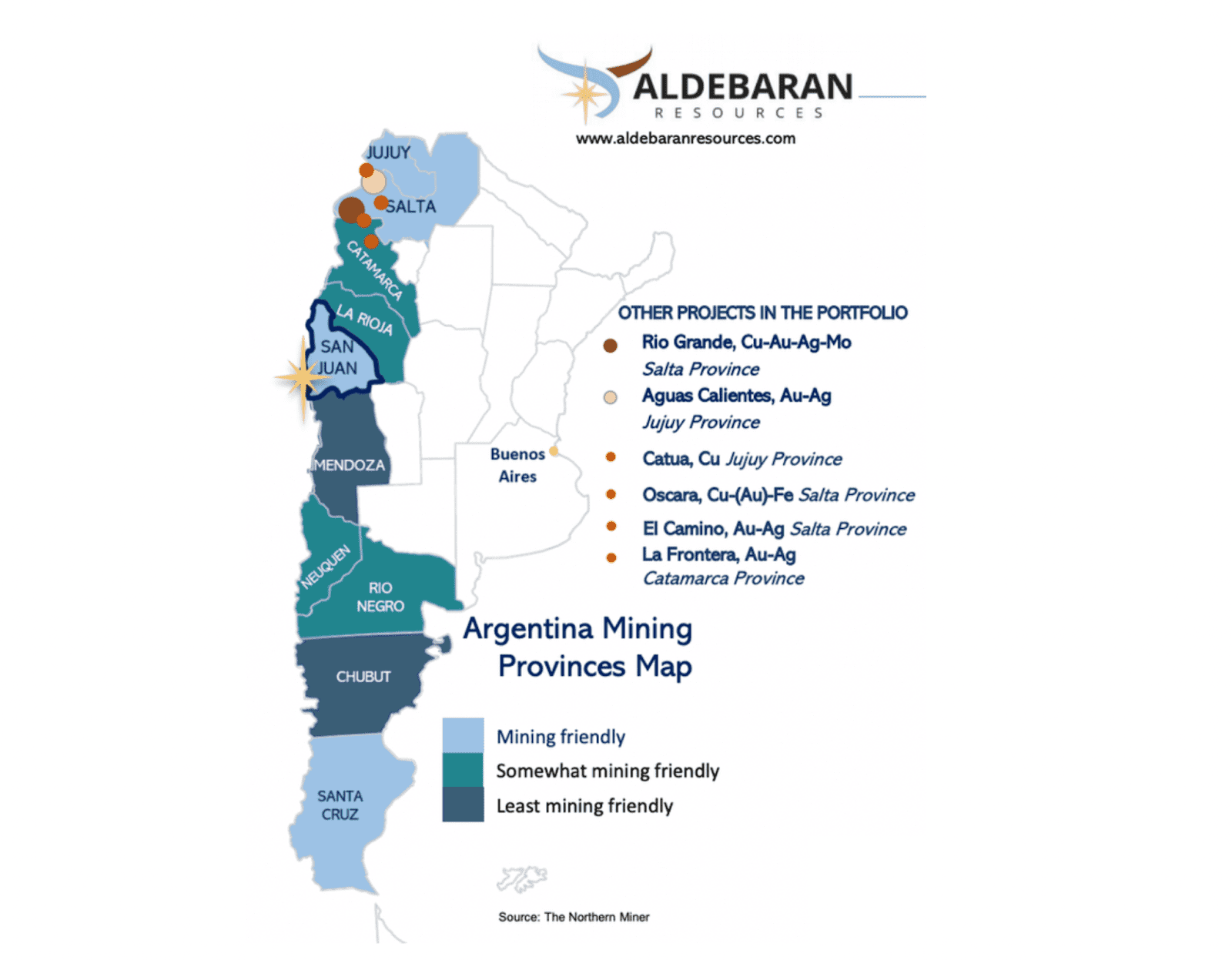 The company's flagship Altar copper-gold project sits in the mining-friendly jurisdiction of San Juan province in the Argentina Andes. Altar is a district of copper-gold deposits and with a Measured & Indicated Mineral Resource of 1,198.2 million tonnes grading 0.43 percent copper, 0.09 g/t gold and 1.00 g/t silver at the Altar Central & Altar East deposits as well as an early-stage gold deposit at the QDM gold deposit. The company also has additional promising projects in Argentina, including its Rio Grande copper-gold porphyry project and the Aguas Calientes gold project in Salta province.
"The Altar project is an extremely large copper system with an interesting amount of additional gold as a byproduct with it. The project was acquired by Stillwater Mining in 2011 for almost US $500 but then fell off the map as it became a non-core asset for Stillwater. We made a deal with Stillwater in 2018 to acquire up to an 80% in the project on terms that are very favorable compared to the previous sale price. We have been quietly doing a lot of technical work to re-evaluate the potential of the project over the past few years. I think it's an outstanding moment to take a look at us as being an extremely undervalued company with plenty of potential for the project to move forward," said Aldebaran Resources CEO John Black.
The Altar copper-gold project leverages strategic positioning nearby several existing large mines and advanced-stage copper projects. Notable geographic neighbors include the Antofagasta Minerals' Pelambres copper mine, Glencore Xstrata's El Pachon copper project and McEwen Mining's Los Azules copper project. Altar has the potential to mimic the success of these large established copper projects and boasts regional expansion potential across the mining-friendly San Juan province.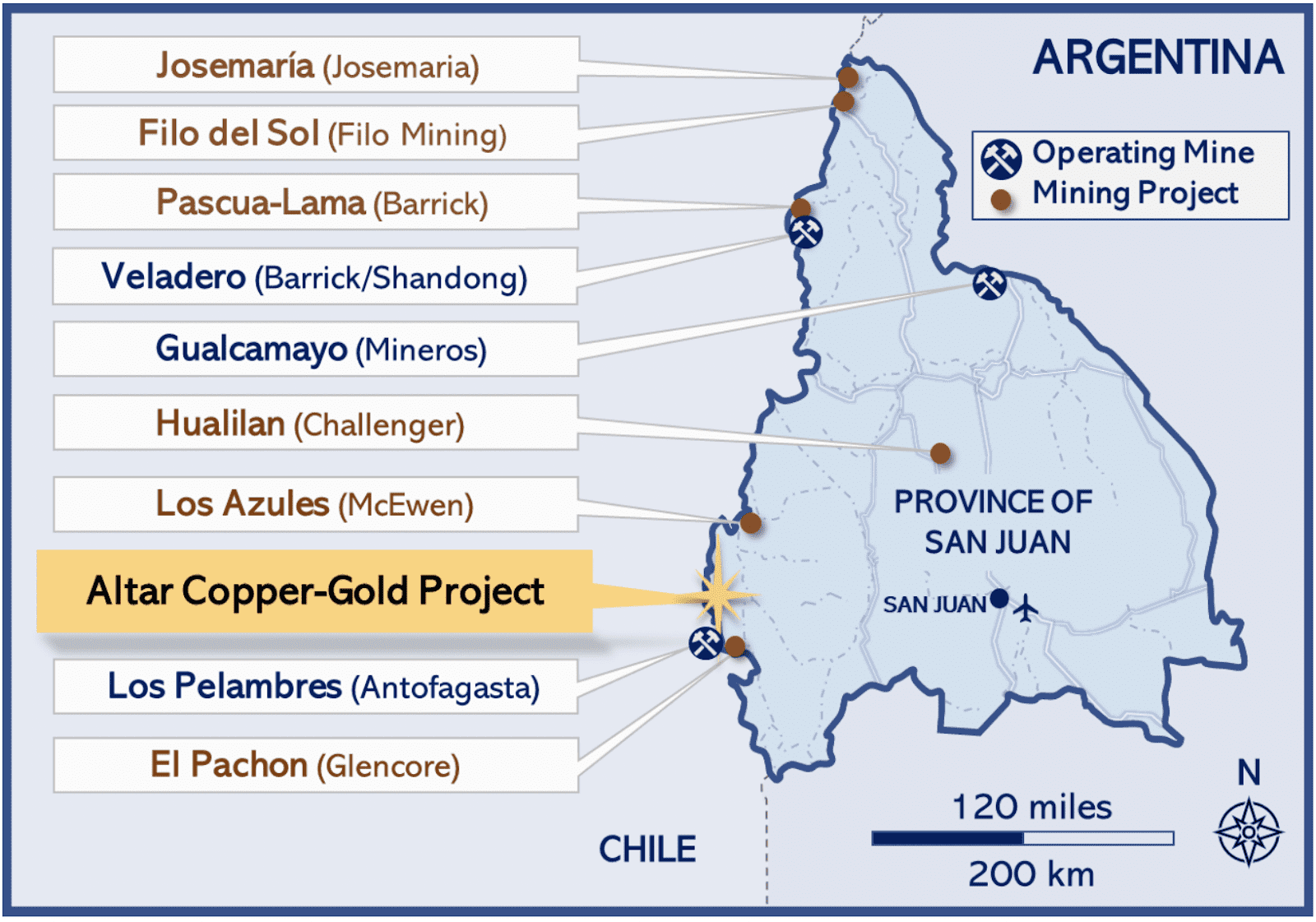 After two years of conducting extensive fieldwork and geological data collection, the next step at Altar includes an exciting large-scale drilling campaign to drill out higher-grade mineralized zones and to test new greenfield targets expected to commence in Q4 2021.
Aldebaran Resources currently has a joint venture and option agreement with Sibanye-Stillwater Ltd. (JSE:SSW) to earn up to 80 percent interest in the Altar copper-gold project, subject to cash and expenditure conditions. The company is currently earning up to 60 percent interest by spending US$ 30 million over five years and has the right to earn an additional 20 percent interest in the project by spending an extra US$25 million over three years.
Aldebaran Resources has a strong shareholder base consisting of two strategic partners who collectively own about 70% of the company (Sibanye-Stillwater [19.9%] and Route One Investment Corp [46.34%]) along with management and a group of loyal shareholders. This strong shareholder base provides the company with favorable access to capital.
Much of the company's success can be attributed to its strong technical capabilities and experienced management team. Their decades of experience in project management, copper-focused exploration and corporate governance pushes Aldebaran ahead of the game.
Aldebaran Resources' Company Highlights
Aldebaran Resources is a Canadian mineral exploration company focused on identifying, acquiring and exploring large high-quality copper projects throughout mining-friendly jurisdictions in South America.
The company has its large flagship Altar copper-gold project in mining-friendly San Juan province, Argentina.
The Altar project consists of several higher-grade copper-gold porphyry deposits over a sizable 8,444-hectare land position. Its currently reported resource estimate stands at over 15.2 billion pounds of copper equivalent with a significant portion of gold by-product and excellent potential for expansion.
Aldebaran has identified higher grade copper-gold cores to several of Altar's porphyry centers and will focus additional exploration on increasing the size of these higher grade zones.
The company's management team has a long history of working together as a core group of experts in copper discoveries and project exploration. They share the same leadership team with Regulus Resources and were the former management of the highly successful Antares Minerals.
Aldebaran Resources' Key Projects
Altar Copper-Gold Project
The flagship Altar copper-gold project is located in San Juan, Argentina, and hosts a cluster of porphyry deposits. The company has identified outstanding revitalized exploration opportunities for the rising copper and gold markets.
The project consists of eight mining concessions covering over 8,444 hectares, two exploration permits and nine mining rights of way. Aldebaran can earn up to 80 percent interest in Altar under joint venture and option agreement with Sibanye-Stillwater.
The vast copper-porphyry system consists of at least four mineralized centres: Altar Central, Altar East, QDM & Radio and Altar North. In 2019, Aldebaran drilled 5,400 meters in four-diamond core holes to explore and expand the higher-grade zones. Discoveries from the campaign revealed a new, highly prospective porphyry center and several new target areas of higher-grade mineralization. The new 2021 resource at the Altar Central and East deposits stand at upwards of 15.2 billion pounds of copper equivalent at average grades of 0.5 percent copper equivalent. The new resource was calculated using an improved geologic model and better structural data which resulted in a better characterization of the distribution of arsenic in the primary copper-gold mineralization at Altar Central and Altar East and demonstrated that arsenic levels are much lower than previously thought. The new resource revealed that the majority of the arsenic is constrained to unmineralized waste material and the secondary supergene mineralization, closer to surface, which could be amenable to a lower CapEx starter operation with SX/EW heap-leach processing.
After extensive data collection in 2020 and a moderate 2021 drill program, Aldebaran is preparing the Altar project for more expansive and exploratory drilling to test prospective extensions to zones of higher-grade mineralization as well as new targets that have never been drill tested before. Aldebaran remains very excited about Altar's potential for more higher-grade copper-gold discoveries.
Aldebaran Resources' Management Team
John E. Black — CEO & Director
John E. Black is an economic geologist with more than 30 years of exploration experience in the Americas, Central Asia, the Southwest Pacific and Eastern Europe/Western Asia. He first worked in South America in 1993 and has been actively involved in mineral exploration throughout the continent for several companies since that time. His professional credentials include a B.Sc. degree in Geology from Stanford University in 1983 and an M.S. degree in Geology – Ore Deposits Exploration from the same University in 1988.
Black was the founding president of Antares Minerals Inc. and was instrumental in acquiring the Haquira project in Peru for Antares. He was the key driver in negotiating the sale of Antares to First Quantum Minerals for CAD$650 million. Black's early career included work with Bear Creek Mining Company, Kennecott Minerals Corporation, Rio Tinto and Western Mining Corporation. He also cofounded and is currently the CEO and director of Regulus Resources Inc and Aldebaran Resources Inc.
Dr. Kevin B. Heather — CGO & Director
Dr. Kevin B. Heather is an economic geologist with more than 35 years of field experience in North and South America. Dr. Heather was a founding member of Antares and directed the exploration that led to discovering the high-grade Haquira East deposit in Southern Peru, which was sold to First Quantum Minerals in December 2010 for CAD$650 million. His professional credentials include a BSc. (honors) degree in Geology from UBC in 1982, an MSc. degree in Geology from Queen's University in 1985 and a Ph.D. degree from the University of Keele in 2001.
Dr. Heather cofounded and is currently the CGO for Regulus and Aldebaran and is the qualified person (FAusIMM) responsible at a corporate level to oversee the technical aspects of both the companies' exploration activities.
Mark Wayne — CFO & Director
Mark Wayne is a co-founder, director and the CFO of Aldebaran. He is also currently CFO of Regulus and former CFO of Antares Minerals Inc. Wayne has a law degree and is a Chartered Financial Analyst, specializing in corporate and securities law. Mr. Wayne has raised money for, and served as a director or officer of, a number of public and private companies over the years in the mining, oil and gas and technology sectors
Megan Cameron-Jones — Corporate Secretary
Megan Cameron-Jones has 30 years of experience in providing regulatory and management services to public companies. She is also the corporate secretary of Regulus Resources Inc. and a director and officer of Highway 50 Gold Corp. For 23 years, Cameron-Jones was a director and officer of Goldrock Mines Corp., acquired by Fortuna Silver Mines in 2016 for CAD$130 million. She was also a director and officer of Pachamama Resources Inc., which merged with Regulus in 2012.
Adam Greening — VP of Corporate Development
Adam Greening is a professional geologist with over 12 years of experience in corporate development, exploration and strategy. Before joining Aldebaran, Greening worked at Yamana Gold, where he helped evaluate and execute successful acquisitions and divestitures valued at approximately CAD$4.5 billion. Before Yamana Gold, he worked at Goldcorp and MPH Consulting as a geologist. Adam has an MBA from the Rotman School of Management at the University of Toronto and a B.Sc (honors) from the Memorial University of Newfoundland. Greening is also the VP of Corporate Development for Regulus Resources.
Stanford Foy — VP of Project Development
Stanford Foy is a geological engineer with a B.Sc. from the Montana College of Mineral Science & Technology, Butte, focusing on resource and reserve estimation, mineral economic modeling and advancing exploration projects towards feasibility. His unique 28-year experience combining mineral exploration with operational and technical roles from both open-pit and underground operations provides valuable insight for his new role in Aldebaran as VP of Project Development.
Most recently, Foy was director of Corporate Development for Sibanye-Stillwater and responsible for the Altar project, managed a feasibility study for the Marathon Project in Ontario, and was involved in numerous M&A due-diligence of potential business opportunities.
Laura Brangwin – Manager, Investor Relations
Laura Brangwin has over 6 years of experience working with natural resource companies in South America on marketing and communications strategies. Laura previously worked as international relations manager for Kura Minerals and in media as a project director leading marketing campaigns for executives in the mining sector globally with Global Business Reports (GBR) She has worked and lived across the Americas and Africa including in Argentina, Peru and Brazil. Laura graduated from the University of Manchester in the UK with a First-Class BA Honours in Spanish and Distinction in Portuguese, and speaks both languages fluently. Laura Brangwin is also the Manager of Investor Relations for Regulus Resources Inc.
---
*Disclaimer: This profile is sponsored by Aldebaran Resources (TSXV:ALDE) (OTCQX: ADBRF). This profile provides information that was sourced by the Investing News Network (INN) and approved by Aldebaran Resources, in order to help investors learn more about the company. Aldebaran Resources is a client of INN. The company's campaign fees pay for INN to create and update this profile.
INN does not provide investment advice and the information on this profile should not be considered a recommendation to buy or sell any security. INN does not endorse or recommend the business, products, services or securities of any company profiled.
The information contained here is for information purposes only and is not to be construed as an offer or solicitation for the sale or purchase of securities. Readers should conduct their own research for all information publicly available concerning the company. Prior to making any investment decision, it is recommended that readers consult directly with Aldebaran Resources and seek advice from a qualified investment advisor.