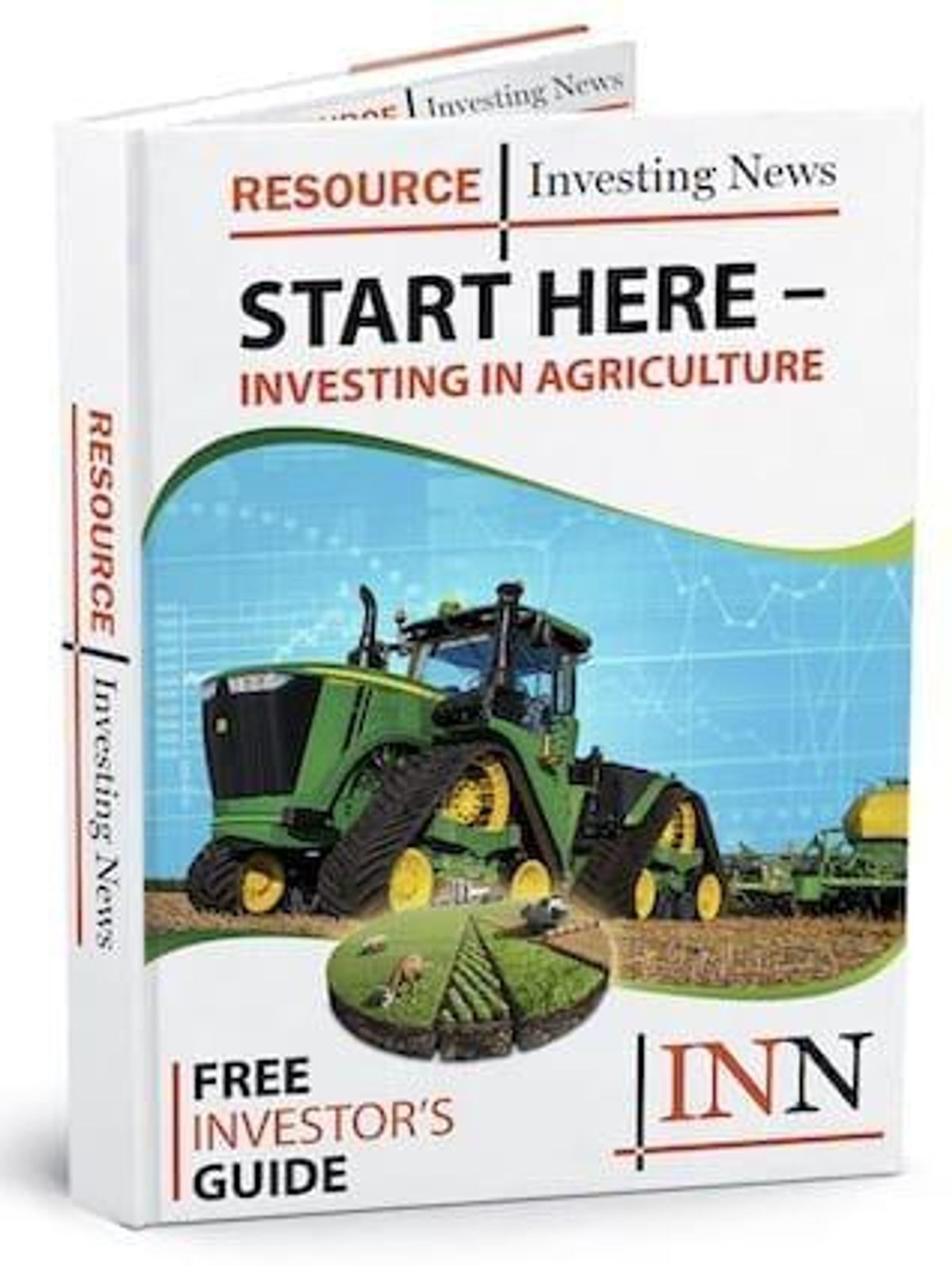 Start Here – Investing in Agriculture
Interested in potash or phosphate investing, but not sure where to start? Here's what you need to know about potash and phosphate, from supply and demand to prices to stocks, as well as how food security is key to agriculture investing.So where can an investor find the right information they need to profit from this new and expanding market? Well, you can start here with our FREE starter guide to agriculture investing!
How to Invest in Agriculture
How Food Security is Key to Agriculture Investing – Here's Why
Fertilizers: What's the Difference Between Potash and Phosphate?
What is Potash Investing?
Potash Fertilizers: What's the Difference Between SOP and MOP?
Top 10 Countries for Potash Production
Introduction to Phosphate Investing
Top Phosphate-mining Production by Country
Dear Agricultural Investor,
Traders who want to invest in agriculture should be aware of global economics, food demand and investment vehicles when looking at options. Investors have been trading in the agriculture space for many years, even prior to the Industrial Revolution. Agriculture futures is where commodities trading got its start, providing contracts that allowed farmers to offset losses in crop yields.
Today, the agriculture sector is global in scale, and is a compelling market for many investors, particularly those concerned about food security. However, the space has many moving parts and stakeholders, and there are numerous options for traders looking to invest.
So, where should you start when looking to invest? This FREE starters guide to investing in the agricultural market is the perfect place to learn how to strategically invest. Click below to gain instant access!
What's ahead for the agricultural Stock Market?
Phosphate is critical for all living organisms, and a huge 90 percent of it is used for crop applications in support of plant growth. Its primary function is to support strong cell development and water retention. Phosphate rock, or "phos-rock," is ore that contains phosphorus. It is located at various depths, and extraction typically requires large dragline buckets, which scoop up the material for refinement.
Investors can consider companies ranging from smaller niche service providers to large, consolidated companies with global reach. Companies focused on commodities like potash and phosphate are also an option. Then there is the option to invest in ETFs. Agriculture ETFs are made up of either a collection of agricultural stocks or a collection of futures contracts that are commodity specific. They are a strong option as they provide diversification and help lower investment risks.
Unsurprisingly, many investors are wondering what else they can do to invest in the market and gain significant profits in this exciting space. Read on to find out in our FREE starters guide to agricultural investing!
This FREE special report is designed to help you!
How much would you pay for all of that? We are here to offer it for free. Why? Because educating investors with unbiased information is simply good business. It's as simple as that.
Of course, after first asking, "Is the agriculture market a good investment?" your next question might be what are the credentials of the Investing News Network…
Who We Are
Investing News Network is a growing network of authoritative publications delivering independent, unbiased news and education for investors. We deliver knowledgeable, carefully curated coverage of a variety of markets including gold, silver, copper and many others. This means you read nothing but the best expert advice, and never have to waste your valuable time doing hours, days or weeks of research yourself.
At the same time, not a single word of the content we choose for you is paid for by any company or investment advisor: We choose our content based solely on its informational and educational value to you, the investor.
So if you are looking for a way to diversify your portfolio agriculture investing might be on your radar.
This is the place to start. Right now.
Remember, it costs you nothing to read this special report, and it could make or break your investment in the agriculture market this year. We're pleased to be able to make it available to you at no cost, and hope you'll take advantage of the expertise it delivers.
Millions of other investors have already taken steps to secure their futures and sleep soundly at night – why would you wait any longer to get started yourself?
So I urge you to sit down today and carefully read Start Here – Investing in Agriculture. Keep an open mind, give its insights careful thought and take your time in making any decisions. Remember, this FREE Special Report is yours to keep, so you can refer back to it at any time to guide your future moves.
Thank you for hearing me out and for your interest in the Investing News Network. Join me soon as a confident agriculture investor!
Yours for financial self-reliance,
Nick Smith
Publisher.