Maple Gold Mines
Advancing the Douay Gold Project in Quebec's Abitibi Greenstone Belt
Overview
Maple Gold Mines (TSXV:MGM,OTCQB:MGMLF,FSE:M3G) is an advanced gold exploration company focused on the Douay gold project located in Quebec's prolific Abitibi Greenstone belt. The company has formed a strategic partnership with Agnico Eagle Mines (TSX:AEM, NYSE:AEM) that included a C$6.2 million strategic investment at a significant premium. The partnership also contemplates for a 50-50 joint venture that will combine Maple Gold's Douay Project and Agnico's Joutel Project into a consolidated joint property package. Under the agreement, Agnico Eagle Mines is set to solely fund C$18 million in exploration over a four-year term. According to the press release, "Agnico and Maple Gold have agreed to negotiate in good faith and use commercially reasonable efforts to enter into a joint venture agreement (the "JV Agreement") within three (3) months of signing the Binding Term Sheet."
The combined Douay-Joutel gold project encompasses ~400 square kilometers along the Casa Berardi Deformation Zone and currently hosts the third largest undeveloped gold resource in Quebec with an NI 43-101 resource of 422,000 ounces in the Indicated category (8.6 Mt grading 1.52 g/t gold) and 2.35 million ounces in the Inferred category (71.2 Mt grading 1.03 g/t gold). The resource is virtually royalty free (just 137,000 oz is subject to a 1 percent NSR to IAMGOLD) and covers just 4 percent of the company's property package.
Significant resource expansion and regional discovery potential exists, which the company is working to uncover in its upcoming drill campaigns. With the recent strategic investment from Agnico Eagle (C$6.2M) and C$18M in committed JV funding, the company now has more than C$30M in available cash and committed funding to support further growth at the corporate and project levels.
Maple Gold Mines' objective is to develop a district-scale gold project in Quebec, which is responsible for 35 percent of total gold production in Canada and is one of the world's top mining jurisdictions based on the Fraser Institute Annual Survey of Mining Companies. The Abitibi Greenstone Belt has given rise to over 100 mines and yielded more than 200 million ounces of gold since the early 1900s. This rich mineralization has allowed a number of resource companies to establish significant mines in the area, such as:
Kirkland Lake's (TSX:KL) nearby Detour Lake mine, which had a resource of 15.8 Moz at 0.97 g/t gold and is currently Canada's largest mine (Kirkland's on-site gold production in 2019 alone produced 601,566 ounces of gold).
Agnico-Eagle (TSX:AEM) and Yamana's (TSX:YRI) nearby Canadian Malartic Mine, which had a resource of 12 Moz at 0.96 g/t Au and is currently Canada's second largest gold mine (2019 production was 669,192 oz).
Forty kilometres west of the Douay gold project, Hecla Mining's (NYSE:HL) Casa Berardi mine had a resource of 6.2 Moz at 5.3 g/t gold from underground mining and 2.3 g/t gold in pit.
A number of significant resources have been identified in the area, including Maple Gold Mines' Douay Gold Project, which hosts a NI 43-101 gold resource of 422,000 ounces in the Indicated category (8.6 Mt grading 1.52 g/t gold) and 2.35 million ounces in the Inferred category (71.2 Mt grading 1.03 g/t gold).
The region is a merger and acquisition hotspot with more than C$10 billion in gold transactions since 2013.
Maple Gold Mines' Douay gold project benefits from exceptional nearby infrastructure, including direct access via Provincial Highway 109 and a high-voltage electric power line that runs through the property. The property is approximately a 2 hour drive north of Val 'Dor and is only 55 kilometers from the local airport and the nearby town of Matagami, providing access to a skilled labour force and significant technical infrastructure, including drill companies with competitive rates.
Maple Gold Mines recently closed C$6.2 million through a strategic private placement with Agnico Eagle at C$0.24 per unit and intends to launch an aggressive exploration plan with the goal of making new discoveries and completing significant step out drilling in advance of an updated resource estimate in H2 2021. The company has begun leveraging machine learning and artificial intelligence in order to enhance its exploration work at Douay with the aim of automating mathematical models in order to better understand data-rich environments and identify potential targets.
Maple Gold Mines' Company Highlights
Strategic Partnership with Agnico Eagle Mines (TSX:AEM, NYSE:AEM) for a 50-50 joint venture that will combine Maple Gold's Douay Project and Agnico's Joutel Project
Flagship Douay gold project hosts an NI 43-101 gold resource of 422,000 ounces in the indicated category (8.6 Mt grading 1.52 g/t gold) and 2.35 million ounces inferred (71.2 Mt grading 1.03 g/t gold).
The current gold resource covers just 4% of the property package and significant potential remains for both resource expansion laterally and at depth as well as for regional discoveries.
The project is virtually royalty-free, with just 130,000 oz of its currently defined resource subject to a 1% NSR to IAMGOLD.
Abitibi Greenstone gold belt, which hosts the Douay gold project, has produced more than 200 Moz of gold to date.
Douay project is surrounded by exceptional infrastructure, including a two-lane highway and a high-voltage electric power line that runs through the property
Nearby town also provides access to a skilled labor force and significant technical infrastructure, including drill companies with competitive rates.
Douay offers significant potential for high-grade deposits given its proximity to high-grade mines including the Eagle-Telbel mine (1.15 Moz at 6.5 g/t gold) and the Vezza mine (500,000 oz at 6 g/t gold).
Maple Gold's leadership consists of ex-Ivanhoe Mines (TSX:IVN) and Inmet Mining alumni, with directors and advisors from Ivanhoe, Inment, Wheaton PM (TSX:WPM), Goldcorp and Placer Dome.
Major shareholders include Agnico Eagle Mines, Caisse de Dépôt et Placement du Québec (CDPQ), SIDEX, Stephens Investment Management, Goodman Investment Counsel, PowerOne Capital and Marlborough Fund Management Ltd.
Maple Gold Mines' Douay Gold Project
Maple Gold Mines' flagship Douay gold project is located 200 kilometers north of Val d'Or and 130 kilometers north of Amos in the Abitibi Greenstone Belt. The project is also situated 55 kilometers southwest of Matagami, providing access to a skilled workforce and local airport.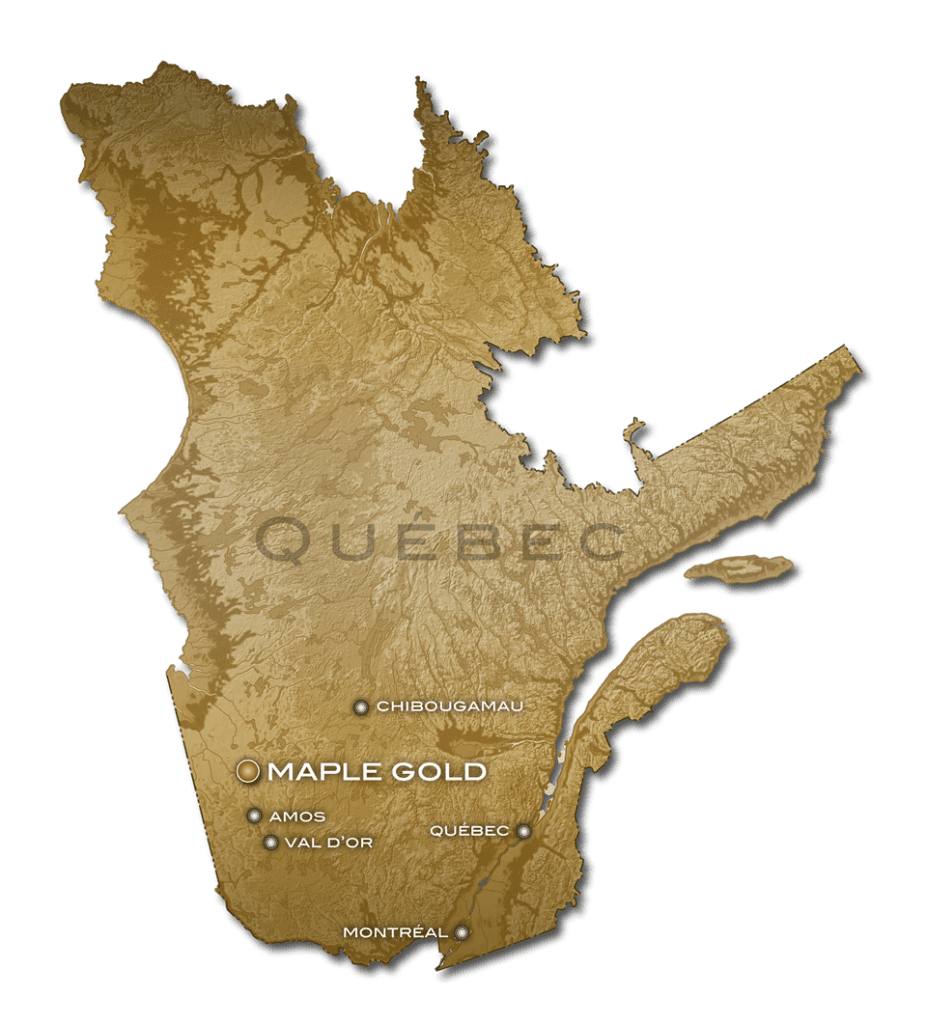 The property consists of 669 claims spanning over 355 square kilometers. Maple Gold holds 100 percent interest in 637 of these claims, covering 345 square kilometers, in addition to 75 percent interest in 32 contiguous claims covering 12 square kilometers.
The Douay gold project includes a 55 kilometer segment of the Casa-Berardi Deformation Zone (CBDZ), which consists of several deformation corridors. Every notable style of gold deposit in the Abitibi Greenstone Belt exists within a 30 kilometer strike of the CBDZ.
Infrastructure
The cost of exploration in the area is low due to ample infrastructure as well as tax incentives. Much of the property's existing mining-related infrastructure was constructed in the 1990s by Aurizon (ASX:AZJ), which intended to mine higher-grade material at the project's Douay West Zone. While Aurizon relinquished the option on the project in the late 1990s due to market conditions, both infrastructure and the higher-grade ounces at Douay West remain.
The Douay gold project also benefits from its location within Quebec's Plan Nord, a government-backed initiative in support of mining infrastructure development and resource facilitation. The provinces tax benefits are significant, with Maple Gold being entitled for up to C$0.37 in tax credits for every C$1 spent on qualifying exploration expenditures.
Exploration
From January to March 2020, Maple Gold Mines' exploration team conducted a 4,370 meter drill campaign. Of the 14 holes that were drilled, 11 yielded higher-than-average deposit grade gold mineralization. Highlights from the drill campaign included:
Porphyry Zone: Hole DO-20-281 intercepted 75 meters of 1.23 g/t gold, including 31 meters of 1.61 g/t gold. Hole DO-20-283 intercepted 17 meters of 1.91 g/t gold and 7 meters of 1.06 g/t gold at end-of-hole. These results confirmed the presence of significant gold intercepts outside of the current indicated resource block in the zone.
NW Zone: A single site (hole DO-20-272) was drilled as a step out hole to test the continuity of a near-surface historical intercept near the northwest edge of the current resource conceptual pit. Results surpassed those of the historical hole, including 3.4 meters of 4.16 g/t gold followed by 20 meters of 1.15 g/t gold, the former starting from 39.6 meters downhole and the latter from 50 meters downhole. This is the first hole drilled in the area since the 1990s and significant drill gaps remain in the zone. Further drilling is planned in the area to identify additional near-surface gold resources.
531 Zone: Hole DO-20-262X established a third higher-grade area in this zone after it intercepted 3.5 meters of 5.96 g/t gold, including 1.7 meters of 11.35 g/t gold. This hole deepened the company's hole drilled in the zone in 2019, which intercepted 51 m of 2.81 g/t and 28 m of 2.55 g/t gold. These are the first holes drilled in the area since the 1990s and demonstrate the untapped potential of the entire project.
Significant drill gaps of hundreds of meters remain throughout the 6 by 2 km resource area. Red ellipses in the map below indicate areas where further drill programs may expand the resource and add higher grade areas.

Next Steps
Maple Gold Mine's fall 2020 drill campaign is a 3,000 meter planned program that will focus primarily on drill testing new discovery targets. All necessary permits have been acquired with additional sites having been requested. The campaign is expected to commence in Q4 2020.
Following its fall 2020 program, the company intends to conduct another drill campaign scheduled for winter 2021. This campaign will encompass over 10,000 meters and is expected to take place between January and April. The objective of the winter campaign is to expand and upgrade its existing 2.7 million ounce resource with step-out and infill drilling.
Results from these drill campaigns, along with the results from its successful 2020 winter drill program, will be incorporated in an updated NI43-101 resource estimate, which the company plans to complete in H2 2020.
Historically, much of the drilling performed in and around the area has relied on dated mining exploration techniques and equipment. Maple Gold hopes to unlock significant value by implementing modern IP and AI technologies while targeting the most prospective zones of mineralization both within the known resource as well as within its district-scale property package.
Maple Gold Mines' Management Team
Matthew Hornor—President, CEO and Director
Mr. Hornor is an executive leader with a proven track record in the legal, financial and business development arenas. He has extensive expertise in structuring and negotiating complex strategic partnerships and raising capital, having worked within the Ivanhoe group of companies for over 10 years. Mr. Hornor recently served as the Vice President and Executive Vice President for Ivanhoe Mines Ltd. for 10 years. During his time at Ivanhoe Mines Ltd., he negotiated project financings for development projects with international banking syndicates, structured strategic alliances and directly negotiated equity capital raises totaling more than $450 million. Mr. Hornor also acted as Managing Director for Ivanhoe Capital Corporation for 10 years, and sat as Chairman for Ivanplats Holding SARL (owner of the Platreef project) for over 4 years.
Gregg Orr—Chief Financial Officer
Mr. Orr is a Chartered Professional Accountant with extensive experience assisting companies in the public market place with initial public offerings, dual listings, due diligence assignments and completion of prospectus offerings. Gregg was the British Columbia Mining Leader for Deloitte for six years and worked for Deloitte in Vancouver, New York and London for over 23 years, serving clients in public accounting, auditing and advisory. Mr. Orr was an Audit Partner for 10 years. He has extensive M&A, financing and systems integration experience. Gregg earned his Bachelor of Science (BSc) degree from the University of Leicester.
Joness Lang—Executive VP
Mr. Lang is an experienced business development and capital markets professional with more than a decade of experience in the natural resource sector. Mr. Lang is currently a Director with American Pacific Mining and previously was VP of Corporate Development with Riverside Resources Inc. During his tenure with Riverside's leadership group, Mr. Lang led multiple equity financings, structured and secured joint-venture and strategic alliance partnerships and negotiated the acquisition of numerous gold and silver assets for the company's portfolio. Mr. Lang received his Bachelor of Commerce degree from Royal Roads University, graduating with distinction. Mr Lang also graduated with honours from the British Columbia Institute of Technology, where he received his Marketing Management Entrepreneurship diploma.
Friederich Speidel—VP Exploration
Mr. Speidel has over 30 years of exploration experience in North, Central and South America, and has been involved in discoveries in each region. From 1987 to 1992, Fred explored for gold in Ontario and Quebec, mostly with Minnova, and was involved in the Boyvinet and Troilus discoveries, the latter of which became a mine. From 1993 to 2013, he continued to work — mostly as Regional Exploration Manager for Central and South America — with the same group in Central and South America, which eventually became Inmet Mining (now First Quantum). During that period he was involved in several gold and copper discoveries, including Cobre Panama, which is currently under construction. From 2013 to 2015, Fred served as Antofagasta Minerals' Regional Exploration manager for North America, and since then he has been working on several exploration projects as a consultant in Canada and Mexico. Mr. Speidel holds a B.Sc. (Hons) in Geology from McGill University, and a M.Sc. (Mineral Exploration) from Queen's University.
Maurice Tagami—Director and Technical Advisor
Mr. Tagami has served as the Vice President, Mining Operations for Wheaton Precious Metals Corp. since July 2012. He is a Metallurgical Engineer from the University of British Columbia with 35 years of experience in mining operations, engineering, construction and project development. He is responsible for maintaining partnerships with 21 operating mines and 8 development projects from which Wheaton Precious Metals Corp. has silver and/or gold streaming agreements. Prior to July 2012, Mr. Tagami was President & CEO and Director of Keegan Resources Inc.
Gerald Riverin—Director and Technical Advisor
Dr. Riverin obtained his Ph.D. from Queen's University in 1977. He has been involved with the discovery and development of several properties, including Inmet's Troilus open pit gold-copper mine near Chibougamau. Dr. Riverin is internationally renowned as an expert on the geology of volcanogenic massive sulphide deposits and is routinely invited as a speaker and lecturer on various aspects of the geology of volcanogenic massive sulphide deposits and on exploration technology. He has served as Executive Director of Exploration (North America) for Inmet Mining Corporation, President and CEO of Cogitore, President of Yorbeau and President of the Association de l'Exploration Minière du Québec. All three companies were active in the greater Douay area. Dr. Riverin is also a Prospector of the Year award winner (QMEA).
Michelle Roth—Director
Ms. Roth is an entrepreneur and business leader who founded Roth Investor Relations in 1987. She successfully expanded this global consulting business through multiple investment cycles by formulating comprehensive shareholder engagement solutions for a worldwide client base. Mining clients have operated mines or explored in North America, Australia, Africa, Europe and South America for gold, silver, platinum, copper, nickel, and diamonds. She also acts as a strategic advisor to Nova Royalty and to a privately held cell tower infrastructure/ IT managed services company, where she has advised on growth opportunities during the pandemic. In the public sector, Ms. Roth served as Mayor, Deputy Mayor and Planning Board Chairperson of Manalapan Township, New Jersey. She has also held appointed positions on other governmental boards. During her service, she gained experience with budgeting, succession planning, union negotiations, public/private partnerships and the setting and implementing of land use policy. Ms. Roth earned her MBA in Finance from Fordham University.
David Broughton—Technical Advisor
Mr. Broughton was Executive Vice-President Exploration with Ivanplats Ltd (now Ivanhoe Mines) from January 2008 through October 2016 and was co-awarded PDAC's Thayer Lindsley and AME BC's Colin Spence awards for world-class discoveries at Kamoa, Democratic Republic of Congo, and Flatreef, South Africa. Closer to home, Mr. Broughton has worked extensively on exploration, development stage and mining projects throughout the Abitibi, including in the Casa Berardi and Joutel areas, both very close to Douay; in the Timmins and Kirkland Lake camps; and at the Holloway and Kerr Addison mines. Upon retirement from Ivanhoe in October 2016, Mr. Broughton became Senior Advisor, Exploration and Geology for Ivanhoe and also consults for a number of Canadian ventures. Mr. Broughton holds a B.Sc. and M.Sc. from the University of Waterloo and a Ph.D. from the Colorado School of Mines.
Timo Jauristo—Strategic Advisor
Mr. Jauristo has over 35 years of experience in the mining and exploration industry having been involved with or led numerous transactions in many of the world's gold producing regions. He is currently an independent director of Integra Resources and previously served as a Senior Advisor to the Investment Banking division of Canaccord Genuity's Metals and Mining Group. Before his time at Canaccord, Mr. Jauristo acted as Goldcorp's Executive Vice President of Corporate Development after having spent 15 years with Placer Dome before it was acquired by Barrick in 2006.
Matthew Lechtzier—Strategic Advisor
Mr. Lechtzier is a qualified lawyer with extensive experience in marketing, transacting and documenting a variety of international financial transactions. He has acted as project manager and senior advisor for over 80 public and private offerings. For nearly 25 years, Mr. Lechtzier has served as Senior Vice President of Ivanhoe Capital Corporation. He has been responsible for transaction execution, marketing and banker and investor relations with respect to both public and private affiliated companies. In addition, he has overseen the raising of over $1 billion in five separate initial public and other offerings while at Ivanhoe Capital. He also serves as Senior Vice President of Ivanhoe Mines UK Ltd. and is based out of London, UK.
Egizio Bianchini—Strategic Advisor
Mr. Bianchini has more than 30 years' experience in the metals and mining financial services sector. He currently serves as Vice-Chairman, Managing Director, and Head of Investment Banking for Stifel GMP Canada and previously served as the Executive Vice Chairman of Ivanhoe Mines. Prior to Ivanhoe Mines, Mr. Bianchini held a 29-year career at BMO Capital Markets, a member of Canada-based BMO Financial Group, where he served as Vice Chairman and Co-Head of the Global Metals & Mining Group from April 2011 to March 2018. He has an extensive track record in advising a wide range of metals and mining companies around the world and in structuring and executing initial public offerings and other capital raises..
---
*Disclaimer: This profile is sponsored by Maple Gold Mines (TSXV:MGM,OTCQB:MGMLF,FSE:M3G). This profile provides information that was sourced by the Investing News Network (INN) and approved by Maple Gold Mines in order to help investors learn more about the company. Maple Gold Mines is a client of INN. The company's campaign fees pay for INN to create and update this profile.
INN does not provide investment advice and the information on this profile should not be considered a recommendation to buy or sell any security. INN does not endorse or recommend the business, products, services or securities of any company profiled.
The information contained here is for information purposes only and is not to be construed as an offer or solicitation for the sale or purchase of securities. Readers should conduct their own research for all information publicly available concerning the company. Prior to making any investment decision, it is recommended that readers consult directly with Maple Gold Mines and seek advice from a qualified investment advisor.