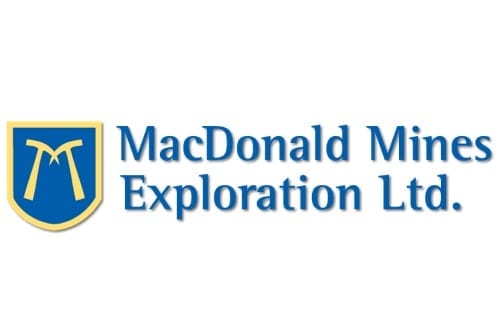 MacDonald Mines Exploration Ltd.
High-Grade Gold Deposit in an Emerging Polymetallic District
Overview
MacDonald Mines Exploration Ltd. (TSXV:BMK) is a mineral exploration company focused on gold exploration in Canada. The company retains 100 percent ownership of the 18,340-hectare SPJ Project near the mining-friendly jurisdiction of Sudbury, Ontario. The property is accessible year-round and is close to key infrastructure such as rail, road, power and a skilled workforce.
The SPJ Project hosts the past-producing Scadding mine, which reportedly produced 29,000 oz of gold from 144,000 tons of mineralized material grading 7.43 g/t gold during the 1980s. MacDonald Mines has confirmed the presence of battery and precious metal mineralization affiliated with iron oxide-copper-gold (IOCG) systems at the Scadding deposit and on the large land package. IOCG systems are regional hydrothermal systems that can form an extremely large suite of base, precious and battery metal deposits. MacDonald Mines Chief Geologist Dr. Jean-Francois Montreuil is leading the company towards understanding the type of structures that control mineralization on the property, and is currently building a predictive model for targeted exploration on the SPJ Project.
MacDonald Mines' Company Highlights
MacDonald Mines owns 100 percent of a substantial land package in a mining-friendly jurisdiction near Sudbury, Ontario.
The SPJ Project is close to key infrastructure such as rail, road, power, a skilled workforce, and is accessible year-round.
The past-producing Scadding mine reportedly produced 29,000 oz of gold from 144,000 tons of mineralized material grading 7.43 g/t gold during the 1980s.
Evidence of IOCG-type mineralization – multiple polymetallic (Au, Cu, Ni, Co & Ag) showings on property
Ongoing exploration is focused on connecting the polymetallic centres of mineralization throughout the property
Eric Sprott made a C$1.5 million investment into MacDonald Mines in 2019.
SPJ IOCG Project
The wholly-owned 18,340-hectare SPJ (Scadding-Powerline-Jovan) Project is located 33 kilometers southeast of Sudbury, Ontario. The property is close to key infrastructure such as rail, road, power, a skilled workforce and resides in a mining-friendly jurisdiction. The property is also accessible year-round.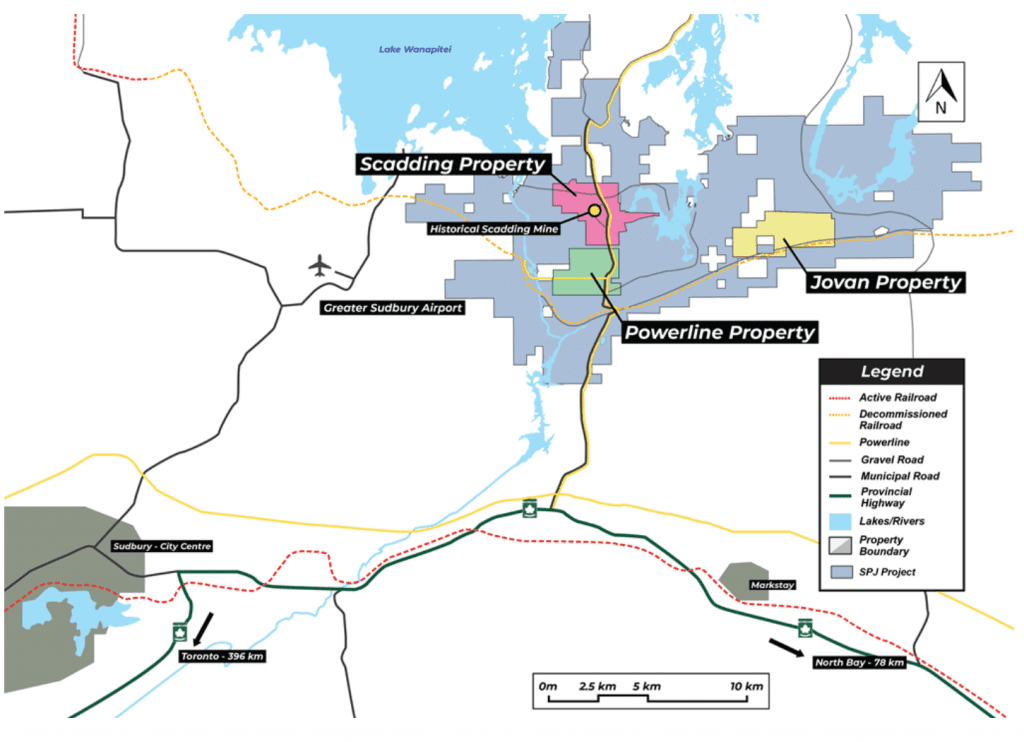 IOCG deposits
MacDonald Mines believes that the property has the potential to host precious, base and critical metal deposits affiliated with IOCG systems. IOCG systems can form some of the largest deposits on the planet and concentrate an extremely diversified suite of metals. IOCG orebodies are found in Archean to Paleozoic-aged terrains throughout the world, often in crustal-scale fault zones.
The world's largest IOCG deposit is BHP Billiton's (ASX:BHP,NYSE:BHP,LSE:BLT) Olympic Dam deposit in Australia. Other notable IOCG deposits include Lundin Mining's (TSX:LUN) Candelaria deposit in Chile, Wheaton Precious Metals Corp.'s (TSX:WPM,NYSE:WPM) Salobo deposit in Brazil and Vale's (NYSE:VALE) Sossego deposit in Brazil. Significant battery with precious mineral deposits in IOCG systems are those of the Idaho Cobalt Belt in the United States (TSX-V First Cobalt) and the Kuusamo district in Findland (TSX-V: MAW). Significant precious metal deposits occur in the Tennant Creek District and the Cloncurry District of Australia.
As part of the company's 2018 exploration program, MacDonald Mines completed grab sampling on the property within and outside of the Scadding mine area. The results were rich in gold and contained base and battery metals, which are indicative of an IOCG system. Grab samples collected on the property returned anomalous to high-grade cobalt, copper and nickel. The property exhibits multiple polymetallic showings along mineralization corridors that extend over 10 km.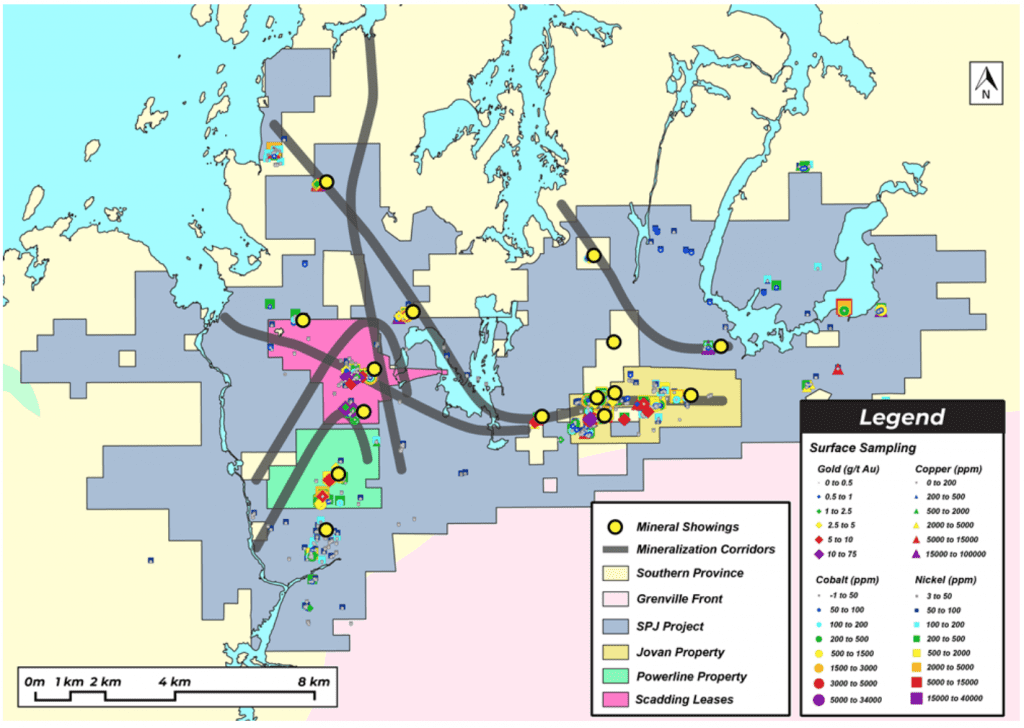 Ongoing Exploration
MacDonald Mines' focus in 2019/2020 was to confirm and expand the known high-grade gold zones that comprise the Scadding deposit. To this aim, the company drilled 83 holes for more than 13,000 metres. Results confirmed that high-grade gold mineralization is still present at Scadding and that it extens beyond the known footprint of the historical mine.
Gold at Scadding is associated with iron-rich chlorite with variable magnetite, pyrite, pyrrhotite and chalcopyrite. Mineralization structurally controlled and enrichments in silver, cobalt, copper, nickel and REE are present.
Summary of 2020 exploration highlights at the SPJ Project
Drilling extended the high-grade gold mineralization at the Scadding Deposit

376.7 g/t gold over 2.96 metres, including 575.8 g/t gold over 1.89 metres in the North Pit area in SM-20-026.
27.2 g/t gold over 5.13 metres, including 79.3 g/t gold over 1.03 metres in the Villeneuve trend in SM-20-041.
3.9 g/t gold over 17.06 metres, including 20.54 g/t gold over 1 metre in the South Pit area in SM-20-062
7.18 g/t gold over 13.23 metres, including 41.44 g/t gold over 1.09 metres in the Central Zone area.

The compilation, review and interpretation of historic exploration and geological data:

Provided additional constraints on the presence of a regional IOCG system that can form polymetallic mineralization containing precious, base and battery metals (Ag, Au, Co, Cu, Ni, REE) on the SPJ Project.
Identified major structural corridors that are associated with polymetallic mineralization.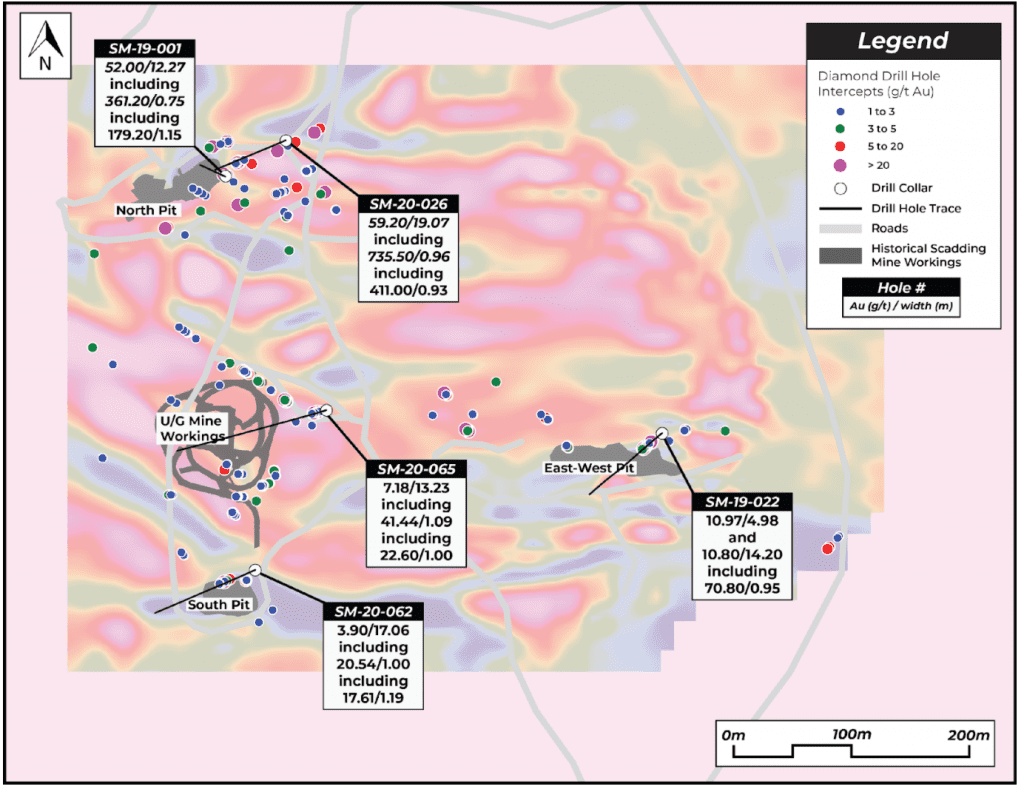 Five (5) induced polarization surveys covering 4.75 km2 were completed in 2020 along structural corridors where the company and historic works identified potential centers of polymetallic mineralization containing precious, base and battery metals. More than 30 high-priority targets were identified and recommended for drill testing.
The Company is currently targeting priority geophysical targets overlapping with known polymetallic mineralization at the Jovan Property, 9 km east of the historical Scadding mine where channel samples collected in 2018 returned high-grade Au, Cu. Ni, Co and Ag.
The Company will also test another 2 targets in 2021 – south of the Scadding Mine where the 2020 geophysical survey identified large anomalies recommended for drill testing in the Alkin-Scadding structural corridor. The company will also complete a geophysical survey in preparation for diamond drilling at the Alwyn Mine, 6 km north of Scadding where historic mining and drilling revealed a potential for precious and base metal mineralization.
MacDonald Mines' Management Team
Mia Boiridy, M.Sc. — President and CEO
Ms. Boiridy has more than 25 years of strategic and corporate management experience. She has been working in the junior resource sector for the past 7 years. A skilled communicator, Mia has a strong record of success in establishing, developing, growing relationships with stakeholders. She was most recently President of Red Pine Exploration Inc. She holds a B.Sc. Geology (Honours) degree as well as an M.Sc. Geochemistry degree from McGill University.
Jean-Francois Montreuil, PhD., P.Geo. – Chief Geologist
Dr. Montreuil has over 12 years of national and international experience in the mineral exploration and mining industry and in research on Iron Oxide-Copper-Gold ("IOCG") and affiliated deposits. He obtained his M.Sc. from Laval University (Quebec) and his Ph.D. from INRS-ETE (Quebec) in collaboration with the Geological survey of Canada. Dr. Montreuil 's Ph.D. and on-going scientific research, published in major international journals on economic geology, cover the metal associations possible in the deposits formed in IOCG systems.
Fiona Fitzmaurice, BA, ACCA, CPA, CGA – CFO
Ms. Fitzmaurice, is a chartered accountant with over 12 years of experience in accounting and financial control for both private and publicly listed companies. Fiona is currently CFO of Pasofino Gold (TSX-V: VEIN) and was previously CFO for Mojave Jane Brands and the financial controller for Noront Resources Ltd. Fiona has been involved in private placements, prospectus filings, flow-through financing's and corporate audits. Ms. Fitzmaurice holds a bachelors' degree in accounting and finance from Athlone Institute of Technology, Ireland.
Quentin Yarie, P.Geo. — Director and Non-Executive Chairman of the Board
Quentin Yarie is an experienced geophysicist and a successful entrepreneur with extensive project management and business development experience. Mr. Yarie currently serves as President and CEO for Red Pine Exploration Inc., a resource exploration company headquartered in Toronto, Canada.
Pat Dubreuil, MBA — Director
Mr. Dubreuil is a successful businessman and entrepreneur who was named the "2016 Northern Ontario Business Entrepreneur of the Year". He currently serves as VP Community and First Nations Engagement at Manitou Gold Inc., a junior mining company with projects in Ontario. From 2014 to 2018, Pat was the Research and Development Director for the Centre of Excellence in Mining Innovation's Ultra Deep Mining Network (UDMN). Previously, he held the positions of Vice-President of Business Development & Marketing at BESTECH Engineering, General Manager at ACR Fuller Industrial and Director of Sales at Les Entreprises Boréal. He holds an MBA from Athabasca University and an Honours degree in Psychology and Business from the University of Ottawa.
Kevin Tanas, P.Eng. — Director
Mr. Tanas is currently Principal, Technology and Expert Solutions, Mining, Minerals & Metals at Worley, a consulting, engineering, and construction services company. Kevin manages front-end studies, and performs technical and economic analysis for base metals, precious metals, and energy sectors. He regularly acts as Independent Engineer for various investors in due diligence review, and as Qualified Person for Technical Reports as required by global stock exchanges. Previously, Kevin practiced as Principal, Metals and Mining Consulting with Wood Mackenzie, a research and consultancy business, and was focused in mineral market dynamics, government fiscal strategy, and mining sector development. Kevin also worked for RPMGlobal as Principal Consultant with primary focus in technical advisory consulting, and served as Vice President of Business Development, North America. Kevin's experience encompasses all stages of the mine's life cycle of open pit and underground deposits. He has a strong understanding of the mining business model, operating philosophies and data management requirements for successful asset management. His operational and consulting experience spans the Americas, Africa and Australia. Kevin holds a B.Sc. in Mining Engineering from Queen's University and is a registered Professional Engineer.
Stuart Adair, CPA, CA – Director
Mr. Adair is a seasoned finance executive who has been investing in the junior mining sector for over 25 years. He has been CFO of Accord Financial Corp. (TSX:ACD), a TSX-listed commercial finance company, since 2002. At Accord Financial Stuart is involved in capital and risk management, strategic planning, acquisitions, corporate taxes, as well as financial management and reporting. Through his tenure, he developed and implemented Accord's corporate governance policies, including Board of Directors and Audit Committee mandates, Code of Ethics, Whistleblower Policy, Securities Trading Policy and Majority Voting Policy. He ensures governance policies are adhered to as well as disclosed in regulatory filings. Stuart holds a B.A. from Sheffield University, U.K., and an M.A. in Economics from Queens University.
---
*Disclaimer: This profile is sponsored by MacDonald Mines Exploration Ltd. (TSXV:BMK). This profile provides information which was sourced by the Investing News Network (INN) and approved by MacDonald Mines Exploration Ltd., in order to help investors learn more about the company. MacDonald Mines Exploration Ltd. is a client of INN. The company's campaign fees pay for INN to create and update this profile.
INN does not provide investment advice and the information on this profile should not be considered a recommendation to buy or sell any security. INN does not endorse or recommend the business, products, services or securities of any company profiled.
The information contained here is for information purposes only and is not to be construed as an offer or solicitation for the sale or purchase of securities. Readers should conduct their own research for all information publicly available concerning the company. Prior to making any investment decision, it is recommended that readers consult directly with MacDonald Mines Exploration Ltd. and seek advice from a qualified investment advisor.