This profile is part of an investor education campaign. The profile provides detailed information which was sourced and approved by Bunker Hill Mining Corp. in order to help investors make better investment decisions. The Company's support of Investing News Network ensures we can continue to bring you unbiased, independent news and information.
Resource Investing News Featured Stock
Overview
Bunker Hill Mining (currently doing business as Liberty Silver (CSE:LSL) is implementing an ambitious plan to re-commission one of the largest silver-lead-zinc mines in the world. The Bunker Hill Mine is located in one of the most storied silver mining belts in North America, the Coeur d'Alene Mining District in Idaho's Silver Valley. Coeur d'Alene contains a number of past-producing mines including Lucky Friday, Galena, Sunshine and Crescent. The district has a 115-year history of lead, zinc, silver and copper production, much of it taking place in shafts several thousand feet deep.
The jewel in the Coeur d'Alene crown is the Bunker Hill Mine—the oldest and largest producer in the valley. The mine is the largest lead-silver zinc advanced development project in the Americas not currently in production. Between 1887 and 1981 the mine produced 35,944,000 tonnes of ore, with lead grades of 8.76 percent, 3.76 percent zinc, and 4.53 ounces per tonne silver. Using current market values, production at Bunker Hill would be worth $330 a tonne, or about $12 billion under current metal prices.
The newly formed Bunker Hill Mining has signed a letter of intent with Placer Mining Corp to acquire the Bunker Hill Mine Complex, including all mining rights and claims, underground equipment and infrastructure, and most machinery and buildings.
The company is planning a drill program to confirm the historical grades with intent to produce a NI 43-101 complaint resource estimate on the Bunker Hill Mine project by the end of 2017.
Bunker Hill Mining is led by current Liberty Silver Director Bruce Reid, who has deep experience as a mine developer, including in the Silver Valley. Other members of the management team who have worked in the Coeur d'Alene Mining District include Chief Geologist Arthur Campo, Chief Financial Officer Julio DiGorolamo and Director John Ryan.
Investment Highlights
Near-term production

from one of the world's largest zinc-lead-silver deposits

High-grade

historical production and developed reserves

Premiere mining district

of Coeur d'Alene with existing infrastructure and workforce

Patented ground

translates to no impediments to development

Planned drill program

to establish NI 43-101 compliant resource estimate

Experienced management team

with proven track record in the Coeur d'Alene district

Excellent share structure

with management owning high percentage of shares:18 million of 24.6 million shares outstanding
Key Project: Bunker Hill Mine
One of the most storied mines in U.S. History
First discovered in 1887, Bunker Hill consolidated several deposits into one large mine, including a mill, smelter and lead/zinc refineries. Throughout its history, there were 40 different orebodies discovered and mined, mostly consisting of zinc-lead-silver mineralization.
The mine operated until 1981 when environmental issues forced its closure. The area around the mine was designated a Superfund site, but the cleanup has been completed and the Environmental Protection Agency (EPA) has stopped all remediation in the area. Effluent from the mine is being treated and Bunker Hill Mining will take on responsibility for water treatment going forward.
According to the latest resource estimate compiled in 1991, the mine contains 10.934 million tons of proven and probable reserves (1.23 percent lead, 0.58 ounces per ton silver, 5.85 percent zinc) in all zinc areas.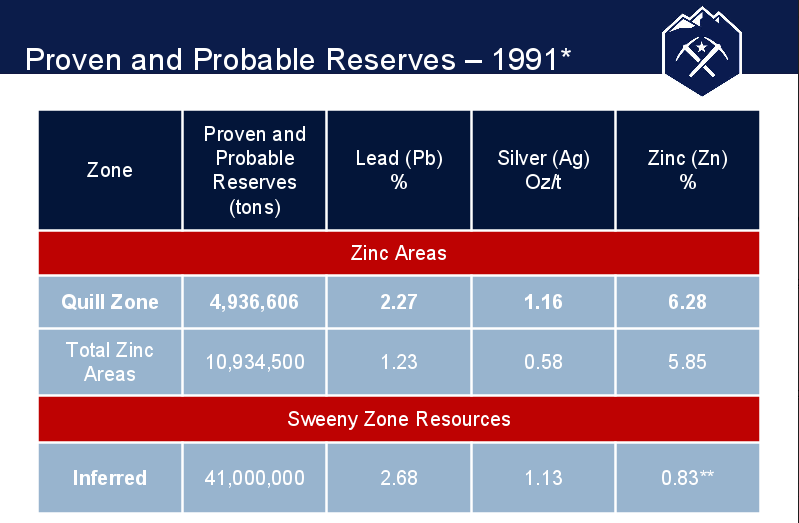 The resource estimate was done to Securities Exchange Commission (SEC) standards, but the company says the estimate can be upgraded to NI 43-101 standards with minimal sampling.
Quill: High-grade and drill defined ore zone
The most promising exploration target is the Quill Zone, which has 4.94 million tons of proven and probable reserves between the 9 and 14 level. The ore is readily accessible for mining in the near term, at an initial 1,500 tons per day.4 Previous mining was done on all five levels, with nearly 500,000 tons of high-grade zinc ore discovered in the late 1970s. From historical drilling, the Quill Zone is known to continue from below the 2200 level to above the 2nd level – a height of over 4,000 feet.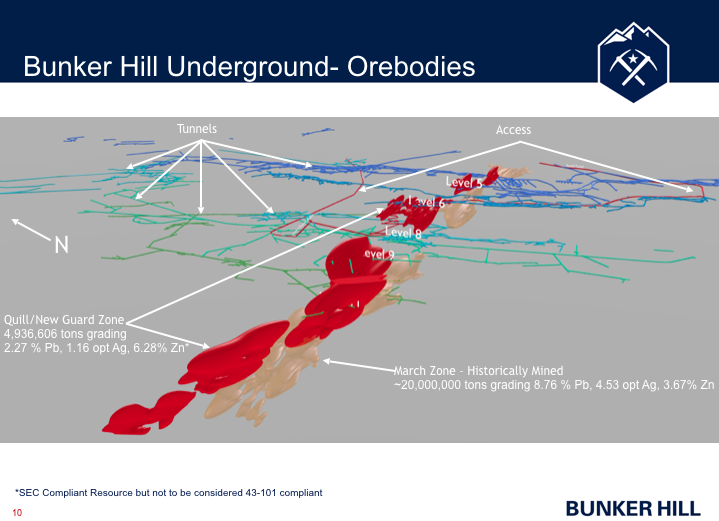 Upcoming catalysts
Bunker Hill Mining has a number of upcoming catalysts that will be of interest to investors. These include: drilling to confirm reserves, upgrading the resource to NI 43-101 standards, digitizing existing data and confirming historical resources, a sampling program, engineering studies and tunnel rehabilitation.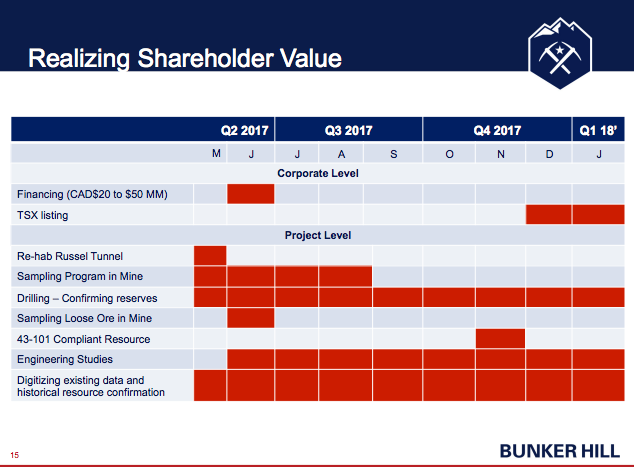 Bunker Hill Mining is also planning on going to the market to raise money to move the project forward and has a goal of trading on the Toronto Stock Exchange main board and New York Stock Exchange. Lastly, an imminent name change from Liberty Mines to Bunker Hill Mining will reflect the company's focus on the Bunker Hill project.
Management
Bruce Reid—President, CEO and Director
Bruce Reid is the former chairman and chief executive of Carlisle Goldfields, which sold to Alamos Gold (TSX:AGI) for a 209 percent premium, and the former CEO of US Silver & Gold, which put the Galena mine into production before it was sold to Americas Silver Corp. Galena is the second-most prolific silver mine in U.S. history, delivering over 230 million ounces over 50+ years. Reid was also the former executive director of Patricia Mining, which advanced the Island Gold Project (now belonging to Richmont Mines (TSX:RIC), the founder of Western Goldfields which developed the Mesquite Mine now in the hands of New Gold (TSX:NGD), and the founder and former CEO of High Plains Uranium. He has over 15 years experience as an analyst and investment banker.
Howard Crosby —Vice President and Director
Howard Crosby has over 25 years experience as an mining industry executive, having served as an officer and director of public companies listed in Canada, the United States and United Kingdom. Howard Crosby has been President of Crosby Enterprises, Inc., a family-owned business advisory consulting firm since 1989. From 1994 to June of 2006 he served as president and director of Cadence Resources Corporation, a publicly traded oil and gas company, which merged with an AMEX listed company in 2005. Crosby also was a founder and director of High Plains Uranium in 2004, and was a founder and director of U.S. Silver Corp in 2006, which acquired the Galena Mine in the Coeur d'Alene Mining District from Coeur d'Alene Mines in 2006. From 2004 until March 2016, Crosby was an officer and director of White Mountain Titanium Corporation, which is developing a world-class titanium project in Chile. Crosby is also a director or advisor to a number of privately held companies. He received a bachelor's degree from the University of Idaho in 1975.
Julio DiGorolamo — Chief Financial Officer
Julio DiGorolamo is the former CFO of Carlisle Goldfields, and the former president and corporate secretary of Greenstone Resources.
Arthur Campo — Chief Geologist
Arthur Campo is the former exploration geologist for Hecla Mining (NYSE:HL) and was previously mine exploration manager for WestMountain Gold (OTCMKTS:WMTNQ).
John Ryan— Director
John Ryan has 25 years experience as a mining engineer with extensive knowledge of the Coeur d'Alene Mining district, and is a founder of US Silver & Gold. Among the companies he has founded or co-founded are: Cadence Resources Corporation, Metalline Mining Company (now called Silver Bull Resources), High Plains Uranium, Western Goldfields, Inc. (now part of NewGold), U.S. Silver Corporation (now Americas Silver), Southern Legacy Minerals and White Mountain Titanium, among others. He has been a senior executive and director of a number of public companies and served with listed resource companies in the USA, Canada, the UK, and Australia. Ryan holds a Bachelor's degree in Mining Engineering from the University of Idaho and a Juris Doctor degree from Boston College Law School.
Roy Shipes —Director
Roy Shipes is the former general manager of Ok Tedi Mining, and is a managing executive of Southern Peru Copper.
Jennifer Boyle —Director
Jennifer Boyle is head of global corporate finance at the Velocity Trade Group of Companies, and is the founder and CEO of Satori Resources (TSXV:BUD) and Takara Mining.