Funding Real Estate and Infrastructure in the Cannabis Sector
This profile is part of a paid investor education campaign.*
Overview
CROP Infrastructure Corp. (CSE:CROP, OTC:CRXPF, Frankfurt:2FR) is a publicly traded Canadian corporation enabling licensed cannabis producers to achieve sector growth by providing capital for the acquisition of land, real estate, branding and infrastructure for their operations. Sensing increasing potential in the US cannabis market, CROP Infrastructure is an early mover with operations in Washington, California and Nevada.
CROP Infrastructure's business model is aimed at addressing issues in the cannabis industry, including the fact that financial institutions are not yet willing or able to fund companies in the sector and that, as a result, growers lack the capital to effectively establish and grow their operations. As regulations in legalized cannabis jurisdictions do not preclude organizations from funding real estate or equipment for the sector, CROP Infrastructure is entering a niche position in which it can provide capital to licensed producers without the need of being producers themselves.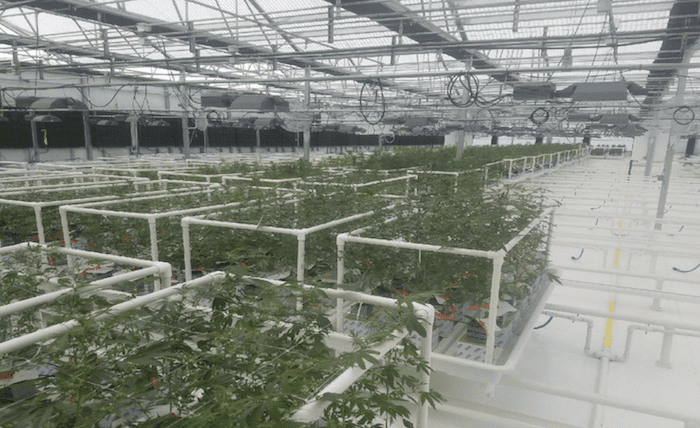 CROP Infrastructure began rolling out its business model in Washington State and is in the process of constructing a 43,680-square-foot cannabis production facility in partnership with three brands: Evolution, Tiffany and Trikom. Once the facility is fully-operational, CROP Infrastructure expects it to produce approximately 2,000 pounds of cannabis per month. In February 2019, the company commenced sales.
CROP Infrastructure has signed an LOI with Naturally Splendid Enterprises Ltd. (TSXV:NSP) for the development and manufacturing of CROP Infrastructure's hemp brands Hempire and Tiffany CBD. Naturally Splendid is tasked with creating a variety of retail products which will then be distributed through CROP Infrastructure's distribution network.
The company has also entered into a membership purchase agreement with Humboldt Holdings LLC., under which CROP Infrastructure invested $2 million in land, equipment and the development of 20,000 square feet of canopy in California. The 30,000 square-foot facility is fully-operational. CROP Infrastructure currently has a 49 percent stake in Humboldt Holdings and retains the option to gain an additional 20 percent for $1 million.
In California, CROP also has late stage applications for retail operations in San Bernardino and West Hollywood. The retail outlets are supplied will be operated under the brand Emerald Heights and will sell under the Hempire, Trikom, Tiffany CBD and Evolution Cannabis brands.
CROP Infrastructure has continued to expand its presence into Nevada significantly. The company has a 2,115-acre project in Nye County and a 1,010-acre project in Esmeralda County. The two properties will house both indoor and outdoor cultivation, a tissue culturing and micropropagation lab, and commercial production and extraction facilities.
Company Highlights
Funding a real estate and infrastructure investment portfolio within the cannabis space
Investments paid back through leasing, licensing, branding, and management fees
Plans to deploy model across North America in legal jurisdictions
Development and manufacturing agreement in place with Naturally Splendid.
Fifteen brands of cannabis and hemp that they can offer consumers
Toll processing deals signed for Nevada and California
Offtake agreement for Nevada signed
Received hemp handler, nursery and grower licenses in Nevada
Commenced sales in Washington
Three-year, 1.5-million-pound Nevada supply agreement commences in August 2019
The CROP Infrastructure Business Model
CROP Infrastructure funds the build of income-producing real estate for the recreational cannabis production sector. To this effect, the company invests in the development of the land, the build of any facilities, and the deployment of specialized structural features like greenhouses, fertilizer storage and irrigation equipment and more. The property is then leased to licensed producers or processors and revenue is generated for CROP through management, leasing, licensing, and branding fees, whereby CROP Infrastructure receives a 60 percent preferential payback through these fees. Once the investment is paid back, the company retains a 30-49% interest in the property and infrastructure through the same fees indefinitely.
As CROP Infrastructure is centered around providing affordable solutions to its tenants, the company is also focused on working within jurisdictions that have low cost power. This allows its tenants to significantly lower the cost of production and gives them the opportunity to offer high-quality product at a lower price point while still generating significant revenue.
On top of its real estate and infrastructure offerings, CROP Infrastructure also offers financing opportunities for marketing, branding and distribution development. Aimed at helping brands achieve increased market penetration, CROP Infrastructure offers its expertise and vast network of industry experts.
Legality
Within each of the US states that have developed regulations for the lawful cultivation of cannabis, there are no provisions preventing organizations from investing in real estate holdings or equipment leaseholds specifically for the industry. As regulations are aimed at the taxation of cannabis sales and revenues—and not at mitigating growth in the industry—CROP Infrastructure has seen the opportunity for partnering with licensed producers that need support with regards to their capital.
Jurisdictions
Moving forward with the growth of the cannabis sector in North America, CROP Infrastructure plans on investing within every production-legal jurisdiction to continue providing revenue growth opportunities. To this effect, the company has started work in Washington, and will continue to expand its California and Nevada projects, while also keeping an eye on the additional states where cannabis is broadly legalized.
Planned production and yield
A typical CROP Infrastructure facility is made of 12 greenhouses that measure 3,640 square feet each contained within one larger greenhouse. With the capacity to host 1,350 cannabis plants that develop on a 55 to 60-day cycle, this should allow for tenants to stagger production and harvest plants every other day, on a collective average rate of 30,645 grams per day (919,350 grams per month) across the entire 43,680-square-foot facility.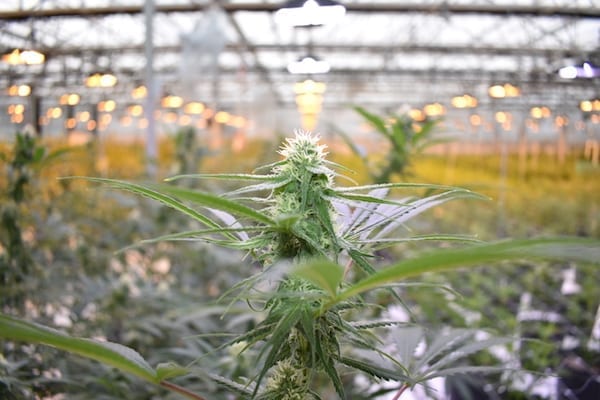 Crop Infrastructure's Portfolio
The Brands
In June 2018, CROP Infrastructure entered into a licensing agreement with four established cannabis brands that are currently being sold in Washington and will soon be sold in California. The brands are Hempire, Evolution Cannabis, Tiffany CBD and Trikom.
CROP Infrastructure will be sub-licensing these brands to their tenant growers in Washington and California. Furthermore, CROP Infrastructure has acquired the following ten cannabis brands: Prohibition Greens, Players Greens, White Rhino Cannabis, Illuminati Cannabis, Diablo Herbs, Gator Ganja, Makavelli Cannabis, Honey Badger Buds, Choices Cannabis and Che Cannabis. CROP Infrastructure will be licensing these brands to its tenant growers as well.
The company has also acquired US and Italian distribution rights to 55 health and wellness products from Urban Juve Provisions, a subsidiary of The Yield Growth Corp.
California
Humboldt Farms
In May 2018, CROP Infrastructure entered into a membership purchase agreement with Humboldt Holdings LLC, a limited liability company, where CROP Infrastructure will advance $2 million to Humboldt for land and the purchase of equipment for the development of a 30,000 square-foot facility. In exchange for the funding, CROP Infrastructure received a 49 percent interest in Humboldt.
Soon after acquiring the property, CROP Infrastructure completed the required security upgrades and announced that their tenant has planted 20,000-square-feet of recreational cannabis. The first 10,000 square feet was harvested in Q3 2018.
Nevada
Nye County Farm
In 2018, CROP Infrastructure entered into a loan agreement with Elite Ventures Group, LLC to purchase a Nye County agricultural property that they plan to turn into a cannabis and hemp facility through a joint venture development agreement. The 2,115-acre agricultural property is located in Central Nevada and is in a climate that is ideal for greenhouse growing. CROP Infrastructure has set aside 50 acres for greenhouses.
Since 2016, Nevada has allowed the cultivation and production of hemp without a processing license and industrial hemp products that are intended for human consumption can be sold throughout the state at cannabis dispensaries. Nevada also allows for the production of hemp-based flower, seed or seed oil, fiber and CBD.
In July 2018, CROP Infrastructure entered into a membership interest agreement with Elite Ventures to acquire a 49 percent member interest in the property for US$1.3 million in cash. Additionally, CROP Infrastructure's tenant was issued a formal hemp license that covered 240 acres of outdoor growing space. The company was issued its hemp handler, nursery and grower licenses in February 2019.
CROP Infrastructure is nearing the completion of its 1,600-square-foot genetics, tissue culturing and micropropagation lab. The lab will be able to produce 10 million plant starts and will save approximately $3 million in seed and planting costs in 2019. The laboratory will also develop proprietary genetics to maximize yield.
Esmeralda County
CROP Infrastructure and Elite Ventures signed a joint venture agreement with Hempire LLC of Nevada to acquire a 1,010 acre agricultural cannabis project in Esmeralda County, Nevada. Esmeralda County is one of the only counties in the state with a suitable climate for greenhouse and outdoor cultivation. The company also has the option to acquire a retail dispensary application on Highway 95 heading to Las Vegas.
The property comes with cannabis licenses for medical cannabis production and cultivation, in addition to conditional licenses for recreational cannabis cultivation and production. The property hosts a state-approved 2,400-square-foot production, extraction and commercial kitchen facility.
CROP Infrastructure will spend approximately $3.2 million to develop 80 acres of outdoor cultivation that should yield 160,000 pounds of cannabis for extractions and edibles, as well as another 44,000-square-foot greenhouse that should yield 24,000 pounds of high-quality cannabis annually. The project can be expanded up to 300 acres.
CROP Infrastructure has commenced Phase 1 development of its facilities. Phase 1 will encompass 1.7 million square feet of outdoor cannabis cultivation and 60,000 square feet in greenhouse cultivation. Once complete, Phase 1 is expected to produce approximately 80,000 pounds of cannabis annually.
Phase 2 will triple the size and output of the property with the addition of 5.2 million square feet of outdoor growing space, including an additional 120,000 square feet of greenhouse.
In November 2018, CROP Infrastructure announced its intent to build a one-ton-per-day ISO and GMP certified extraction facility. CROP Infrastructure will be paying for 60 percent of the expansion through their three-year, 1.5-million-pound supply agreement.
Washington
The Park
In June 2018, CROP Infrastructure entered into a membership purchase agreement with Wheeler Park Properties LLC (The Park), a Washington State limited liability company. CROP Infrastructure agreed to spend up to $2.5 million on equipment and retro-fit upgrades for the greenhouse complex to earn a 30 percent interest in the property.
The state-of-the-art greenhouse is 35,000 square-feet and sits on approximately nine acres of land that has been retrofitted for fully automated hydroponics. The greenhouse accommodates five flowering bays that can yield approximately 12,000 pounds of high-quality cannabis on an annual basis and is now fully operational.
In February 2019, CROP Infrastructure commenced sales in Washington.
The Dozen
The Dozen property is currently under construction. CROP Infrastructure is currently constructing 12 purpose-built indoor cannabis greenhouses, which once complete will encompass approximately 44,000 square-feet. Phase One, comprised of six greenhouses, of the build project is nearing completion. After each phase of building is complete, CROP Infrastructure will lease the facilities to licensed tenant growers with branded licensing and standard operating procedures. The first six greenhouses are expected to produce 12,000 pounds of cannabis per year with 25 percent of the material being produced as a by-product.
"Once the project is completed this will serve as our CROP SAFE production model for all our future builds across the globe. We intend to have strict replication of our growing procedures to get the best return from every square foot of growing space and the lowest cost possible for our tenants," said Yorke.
Partnerships and Agreements
Naturally Splendid supply agreement
In August 2018, CROP Infrastructure signed an LOI with Naturally Splendid for the development and manufacturing of CROP Infrastructure hemp brands Hempire and Tiffany. The companies are currently testing a variety of flavors and formulations created by Naturally Splendid. Naturally Splendid is also tasked with creating a variety of retail products which will then be distributed through CROP Infrastructure's distribution network.
The following month, CROP Infrastructure announced that it was developing a line of cannabis-infused soft drinks called CannaDrink. The formulation will contain zero calories or GMOs, and will be ketogenic-friendly containing Naturally Splendid's HempOmegaTM powder. The company is looking into tea and coffee products as well.
Three-year supply agreement in Nevada
In October 2018, CROP Infrastructure signed a three-year, 1.5-million-pound supply agreement that commences in August 2019. On a bi-monthly basis, CROP Infrastructure will ship 50,000 dry pounds of CBD flower. The company will be paid between $36 and $57 per pound of cannabis, plus the cost of delivery, depending on the CBD content.
"We estimated 2019 tenant production at the Nevada CBD farm will be approximately 2.68 million pounds, making this one supply agreement less than one-fifth of the total 2019 estimated production the Nevada CBD farms," said Yorke.
Toll processing agreement in Nevada
CROP Infrastructure has signed a toll processing agreement in Nevada. The company will provide its dried hemp-CBD biomass processor and they will return 50 percent of the product as ISO-certified CBD isolate to CROP Infrastructure's tenanted farm. The isolate will be sold under the Hempire and Tiff brands as well as in the company's CannaDrink. Additionally, CROP Infrastructure intends to offer the isolate as a white label solution.
CROP Infrastructure is also working with the processor in order to develop an in-house ISO extraction facility.
California processing and retail distribution agreements
CROP Infrastructure has also signed a toll processing agreement with a manufacturing company that produces cannabis oils, crumbles and distillates for the California market. The raw material will be sourced from CROP Infrastructure's Humboldt facility. The toll processing partner will produce 50 liters of oil to fill 75,000 half-gram cartridges and 50,000 quarter-gram disposable pens.
"Having wide distribution of a premium organic Infused Cone with over 100,000 branded units and 125,000 pen cartridges set to be consumed in California, this is a major step forward for our brand portfolio and tenant farm," said Yorke.
Additionally, the company has a distribution agreement in place with a company with a network comprised of approximately 350 dispensaries throughout the state. The cannabis will be sold under the Hempire brand for an estimated gross revenue of approximately $1,600 per pound of flower.
Management
Michael Yorke—CEO and Director
Michael Yorke began his career in the financial sector with the Royal Bank of Canada in 2001. He subsequently served as an active trader and value investor for the last 14 years. He went on to provide consulting services to several publicly traded companies in addition to organizing capital market events with On-Page Media. He is fluent in three languages and has traveled extensively around the globe. He has earned an International Business Diploma, Bachelor of Business Administration degree, and is currently working towards a Masters of Business Administration degree through the British Columbia Institute of Technology.
Abbey Abdiye—CFO
Abbey Abdiye brings extensive experience in the financial sector with both public and private companies. He is a Chartered Professional Accountant (CPA), current CFO of Tower One Wireless Corp. and other reporting issuers, where he managed the responsibility for all financial, fiscal management, regulatory compliance, and reporting aspects of corporate operations. He also provides strategic guidance and direction in capital structuring and is engaged with innovative financing programs that leverage sales and development opportunities.
Andrea Castiglione – VP of Business Development EMEA
Andrea Castiglione brings a heavily quantitative background having developed financial trading algorithms from the age of 16 for over a decade. With a broad experience in various sectors technology and service design, he has been a key advisor to several international family offices and investment funds. He is fluent in four languages and has successfully conducted business in several jurisdictions outside of North America.
Victoria Bostic—Director
Ms. Bostic brings over 10 years experience working in sales, marketing, branding and corporate communications, with both public and private companies. Her experience includes creating brands and building teams within various sectors such as: cannabis, health and wellness, and athletic apparel. Ms. Bostic's global cannabis industry experience includes: cultivation, processing, and research and development. Ms. Bostic is an experienced professional and will assist CROP in establishing strategic partnerships across the whole cannabis supply chain.
Twila Jensen—Director
Twila Jensen is a Senior Capital Markets Strategist with Stockhouse.com, Canada's leading financial community and a global hub for affluent investors, with over one million unique monthly visitors. She also acts as an Independent Director for two other TSXV-listed companies, Durango Resources Corp. and BTU Metals Corp. Jensen has over 18 years of experience working in the capital markets within sales and marketing roles, as an independent director and also part of audit committees. She has worked with hundreds of public companies across North America in various sectors over the last two decades.
David Weinkauf—Executive Advisor
Throughout David Weinkauf's real-estate career, he led and was involved in approximately $3 billion in transactions while developing around 3,000 acres of real estate. He was recognized as Calgary's top 40 under 40 in 2004 and was nominated for Canada's top 40 under 40 in 2006 after graduating from the University of Calgary in 1993, with a Bachelor of Commerce Degree focused on Marketing and Finance. His volunteer work has been extensive including sitting as a member of the board of directors of Children's wish foundation of Alberta and the NWT and sitting on as the President of the advisory committee to Calgary Economic Development.
Greg Douglas—Executive Advisor
Greg Douglas formally entered the cannabis space in 2015 when he joined the Bureau of Standards (Jamaica) as Management Information Systems (MIS) Manager. Subsequently, he served as Project Coordinator for a proposed medical cannabis (ganja) track and trace pilot project. This led to exposure to compliance mechanisms used in Colorado, touring state facilities which increased his understanding and appreciation of the industry while building relationships with Colorado's compliance agency, along with local businesses.
From April to November 2017, Douglas was seconded to the Cannabis Licensing Authority (CLA) as their CEO. While there he became a part of local history by issuing the first commercial licenses. He was part of the CLA team that visited Canada meeting with both Canadian Government entities and officials. He resumed his duties at the Bureau of Standards in January 2018 and works on the creation of standards within the cannabis industry in Jamaica.
---
*Disclaimer: The profile provides information which was sourced and approved by CROP Infrastructure Corp. in order to help investors learn more about the company. CROP Infrastructure Corp. is a client of the Investing News Network (INN). The company's campaign fees pay for INN to create and update this profile page, to which links are placed on Investingnews.com and channel newsletters.
The company description, investment highlights and catalysts were sourced by INN and approved by the company. INN does not guarantee the accuracy or thoroughness of the information contained on this page.
INN does not provide investment advice and the information on Investingnews.com profile should not be considered a recommendation to buy or sell any security.
INN does not endorse or recommend the business, products, services or securities of any company profiled.
Readers should conduct their own research for all information publicly available concerning the company.