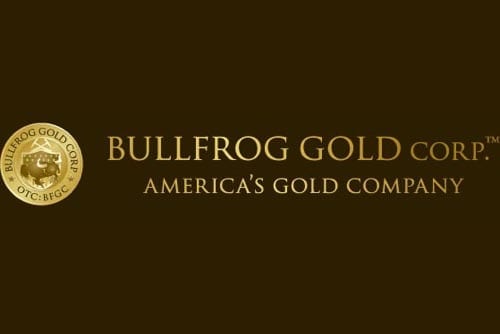 Bullfrog Gold
Redeveloping Major Gold District in Nevada
Overview
Bullfrog Gold Corp. (CSE:BFG,OTCQB:BFGC) is focused on the exploration and development of its wholly-owned Bullfrog gold project in Nevada, the world's most-attractive mining jurisdiction, according to the Fraser Institute. Barrick Bullfrog Inc. produced more than 2.3 million ounces of gold from the area from 1989 to 1999. The company has now acquired and established the commanding land and resource position in the southern half of the Bullfrog mining district.
The company obtained a database from Barrick Gold Corporation (TSX:ABX) that contains 155 miles of drilling in 1,262 holes, which today would cost more than $40 million to recreate. This information was used to estimate NI 43-101 compliant resources.
Extensive metallurgical tests and two 800-ton pilot tests also demonstrate the amenability of these pit resources to low-cost heap leaching methods. Bullfrog Gold is in process of completing extensive leach tests using high pressure grinding rolls and conducting load/permeability geotechnical tests in the near term to analyze heap heights and stabilities before selecting the best leach feed size for the project.
Bullfrog Gold's Company Highlights
Barrick Gold produced 1.5 million ounces of gold from the lands controlled by Bullfrog Gold.
Located in resource-rich, mining-friendly Nevada.
Highly experienced management with track records of success.
Infrastructure in place includes power, water, pit haulage ramps and road access.