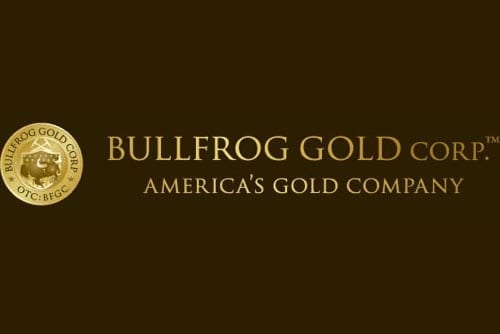 Redeveloping Major Gold District in Nevada
This Bullfrog Gold Corp. profile is part of a paid investor education campaign.*
Overview
Bullfrog Gold Corp. (CSE:BFG,OTCQB:BFGC) is focused on the exploration and development of its wholly-owned Bullfrog gold project in Nevada, the world's most-attractive mining jurisdiction, according to the Fraser Institute. Barrick Bullfrog Inc. produced more than 2.3 million ounces of gold from the area from 1989 to 1999. The company has now acquired and established the commanding land and resource position in the southern half of the Bullfrog mining district.
The project has a 2017 maiden NI 43-101 resource estimate of 525,000 ounces of gold in the measured and indicated categories at an average grade of 1.02 g/t gold, which is among the higher grade heap leach projects in the US.
"There is significant infrastructure in place and a town of 1,000 people is only four miles away," said Bullfrog Gold President and CEO David Beling. "The existing pit resources have good potential for expansion and several attractive exploration targets have been identified on the property."
In July 2019, Bullfrog announced an increase in its land position through the staking of 23mining claims, bringing its total to 233 mining claims, 46 patents and eight mill site claims over 5,250 acres. The company  also secured permits for drilling priority exploration holes.
The company obtained a database from Barrick Gold Corporation (TSX:ABX) that contains 155 miles of drilling in 1,262 holes, which today would cost more than $40 million to recreate. This information was used to  estimate NI 43-101 compliant resources.
Extensive metallurgical tests and two 800-ton pilot tests also demonstrate the amenability of these pit resources to low-cost heap leaching methods. Bullfrog Gold is in process of completing extensive leach tests using high pressure grinding rolls and conducting load/permeability geotechnical tests in the near term to analyze heap heights and stabilities before selecting the best leach feed size for the project.
Bullfrog Gold's Company Highlights
Barrick Gold produced 1.5 million ounces of gold from the lands controlled by Bullfrog Gold.
Located in resource-rich, mining-friendly Nevada.
Highly experienced management with track records of success.
Infrastructure in place includes power, water, pit haulage ramps and road access.
Heap leach test programs in 1994 achieved gold recoveries of more than 75 percent at a -3/8-inch crush within 41 days, and 54 percent at a simulated run-of-mine size of -12 inches within 90 days.
Mineralized and waste rocks containing less than two percent sulfides are now oxidized. The project has highly-favorable acid neutralizing potential which is 36 times greater than the potential for generating acid mine drainage.
The company generated a new exploration target one-mile east of the Bullfrog deposit that has the identical host rocks in the Bullfrog deposit and could potentially contain significant gold mineralization.
The Bullfrog Gold Project
The Bullfrog gold project is located four miles west of Beatty and 125 miles northwest of Las Vegas, Nevada. The property includes the entire Montgomery-Shoshone (M-S) pit and the northern third of the Bullfrog deposit. The property is served by a 25-kilovolt power line and substation site and an ample water supply immediately below the Bullfrog pit. A paved highway crosses the property boundary and access roads and in-pit haulage ramps are currently in place.
History
Gold was discovered in 1904 and by 1911 initial production was 94,000 ounces of gold with an approximate ore grade of 0.5 ounce per ton. Modern exploration work conducted by St. Joe American in the early 1980s led to the definition of pit resources in the M-S deposit and the discovery of the large Bullfrog deposit, which was placed into production in 1989.
Barrick subsequently acquired the project in 1994 and by 1999 produced 2.3 million ounces of gold. Production from Bullfrog Gold's current properties totaled 220,000 ounces averaging 2.2 g/t from the M-S pit, 900,000 ounces averaging 2.5 g/t from the northern Bullfrog pit and 400,000 ounces at 7.5 g/t from the underground mine. For reference, Barrick Gold did not use heap leaching and terminated production in the late 1990s when gold prices were less than $290 per ounce.
2017 Resource Estimates
The table below summarizes resource independently estimated in mid-2017 by Tetra Tech Inc. (NASDAQ:TTEK)
Note: The land constraints in the North Bullfrog deposit have since been eliminated
"The new resource estimates provide an excellent platform to develop the Bullfrog and M-S gold deposits using low-cost and efficient heap leach technologies," said Beling. "The Bullfrog deposit is well defined and only requires minimal drilling to develop a final pit plan and test for resource expansions. In addition, the company has identified several exploration targets up to three miles north, east and west of the current pits and has secured permits for expansion and exploration drilling."
Metallurgical Testing
In 2018, Bullfrog Gold collected an 1,800-pound bulk sample from the northern Bullfrog pit to test the use of high-pressure grinding rolls (HPGRs) in the third crushing stage to produce micro-fractures in a finer sized product. This is the first time Bullfrog samples were tested using this technology.
Test results revealed that the bulk sample represents a brecciated vein ore type that comprises less than 10 percent of the project's resources. However, the HPGR test recovered more ore than the conventionally crushed sample of the same ore type. Subject to additional testing, Bullfrog Gold believes that a HPGR leach feed could increase gold recoveries compared to the 75.9 % achieved in 1994.
In 2019, three 600-pound bulk samples were recovered from the Bullfrog, M-S and Mystery Hill areas and were crushed using HPGRs. Results from the first HPGR bottle roll and column test program achieved good gold recoveries and acceptable percolation through un-agglomerated BB mineral sized at -10 mesh. The MH and MS samples contained more fines than the BF samples and were agglomerated with kilograms of cement per tonne. The company intends to conduct load and permeability geotechnical tests on the final column leached residues to analyze heap heights and stabilities and select the best leach feed size for the project.
Possible Development Schedule
Bullfrog Gold's Management Team
David Beling – President, CEO and Director
David Beling has over 55 years of experience in the base and precious metal and energy mineral sectors. He specializes in the development, financing and operation of projects and corporations. Beling has significantly reviewed or examined 88 underground mines, 131 open pits and 164 process plants. Initially, he was employed for 14 years by Phelps Dodge, Union Oil, Fluor, United Technologies, Westinghouse and employed or consulted for 39 years with 25+ junior companies. He has been a director of 14 US and Canadian public and private mining companies since 1981. Beling is a Registered Professional Mining Engineer – Arizona, where he drove approval of an Environmental Impact Statement in 1994, the first for a mine in the state.
Alan Lindsay – Chairman of the Board
Alan Lindsay has been responsible for developing the strategic vision for placing key mineral assets into Bullfrog Gold Corp. He is a founder or principal of AZCO Mining Inc., Uranium Energy Corp., Anatolia Minerals, Oroperu Minerals and Strategic American Oil.
Kjeld Thygesen — Director
Kjeld Thygesen has 46 years of experience internationally in the mining research and finance sectors, specifically in precious metals. Currently he serves as an investment manager at Resource Development Partners. Thygesen has held various positions with NM Rothschild & Sons and was an international mining research analyst at James Capel. He served as a director of Ivanhoe Mines between 2001 and 2011.
Tyler Minnick — CFO 
Tyler Minnick is a registered member of the Colorado Society of Certified Public Accountants. He has over 24 years of accounting, auditing and business advisory services experience. He is also specialized in financial reporting and budget preparation and analysis.
Clive Bailey — Lead Geological Consultant
Clive Bailey has 43 years of experience in exploration, evaluation, development and operations and closure. He has managed the drill programs on two projects formerly owned by Bullfrog. He is a past employee of Nord Resources, General Minerals, Harvest Gold, Pegasus Gold, Energy Fuels Nuclear and Cotter Corp. He also managed the 13,000-tonne-per-day Buffalo Valley gold mine in Nevada.
Tom John — Senior Geological Consultant
Tom John has 45 years of experience and was the Barrick Bullfrog's Exploration Manager from 1995 through 1997. Mr. John has been advising and consulting for Bullfrog Gold from 2011 through the present.
Joe Wilkins – Senior Geological Advisor
Joe Wilkins has 53 years' experience in the global resource industry and is credited with the discovery of the 3 million-ounce Bullfrog deposit mined by Barrick. He was a former geologist with Occidental, Duval, Gulf Mineral Resources and St. Joe American.

---
*Disclaimer: This profile is sponsored by Bullfrog Gold Corp. (CSE:BFG,OTCQB:BFGC). This profile provides information which was sourced by the Investing News Network (INN) and approved by Bullfrog Gold Corp., in order to help investors learn more about the company. Bullfrog Gold Corp. is a client of INN. The company's campaign fees pay for INN to create and update this profile.
INN does not provide investment advice and the information on this profile should not be considered a recommendation to buy or sell any security. INN does not endorse or recommend the business, products, services or securities of any company profiled.
The information contained here is for information purposes only and is not to be construed as an offer or solicitation for the sale or purchase of securities. Readers should conduct their own research for all information publicly available concerning the company. Prior to making any investment decision, it is recommended that readers consult directly with Bullfrog Gold Corp. and seek advice from a qualified investment advisor.