The profile below is part of a campaign paid for by CanAlaska Uranium. This profile provides detailed information, helping investors make better investment decisions. CanAlaska Uranium's support of Uranium Investing News ensures we can continue to bring you unbiased, independent news and information.
Overview
CanAlaska Uranium Ltd. (TSXV:CVV,OTCBB:CVVUF,FWB:DH7N) is a uranium exploration company focused on Canada's prolific Athabasca Basin, where the highest grade uranium deposits in the world are found. CanAlaska is exploring one of the largest land positions in the region, with multiple properties covering over 1,900,000 acres. To date, the Company has expended over $86 million exploring the properties and identifying uranium targets. The Company markets select projects to attract additional partnerships; property sales and Joint Ventures maintain the company's cash position and discovery upside.
With its experienced management and technical consulting team holding extensive operating experience specific to the Athabasca region, CanAlaska is currently focused on advancing its large West McArthur and Cree East Joint Ventured projects. So far, CanAlaska has seen notable international investment interest, with MC Resources (Japan's Mitsubishi Corp) and a Korean Consortium, (comprising of Hanwha, KORES, KEPCO and SK), individually contributing $16 million and $19 million respectively to their Joint Ventures with CanAlaska.
Click to watch CEO Peter Dasler's presentation at the Murdock Capital Partners 2015 Symposium: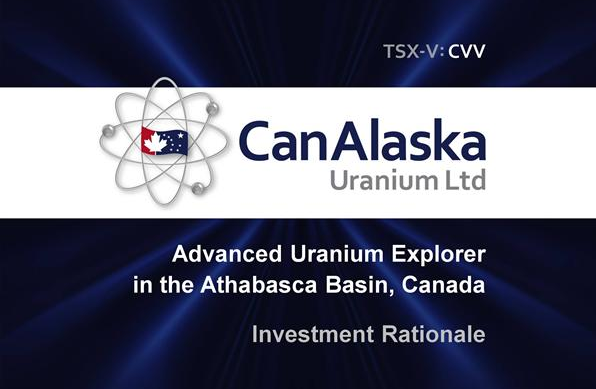 Investment Highlights
Extensive land holdings in the Athabasca Basin
Key properties with potential to discover large deposits
Significant investment from Japanese and Korean Joint Venture partners
Management and technical team has discovery and operating success in the Athabasca Basin
Amenable to additional JV partners to increase funding and technical support
Treasury of $1.8 million
Attractive share structure with only 22.1 million shares issued.
Key Properties
CanAlaska has one of the largest land holdings in the Athabasca Basin.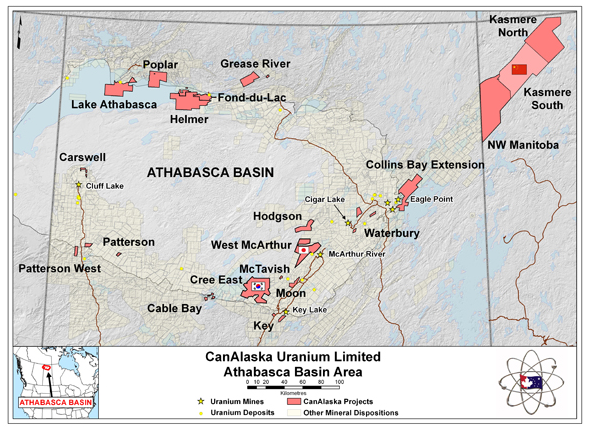 With interests in approximately 1,900,000 acres (770,000 hectares), CanAlaska holds one of the most extensive land positions in the Athabasca Basin and region. The company's strategic mineral properties has attracted some of the world's leading mining companies. Partner funded exploration led by global mining leaders Mitsubishi, KORES and KEPCO, have invested significant capital in key projects resulting in the discovery and delineation of multiple uranium targets.
West McArthur
Located over 36,000 ha of prospective ground between 6 and 30 kilometres west of Cameco's (TSX:CCO) McArthur River mine – the world's richest uranium mine – CanAlaska's West McArthur property features high potential for a large unconformity uranium target.
$20 million has been invested in exploration at McArthur so far, with work successfully identifying seven target areas. Three of these areas are high priority for further drill testing. The most current target is located at grid 5, immediately adjacent to the Fox lake target which has been the focus of Cameco and Areva's exploration since 2008..
In 2005 the first deep penetrating airborne survey located previously unknown conductive zones, associated with prospective graphite horizons and clay alteration zones. Ground work has since sharply defined these new conductors, and initial drilling has intersected mineralized uranium halos. These targets have been earmarked as high priority, and will be followed up by the Joint Venture in coming seasons.
CanAlaska acts as operator for the West McArthur project through a Joint Venture agreement with MC Resources, a wholly owned subsidiary of Mitsubishi Corp. (TYO:8058). For its part, Mitsubishi has contributed $16 million and agreed on a further a five year JV exploration plan.
Cree East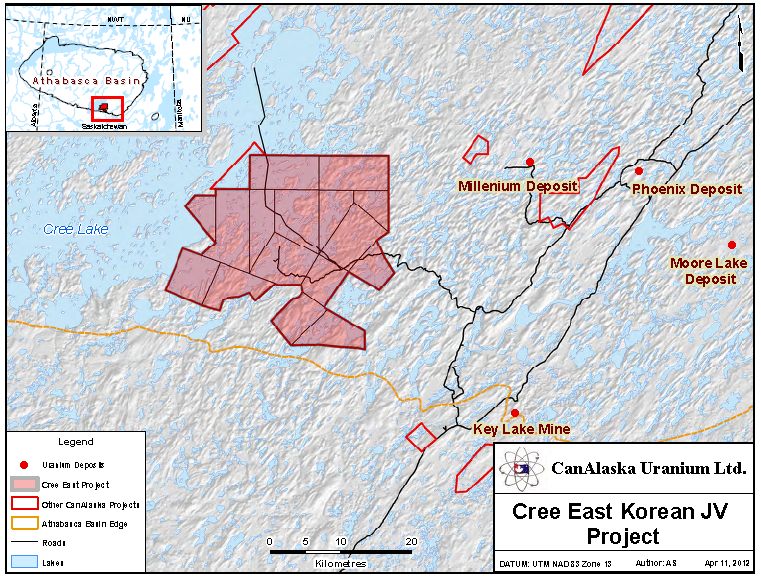 The Cree East project is located 36 kilometres east of the formerly producing Key Lake Mine in the south-eastern portion of the Athabasca region. The high priority property comprises a land package of over 55,935 hectares, consisting of 16 contiguous mineral claims.
The area has been explored since the 1970's by SMDC, Uranerz (TSX:URZ) and other miners, largely due to the proximity of the property to the Key Lake mine. Regional geochemical studies and geophysics had previously located numerous conductors around the southern and eastern edge of the property, but although some of those conductors have been drilled, the results had been inconclusive. New deep penetrating airborne geophysics in 2006 identified many more previously unknown targets, which were then confirmed by detailed sampling and ground geophysics
Drill programs began at Cree East in February 2008, during which large zones of alteration were intercepted. However, extreme clay alteration and unconsolidated sands prohibited CanAlaska from completing the majority of the drill holes. The company undertook a successful exploration program in 2009, during which the majority of the 15 holes drilled intercepted multiple zones of uranium and base metal enrichment. In 2012 further drilling closed in on the best targets, but again was hampered by the strong hydrothermal alteration of the target areas.
As with the West McArthur project, Cree East has the potential for large scale unconformity style uranium mineralization, similar to both the McArthur and Cigar Lake deposits. Cree comprises a huge property and the CanAlaska-Korea Joint Venture is targeting multiple zones or large scale unconformity alteration typically associated with large uranium deposits Currently, there are two very high priority areas at relatively shallow depth (-400metres). In 2014 CanAlaska carried out further detailed geophysics and Radon sampling in preparation for the next drill program.
CanAlaska entered into the Joint Venture partnership for Cree East in December 2007 with a Korean consortium made up of Hanwha Corporation, Korea Electric Power Corporation (KEPCO), Korea Resources Corporation (KORES) and SK Energy Co. Ltd. Under the terms of the agreement, the consortium earned a 50 percent ownership interest in the project by investing $19 million on exploration of the property.
NW Manitoba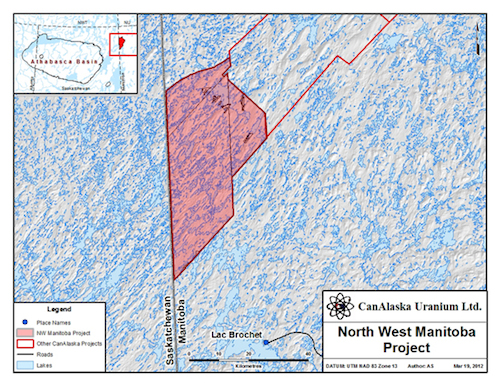 Located in northwest Manitoba just east of the northeast Saskatchewan border and 70 kilometres north of Reindeer Lake, the NW Manitoba project covers 143,603 hectares. Its geology is similar to that of areas such as the Rabbit Lake, Collins Bay and Eagle Point uranium mines 90 kilometres to the south west. CanAlaska commenced exploration on the property in 2005, and collected1800 lake sediment samples as well as collecting several thousand uranium mineralized boulders and identifying an outcrop of in-situ mineralization containing 9.5 percent U308. Locally boulders contained over 65 percent U308.
Unfortunately in 2007 the project was put on hold pending Manitoba Government and Community consultation. The company filed an NI 43-101 geological report in 2011 detailing extensive surface uranium mineralization and ten areas for immediate drill testing.
In March 2012, CanAlaska received new work permits and immediately carried out ground geophysical surveys at the Maguire Lake target.
That work resulted in strong geophysical responses matching geology and uranium mineralized boulder zones in the target area, showing similarity to Areva's Andrew Lake deposit in Nunavut.
Currently, CanAlaska has a joint venture agreement for the NW Manitoba project with Northern Uranium (TSXV:UNO) whereby Northern Uranium may earn up to an 80 percent interest in the project by way of an $11.6 million, three stage earn-in agreement. Under the terms of the agreement, Northern Uranium would earn:
50% interest by spending $3.2 million on exploration and issuing 4.5 million shares by year end
70% interest by spending $2.8 million and issuing 2.5 million shares within two years
80% interest by spending $5.6 million and issuing 5 million shares within four years.
Northern Uranium currently has a diamond drill and rotary rig on the property, and is progressively testing the Maguire targets.
Summary
CanAlaska Uranium has rapidly advanced its West McArthur and Cree East projects in the uranium-rich Athabasca Basin. Multiple buried, large scale uranium targets have been delineated for both properties, and CanAlaska has strong support from its International Partners for testing and evaluating these areas. Currently, exploration is active at CanAlaska's NW Manitoba property, where uranium mineralization is exposed and expected at shallow depths.
CanAlaska's substantial portfolio of well-located exploration properties in the Athabasca region afford it significant exploration upside, and leave the Company poised to take advantage of any improvements in uranium prices. The Company has benefitted by the sale and Joint Venture of non-core projects, and maintains a 2+ year cash position to capitalize on opportunities. Furthermore, with its experienced management and technical team, CanAlaska stands to repeat the success that it has already seen in attracting new investment and support from joint venture partners.
Management
Ambassador Thomas Graham, Jr. – Chairman of the Board, Director
Ambassador Thomas Graham, Jr. is one of the world's leading experts in nuclear non-proliferation. Amb. Graham has served under four successive U.S. Presidents as a senior U.S. diplomat involved in the negotiation of every major international arms control and non-proliferation agreement for the past 35 years. This includes the SALT, START, ABM, INF, NPT, CFE and CTBT Treaties. Amb. Graham has served with the U.S. Arms Control and Disarmament Agency and as the Special Representative of the President of the United States for Arms Control, Non-Proliferation, and Disarmament, in which role he successfully led U.S. government efforts to achieve the permanent extension of the Nuclear Non-Proliferation Treaty.
Chairman of the Company since June 2011; Director of the Company (2007-present); appointed as a member of the International Advisory Board for the nuclear program of the United Arab Emirates in December, 2009; Chairman of the Board of Mexco Energy Corporation (July 1997-present); Executive Chairman of Lightbridge Corporation (formerly Thorium Power, Ltd.)(2006-present).
Peter G. Dasler, P.Geo. – President and CEO, Director
Recognizing the favorable upturn of the uranium cycle in early 2004, Mr. Dasler positioned CanAlaska Uranium (then CanAlaska Ventures Ltd.) to become a significant presence in the field of Canadian uranium exploration by staking mineral claims in the most favorable districts of Canada's Athabasca Basin, home to the world's largest-richest uranium mines. He has since assembled an expert geological team that has enabled CanAlaska to carry out over $86 million in exploration and advance multiple uranium projects towards discovery.
Mr. Dasler possesses a comprehensive mineral exploration and public company management background, having worked for over 30 years in Canada as an executive and consulting geologist for companies engaged in the exploration for gold, copper, platinum, nickel, molybdenum, lead and zinc. Previously, he held the position of Mine Manager and Production Manager of the 10 mil. ton per annum Taharoa Ironsand Mine in his native New Zealand.
Mr. Dasler holds Bachelor's (1974) and Master's (1981) degrees in Geology from Canterbury University, New Zealand and is a member of the Professional Engineers and Geoscientists Association of BC.
Dr. Karl Schimann, P.Geo – Vice President, Exploration, Director
(Member of Audit Committee and Corporate Governance Committee)
Dr. Schimann possesses extensive experience in mineral exploration, spanning a career in exploration geology of over 30 years and across three continents. He has participated in significant discoveries for uranium and base metals and has also led various exploration and mining initiatives for gold and diamonds.
Between 1977 and 1997, Dr. Schimann was employed by French uranium giant AREVA (previously COGEMA) as a Senior Geologist and Project Manager, where he was a key member of the team that undertook the discovery and development of the massive Cigar Lake uranium mine. In total, he spent twenty years with AREVA, ten of which were based in Canada's Athabasca Basin, home to the world's largest-richest uranium mines. Dr. Schimann joined CanAlaska in late-2004, returning to Canada to immerse himself in a fresh challenge towards the discovery of yet another world-class uranium mine. He directs a top-flight team of international geophysicists and geologists.
Dr. Schimann graduated from the L'Université de Montreal in Geology (1968), obtained a Doctorat de spécialité in Geology from L'Université de Nancy (1971), and was conferred his Ph.D. in Geology by the University of Alberta (1978). He is a member of the Association of Professional Engineers and Geoscientists of British Columbia.
Honorable Kathleen Kennedy Townsend – Director
Ms. Townsend has a long history of accomplishments in the public and private sectors. She is a Director at The Rock Creek Group, a Washington, D.C. based investment advisor founded by the former treasurer of the World Bank. She was the State of Maryland's first woman Lieutenant Governor. She had responsibility for a multibillion-dollar budget and oversight of major cabinet departments. Before her 1995 election, Ms. Townsend served as Deputy Assistant Attorney General of the United States. She led the planning to put 100,000 police officers into communities and she ignited the Police Corps, a program to give college scholarships to young people who pledge to work as police officers for four years after graduating. Earlier in her career, Ms. Townsend served as the founder and director of the Maryland Student Service Alliance. Ms. Townsend is an honors graduate of Harvard University, and earned her law degree from the University of New Mexico. While there she contributed a Law Review article on the rehabilitation of uranium mine sites. She has received 12 honorary degrees. A member of the bar in Maryland, Connecticut and Massachusetts, she is also a certified broker-dealer and author.
Jean Luc Roy – Director
(Chair of Audit and Member of Compensation Committee)
Mr. Roy is an independent Director of the Company (2007 — present). He has over 20 years experience in the mining industry. The majority of his experience has been in Africa for companies such as International Gold Resources, Ashanti Goldfields Inc., Senafo, and First Quantum Minerals. Mr. Roy has managed projects from exploration through to production in three different countries. As Managing Director for First Quantum Minerals, Jean Luc played a crucial role in securing extensive land positions and by successfully placing a mining operation into production in the Democratic Republic of Congo during a period of major unrest in the country. Mr. Roy is presently a resident of Burkina Faso where is COO of Ampella Mining Ltd an Australian listed company focused on gold exploration in West Africa with their flagship property Batie West.
Victor Fern – Director
(Member of Corp. Governance, Nominating and Compensation Committees)
Independent Director of the Company (2007-present); road maintenance supervisor for Athabasca Development Corporation (2009-present); mill training foreman and a mill process operator for Cameco Corporation; past Chief of the Fond Du Lac Denesuline First Nation (2005–2007).
Mr. Fern has lived in Fond du Lac all of his life, he is a traditional land user and still hunts and fish for food in the area. He is active in community development, and works with local committees. Mr. Fern has been involved in environmental monitoring in the Northern Athabasca area and is involved with various business interest in the Fond du Lac area.
Dianne Szigety – Corporate Secretary
Dianne Szigety has over 25 years' experience in the securities industry and since 1994 has offered regulatory filing solutions and legal assistant consulting services to both public and private companies. Ms. Szigety was recently admitted as a Fellow of the Institute of Chartered Secretaries and Administrators (FCIS) and she is a member of the Canadian Society of Corporate Secretaries. Previously, Ms. Szigety was a senior legal assistant in the corporate securities department of Campney & Murphy, Barristers & Solicitors, in Vancouver, BC. Ms. Szigety is a director and/or officer of several publicly-listed and private companies.
Harry Chan – Chief Financial Officer
Harry Chan has over 20 years of experience working in several different industries ranging from public practice, sports entertainment, wholesale distribution and telecommunications. He is a graduate of the University of British Columbia and received his Certified General Accountant designation in BC in 1996.