Magnesium: The Other Bike Frame Metal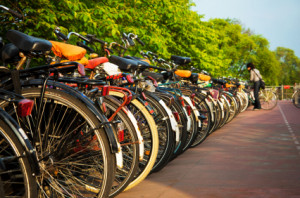 In cyclists' quest for the strongest and lightest bike, titanium, carbon fiber and even scandium have all been touted as better frame materials than the more traditional steel and aluminum. 
However, magnesium alloys are also worth considering. Though magnesium has fallen in and out of favor with bike makers and enthusiasts over the years, manufacturers like DT Swiss still seem to be betting on its success.
Case in point: last year, DT Swiss introduced one-piece magnesium (OPM) bike forks manufactured using injection-molding technology. At the end of last month, Singletrack posted a review of the upcoming 2015 OPM fork model. Pricing has not been set yet, but the reviewer states that OPM technology makes the new DT Swiss forks lighter, stiffer and cheaper to make than the manufacturer's multi-part torsion box forks. Bulky welding can sometimes be an issue with magnesium bikes, but DT Swiss' website professes that its technology "employs material only where needed," allowing for a sleeker design.
DT Swiss is far from the only magnesium component builder on the market. Zinn Cycles also makes lightweight magnesium alloy bike frames, while Paketa Cycles uses magnesium for racing bikes; SegalBikes manufactures both racing and mountain bikes in the same factory that produces its magnesium alloys.
Made in the 80s
Magnesium bikes have existed since the 1980s, when Frank Kirk first thought of making cast magnesium frames while working at Ford (NYSE:F) in Dagenham, England. Even though the Kirk Precision bike made an appearance in the Tour de France, it was not commercially successful, and problems with manufacturing meant that the bike disappeared less than 10 years after its inception.
As SegalBikes notes, successive producers Merida and Pinarello similarly bowed out due to the difficulty of manipulating and welding magnesium. Even so, their bikes also made it into the Tour, and Oscar Pereiro won the 2006 race on a magnesium cycle.
Today, companies such as DT Swiss, SegalBikes and Paketa have engineered new alloys and manufacturing technologies that allow them to take advantage of the lightness, stiffness and high damping capacity of magnesium. For example, DT Swiss uses an injection-molding process optimized through "Finite Element Analysis" to make its magnesium bike forks.
Similarly, SegalBikes uses extrusion, die casting and its own "thixomolding®; high speed, semi-solid injection molding process" to create its bikes. The company has also created its own magnesium alloy to improve weldability and corrosion resistance, which are significant problems when manufacturing using magnesium.
Why all the fuss?
According to Paketa's website, magnesium is significantly lighter than both aluminum and titanium, and its uber-high damping capacity makes for an extra-smooth ride for cyclists. Furthermore, it has a high tensile strength, making it more resistant to dents and buckles.
However, some say that magnesium bike frames are more trouble than they are worth. Paketa admits that it initially did a significant amount of research into optimizing the welding and extruding of magnesium bike tubes, and according to a road.cc article from 2011, SegalBikes keeps its secret magnesium alloy closely guarded. As road.cc notes, magnesium is extremely reactive with oxygen, and despite the clever chemical maneuvering by SegalBikes, magnesium bikes must still be coated with paint to avoid corroding.
The article also notes that the SegalBikes magnesium model from 2011 weighed in at just 1,020 grams, and the author suggests that it was barely heavier and much more reasonably priced than several costly carbon fiber models. However, the idea has been slow to catch on amongst biking enthusiasts, and carbon fiber still reigns supreme.
Still, the lightness, strength and damping capabilities of magnesium frames are worth considering, especially with advancements in technology that have improved upon welding challenges and corrosion. Furthermore, with these manufacturing improvements, producers like DT Swiss have also lowered the production cost of magnesium components.
In any case, there are several companies currently producing magnesium alloy bike frames. With the release of DT Swiss' new magnesium bike fork slated for next year, it could be interesting to keep an eye on the popularity of magnesium bike frames on the market.
Securities Disclosure: I, Teresa Matich, hold no investment interest in any companies mentioned.