Introduction to Magnesium Investing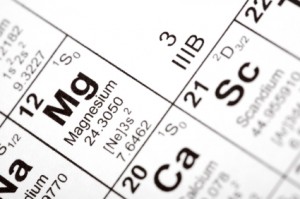 By Shihoko Goto- Exclusive to Magnesium Investing News
Magnesium is a familiar household name, found in food supplements and in leafy vegetables, deemed vital for healthy bones and good circulation. But magnesium is also a key industrial metal that is used primarily to strengthen aluminum alloys. The lightest of structural metals, it is also used to remove sulfur in producing iron and steel, and to inoculate cast iron.
Demand for the metal has grown steadily at about 3 percent each year, with the biggest growth seen in the car parts industry as magnesium is used for die-casting. Specifically, it is found in automobile parts such as steering wheels and support brackets. Magnesium is not only 40 percent lighter than aluminum, it is also as strong as steel, making it easier to mold and hold its shape. Approximately 130,000 metric tons of magnesium was used for die casting in 2010 and that number is expected to continue to rise steadily in coming years. Magnesium is also used in electronic devices including cell phones, laptops, and other products that benefit from its light weight and sturdiness.
About magnesium
Magnesium is an alkaline earth metal and the eighth most abundant element in the Earth's crust, with the symbol "Mg" and atomic number 12. It is highly soluble in water, and is the third most abundant element dissolved in sea water. Magnesium is also the 11th most abundant element by mass in the human body.
Its weakness has been its tendency to corrode when exposed to air, but with improvement of chemical purity, magnesium has become more resistant to corrosion
Magnesium supply and production
While there are many uses for magnesium, the market for the metal is relatively small. In 2010, total global production reached 750,000 metric tons while consumption averaged 670,000 metric tons. Production has increased by over 70 percent since 2000, but the global market for magnesium is about the same size as some single large-scale aluminum smelters.
Over 80 percent of the magnesium produced in the world comes from China, where there are about 250 to 300 small- and mid-sized plants across the country which produce the metal. There are a total of eight major US, European and former CIS countries that produce magnesium on a large scale. Almost all new magnesium projects outside of China in recent years have been abandoned or put on hold because investors have not seen them as financially attractive.
The magnesium produced in China, which accounts for over half of the metal found worldwide, uses a process that was developed during World War II which processes the metal in batches more cheaply using ferrosilicon as the reductant.
China drives magnesium market
China has about 1.3 million metric tons of capacity to produce magnesium, and that number is expected to quadruple over the next five years. Yet the Chinese government has become increasingly worried about the environmental damage caused by the smaller producers, and plans are underway to close all plants with a capacity of processing 15,000 tons or less.
China's dominance of the market led to anti-dumping charges, and the United States currently imposes hefty import duties on foreign magnesium.
Outlook
Outside of China, US Magnesium is the largest producer of the metal in the world, and the only producer in the United States. The Salt Lake City-based company has raised its yearly output to 63,500 metric tons due to increased global demand, and it expects demand in North America to rise 7 percent and global demand to increase by 9 percent in 2011 from a year ago.
Meanwhile, demand for magnesium is expected to continue rising especially in the automobile industry as governments and automakers alike look to bolster production of fuel-efficient cars. By using more magnesium, vehicles become lighter and thus more energy-efficient without sacrificing their safety or style.
Amid concerns about a steady supply of magnesium, some car makers have shied away from investing heavily in producing magnesium-heavy auto parts. In addition, the natural disaster in Japan in March 2011 had curbed demand for the metal in the first half of this year. Many analysts nonetheless expect demand to rise steadily from the latter half of 2011 onward given the cost savings that magnesium can bring.
For instance, by using magnesium in its inner rear lift gate for its Lincoln MKT model, Ford Motor  (NYSE:F) was able to save about 20 pounds of steel. Meanwhile, Honda Motor (TYO:7267) expects to expand the use of magnesium for cars from next year.