The profile below is part of a campaign paid for by Trevali Mining. This profile provides detailed information, helping investors make better investment decisions. Trevali Mining's support of Zinc Investing News ensures we can continue to bring you unbiased, independent news and information.
Overview
Trevali Mining Corporation (TSX:TV) is a primary zinc producer with one operating zinc-lead-silver mine in Peru and second polymetallic mine in New Brunswick, Canada about to commence operations.
The Santander Mine in Peru is a 2,000 tpd underground mine and mill complex which includes production from three major deposits with significant exploration potential to expand the current resource. Trevali brought Santander into full commercial production in 2014 and the mine is now cash flow positive.
The Company's current focus is bringing into production its wholly-owned Caribou Mine in New Brunswick. Underground mining is underway to supply material for the Q2 2015 start-up of the 3,000 tpd Caribou Mill Complex.
Investment Highlights
Assets 100% controlled by Trevali; operations fully-financed.
Diversified revenue stream from polymetallic production: zinc, lead, silver, copper and gold.
The primary zinc producer on the TSX.
Glencore Plc. Is a strategic partner-shareholder.
Strong global demand for zinc alongside shrinking supply forecast.
Santander Zn-Pb-Ag Mine in Peru in Production.
Caribou Mine and Mill Complex operations to commence production in Q2 2015.
All deposits remain open for expansion.
Zinc and Polymetallic Production in North America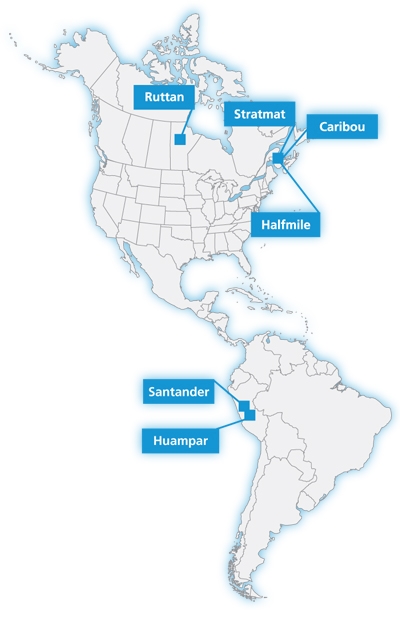 The Caribou polymetallic mine and mill complex is located in the Bathurst Mining Camp of northeastern New Brunswick, Canada. Trevali has succeeded in securing the whole of the camp including the Halfmile Mine and the Stratmat deposit.
These massive polymetallic sulphide deposits are rich in zinc and also contain significant amounts of lead, silver, copper and gold. All three remain open for expansion.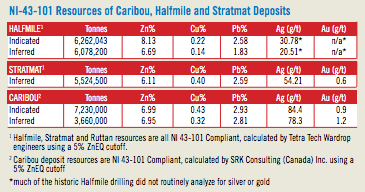 Operations at the Caribou Mine will include a 3,000 tpd mill complex, flotation recovery plant (including a copper recovery circuit), 10 km of underground development, metallurgical and geochemical laboratories and a fully-permitted tailings treatment facility.
Caribou Production to Commence in 2015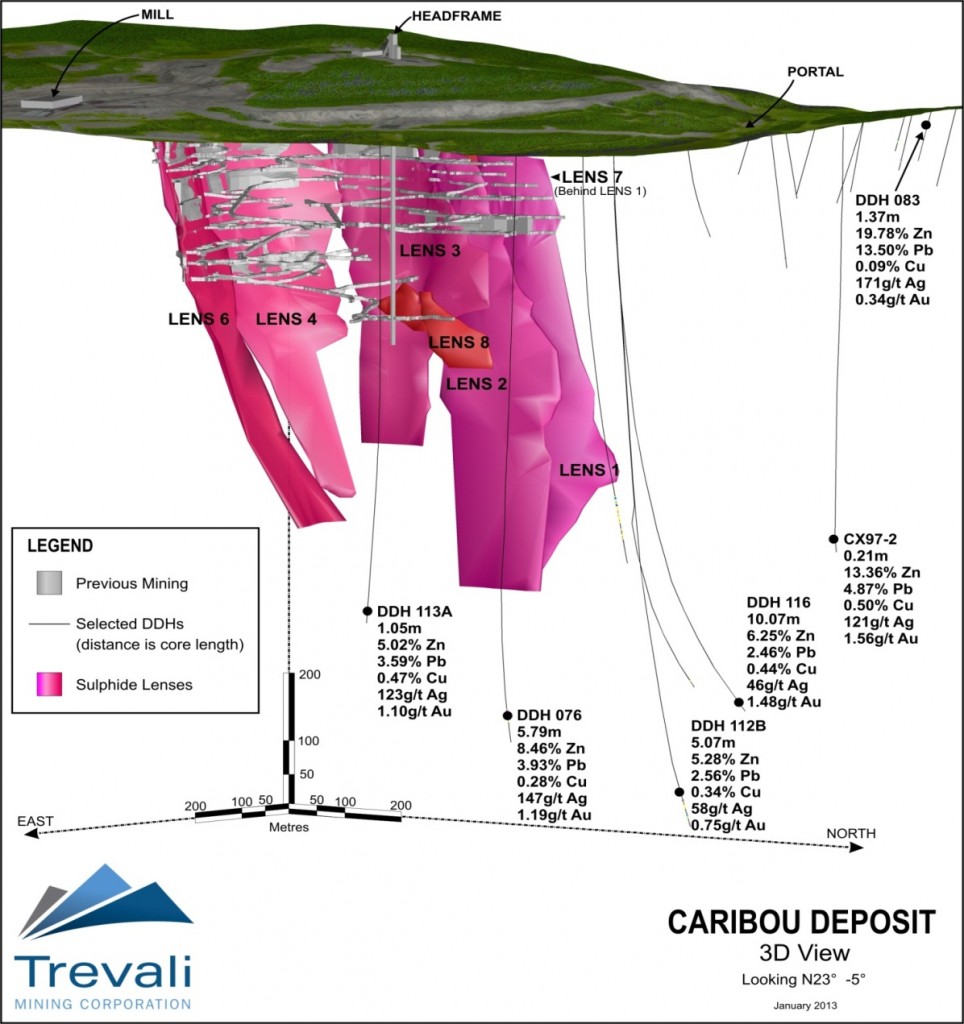 Start-up production at Caribou is scheduled to commence in Q2 2015. Operational specialists from partner-shareholder Glencore's IsaMill Division are assisting Trevali's technical team onsite. DRA Americas Inc., specialist metallurgy and plant operations group, is also supplying expert support in enhancing mill maintenances programs.
The surface works necessary for start-up are complete. Access to the first four production zones are also complete with rehabilitation of the fifth zone nearly finished. Approximately 1 million tonnes of mineralized material is available for production. Surface stockpiling is underway with a goal of up to 80,000 tonnes leading up to the commission of the mill.
Planned PEA for Halfmile Mine and Stratmat Deposit
Halfmile Mine is a fully-permitted underground mine with production levels already in place. Trial underground mining and production was completed in 2012 with more than 100,000 tonnes of mineralized material processed (see June 13, 2012 news release) which will provide metallurgical and recovery data for a planned PEA study update on a potential combined Halfmile-Stratmat development plan.
About 20 km east of the Halfmile Mine, Stratmat is a near-surface zinc-lead-silver-copper-gold deposit which remains open for expansion along strike and at depth. Trevali recently completed a 30,000-metre drill program with significant results (see March 2, 2015 news release). An updated resource estimate is expected in 2015 ahead of the PEA update.
Zinc and Polymetallic Production in South America
Santander Mine Production
The Santander zinc-lead-silver underground mine and mill complex is located 215 km northeast of Lima in the Central Peruvian Polymetallic Belt. The 2,000 tpd operation includes more than 10 km of underground development in the Magistral North, Magistral Central and Magistral South deposits via three separate portals and ramp systems.
Payable production in 2014 totaled 50,449,145 pounds of zinc at an average head grade of 4.24% Zn; 23,326,597 pounds of lead at an average head grade of 1.89% Pb; and 914,637 troy ounces of silver at an average head grade of 1.64 oz/t Ag.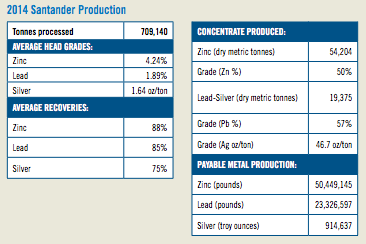 Trevali's 2015 metal production guidance at Santander calls for 48-50 million pounds payable zinc production at an average head grade of 4.2-4.4% Zn; 23-25 million pounds payable lead production at an average head grade of 1.8-2.1% Pb; and 850,000 – 950,000 troy ounces silver at an average grade of 1.5-1.8 oz/t Ag.
Santander Expansion Potential
Significant potential exists to expand the current resource at Santander. The Magistral deposits remain open and downhole geophysics indicates that mineralization extends at least another 500 metres vertically. In addition, the recent discoveries of the Rosa and Fatima Zones bear similar zinc grades to the Magistral Deposits and higher lead-silver grades (see June 4, 2014 news release). The new zones are conveniently adjacent to the existing underground development and are now supplying millfeed.
Management
Dr. Mark Cruise – President, CEO, and Director
A base metal deposit specialist with 20-years project experience from grass-roots exploration through resource definition to permitting and production in Europe and the America's on behalf of Pasminco Exploration, Anglo American and other companies. Mark completed his Ph.D. on the Irish zinc-lead orefield and was a member of Anglo American's Lisheen Zinc-Lead Mine feasibility/technical team in Ireland that developed the 4,500 tpd mine.
Anna Ladd – CFO
Over 15 years experience in financing and financial controls in the mining industry including responsibility for multiple large scale open pit and underground base and precious metal production units. Anna has served as VP Finance and CFO for a number of TSX-listed junior mining companies in addition to several mid-size to senior gold and base metal producers including Grande Cache Coal, Kinross Gold's Fort Knox, Round Mountain and Kettle River operations and Vale Inco's Thompson and Sudbury base metal operations.
Paul Keller – Vice-President of Operations
28 years of mine operations experience in Canada, most recently as Manager of Technical Services for a major Canadian mining contractor where he led a team of engineers and designers on various mining contracts for major mining companies. Paul began his career with Rio Algom Limited and has also worked in various management roles with Barrick Gold's Hemlo mine in operations, engineering and maintenance.
Steve Stakiw – Vice-President of Investor Relations and Corporate Communications
Geologist with over 20 years of mineral exploration industry, and research & finance market experience. Steve has held a senior management role with a leading mining research and investment publication and has consulted to resource-focused investment funds.