The profile below is part of a campaign paid for by Western Copper and Gold. This profile provides detailed information, helping investors make better investment decisions. Western Copper and Gold's support of Gold Investing News ensures we can continue to bring you unbiased, independent news and information.
Overview
Western Copper and Gold Corporation (TSX:WRN, NYSEMKT:WRN) is focused on developing the Casino Project, its wholly-owned, billion-tonne Copper-Gold project. The deposit is favourably located in Canada's Yukon Territory which was recently ranked in the Top Ten of the world's most attractive mining investment jurisdictions.
The 2013 Bankable Feasibility Study shows the project has excellent economics (20.1% IRR and a $1.83 B NPV after-tax) using its base case commodity prices ($1400/oz gold and $3.00/lb copper) due in large part to a best-in-class strip-ratio and initial high-grades. The project also has robust economics at today's spot prices.
The Casino Project is currently in permitting, with permits expected in 2016. The timing of obtaining permits and constructing the mine is well aligned with the expectation of a supply deficit in the global copper market materializing in late 2016 or early 2017.
Western Copper and Gold is led by a highly knowledgeable management team with a proven record of success (Western Copper and Gold is a spinout of Western Silver Corporation which was acquired by Glamis Gold for $1.6B, which was subsequently bought by Goldcorp) and supported by a highly qualified team of engineers dedicated to bringing Casino into production.
"We are a team of engineers that is experienced and well positioned to take resources and turn them into mines," stated Paul West-Sells, President & COO of Western Copper and Gold
Casino Project in Yukon Territory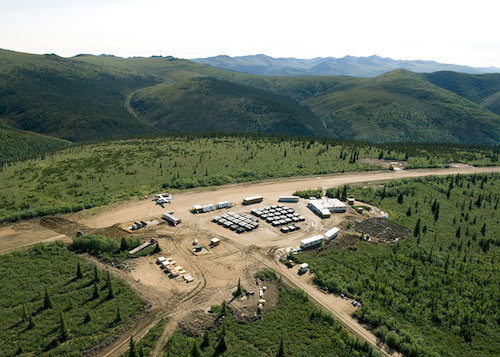 The Casino Project is a large porphyry-type copper-gold-molybdenum deposit located 560 km from the year-round port of Skagway, Alaska and 380 km from the capital city of Whitehorse in the Yukon Territory of Canada.
In 2014, the Yukon Territory ranked #9 on the Fraser Institute's list of the most attractive mining investment jurisdictions in the world and #1 in mineral potential.
"The Yukon government is very supportive of this project, and the mineral industry in general," explained Paul Well-Sells, President & COO.
The Yukon government is actively working to improve the regulatory environment and increase certainty for the industry with the development of a Mineral Development Strategy and a Mine Licensing Improvement Initiative.
Feasibility Study: Excellent Economics
One of the largest undeveloped copper-gold deposits in Canada, Casino contains a NI 43-101 compliant Proven and Probable Reserve of 8.9 M oz gold and 4.5 B lbs copper contained in 1.12 B tonnes of ore. The project holds plenty of upside potential as well, with additional Inferred Resources of 9.0 M oz of gold and 5.4 B lbs of copper.
The project has an initial mine life of 22 years at 120,000 tonnes per day throughput, with the potential for an additional 25+ years if the Inferred Resource is mined as well. The deposit is naturally hedged with copper accounting for approximately for 46% and gold contributing 34% of the projected revenue.
The Feasibility Study is based on a conventional open pit mine, concentrator complex and heap leach operation. The study shows an initial capital investment of $2.46 billion, which is in-line with other copper projects of this size. Combined mining and milling operating costs are estimated at $8.52 per tonne ore milled, with a net smelter return of $31.59 per tonne for the first four years and $22.59 per tonne for the life of the mine.
While the capital and operating costs are excellent, it's the low strip-ratio that's truly impressive. A strip-ratio of less than 1:1 is considered low in the industry. The Casino Project has a predicted strip ratio of 0.49:1 for the first four years of operation and a strip ratio of 0.59:1 for the life of mine.
"This project is economic at Spot prices. And that's one of the main aspects of what separates Casino from other developing projects. We are not positioning this for a recovery in commodity prices – Casino is economic at this point in this cycle." explains Paul West-Sells, President & COO.
Engineering and Construction
Western Copper and Gold is actively advancing key aspects of the engineering work at Casino. The Company signed an agreement with M3 Engineering and Technology to build the mine and has a letter of intent with the engineering firm for the operations and management of the mine once in production (see September 9, 2014 news release).
Western Copper and Gold has also secured a memorandum of understanding with Siemens concerning operations, equipment supply and funding for a power plant and other electrical equipment required for mining and processing facilities. In addition, initial agreements have been made with potential suppliers of liquefied natural gas.
Delivering Copper at the Right Time
As a result of underinvestment in new projects, declining grades at existing mines and a myriad of recent production issues, the copper market is headed toward a supply deficit beginning in 2016/2017 with a forecasted 10 million tonne deficit by 2028.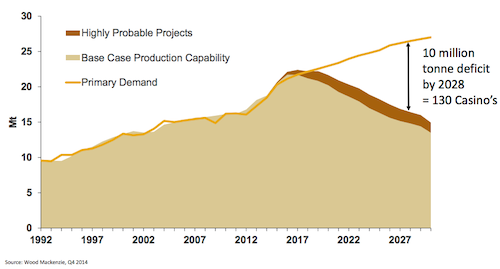 Upcoming Catalysts
Permitting
In January 2014, Western Copper and Gold submitted its environmental assessment application to the Yukon Environmental and Socioeconomic Assessment Board (YESAB). The Company is looking forward to obtaining "Adequacy" with its submission and the successful completion of the YESAB Screening Review which will allow the project to proceed to the regulatory stage.
Other key permitting milestones include:
The Quartz Mining License from the Yukon Government Department of Energy, Mines and Resources—allows construction to commence; and
The Water Use License issued by the Yukon Water Board—allows production to commence.
Financing
Western Copper and Gold remains fully-funded through to a Construction Decision. In December 2012, the Company completed a royalty sale where it converted an existing 5% net profits interest to a 2.75% net smelter return royalty for US$32 million.
Western Copper and Gold is currently arranging financing for construction of the Casino Project.
Investment Highlights
World Class Resource: 1.13 billion-tonnes Reserve
Upside Potential: Additional Inferred Resource of 1.7 billion tonnes of ore
Excellent Economics: $1.83 billion NPV; 20.1% IRR after tax
Prime Location: Politically-stable Yukon, Canada
Proven Management: Experienced management and directors
Feasibility Study completed in 2013
Robust economics at spot prices.
Upcoming Catalysts: key permitting and finance milestones in 2015
Final permits obtained in 2016
Projected copper supply deficit beginning in 2016; 10 million tonnes deficit projected by 2028
Proven Management
Dale Corman, B.Sc, P.Eng.— Chairman & CEO
Mr. Corman has 40 years of experience as a senior corporate officer of publicly-listed companies as well as extensive expertise in mineral exploration & development, financing, property evaluation and acquisition. He was formerly Chairman & CEO of Western Silver Corporation.
Paul West-Sells, Ph.D. — President & COO
Dr. West-Sells has over 20 years' experience in the mining industry. After obtaining his Ph.D. from the University of British Columbia in Metallurgical Engineering, he worked with BHP, Placer Dome, and Barrick in increasingly senior roles in Research and Development and Project Development. Since 2006, Dr. West-Sells has worked for Western Copper and Gold, holding a number of technical and executive positions. Currently, as the President and COO of Western Copper and Gold, Dr. West-Sells oversees the day to day operations of the company. Dr. West-Sells currently sits on the Yukon Minerals Advisory Board and the Centre for Northern Innovation in Mining Governing Council.
Julien François, C.A.— VP Finance & CFO
Mr. François has served as Vice President, Finance and Chief Financial Officer since Western Copper and Gold's inception in 2006. Prior to joining the Company, he was the Controller of Western Silver Corporation and worked for five years in the audit practice at PricewaterhouseCoopers LLP.
Cameron Brown, P.Eng. — VP Engineering
Mr. Brown has 40 years of experience in mineral processing. He has been responsible for plant maintenance, project management and engineering of major base and precious metal projects. He was formerly Project Manager for Bechtel Engineering and Western Silver Corporation.
Jesse Duke, P.Geo.— VP Environment Affairs
Mr. Duke has extensive experience dealing with public communications, stakeholder consultations and community relations for major mining projects. Held senior management positions for both government and the private sector and has led the environmental team advancing Casino since 2008 as well as supported government and community relations.