The profile below is part of a paid campaign paid for by Pure Energy Minerals. This profile provides detailed information, helping investors make better investment decisions.Pure Energy Minerals' support of Lithium Investing News ensures we can continue to bring you unbiased, independent news and information.
OVERVIEW
Pure Energy Minerals Ltd. (TSXV:PE,FWB:A111EG) is an integrated lithium mining and processing developer with a focus on green 'cradle to cradle' lifecycle solutions for lithium supply in North America. The Company's Clayton Valley lithium brine project is immediately adjacent to the only producing lithium mine in North America.
Drill results from the Company's 2014 exploration program and historic work on the project located in Clayton Valley have shown lithium concentrations ranging from 230 to 400 ppm. A 2015 exploration program is underway and the results will be incorporated into a NI 43-101 Inferred Resource Report. The resource estimate represents a key value milestone for Pure Energy and is slated for completion in June 2015.
The Company is dedicated to employing sustainable mining practices that have a low impact on the environment in which they operate. Production plans for the project reflect a philosophy of "invisible mining."
Pure Energy has partnered with Tenova Bateman on the testing of advanced lithium brine processing technologies with a focus on cleaner and greener operations. Initial testing by Tenova Bateman at their facility in Israel successfully produced a lithium chloride solution with a purity greater than 99.9% and a lithium recovery from raw brine of practically 100%.
Pure Energy's expert management team has a strong background in geoscience, exploration, project development and finance. The Company is well-financed through Phase One of the current two-phase exploration program.
"Leveraging clean technologies that maximize throughput and address the evolving lithium market demand, both in terms of production and recovery from waste, will position this project as a leader in the lithium space," states Pure Energy CEO Robert Mintak.
Clayton Valley Project
The Clayton Valley lithium brine project is strategically located halfway between Las Vegas and Reno, Nevada in the prolific mining district of Esmeralda County. The region has a long history of lithium exploration and production. Pure Energy's 8,000+ acre placer claim is contiguous to North America's only producing lithium mine: the Rockwood Albemarle Silver Peak Mine.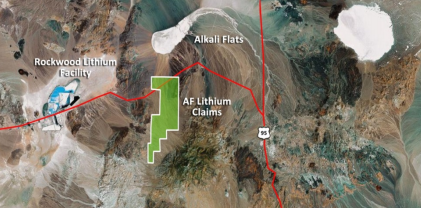 2014 Exploration Program
During the 2014 exploration program at Clayton Valley, Pure Energy completed exploration borehole CV-1 to a depth 274 metres in Q4 2014. The well is 20 metres to the south of a historically drill hole (SPD-9) that defined a lithium enriched zone from 145 metres to 317 metres. Salty ground fluids were intersected at 146 metres to 274 metres resulting in a minimum intersected interval of 131 metres. The fluids are very likely the same as the targeted brines horizon which were identified in the historical hole (see October 3, 2015news release).
The analysis of samples collected from CV-1 resulted in lithium brine concentrations averaging 264 ppm (see November 5, 2014 news release). The results confirm the historically reported analytical results for hole SPR-09 and confirmed Pure Energy's belief in the robust potential of the project leading to the development of a two-phase exploration program.
2015 Exploration Program
In Q1 2015, Pure Energy began Phase One of the 2015 exploration program with a detailed gravity and downhole gamma geophysical survey of the northern part of the project including hole CV-01. The downhole geophysical survey confirmed two main brine-bearing zones are intersected by CV-01.
Phase One of the exploration program is fully-financed and includes additional geophysics, three 300-metre wells and pumping tests with the goal of developing a NI 43-101 Inferred Resource for the project. The resource report is expected to be completed in June 2015.
In February 2015, the Company initiated a 3-D seismic reflection survey of the basin that extends 15 km south from CV-1 with the goal of identifying future drilling targets.
Phase One work also included widening CV-01 to allow for pumping tests to determine possible lithium-brine pumping rates. Installation of the test production well was completed in March 2015.
A high-capacity pump was installed in CV-01 and used to conduct a preliminary step-test which resulted in flow rates ranging from 40 gallons per minute (gpm) to 180 gpm (or 2.5-11 litres per second). The test results demonstrated that higher production pumping rates of lithium-bearing brine are possible from the CV-01 well (see April 8, 2015 news release). This information is crucial in determining the size and viability of the lithium-brine resource beneath the Clayton Valley claim area and in developing the Inferred Resource estimate on the project.
In March 2015, drilling of exploration well CV-2 commenced guided by the detailed gravity survey. Data from the well will be used to qualify the seismic reflection survey and to provide key information for the Inferred Resource report.
Sustainable Lithium Mining Technology
Pure Energy is actively working to test and develop innovative lithium brine mining and processing technologies that are superior to conventional processes in duration, recoveries and environmental impact.
The Company has partnered with Tenova Bateman Technologies to conduct lithium recovery process testing of brine samples collected at the Clayton Valley project. Tenova Bateman will use their proprietary lithium processing and recovery technology, the LiSX ™ process to conduct the testing at their research and development facility in Israel.
The LiSX ™ process is an advanced solvent extraction technology that efficiently extracts lithium from brine and various waste streams. The process integrates lithium processing and recovery capabilities, eliminating the need for traditional large-scale evaporation ponds thus:
reducing the processing time from 1-2 years to hours;
increasing recovery rates from 40% to 50% Li to greater than 90% Li extraction;
improving sustainability by avoiding evaporation ponds and tailings piles in favor of spent solutions suitable for reinjection;
reducing energy and water requirements
de-risking production by unchaining the project from weather variables.
The LiSX™ process also allows for the production of various customized high-purity (>99.9%) lithium end-products including carbonate, chloride and hydroxide.
Pilot Plant Test Results
In Q1 2015, Pure Energy supplied Tenova Bateman Technologies with a bulk raw brine sample, collected from the Clayton Valley lithium project, for lithium extraction process testing. In the first stage of testing, Tenova Bateman used its LiP™ process to remove nearly all of the alkali earth elements, including calcium and magnesium, from the raw feed solution. Sulfate was also eliminated without disturbing the lithium concentrations.
The results were announced in March 2015 and indicated that the LiSX™ process successfully produced a lithium carbonate (LiCL) solution with a purity greater than 99.9% and a lithium recovery of practically 100% (see March 4, 2015 news release).
A complete evaluation of the LiP™ and LiSX™ performance is planned for 2015 which will include assessing the potential to produce high purity battery-grade lithium hydroxide from the LiCL solution.
The results will help inform a construction decision for a pilot plant in Nevada. The production concept for the Clayton Valley lithium extraction plant involves pumping brine to the surface; extracting lithium and other marketable metals; scrubbing the brine; and then re-injecting the cleaned brine back into the ground.
Strategic Partnership with POSCO
On March 3 2014, Pure Energy signed a non-binding Memorandum of Under-standing (MOU) with Korean Multi National POSCO to explore opportunities to develop lithium and other mineral by products from the Clayton Valley project and to seek opportunities to commercialize environmentally friendly lithium brine processing technologies.
POSCO is developing an innovative lithium extraction technology that replaces the traditional brine evaporation pond model. POSCO's technology is faster than current evaporation methods and can also minimize the associated environmental footprint of large-scale evaporation ponds. The technology increases the lithium recovery rate from less than 50% using traditional evaporation ponds to more than 80%.
Catalysts in 2015-2017
Pure Energy plans to achieve several key milestones in 2015-2016 toward advancing the Clayton Valley lithium brine project and processing facility, including:
Phase 1 Exploration and NI 43-101 Inferred Resource in June 2015;
Phase 2 Exploration and NI 43-101 Indicated Resource/Probable Reserve in 2016;
Pre-Feasibility report with project economics planned for 2016;
Permitting for construction expected by 2016; and
Bankable Feasibility and Front End Engineering Design planned for 2017.
INVESTMENT HIGHLIGHTS
Contiguous to North America's only producing lithium mine: the Rockwood Albemarle Silver Peak Mine
Nevada ranked 3rd best mining jurisdiction
Strategic technology partnerships with Tenova Bateman and POSCO.
2014 Exploration Program results confirmed lithium presence in drill results
2015 exploration program is underway and the results will be incorporated into a NI 43-101 Inferred Resource Report due out in June 2015.
Initial testing of lithium production technology resulted in purity greater than 99.9% and a lithium recovery of practically 100%.
Well-financed through current phase of exploration.
MANAGEMENT
Robert Mintak, CEO – Director
Mr. Mintak has a 25 year portfolio of executive administration, experience in a variety of industries. He has served as a management consultant with several private and public lithium exploration companies. Mr. Mintak is also the founding director of Pure Energy Minerals with an in-depth understanding of the Lithium mineral and processing technologies industry, and numerous strategic relationships through the engineering, manufacturing and capital market subsectors.
John Jardine – CFO
Mr. Jardin has over 30 years of experience managing accounting and financial compliance for public companies. He received his Certified Management Accounting designation in 1981 (BComm from Carleton University).
Dr. Andy Robinson, Ph.D. Geoscience – Chief Operating Officer
Dr. Robinson is an experienced Geoscientist with a PhD in Geochemistry from the University of Bristol. Post-Doctorate research in geochemistry was followed by over a decade working for an international engineering consulting company where he worked on a wide range of groundwater-focused projects in the resource and energy sectors in Europe, Africa and North and S. America. Subsequently, he has focused on senior technical and executive management roles for publicly listed companies, including Swift Power Corp and Veresen Inc. During this time, he has successfully taken projects from inception to production while developing sustained corporate growth.
Alexi Zawadzki, M.E.S. – VP Business Development
Mr. Zawadzki is trained as a hydrologist with a Master's degree from Wilfrid Laurier University, with over 17 years of experience in developing resource projects. He served as VP Business Development West for Veresen Inc. and was Founder and CEO of Swift Power Corp (sold to Veresen in 2010). He has worked 10 years with a large multi-national engineering firm servicing mining, oil and gas and power sectors across the Americas.
Dr. LeeAnn Munk – Technical Adviser
Dr. Munk is a global expert in the origin of lithium brine deposits, Professor of Geological Science at University of Alaska. SHe has worked on lithium deposits in the Atacama and Clayton Valley, with 15+ years experience in aqueous geochemistry research focused on environmental and mineral exploration applications.
Gerhard Jacob, P.Geo – Consulting Geologist
Mr. Jacob has over 20 years of extensive experience in mineral production and exploration. He has consulted for the following companies: Tagish Lake Gold, Goldmark Minerals, Oromonte Resources.
Grant Hall – Director
Mr. Hall has extensive public market experience in Canadian markets, and has financial background and capital funding successes. He was the former President for Western Warrior Resources.
Michael Dake – Director
Mr. Dake has over 15 years of experience in investor relations and serves on the board of directors of several TSX-V companies.
Jeremy Poirer – Director
Mr. Poirer has extensive public market and corporate development experience, including financial capital funding successes.
Robert Cross – Strategic Adviser
Mr. Cross has 25+ years of experience as financier in mining & oil and gas, and is Co-Founder and Non-Executive Chairman of Bankers Petroleum. He was the former Chairman and CEO of Yorkton Securities.
Jaeyol Kim – Korean Business Development Specialist
Mr. Kim has over 20 years of experience in corporate strategy business development. As the former Vice President of LitheaInc, he helped raise $15 million dollars in initial funding. He was also former director of Richard V. Allen company, and successfully raised $18 million dollar in investments from major Korean Industrial consortium for US junior mining companies.