The profile below is part of a campaign paid for by Anfield Resources. This profile provides detailed information, helping investors make better investment decisions. Anfield Resources' support of Uranium Investing News ensures we can continue to bring you unbiased, independent news and information.
Overview
Anfield Resources Inc. (TSXV:ARY,OTCQB:ANLDF) is a mineral exploration company with both copper and uranium assets that are at various stages of development. The Company has continued to strategically acquire uranium assets in Utah, Colorado, South Dakota and Arizona, most recently increasing its uranium asset acreage by over 250% through an acquisition from Uranium One (TSX:UUU). Anfield Resources also secured that company's Shootaring Canyon Mill, one of only three licensed conventional uranium mills in the United States.
In an interview with Peter Epstein, Anfield Resources CEO Corey Dias says, "Our model allows for relatively quick cash flow generation without significant upfront cap-ex, extensive permitting times or follow-on sustaining cap-ex. Moreover, our copper assets serve as a hedge against a potential decline in the uranium price."
Investment Highlights
Acquired assets include past-producing mines
Ownership of the Shootaring Canyon uranium mill, one of only three licensed conventional mills in the U.S.
One of the largest owners of uranium properties in the U.S. with roughly 65,500 acres of uranium assets
Producing copper project in Chile's copper-rich Atacama region
Drill-ready, past-producing project located in Arizona's Copper Belt
STRATEGIC URANIUM ASSETS
In May 2014, Anfield Resources announced the acquisition of 239 unpatented uranium claims on over 4,800 acres in Colorado. These properties are all found within the Uravan Belt, one of the historically most prolific areas of uranium production. This acquisition provided the Company with access to mineral rights on over 17,500 acres in Utah and Colorado.
In August, Anfield Resources closed a transaction with Uranium One to become one of the largest owners of uranium properties in the United States, increasing its uranium asset acreage by over 250% and adding a historical estimate of a U308 resource of 6.8 million pounds. Importantly, Anfield Resources also acquired the Shootaring canyon uranium mill from Uranium One, giving the company the potential to become one of very few uranium producers in the U.S..
The potential for vertical integration will allow substantial capital efficiencies, and the mill acquisition is extremely significant for Anfield Resources. Dias called the acquisition "transformational for the Company," stating, "we have significantly accelerated our timeline with regard to becoming a uranium producer."
STRATEGIC Copper ASSETS
Binghampton Copper Queen Project – Arizona, USA
The Binghampton Copper Queen Project is situated in Yavapai County, Arizona, located in what is known as the Arizona Copper Belt, which is home to historically significant mines including the Bagdad, Crown King, and Jerome mines. The Binghampton Copper Queen Project is comprised primarily of two past producing mines: the Binghampton and the Copper Queen. Historic production from the Binghampton Mine averaged 3.1% copper with over 8 million pounds of copper produced from 1901 to 1920. The historic Binghampton Mine contains four existing shafts with the deepest being 1,800 feet, totaling approximately 2.5 miles of tunnel workings in place at the 600 foot level range. Historic data demonstrates that the copper grade in mined sulfide concentrations increases with depth, while existing oxide zones (which have shown to consistently run 1 percent copper) were never mined. The area also shows a significant gold, silver, and zinc overprint.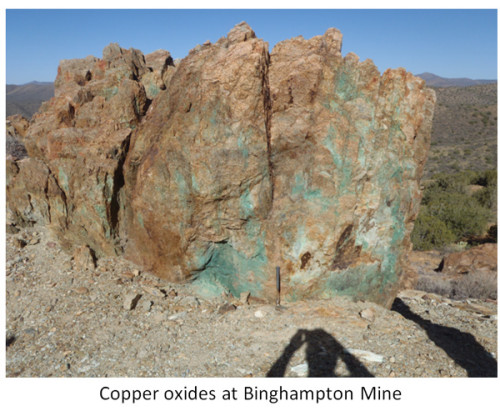 Anfield Resources has a Purchase Agreement in place with Blue Zen Memorial Parks (BZM). Under the terms of the Agreement, BZM will invest $2 million on Anfield Resources, for an NI 43-101-compliant copper resource estimate. Subject to the results, Anfield Resources will sell up to 50% of the BCQ project to BZM. Anfield has also agreed to provide BZM with a right of first refusal with regard to the BCQ project's production off-take agreement, whereby BZM would purchase 100% of mine production over the life of the mine
Aura Project – Atacama, Chile
The Aura project consists of eight land Concessions totaling 1,110 hectares in the northern portion of Chile's Atacama region. The project is located 50 miles south east of the Punta Padrones port facility, 20 miles east of the city of Copiapó and approximately 12 miles north of Freeport-McMoRan's Candelaria and Ojos del Salado Mines.
Shipments of ore from the project to the government-owned Enami processing facility re-commenced in early February 2013 and has delivered over 1,100 tonnes of copper oxides at an average copper grade of 2% to Enami.
Summary
Currently one of the largest uranium property owners in the U.S., Anfield Resources' uranium portfolio includes mining claims and state leases in southeastern Utah, South Dakota and Arizona totalling over 65,500 acres, in areas where past uranium mining or prospecting has occurred. The company also recently acquired the Shootaring Canyon uranium mill, and is on track to become one of the very few producers of uranium in the United States.With a purchase agreement with Blue Zen Memorial Parks in place, Anfield Resources is also poised to jointly advance the Binghampton Copper Queen Project into production.
Management
Corey Dias – CEO & Director
Mr. Dias brings to the role of CEO a wealth of capital markets experience, accumulated over his ten years on both the buy-side and the sell-side of the market. Mr. Dias began his capital markets career in institutional equity research at CIBC in 2003 and gained further sell-side experience with other boutique investment firms in Toronto. In addition, Mr. Dias was a Vice President at Fortress Investment Group – a major U.S.-based hedge fund – where he was involved in the management of a $400 million investment portfolio. Finally, Mr. Dias was a management consultant at The Monitor Group – a U.S.-based strategy consulting firm – in Stockholm, where he gained invaluable experience in identifying and resolving issues faced by executive management at multinational corporations in various industries.
Mr. Dias holds a Master of Business Administration from the Richard Ivey School of Business at the University of Western Ontario.