An Introduction to Potash Solution Mining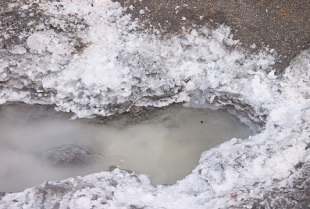 When it comes to extracting potash from the ground, companies have two options available: conventional underground mining and solution mining. But deciding which mining method to use isn't as simple as flipping a coin, it all comes down to the geology of the deposit. Below we will have a brief look at why companies choose solution mining and the process.
Why solution mining?
While conventional mining seems like the way to go, when it comes to potash, this mining style has its limitations because if potash reserves are found deeper than 1,000 meters.
Potash found at depth in sedimentary rocks is a prime candidate for solution mining as sedimentary rocks tend to collapse when they are dug too deep, and deep mine shafts are also prone to flooding due to the porosity of these rocks. That said, solution mining  provides potash companies with a cost effective, and efficient way to process their resource with the added benefits of lower up-front capital cost and a shorter ramp-up time.
Get Our Expert Guide to Potash Investing FREE!
Download this FREE Special Report, 
What is Potash? From Types of Potash to Potash Stocks
The solution mining process
Unlike conventional mining which involves moving tons of dirt to access a mineral resource, solution mining requires boring injection and recovery wells into the ground. From there, a heated brine solution is injected into the deposit, which dissolves the potash salts. The dissolved salts are then pumped out of the cavern to the surface where the water is evaporated, either artificially or in solar evaporation ponds leaving behind salt and potash.
After a company has successfully brought their potash minerals to the surface, and separated out the water, the process to the final product is the same for either conventional or solution mining.
Which companies use solution mining?
While many potash projects are able to be mined through conventional mining, there are quite a few projects that are mine via solution mining.
Potash Corporation of Saskatchewan (NYSE:POT)
As the world's largest potash producer, Potash Corp has both conventional and solution mining projects. The company's Patience Lake  Mine was originally an underground operation, however, it was converted to a solution mine in 1998 after flooding hampered conventional mining operations.
The Mosaic Company (NYSE:MOS)
Mosaic operates a potash solution mine in Belle Plaine, Saskatchewan. This mine produces Muriate of Potash (MOP), including Fine, Standard, Coarse, Ag Granular, HQ Granular, Special Granular and Water Softener.
Intrepid Potash (NYSE:IPI)
Utilizes solution mining and solar evaporation at their Cane Creek Project in the high-altitude Moab desert in Utah.
Western Potash (TSX:WPX)
A potash development company, their Milestone Property has the characteristics of a potash deposit amenable to solution mining .
Get Our Expert Guide to Potash Investing FREE!
Download this FREE Special Report, 
What is Potash? From Types of Potash to Potash Stocks
Allana Potash (TSE:AAA)
Allana Potash is a Canadian company with an focus on the international acquisition and development of potash properties. The company is currently focused on developing its Ethiopian Dallol Project, where it has completed a Feasibility Study for the project using solution mining and solar evaporation.
Karnalyte Resources (TSX:KRN)
Karnalyte Resources is engaged in the business of exploration and development of agricultural and industrial potash and magnesium products. Karnalyte's primary objective is to become a leading low-cost producer of high quality potash using proprietary improvements to a known solution mining process.
Get Our Expert Guide to Potash Investing FREE!
Download this FREE Special Report, 
What is Potash? From Types of Potash to Potash Stocks