The profile below is part of a campaign paid for by West High Yield. This profile provides detailed information, helping investors make better investment decisions. West High Yield's support of Magnesium Investing News ensures we can continue to bring you unbiased, independent news and information.
Overview
West High Yield Resources (TSXV:WHY) is a publicly traded junior mining exploration company listed on the TSX Venture Exchange. It is focused on the acquisition, exploration and development of mineral properties in Canada with its primary objective to locate and develop economic magnesium, gold and nickel deposits. West High Yield's operations are currently focused on its Record Ridge South Property in South Eastern British Columbia.
West High Yield received its Preliminary Economic Assessment (PEA) NI 43-101 report in June 2013, with indicated and measured results totaling 10,590,000 Mg/Mt,  averaging 24.61%.
Investment Highlights
A Preliminary Economic Assessment (PEA) was released in June 2013. Highlights of the PEA include the following:
Pre-tax NPV 5% of US$1.339 billion and IRR (pre-tax) of 21% (100% equity).
Post-tax NPV 5% of US$830 million and IRR (post-tax) of 17% (100% equity).
Initial capital cost estimation of US$608 million.
Payback – Estimated before tax at end of fifth year of production.
An estimated mine life of 42 years.
Measured and Indicated Mineral Resources of approximately 43 million tonnes averaging 24.6% Mg, using a 21.9% cut-off. Approximately 10.6 million tonnes of contained Mg.
Throughput – 3,000 tonnes per day.
Market price – US$1,100/tonne Fused Magnesium Oxide ("MgO") and by-product credit of US$75/tonne for Sodium Sulfate.
An initial assumed overall average process recovery rate of 80% Mg based on laboratory scale metallurgical test work producing an intermediate calcined MgO
product. This will be subject to additional test work to confirm the recovery into a fused MgO product, which has not been demonstrated to date.
Low variation in grade throughout the deposit suggests that the need for detailed grade control and selective mining methods will be limited.
Key Property
Record Ridge South Property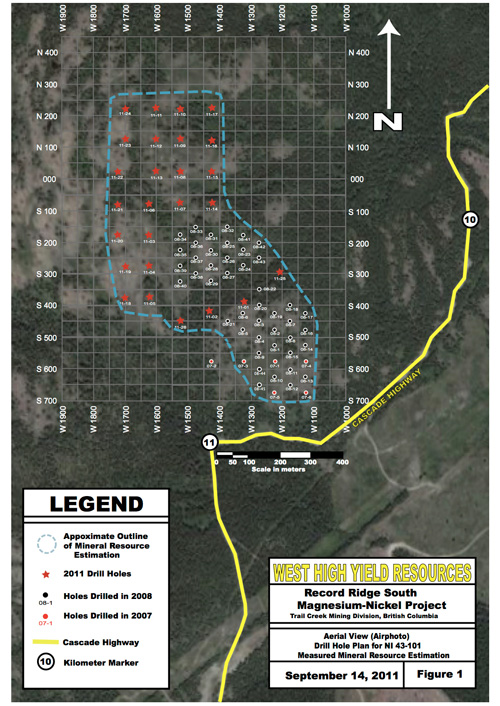 West High Yield's Record Ridge South Property started as a gold exploration program, as the Rossland, BC gold camp, first established in 1885 with a productive gold history. It became quickly apparent that any potential gold values would be dwarfed by the property's potential to host a world class magnesium deposit. The Record Ridge South Property is an intermediate-advanced stage magnesium exploration project, currently tested by 77 diamond drill-holes (See Figure 1). It is located approximately 7.5km west of the town of Rossland, B.C., Canada, and 8km north of the U.S.-Canada border and roughly 400km east of the Vancouver, B.C.
West High Yield received its Preliminary Economic Assessment (PEA) NI 43-101 report in June 2013, with indicated and measured results totaling 10,590,000 Mg/Mt,  averaging 24.61%. The full PEA NI 43-101 report is filed on SEDAR.
A drillhole database was compiled and verified by SRK and is determined to be of high quality, and a geologic deposit model was constructed based on these drill results. Mineralization tested to date is confined to a serpentinized, ultramafic rock unit referred to as the Record Ridge Ultramafic Body. The magnesium rich units are exposed on the southeast facing slopes of Record Ridge. The ultramafic body found at the Project is interpreted to represent an Alaska-type ultramafic complex. This ultramafic body is based on the compositional characteristics, general geometry and contact and age relations with surrounding rock types.
The mineralization is defined in two zones of high magnesium within the ultramafic rocks. The two zones have been intersected by drilling to an average depth of 135m below surface and remain open in all directions and at depth. The drill intercepts represent an approximate true thickness of the mineralization. All drill tested mineralization which constitutes the resource estimate are located within West High Yield's property boundary.
Within the claims specific to the Project, there are no historical mine pits, underground workings, mine waste dumps, ore stockpiles or tailings ponds. The property is easily accessible for open pit mine and accommodates tailings, waste disposal, and processing plants.
Uses for Magnesium
Magnesium is the lightest of the light industrial metals
Applications including car bodies, engines and parts, electronic devices and in the aviation industry
Many new uses for magnesium including magnesium batteries as a lithium alternate, liquid batteries coupled with solar energy storage techniques, automotive and aerospace industries
Current uses of magnesium include: a multitude of alloys with aluminum, manganese, lithium, zinc, iron and steel, but it is most commonly alloyed with aluminum to produce a lighter and stronger alloy referred to as magnesium aluminum
Third most commonly used engineering metal after steel and aluminum. High strength to weight ratio and lightweight (one-third less than the weight of aluminum).
Magnesium is abundant in the earth's crust, but deposits with high grades are not easily found
Magnesium cement, magnesium board widely used in construction in Asia as a fire, mold, and water repellent substitute for both cement board, gypsum board, OSB board and plywood
Summary
West High Yield Resources  received its Preliminary Economic Assessment (PEA) NI 43-101 report in June 2013, with indicated and measured results totaling 10,590,000 Mg/Mt,  averaging 24.61%.
Management
Frank Marasco Jr. – Director, President, and Chief Executive Officer
Mr. Marasco is the founder of West High Yield Resources, and is also currently President, Director, of Big Mountain Development Corp. Ltd. Mr. Marasco was a founder and director of Wave Form Energy Oil and Gas, now Second Wave Petroleum trading on the TSX.V: (SCS.A) Additionally, Mr. Marasco co-founded Pacific Cascade Minerals also publicaly traded on the TSXV(PCV) in 2006 and is a Director of the company.
Mr. Marasco is adept in facilitating new business, through the co-ordination of all licensed professionals in the development new businesses and IPO's. Mr. Marasco provides strategic management and is experienced in all facets of financing, and the continuous growth of his business projects. He has personally assisted in and organized the successful negotiation purchases for 25 major real-estate assets. His experience has given companies a strategic edge and insight in putting deals together.
Dwayne Vinck, CA – Chief Financial Officer
Mr. Vinck is an independent financial consultant and chartered accountant with over 20 years' of business experience, which includes various financial controller roles within manufacturing and oilfield services businesses, more recently with Sarbanes Oxley and Canadian Internal Financial Controls Consulting. Mr. Vinck is CFO and a Director of Unitech Energy Resources Inc. since May 2007 (TSXV: URX) and a director of Sulfur Recovery Engineering since January 2007. Mr. Vinck is a chartered accountant (1990) and a member of the Institute of Internal Auditors and has a Bachelor of Commerce degree from the University of Manitoba.
Patricia L. Nelson, B.Com – Director
Ms. Nelson is currently the President and CEO of PLN Consulting Services. Ms. Nelson has lengthy experience in the Energy industry through her role as Minister of Energy for the Province of Alberta and her 15 years of experience as Controller for Sabre Petroleum's, Petroterra Natural Resources and as the Manager of Financial Control for Suncor. Ms. Nelson served with the Government of Alberta for 15 years as Minister of Energy, Minister of Economic Development and Tourism, Minister of Government Service, and the Minister of Finance.
Since leaving the Government, Ms. Nelson has served on a number of Boards, and is currently a member of the Board of Directors of Alta-link, the is the Vice Chair of the In Situ Oil Sands Alliance, and a member of the Board of Alberta's Promise. Ms. Nelson is a past member of the Board of Directors of Sequoia Oil and Gas, and BA Energy. She is very active in the community with a number of charitable organizations – Heart and Stroke, Cancer, Juvenile Diabetes, Kidney Foundation.
Ross O. Drysdale, LLB. – Director
Mr. Drysdale is a lawyer and counsel to the law firm of Carscallen LLP in Calgary, Alberta. Mr. Drysdale has over thirty years of experience in the legal profession and has specialized in corporate and business law with a particular focus on public companies. Mr. Drysdale was admitted to the New Brunswick bar in 1973 and the Alberta bar in 1978.
Prior to moving to private practice in 1985, Mr. Drysdale spent eight years working as legal counsel for two major oil and gas companies in Calgary, followed by seventeen years with McCarthy Tetrault LLP, of which Mr. Drysdale was partner for 12 years and two and one half years with Baker & McKenzie LLP in Calgary, Alberta. Mr. Drysdale is a director and officer of a number of private and public companies.
Hun Kim, P.Eng/P.Geo – Geologist
Mr. Kim is a registered member in good standing with the Association of Professional Engineers and Geoscientists of British Columbia (License #21179 – P.Geo/P.Eng-Practicing) and Life Member of the Association of Professional Engineers, Geologists and Geophysicists of Alberta (Registration #5848). He is a graduate of Seoul National University holding a Bachelor of Applied Science degree and completed one year of post graduate studies for a Master of Science(1962). He has practiced his profession for 32 years in Canada, United States, Mexico, Africa and Far East Asia (China and Korea), including a professional service as a mine evaluation geologist for seven years in the United Nation's Far East Project per U. S Agency of International Development.
He assessed over 200 metallic and non-metallic mines and properties including 104 precious metal deposits and five industrial mineral deposits. During the period from 1969 to 1977, he has been a Mine Geologist at Granby Mining Company Phoenix Open Pit Mine, Grand Fork, B. C. (daily production of 3,000 tonnes @0.88% copper, 0.033 oz/t gold and 0.2 oz/t silver). He has been also Chief Mine Geologist supervising four geologists at Granisle Copper Open Pit Mine, about 200 Km west of Prince George, B. C. (daily production of 19,000 tonnes @ 0.4% copper).
He was Project Engineer and Exploration Manager with Granby Mining Corporation, Vancouver, B.C. and Zapata Granby Corporation (Houston, Texas). He has been a geological engineer of B. C. Hydro and Power Authority Engineer Group, Vancouver head office from 1977 to 1983. Since 1984, he has continued his geological professional works as independent consultant domestically and internationally to the present.
Corey Peck – Junior Geologist
Mr. Peck is a junior geologist who came to West High Yield Resources in the spring of 2007. He studied at the University of Calgary, where he received a B.Sc. in Geology, with a minor in earth science. He has extensive training in both the field and lab settings. His skill set encompasses all aspects of geology, geophysics and geography, with particular emphasis on geotechnical logging, mineralogy and mapping. He currently resides full time in Rossland, BC.
Ian F. T. Kennedy, P.Eng/P.Geo – Director
Mr. Kennedy joined Capital Canada as a partner in November 2006. His focus is on the purchase and sale of companies, mergers, acquisitions and private equity financings. He has been engaged in venture capital and investment banking activities for more than 30 years. He was President of Canada Development Corporations' venture capital fund – The VASE Fund; President; and for nine years Chairman of Helmsdale Financial Corp. an investment bank.
As part of his investment banking activities he has also been involved in operating companies including being President of Bayridge Resources Limited a successful oil and gas company that was sold to a royalty trust; and as COO of Teklogix Inc., a high tech wireless company, where he led a successful 14 month turn-around increasing the share price from $2.15 to $24.00. He has been the owner of a number of private companies in the truck trailer and truck parts business. Mr. Kennedy received an Honours BSc. in Geology and Geophysics and, a P.Eng. in Mining from McGill University.
Mr. Kennedy has held Directorships in more than 30 public and private corporations. In the arts, he was a Board member of the National Ballet and co-chair of the first Eric Bruhn ballet competition; Young Peoples Theater and chair of the selection committee for the artistic director. In education, he was a member of the Board of Ridley College for 14 years; and, Chairman of the Board of Governors of Ryerson Polytechnical Institute for six years.