The profile below is part of a campaign paid for by Kivalliq Energy. This profile provides detailed information, helping investors make better investment decisions. Kivalliq Energy's support of Resource Investing News ensures we can continue to bring you unbiased, independent news and information.
Overview
Kivalliq Energy Corporation (TSXV:KIV) has assembled a portfolio of high-quality uranium exploration projects in Canada during the current sector bear market. Kivalliq holds Canada's highest-grade uranium resource outside of Saskatchewan, i.e. "Lac 50". The Company's flagship project, the 105,280 hectare Angilak Property in Nunavut Territory, hosts the Lac 50 Trend with a NI 43-101 Inferred Resource of 2,831,000 tonnes grading 0.69% U3O8, totaling 43.3 million pounds U3O8. Kivalliq's comprehensive exploration programs continue to advance the Lac 50 Trend and demonstrate the "District Scale" potential of the Angilak Property.
Investment Highlights
A team of northern exploration specialists who have been active in the north for over 25 years with extensive experience within the nuclear sector and capital markets.
Lac 50 Trend: Northern Canada's highest grade uranium resource
Industry beating discovery cost of under CAD $1.51/lb uranium 200% increase in Lac 50 Trend inferred resource in three exploration seasons
Current business model focuses on strategic acquisitions (Hatchet Lake – SK, Genesis – SK, Baker Basin – NU), Angilak Property – NU project advancement and continually building strong industry partnerships
Key Properties
Over three high impact seasons, Kivalliq Energy advanced the Angilak Property rapidly. Kivalliq increased the resource estimate for the Lac 50 Trend deposit by 200% from the maiden resource estimate released in 2011; the Lac 50 Trend accounts for just a portion of its 100-percent owned 340,268-acre Angilak Property in Nunavut. Lac 50's inferred mineral resource comes to an estimated 43.4 million pounds U3O8 at an average grade of 0.69 percent U3O8. Excluding Athabasca Basin uranium deposits, Lac 50 is one of the highest grade uranium resources on a global basis, with significant growth potential. More recently, the company made the Dipole drilling discovery at the Angilak Property (25 kilometres away from the Lac 50 Trend) and it's evident from recent exploration success that this target zone "Dipole/RIB Trend" is similar to the Lac 50 Trend, underscoring the Angilak Property's exploration growth potential.
In Saskatchewan, Kivalliq holds a 100% interest in the recently acquired 13,711 hectare Hatchet Lake Property adjacent to the north-eastern margin of the highly prolific uranium-producing Athabasca Basin. Compilation of results from previous exploration by Hathor Exploration Limited and Rio Tinto have identified multiple, priority unconformity-related basement targets at Hatchet Lake for follow-up in 2015.
Kivalliq also holds a 100% interest in the 200,677 hectare Genesis Property located northeast of Saskatchewan's Athabasca Basin, with Roughrider Exploration Limited funding the current exploration program pursuant to an option to acquire up to an 85% interest in the property. This highly prospective project is located along the Wollaston-Mudjatik trend and extends 90 kilometres northeast from the Athabasca Basin to the Manitoba border.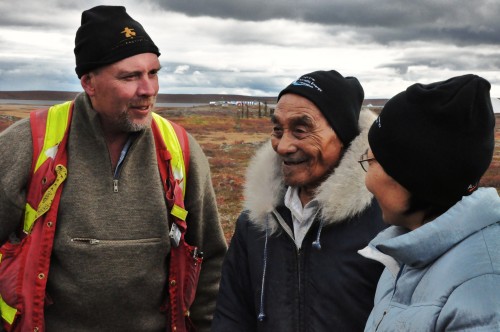 Kivalliq's team of northern exploration specialists has forged strong relationships with sophisticated resource sector investors and Angilak Property partner Nunavut Tunngavik Inc. (NTI). Kivalliq was the first company to sign a comprehensive agreement to explore for uranium on Inuit Owned Lands in Nunavut Territory, Canada and is committed to building shareholder value while adhering to high levels of environmental and safety standards and proactive local community engagement.
Management
The Kivalliq Energy team has a proven track record of discovery and over 75 years of combined geological and management expertise. The team has been involved in all aspects of exploration ranging from grass roots through to resource delineation and production. Complementing their geological experience, the Kivalliq team brings a solid understanding of capital markets and the nuclear sector. For full biographies describing Kivalliq's experience related to mineral exploration and development, nuclear fuels, and uranium sector management and M&A, please visit kivalliqenergy.com