The profile below is part of a campaign paid for by Energy Fuels. This profile provides detailed information, helping investors make better investment decisions. Energy Fuels' support of Uranium Investing News ensures we can continue to bring you unbiased, independent news and information.
Overview
Energy Fuels Inc. (TSX:EFR,NYSEMKT:UUUU) is a U.S.-based uranium producer and the second largest supplier of uranium within the United States. The United States, the world's leading producer of nuclear energy and uranium consumer, currently obtains about 85% of its annual uranium requirements from foreign sources. The nation is home to 99 commercial nuclear reactors with five more under construction.
With the only conventional uranium mill operating in the United States and a large portfolio of high-quality uranium properties, Energy Fuels offers excellent leverage to rising uranium prices and is in an excellent position to capitalize on the growing need for more domestic uranium supplies.
Energy Fuels is the leading uranium mining company focused in the U.S., in terms of current production, scalability, and resource portfolio. Following the completed acquisition of Uranerz Energy Corporation in June 2015, the company joined Cameco and Areva as the only publicly traded uranium mining companies in the world with both in-situ recovery (ISR) and conventional production.
Investment Highlights
The largest publicly-traded uranium company focused on the United States
The United States is the largest consumer of uranium in the world.
The White Mesa Mill: The only conventional uranium mill operating in the United States.
Over 5 million pounds of U3O8 production since 2010.
Production of 1 million pounds in 2014 and expected production of 300,000 pounds of U3O8 in 2015.
Current & Near-Term U3O8 Production: Stockpiled Pinenut ore, Canyon Mine, Wate Project and Alternate Feed MaterialsSignificant Future Scalability: 3 large-scale uranium projects with over 50 million lbs. of combined M&I resources.
Roca Honda Project is a true flagship property which can be developed stand-alone or as a "bolt-on" to General Atomics' Mt. Taylor mine.
Increasing uranium production through strategic acquisitions & organic growth.
Energy Fuels acquired Uranerz (TSX:URZ) and all its assets in June, including the Nichols Ranch ISR mine and plant in Wyoming.
Uranerz Acquisition: Combined Nichols Ranch with White Mesa Mill to become the only ISR and conventional uranium producer in the United States.
Strategic Asset: White Mesa Mill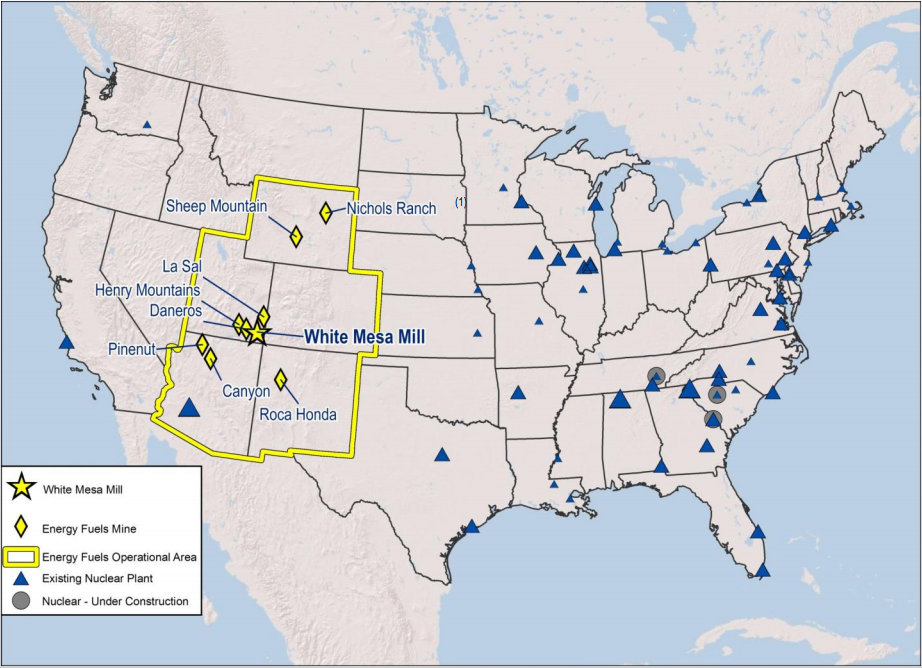 The White Mesa Mill is Energy Fuels' most strategic asset as it is the only fully-licensed and operating conventional uranium mill in the United States, and one of only three in North America. The White Mesa Mill is strategically located in Blanding, Utah, central to the high-grade uranium mines of the Four Corners jurisdiction of the United States. Over the last five years, the mill has accounted for 20 percent to 25 percent of U.S. uranium production, averaging approximately one million pounds of U3O8 per year.
The White Mesa Mill has a licensed capacity of 2,000 tons per day and can produce up to 8 million lbs. of U3O8 per year.
The Mill was constructed in 1980 by Energy Fuels Nuclear Inc. In 2007, a $31 million modernization of the facility was completed. The White Mesa Mill uses sulfuric acid leaching and a solvent extraction recovery process. White Mesa also has a co-recovery circuit to produce vanadium from Colorado Plateau ores, and an alternate feed circuit to process other uranium-bearing materials, such as those derived from uranium conversion and other metal processing from third party producers, thus enhancing the Mill's long term economic viability.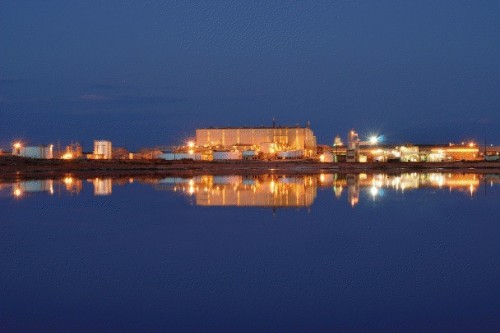 The uranium produced is purchased by utility companies and shipped to conversion facilities as the next step in the production of fuel for nuclear power. The White Mesa Mill also has the capability to produce vanadium contained in certain local ores. This material is shipped mostly to steel and alloy manufacturers.
Diversifying Production
Energy Fuels to acquire Uranerz
In June 2015, Energy Fuels completed the acquisition of Uranerz Energy Corporation and its in-situ recovery ("ISR") production assets. The acquisition is in line with the Company's mandate to diversify and grow its production sources. The acquisition included a large, strategic land position in the prolific Powder River Basin in Wyoming. It was here that Uranerz' began production at Nichols Ranch Processing Facility in April 2014, putting out 197,600 pounds of uranium for the year. The facility has a licensed capacity of 2 million pounds of uranium per year.
Adding production from the Nichols Ranch ISR mine and plant in Wyoming gives Energy Fuels diversified ISR and conventional uranium production from two operating production centres. The combined company has four uranium sales contracts extending to 2020, with over one million pounds of U3O8 under contract in 2015 for a combined average sales price of $56 per pound. Energy Fuels expects to sell 550,000 pounds of uranium in the fiscal-year 2016 under its existing long-term contracts, also at a significant premium to current spot prices.
"Our goal is to become the largest uranium mining company in the U.S., strategically supplying the domestic American nuclear power market, and our acquisition of Uranerz was a major step towards achieving that goal," stated Stephen Antony, President and CEO of Energy Fuels.
Acquiring Uranerz and its assets also deepens the value of Energy Fuels' already impressive development pipeline which now includes the largest NI 43-101 resource base among producers in the United States. The acquisition makes the company the only integrated mining company with conventional and ISR uranium production in the United States.
"Energy Fuels is clearly emerging as a leading integrated producer of uranium in the United States.  We now have competitive ISR and conventional uranium production in our portfolio, the largest NI 43-101 compliant in-ground uranium resource in the U.S. among producers, and the ability to significantly increase uranium production in the future as uranium prices rise." explained Antony.
Current Production
Canyon Mine: Development recommenced in 2015
In mid-2015, Energy Fuels restarted development at the fully-permitted Canyon Mine in northern Arizona, a very high-grade breccia pipe uranium mine.
The breccia deposits of northern Arizona contain the highest grades of uranium found in the United States, and are among the highest grades in the world outside Canada's Athabasca Basin.
Recent surface development at Canyon has included a headframe, evaporation pond, hoist, and environmental controls. Shaft sinking is underway as if November 2015, and underground drilling to further define and potentially expand the resource is expected to commence in 2016.
According to a 2012 technical report, Inferred Mineral Resources at the Canyon mine are estimated to include 1,629,000 pounds U3O8 grading 0.98 percent U3O8 contained in 83,000 tons.
Scalable Production
Energy Fuels has successfully amassed a diverse portfolio of late-development stage and production-ready uranium properties giving the Company significant future production scalability.
Roca Honda — New Mexico
The Roca Honda Project was acquired by Energy Fuels as part of its acquisition of Strathmore Minerals in 2013. The project is held in a joint venture between the company (60 percent) and Sumitomo Corporation of Japan (40 percent). The project is located in northwest New Mexico within trucking distance of Energy Fuels' White Mesa Mill.
Roca Honda is one of the largest and highest grade uranium development-stage projects in the United States. The 2015 NI 43-101 Preliminary Economic Assessment and Technical Report on the project shows 1.51 million tons of Measured and Indicated resources with an average grade of 0.48 percent U3O8 containing 14.56 million pounds of U3O8 as well as an additional 1.20 million tons of Inferred Mineral Resources with an average grade of 0.47 percent U3O8 containing 11.21 million pounds of U3O8. Project economics include a nine-year mine life and annual production of 2.6 million pounds U3O8.
On August 3, 2015, Energy Fuels announced that it had completed the acquisition of a highly strategic 4,580-acre land position adjacent to its existing Roca Honda holdings. This is a major step in consolidating the properties adjacent to General Atomics' Mountain Taylor uranium mine. The properties acquired include significant historical resources and a historic mine shaft constructed in the early 1980's by Kerr-McGee to within 200 feet of the ore body. The acquired properties have the potential to significantly enhance the project economics of Roca Honda.
Roca Honda is currently in an advanced stage of permitting which is expected to be completed in 2017.
Sheep Mountain — Wyoming
The Sheep Mountain Project is located approximately eight miles south of Jeffrey City, Wyoming on a land package totaling 4,475 acres. The project includes the Congo Pit, a proposed open pit development, and the existing Sheep Mountain Underground mine.
The project has a Resource Estimate of approximately 12.9 million tons of Measured and Indicated resources at an average grade of 0.12 percent U3O8 (30.3 million lbs. U3O8), including 18.4 million pounds of Reserves.
Permitting and licensing of the project is well-advanced. In order to place Sheep Mountain into production, a final environmental impact statement (EIS) is required from the U.S. Bureau of Land Management (BLM).  In January 2015, the BLM issued a draft EIS, and is expected to issue a final EIS and approve the Plan of Operations by mid-2016.
Energy Fuels intends to redevelop Sheep Mountain using both conventional underground and open pit mining methods with uranium produced in a new heap leach extraction process.
The current plan calls for production of 1.5 million pounds per year, and a mine life of 15 years for the open pit operation with an additional 5 years allotted for mine closure and reclamation. The estimated mine life of the underground operation is 11 years. The estimated mine life of the underground operation is 11 years.
Energy Fuels is continuing to evaluate processing options for Sheep Mountain, including the permitting and construction of a new onsite heap leach facility or the use of an existing third party milling facility in the region.
Henry Mountains — Utah
The Henry Mountains Complex is a contiguous group of uranium properties which includes the Tony M/Southwest Deposit, the Copper Bench/Indian Bench Deposit, and the Tony M Mine. The 2012 NI 43-101 Technical Report on the Complex shows approximately 2.5 million tons of Indicated resources with an average grade of 0.27 percent U3O8 (12.8 million pounds U3O8) and approximately 1.61 million tons of Inferred resources with an average grade of 0.25 percent U3O8 (8.08 million pounds U3O8).
The Tony M portion of the Henry Mountains Complex is currently on care and maintenance. The high-grade Bullfrog deposit is currently being permitted.
La Sal Complex — Utah
The Beaver and Pandora Mines (two mines within the La Sal Complex) were in production as recently as late 2012, at which time they were placed on standby. The La Sal Complex includes four uranium/vanadium mines (La Sal, Beaver, Energy Queen and Pandora) connected by an extensive network of underground workings. The Complex is located in the La Sal Mining District along the La Sal Trend which runs east/west for about 20 miles. Ore is processed at the company's nearby White Mesa Mill.
Daneros — Utah
The fully-permitted and developed Daneros mine was in production until October 2012, at which point it was placed on standby. The Daneros Mine is located in Utah's White Canyon Mining District from which historic production totaled more than 11 million pounds of uranium. Daneros contains approximately 156,600 tons of Inferred resources with an average grade of 0.21 percent containing 661,000 pounds of uranium (December 31, 2013). Ore is processed at the company's nearby White Mesa Mill.
Wate – Arizona
The Wate Project is a high-grade breccia pipe deposit located in Northern Arizona. Energy Fuels now holds a 100-percent interest in the Wate following an acquisition transaction completed in November 2015.
According to a 2015 Technical Report, the Wate Project contains approximately 1.12 million pounds of uranium contained in approximately 70,000 tons of Inferred Mineral Resources with an average grade of 0.79 percent U3O8.
The Wate Project, which sits on Arizona State Land, is in an advanced stage of permitting. A mineral lease (which includes a mining permit) is expected to be issued later in 2016 or 2017. Once the mineral lease is granted, Energy Fuels expects to move forward to acquire the additional environmental permits and other approvals required to commence development and mining.
Management
Stephen P. Antony – President and Chief Executive Officer
Over the last 30-plus, years Stephen Antony has held senior positions in both the technical and managerial sectors within the mining industry. In the mid-1980's he entered the uranium business with Mobil Oil's Mining and Mineral group, during which time he developed the reclamation plan for Mobil's El Mesquite ISL operation in south Texas. He joined Energy Fuels Nuclear (EFN) in 1986 as the company was growing to become the largest U3O8 producer in the US, peaking at more than five million pounds annually. Antony served as director of Technical Services for the company where he authored many of the feasibility studies for the expansion of EFN's highly successful Breccia Pipe Mine projects in the Arizona Strip. Subsequent to his employment with EFN,  Antony held a brief position with Power Resources (PRI) as Vice President of Business Development. He then consulted to Cameco Corp. on due diligence prior to their acquisition of PRI, which Cameco undertook as part of their strategy to become a significant uranium producer in the United States. Antony was most recently Chief Operating Officer of Energy Fuels, responsible for the daily operations of the Company, including all aspects of uranium property exploration, ore production and mill processing. He was appointed President and CEO on April 1, 2010. He is a registered professional engineer, is a graduate of the Colorado School of Mines, and holds a Masters of Business Administration (MBA) from the University of Denver.
Harold R. Roberts – Executive Vice President of Conventional Operations
Harold Roberts He was previously the Executive Vice President – U.S. Operations for Denison Mines Corp. Prior to his employment with Denison, Roberts was the President of Energy Fuels Nuclear. Throughout his career he has held various positions related to operations oversight, project development, and permitting of mining operations. Roberts obtained his Bachelor of Science degree in Civil Engineering from Montana State University in 1975, and is a Registered Professional Engineer in several western States.
Paul Goranson – Executive Vice President of ISR Operations
Paul Goranson has more than 28 years of mining, processing and regulatory experience in the uranium extraction industry that includes both conventional and ISR mining. Prior to the acquisition by Energy Fuels of Uranerz Energy Corporation, Goranson served as President, Chief Operating Officer and Director for Uranerz, where he was responsible for operations of the Nichols Ranch ISR Uranium Project. Prior to Uranerz, Goranson was President of Cameco Resources, a wholly-owned U.S. subsidiary of Cameco Corporation, which is one of the world's largest uranium mining companies. He was responsible for executing the "Double U" growth strategy for Cameco's U.S. operations, including developing production expansion projects such as the North Butte ISR uranium recovery facility and the refurbishment of the Highland Central Processing Plant.
Prior to Cameco Resources, Goranson was Vice President of Mestena Uranium where he led the construction, startup and operation of the Alta Mesa project that achieved over one million pounds of uranium production per year under his stewardship. Prior to Mestena, he was the manager for radiation safety, regulatory compliance and licensing with Rio Algom Mining, a division of BHP Billiton. Goranson is a registered Professional Engineer, and he holds a Master of Science in Environmental Engineering along with a Bachelor of Science in Natural Gas Engineering.
Gary R. Steele – Executive Vice President, Corporate Marketing
Over a 39 year career, Gary Steele has held a wide range of management positions in both the technical and commercial areas of the mining industry. A coal industry veteran with over 20 years experience, he worked in engineering and operating roles, both underground and surface, and was Director of Utility Marketing for a large Powder River Basin, Wyoming, coal producer, negotiating fuel supply and transportation contracts with major US utilities. He was also designated a member of the corporate M&A due diligence team. This mining experience was followed by 15 years in the investment management business, and the establishment of Steele Capital Advisors, an advisory firm managing investment portfolios for private clients, and specializing in mineral industry opportunities. Steele joined Energy Fuels in 2006, and is responsible for economic and project evaluation, and utility marketing at Energy Fuels. He is a registered professional engineer and an engineering graduate of the Colorado School of Mines. He also holds an MSc. in Mineral Economics from the Colorado School of Mines.
David C. Frydenlund – Senior Vice President Regulatory Affairs, General Counsel and Corporate Secretary
David Frydenlund's expertise extends to NRC, EPA, State and Federal regulatory and environmental laws and regulations. From 1997 to July 2012, Frydenlund was Vice President Regulatory Affairs, Counsel and Corporate Secretary of Denison Mines Corp., and its predecessor International Uranium Corporation (IUC), and was also a director of IUC from 1997 to 2006. From 1996 to 1997, he was a Vice President of the Lundin Group of international public mining and oil and gas companies, and prior thereto was a partner with the Vancouver law firm of Ladner Downs (now Borden Ladner Gervais) where his practice focused on corporate, securities and international mining transactions law. Frydenlund was also an adjunct professor, corporate law, at the University of British Columbia Faculty of Law from 1990-1994. He holds a bachelor's degree from Simon Fraser University, a master's degree from the University of Chicago and a law degree from the University of Toronto.