Palladium: Price Forecasts for Short, Near and Long-Term Time Horizons
By Vincenzo Desroches—Exclusive to Palladium Investing News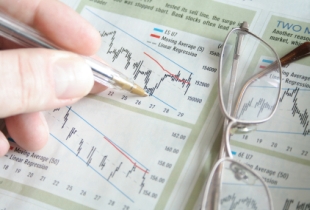 Precious metals have attracted a great deal of attention this year due to market uncertainty, the intrinsic value characteristics of the group, and the natural hedge that they provide versus post-recovery inflationary concerns. Palladium, a member of the platinum group of metals, has received a lion's share of this attention, perhaps because of its many favorable qualities, and has actually out shone gold and silver in returns provided over the past twelve months.
Retail investors began to take notice of palladium back in August, and their demand has driven prices for the metal above the US$600 per ounce level. Following its recent dramatic rise, the question on everyone's lips is what will the future bring for palladium price prospects in the short, near and long-term time horizons. Answers to these questions depend on both demand and supply dynamics for the metal.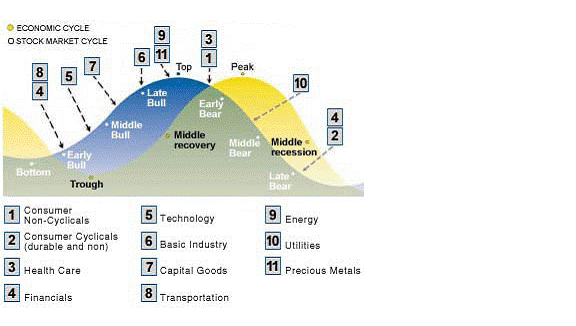 Future demand will depend on forecasts for each of the above segments, which are all positive as a global economic recovery stabilizes over the next two years.
• Automotive: Catalytic converters require palladium in order to be efficient. Forecasts for global light vehicle growth are presently 50 percent through 2016. As environmental concerns exacerbate, the demand for catalytic converters must grow faster than this figure and this bodes well for palladium;
• Jewelry: A growing trend with jewelers is to use palladium instead of white gold or silver for wedding rings. The metal is lighter, less expensive and requires less care over time;
• Electronics: Palladium plays an important role in the production of capacitors and fuel cells and can only benefit from the growth in electronic gadgetry.
On the supply side, Russia and South Africa account for nearly 90 percent of annual production, but Russia has also stockpiled the metal over the years as a byproduct of its nickel mining industry. The amount of this inventory is a state secret, but industry pundits believe that the extra supply is nearly depleted. Less supply, coupled with growing demand, can only lead to favorable price projections for the future.
Short-Term Forecast
The recent steep rise in prices suggests that a consolidation is imminent. Technical indicators of popular ETF funds are signaling an overbought condition. Expect some pullback before the end of 2010.
Near-Term Forecast
The forecast for the next few years is dependent on how quickly the global economic recovery occurs and on the strength of the U.S. Dollar. A review of the forex market and related forex news indicates that the greenback will weaken until debt and deficit issues are addressed by the United States, which may take years with a deadlocked government. Expect prices to rebound as industrial demand outstrips supply and value appreciation offsets dollar devaluation.
Long-Term Forecast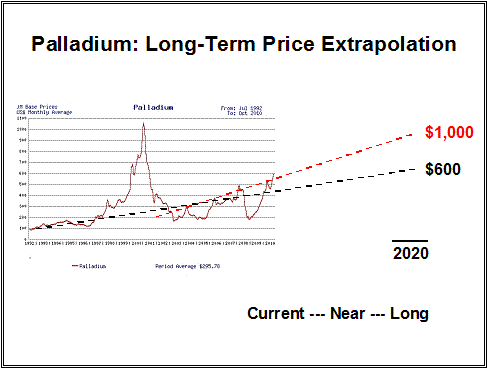 A simple price extrapolation suggests a $1,000 price by 2020 for palladium. The black "historical" trend line depicts the foundation value, and the "red" future trend line represents the additional impact of market demand and supply forces.
Vincenzo Desroches is a financial content controller for Forex Traders, which offers guided Forex courses.