This profile is part of a investor education campaign. The profile provides detailed information which was sourced and approved by Dajin Resources in order to help investors make better investment decisions. The Company's support of Investing News Network ensures we can continue to bring you unbiased, independent news and information.
Resource Investing News Featured Stock
Overview
Dajin Resources Corp. (TSXV:DJI) (OTCMKTS: DJIFF) (Germany: C2U1) is a Canadian exploration and development company, holding strategically located brine-based lithium projects in Argentina and Nevada, assets that tie Dajin to the green economy and growing demand for a strategic mineral.
Dajin Resources hold a 100% interest in the Teels Marsh and Alkali Lake projects in Nevada, where Tesla Motors (NASAQ:TSLA) is working with Panasonic Corp. to build a new lithium-ion battery gigafactory to support the production of electric vehicles and energy storage. Dajin has been moving forward aggressively on exploration activities at Teels Marsh in preparation for drilling in early 2017. Water rights for Teels Marsh were granted to Dajin by the Nevada Division of Water Resources in 2016 and represent  an important aspect of development. Dajin believes that obtaining water rights is a crucial milestone for the lithium exploration projects given both the importance of water for lithium brine extraction and the political issues surrounding water allocation in the State of Nevada. The Alkali Lake project is approximately 7 miles from Albemarle's, Rockwood Lithium Mine in the Clayton Valley.
The Salinas Grandes Lithium brine project covers a massive land position in the Salinas Grandes salar in northwestern Argentina. It has previously been reported by Orocobre (TSX: ORL), based on their Salinas Grandes assay results, to be potentially one of the best salars in Argentina.
In April 2016, Dajin raised $1.27 million from a non-brokered private placement of 10.5 million units to 21 investors for the exploration and the development of their projects.
In September 2016, Dajin closed a $500,000 non-brokered private placement as part of a Memorandum of Understanding (MoU) with Lithium S Corporation.
Investment Highlights
Holds high quality lithium exploration targets at a time of growing demand for this strategic metal.
Key properties are advantageously located within Nevada's Lithium Hub and South America's Lithium Triangle.
Nevada, Teels Marsh property is being prepared for drilling with road and pad construction.
Exploring for brine-based lithium, which can be mined at substantially lower cost than hard rock deposits.
Management team with strong track record and experience in lithium brine exploration and taking exploration projects from the early stages through to production.
Recently was awarded $25,000 grant by National Science and Engineering Research Council of Canada to help fund efficient and sustainable lithium extraction.
Signed a MoU with Lithium S Corporation whereby Lithium S can earn a 51% interest in Dajin's lithium properties in Argentina with a payment to Dajin of $1,000,000  (paid) and spending $2,000,000 on the properties over a two year period from receipt of exploration permits.
Lithium Market: Above-Average Growth
Demand and consumption of lithium continues to follow a strong growth pattern. This growth is supported both by the rising output of portable electronic devices and ever increasing demand for electric powered vehicles, from advanced technology breakthrough which increases driving range capacity as well as increased capacity per battery.  Large capacity lithium storage as backup for other renewable energy sources is also increasing in demand. In 2010, the Critical Materials Strategy said the following:
"Lithium is now considered a key, strategic energy metal in the clean technology economy that is being fueled by advances in electric vehicles, energy storage and electronics. The U.S. Department of Energy has identified lithium as a critical material whose demand is forecast to grow dramatically in the medium term, with rechargeable lithium batteries leading the way. Demand for lithium carbonate is forecasted to exceed global supply by 2025 unless capacity is tripled beginning in 2015." –
2010 Critical Materials Strategy, U.S. Department of Energy.
Production did not triple in 2015, thus opening the market to new players.
Key Properties
Teels Marsh
The Teels Marsh project consists of 294 placer claims, 100-percent owned by Dajin Resources and cover a surface area of 2,369 hectares. The project is located in a closed lake basin roughly 50 miles northwest of Clayton Valley, home of the Rockwood Lithium Mine, the only producing brine-based lithium deposit in North America. Dajin has been carrying out several exploration programs at Teels Marsh since late 2014. The initial work on the marsh was surface sampling to confirm the presence of lithium bearing minerals reported from U.S. government surveys in the 1970's. Following the more than year long series of activities at Teels Marsh, it is now drill ready and work is underway to start drilling as soon as possible.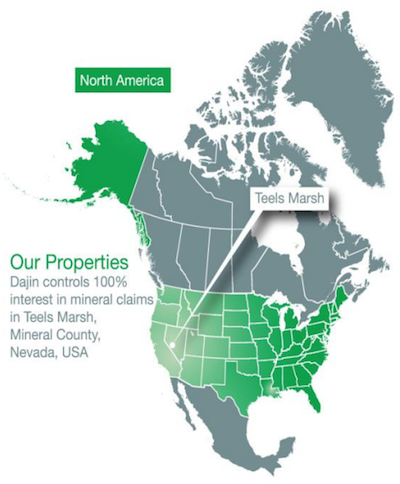 Dajin Resources' 100% owned Teels Marsh property is located in a closed lake basin roughly 50 miles northwest of Clayton Valley, Nevada. Clayton is the home to the Albemarle's, Rockwood Lithium Mine, the only producing brine based deposit in North America. Teels Marsh consists of 294 claims covering 5,853 acres in the basin.
Relative gravity measurements were made with LaCoste & Romberg Model-G gravity meters. Topographic surveying was performed with Trimble Real-Time Kinematic (RTK) and Fast-Static GPS. Gravity data were processed to Complete Bouguer Gravity and merged with existing USGS public domain gravity data. The resultant three dimensional interpretation images a deep closed basin up to 8,900 feet (2,700 meter) in depth which indicates the potential to retain a large quantity of fluids. The gravity, magnetic and geological data indicate that the basin is fault bounded with the strongest structural control along the basin's southern margin. Along this boundary faulting on an east-northeast trending fault has created a basin of significant depth.
Favorable Lithium Brine Assay Results
In June 2016, Dajin reported favorable lithium brine assays results from Teels Marsh. The sampling program provided detailed information in the northwestern portion of the playa, where a total of 20 brine samples yielded concentrations as high as 71 ppm lithium, averaging 19 ppm and Boron concentrations as high as 930 ppm, averaging 227 ppm. Sediments associated with these brines have lithium concentrations as high as 740 ppm, averaging 475 ppm. Boron concentrations are as high as 11,800 ppm and averaging 2,600 ppm.
"These are some of the best Lithium brine numbers to be announced outside Clayton Valley in Nevada for some time,'' commented Brian Findlay, President and CEO of Dajin. "We are still in the early stage of exploration at Teels Marsh and we are anxious to begin our initial drilling to test the potential for finding significant lithium brines at depth.''
Upcoming Fall 2016 Program
Dajin is working with Enviroscientists to prepare the baseline studies and documentation for a plan of operations to be submitted to the Bureau of Land Management in the fall of 2016. This POO will give Dajin flexibility to drill multiple wells in 2017. In the meantime, Dajin is using the NOI (Notice of Intent) procedure to carry out the planned drilling of two exploration wells.
In July 2016, Dajin completed a high resolution seismic survey on Teels Marsh and in early September the processing and interpretation was completed. The results have confirmed the great depth of the basin as well as identified numerous reflectors that could represent thick accumulations of volcanic ash, sand, gravel and/or evaporites within the basin. Two drill targets have been identified and work is under way to permit these sites and build roads and pads. Drilling will commence once this work is completed. This high resolution survey data will also assist in the defining of any inferred resources estimate that may be calculated following drilling.
Alkali Lake, Nevada
Salinas Grandes, Argentina
Dajin controls a 100% interest in approximately 93,000 hectares of Lithium brine concessions located in Jujuy Province, Argentina, a region that is historically known to host lithium, potassium, and boron brine-based deposits. Commonly referred to as the Lithium Triangle, it is home to an estimated 80 percent of the world's lithium supply. The properties are situated in the Salinas Grandes/Guayatayoc salt lakes basin adjacent to concessions held by Orocobre which is partnered with Toyota Tsusho.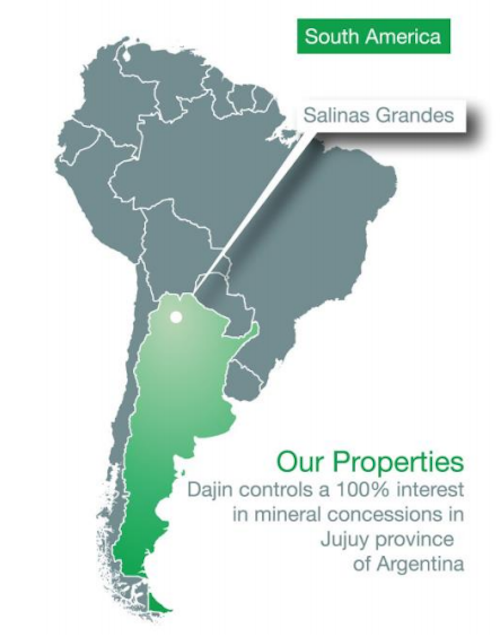 Dajin has been actively working with the Government of Jujuy and the indigenous communities to secure the exploration permits for one of its projects –San Jose. In the spring of 2016, Dajin director and Chief Operating Officer Catherine Hickson met with representatives of the Aboriginal Community of Inti Killa Tres Morros and signed a cooperation deal for the exploration phase of the project. Shortly afterward, Dajin signed a preliminary deal that would allow Lithium S Corp. to earn a 51% stake in Dajin's lithium properties in Argentina. Under the terms of a MoU, Lithium S has made a $1 million payment in cash and will be spending an additional $2 million on the project. Lithium S is a privately owned minerals exploration company, working with the Toronto-based Enirgi Group Corp. In addition, as part of the MoU Lithium S has invested $500,000 at 18c per unit in a non-brokered private placement which Dajin will use to further its projects in Nevada.
Management
Brian Findlay – President and Chief Executive Officer
Brian Findlay brings decades of senior management experience in various aspects of the industry. He learned the business from the ground up. Brian has broad experience in the industry from corporate development and international mining, to mergers and acquisitions, exploration and development, mine operations, corporate social responsibility to managing, financing and administration of public companies. His experience and managerial skills are now focused on the further development and growth of Dajin Resources Corp. Brian has participated in the raising of large amounts of  investment capital for a number of junior resource and technology companies. Brian is an expert at managing public companies with international interests. It is Mr. Findlay's integrity, as an honest and dedicated CEO that builds trust and credibility with his shareholders. Brian is spearheading the company's strategic explorations and expansions.
Ben Ainsworth MA (OXON), P.Eng – Director
A senior Geologist and mining consultant, Ben brings over 40 years of experience in the mining industry; serving with Placer Development Limited for more than 20 years and junior/senior mining company clients for over 20 years. He worked extensively in Chile, Mexico and with some exposure to Argentina. In addition to porphyry projects, VMS and sediment hosted lead/zinc deposits in various sectors of South America he has also worked on projects that included borates, lithium clays and other industrial minerals. Other projects in recent years that Ben has played a significant role in developing includes the Athabasca uranium deposits in Northern Saskatchewan, including the large uranium discovery of Hathor Exploration Ltd. Ben also, had another recent success with a second significant discovery through his company Alpha Minerals Inc. Ben and his son were jointly awarded AMEBC Colin Spence Award for Excellence in Global Mineral Exploration. 
Dr. Catherine Hickson P. Geo, FGAC, FSEG, FRGS, FGC – Director, Chief Operating Officer
A globally recognized geoscience expert with more than 30 years' experience in science management and integration, green field exploration, international relations, program development and project management, corporate social responsibility, public education, community communication, exploration techniques, geothermal energy, hazard and risk assessments, quaternary surface processes, volcanism, and regional mapping. Hickson has a proven track record of delivering technical expertise and organizational enhancements that elevate corporate value. She began her career at the Government of Canada as a Research Scientist with NRCAN – Geological Survey of Canada – quickly progressing to the executive-level based on solid achievements and delivery of results. In 2008 she joined the private sector as Vice Present Exploration and Chief Geoscientist for a global energy company. Her career has spanned continents with significant experience in Latin America, including Argentina where Dajin operates. This skill set coupled with South American experience and contacts will greatly assist Dajin with its permitting process, moving forward. Hickson has been recognized with a number of awards, including the prestigious C.J. Westerman Memorial Award presented by the APEGBC, and the Head of the Public Service Award, given by the Clerk of the Privy Council. 
Dr. Mark Coolbaugh, CPG – Director
Mark is a renowned metals and geothermal geologist with 30 years of project, research, and management experience in North and South America, Asia, and Europe. He currently holds senior positions with several exploration companies. His experience includes management of corporate and country-wide exploration programs, research and development of geothermal exploration tools and predictive models, assessment of geothermal and mineral projects, and construction of quantitative ore reserve models. He played an instrumental role in a number of green-fields geothermal and precious metal discoveries including discovery of the blind geothermal systems in Teels, Rhodes, and Columbus Marshes in southwestern Nevada.
Dr. Mark King – Technical Advisory Board
Mark is a hydrogeologist educated in both the earth sciences and engineering. He received his PhD from the University of Waterloo where he studied transport of contaminates in groundwater. He also holds an MASc from the Technical University of Nova Scotia. He is President of Groundwater Insight Inc. Mark is one of the few hydrogeologists in North America with experience in the field of Lithium brine deposits and has conducted precedent-setting analysis in this emerging industry. Dr. King has worked in academic research and was a Senior Project Manager in the largest environmental consulting firm in Atlantic Canada. Since establishing Groundwater Insight Inc. he has provided expert technical services on more than 100 projects in the Americas.
Cosme Beccar Varela – President of Dajin Resources S.A.
Cosme, born in New York in 1961, graduated as a lawyer at the University of Buenos Aires in 1989 Practiced as a "foreign associate" in Winthrop, Stimson, Putnam & Roberts, New York (1990). Associate Professor of Contract Law in University of Buenos Aires. Committee Member Banking Lawyers. Practice in the areas of law Commercial, Mining Law, and Litigation.