The profile below is part of a campaign paid for by American CuMo. This profile provides detailed information, helping investors make better investment decisions. American CuMo's support of Moly Investing News ensures we can continue to bring you unbiased, independent news and information.
OVERVIEW
American CuMo Mining Corporation (TSXV:MLY,OTCPINK:MLYCF) is a resource exploration and development company focused on establishing itself as a low-cost, top-tier molybdenum producer. American CuMo is advancing its wholly-owned CuMo Project towards feasibility. The deposit, located near Boise, Idaho has the potential to become one of the world's largest and lowest-cost primary molybdenum mines. Significant copper and silver production will also aid in significant reductions to overall operating costs.
The project is ranked as one of the top 25 silver deposits in the world and hosts a large, easily recoverable copper resource estimated at 8 billion pounds. American CuMo is managed by a newly appointed multi-national professional team with decades of industry experience in mine management, development and optimization.
INVESTMENT HIGHLIGHTS
Potential lowest-cost primary producer in the world
Largest un-mined molybdenum deposit with significant copper and silver credits
Ranked as one of the top 25 silver deposits in the world with 386 million ounces of silver
Large scale, low-cost profile and multi-metal profile make for sustainable operations during times of low metals prices
Experienced, successful management team and Board of Directors complete with expertise in all areas of mining including operations, finance and environmental sustainablility
Located in politically stable, mining-friendly Idaho in a historic mining jurisdiction that includes world-renowned Thompson Creek molybdenum mine
Only 60% of the Deposit has been drilled to date
KEY PROJECT
CuMo Project – Boise County, Idaho
The CuMo Project is located 37 miles northeast of Boise, Idaho at the southwestern end of the Idaho-Montana Porphyry Belt. The CuMo Project is 100-percent owned by American CuMo. The property consists of 345 contiguous mining lode claims covering an area of approximately 7,100 acres located on the historic gold placer-mined Grimes Creek. The CuMo deposit is classified as a porphyry Mo-Cu deposit (Mo greater than 0.04% and Cu being economically significant).
The vast size of the CuMo deposit gives the project the large economies of scale, equivalent to or exceeding that of high-grade molybdenum deposits such as Henderson or Climax. The deposit also hosts other potentially economic metals including silver, tungsten, rhenium and gallium.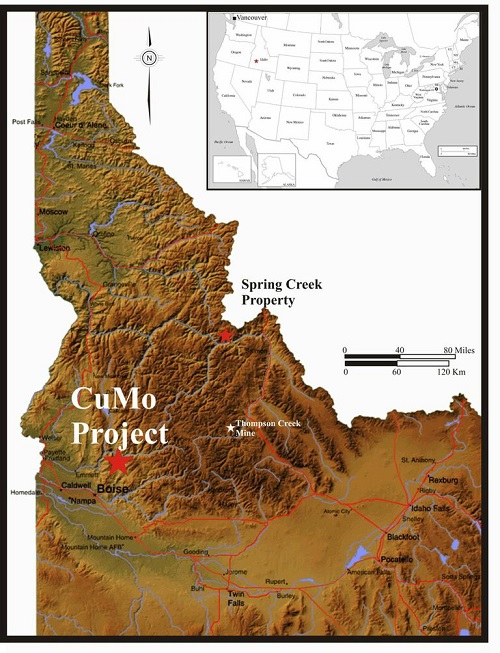 An independent NI 43-101 preliminary economic analysis, prepared in 2009 by consulting firm Ausenco, concludes that the CuMo Project has the potential to become the world's largest and lowest-cost primary molybdenum producer.
The region, which includes the world-renowned Thompson Creek molybdenum mine, hosts excellent infrastructure including major road and rail network access, electric power and water. Exploration and mining can be conducted year-round, due to the established road and its proximity to infrastructures. The area is serviced by the Idaho Power Company and the nearest rail line is the Idaho Northern & Pacific line that runs through the town of Banks, approximately 32 kilometres (20 miles) by road to the west of the property. Equipment, supplies and services for exploration and mining development projects are available at Boise. There is also a trained mining-industrial workforce available in Boise.
Based on the data compiled from the 2005 – 2010 drill campaigns, an Indicated and Inferred resource estimate for the project was determined in the June 2011 independent NI 43-101 Technical Report (see table below). The current estimated mineral resource indicates an annual production rate of 90 million lbs. – 100 million lbs. molybdenum oxide and 60 million lbs. – 67 million lbs. molybdenum metal over a mine life of 40 years. Annual production rates for copper and silver are estimated at 70 million lbs. – 80 million lbs. and 2.5 million oz. – 3.5 million oz. respectively.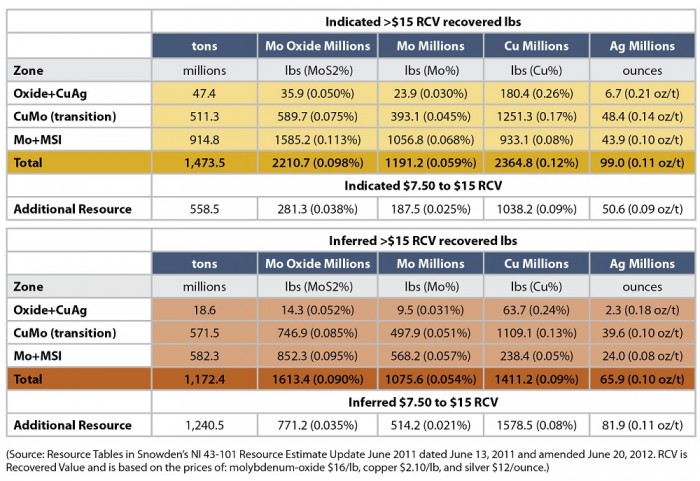 The updated resource estimate significantly expanded the overall mineral resource and further confirmed that CuMo is the largest un-mined, open-pit accessible primary molybdenum project with significant copper and silver resources. Metallurgical test work indicates excellent recoveries (+90% MoS2). The CuMo Project ranks as one of the top 25 silver deposits in the world and contains a large, easily recoverable 8 billion pounds of copper resources. The large copper and silver resources are likely to expand and increase as additional mineralized zones are developed.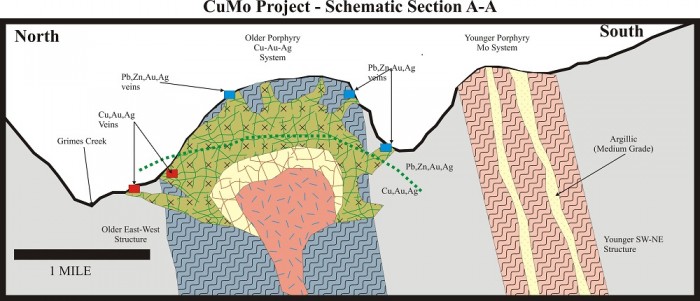 The diversity of metals found at CuMo occurs in two distinct layers: the upper half of the CuMo deposit contains higher grades of silver and copper compared to molybdenum while the lower half is rich in molybdenum, with lower grades of silver and copper. The total recoverable value of both layers is what gives the CuMo Project such excellent economic potential. The copper value alone is expected to contribute from 25% to 30% of revenues, helping to reduce overall operations costs.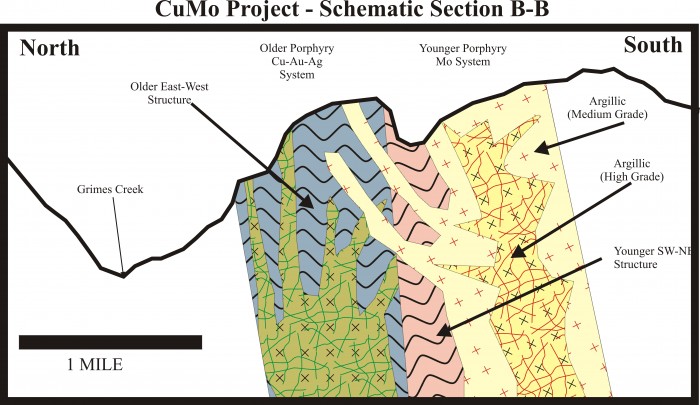 The significant reduction in operating costs and potential for steady revenues can make the CuMo Project profitable under most economic conditions. Estimated production costs are less than $4 per pound molybdenum or $0.51 per pound copper equivalent.
American CuMo initiated a 15,000 foot diamond drilling program in May 2012 to further explore the project. To date, sixty percent of the deposit has been drilled and assays show the deposit boasts excellent continuity grade continuity. The drilling program was completed in October 2012 for a total of 4,713 meters in nine holes. All holes intersected molybdenum-bearing mineralization with some holes ending prematurely in higher grade areas.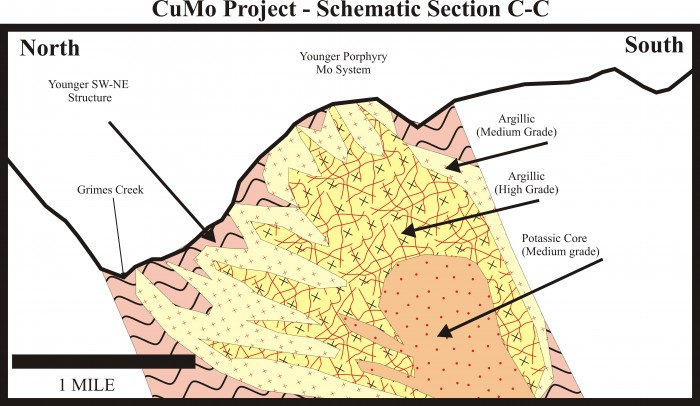 In keeping with the Company's commitment to sustainable natural resource development, American CuMo has engaged an inter-agency task force to fully address any environmental concerns. The CuMo Project sits near the head of Grimes Creek, a tributary of the Boise River. The project area lacks any endangered species or plant life and is not located in a wilderness or pristine area, but a heavily disturbed and mildly contaminated area of historic mining and logging. Logging and mining activity over the past 100 years has contaminated the creek, according to the Idaho State Department of Environmental Quality.
American CuMo has completed the first stage of environmental permitting and is currently in the process of completing a Supplemental Environmental Assessment Study (EA) that will allow the project to advance to the next permit level. American CuMo is actively working with the United States Forest Service to complete the updated EA which addresses the impact of drilling and the baseline data on groundwater quality.
The EA will aid in the preparation of the upcoming Feasibility Study. The Company anticipates completion of the EA in the summer of 2013 at which time drilling to advance the project may proceed.
American CuMo is actively working with the United States Forest Service to complete the updated EA that addresses the impact of drilling and the baseline data on groundwater quality.
The long-term outlook for molybdenum is strong with pricing expected to remain stable over the next decade. Moly has many industrial uses, but its primary demand comes from the steel industry where it is used as an alloy in the manufacturing of stronger, lighter and less corrosive steel for use in pipelines, nuclear power plants, oil rigs, pollution control equipment and aircraft components.
Demand for moly is expected to outstrip supply as the current low pricing environment has curbed production of the metal as a by-product, its main source of production. As a large primary molybdenum mine, the CuMo Project holds the distinction of remaining low-cost and sustainable even during low metal price cycles.
Click here to read American CuMo's Fact Sheet
Summary
American CuMo Mining Corporation is advancing towards feasibility at its wholly-owned polymetallic CuMo Project, located near Boise, Idaho. The deposit has the potential to become one of the world's largest and lowest-cost primary molybdenum producers. The deposit also contains significant copper and silver credits which add to the robust economics of the project. The current estimated mineral resource indicates an annual production rate of 90 million lbs. – 100 million lbs. molybdenum oxide and 60 million lbs. – 67 million lbs. molybdenum metal over a mine life of at least 40 years. The Company is well-managed by a newly appointed multi-national professional team with decades of industry experience and access to international capital.
The long-term outlook for molybdenum is strong and demand is expected to outstrip supply. As a large, mineral diverse primary molybdenum mine, the CuMo Project holds the distinction of remaining low-cost and sustainable even during low metal price cycles. An Environmental Impact Study is currently underway.
MANAGEMENT
Hongxue Fu – Executive Chairman
Mr. Fu is an accomplished mining entrepreneur with worldwide experience in mining and business development. He is the Chairman of HK CO, which is involved in international exploration and development of energy and mining resources. Mr. Fu has extensive contacts in the mining industry and investment industry, both in China and throughout the world.
Shaun Dykes M.Sc. (Eng.), P.Geo – Chief Operating Officer
Mr. Dykes was the Company's Exploration Manager from 1995 until 2011, during which tenure he played a key and leading role in the acquisition and development of the CuMo, Project. Techniques developed combined with over 35 years of practical experience in the management, exploration and analysis of mineral properties, at varying stages of development from grass roots to pre-development, have been directly involved or responsible for the discovery of several mineral deposits, five of which have been placed into commercial production.
Mr. Dykes spent 15 years working as a project geologist with Westmin Resources Ltd. He has managed a wide variety of projects with budgets ranging from $50,000 to $5,000,000 including Big Missouri, Stewart, B.C., from initial stages of exploration to pre-production. He was responsible for the outlining and discovery of the Premier open pit deposit and worked directly as a team member in the development and subsequent production of the Stewart properties.
Mr. Dykes founded Geologic Systems Ltd. in 1994 to supply geological expertise to the mining and exploration community. Clients included Cominco (now Teck Resources Ltd.), Rio Algom,EchoBay, Billington, Placer Dome and Redfern Resources. He has been involved in the evaluation, exploration and/or development of some of the world's major mineral deposits including: CuMo, Voisey's Bay, Cariboo Gold, Petaquilla,Dunka Road (now Northmet), Red Chris, Tulsequah, Pine Point (extension), Wernecke, HW and Myra Falls and Premier. 
Charles Yuen – Executive Vice-President
Mr. Yuen has served as executive director and Vice-President of several import and export corporations for the past 20+ years.
Aurora Davidson, Bsc, CGA – Chief Financial Officer
Ms. Davidson has over 15 years of experience in financial and general business management having assisted private and public companies in the roles of Chief Financial Officer, Vice-president, Finance and Corporate Controller within the mineral exploration and high technology sectors. She holds a Certified General Accountant designation from the Certified General Accountants Association of British Columbia (2003) and a BSc in Business Administration from Alliant International University in San Diego,California(1990).
Brett A Kagetsu – Corporate Secretary
Mr. Kagetsu is a partner in Gowlings' Vancouver office and Vice-Chair of the Corporate Finance and M&A National Practice Group. He advises mining and technology companies listed on the TSX Venture Exchange and the Toronto Stock Exchange in respect of corporate finance, securities and corporate governance matters, as well as in connection with mergers and acquisitions.
Mr. Kagetsu has led the Gowlings legal team on many bought deal public offerings, private placements, IPOs, reverse takeovers, Capital Pool Company qualifying transactions and plans of arrangements, and he has assisted clients with preparing for contentious share holder meetings. Mr. Kagetsu is an active member of Gowlings' China Group and has represented Chinese companies that have made investments in Canada or sought a stock exchange listing in Canada. He completed the Canadian Securities Institute's Canadian Securities Course in 2000 and earned an Award of Excellence for exceptional academic achievement in the course.
Dr. Stanislaw Siewierski – Director
Dr. Siewierski is currently the General Managing Director of Willingdon Services Inc., a large European financial institution located in Spain and Andorra that invests in mining projects. Dr. Siewierski held various senior managerial and engineering positions from 1982 until 1991, including First Deputy Director, in the Rudna Mine, one of the largest copper and silver reserves in Poland. He was Vice-President-Strategy and Development in 1991 and 1992 with KGHM Polska Miedz S.A. ("KGHM"), the 9th largest producer of copper and the 3rd largest producer of silver in the world.
From 1994 to 2003, Dr. Siewierski was an active member of the Management Board of KGHM, holding the positions of First Vice President and President for several years. Between 2003 and 2007, he was Vice President of the Board for KGHM Polish Copper Ltd., a marketer and distributor of copper and silver operating as a subsidiary of KGHM from August 2001 to December 2001 he was President of the Management Board of LZG Leczyca S.A., a large manufacturer and marketer of steel structures and steel structure components for the mining industry. He has been the main shareholder of LZG Leczyca S.A. since 2008. Dr. Siewierski is a graduate of the Academy of Mining and Metallurgy in Cracow, and has a doctorate in technical sciences from Wroclaw Politechnic.
Joseph Baird – Director
Mr. Baird is a partner in the Boise, Idaho law firm of Baird Hanson Williams LLP, which has permitted more mining projects in Idaho than any other law firm. Mr. Baird provides environmental and mining counsel to a wide variety of New York Stock Exchange, Toronto Stock Exchange and venture capital mineral companies, including base and precious metal production companies, industrial mineral producers, exploration programs and mineral land management companies.
Mr. Baird practiced mining and environmental law in Colorado for seven years, where he was Associate General Attorney with Union Pacific Resources Company and an attorney with the Holland & Hart law firm. He clerked for Exxon Minerals Company, USA in 1980 and the American Mining Congress in 1979. Mr. Baird has also worked with the U.S. Environmental Protection Agency in Washington, D.C.
Mr. Baird has served in several officer positions and as a trustee for the Northwest Mining Association, the largest mining organization in the United States with extensive contacts within the mining industry and state and federal governments, and which continues to lobby for the mining industry in the United States. His professional memberships also include the Rocky Mountain Mineral Law Foundation (formerly as a Trustee at Large) and the Society for Mining, Metallurgy and Exploration. Mr. Baird is a member of the Colorado and Idaho State Bars. Mr. Baird graduated from the University of the Virginia School of Law in 1981. He graduated Magna Cum Laude from Colgate University in 1976, with majors in Geology and Political Science.
Dr. John Moeller – Director
Dr. Moeller's is a Principal of Forsgren Associates, a civil and environmental engineering firm, with offices across the western U.S. He has taken the lead in representing the Company before state, local, and federal agency officials and the public about the CuMo Project's exploration. He was the point person to track, expedite and respond to the project's highly visible and contentious environmental assessment. His team has identified nearly 100 permits, approvals, exemptions and consultations that may be required before a mine could go into production.
Dr. Moeller managed water quality and hazardous materials programs during a nine-year tenure at Idaho DEQ and has maintained and grown extensive relationships across a wide spectrum of state and federal agency staff and managers. Early in his career, he co-founded a state and federal inter agency task force to permit a $400 million open pit molybdenum mine in the headwaters of Idaho's Salmon River.
Dr. Moeller earned his PhD in Water Quality/Limnology from Idaho State University, his Master of Science in Zoology/Water Quality from the University of Kentucky, and his Bachelor of Science in Electrical Engineering, also from the University of Kentucky. For the past ten years, he has been an adjunct graduate faculty member at Boise State University, teaching water quality management. He was awarded an EPA Bronze Medal for his efforts associated with hazardous waste capacity assurance and development of pollution prevention programs. He served on the board of directors for the Idaho Conservation league.
Long Wang – Director
Mr. Wang has more than fifteen years of experience in both public and private sectors in government policy making, management, international trade, futures and financial analysis and mining investment and project management. He served as the executive director of Beijing Aima Leader Investment Limited, a company involved in risk exploration and investments in energy and mining resources, and successfully led its expansion to North American and European markets.
Mr. Wang is currently a director and CFO of IEMR Resources Inc. For the past two years, Mr. Wang has also been leading the development of two jade and stone mines near Tibet as the President and CEO of Geermu Aima Mining Limited and Dachaidan Aima Stone Materials Limited.