The profile below is part of a campaign paid for by Focus Graphite. This profile provides detailed information, helping investors make better investment decisions. Focus Graphite's support of Graphite Investing News ensures we can continue to bring you unbiased, independent news and information.
OVERVIEW
Focus Graphite Inc. (TSXV:FMS,OTCQX:FCSMF,FWB:FKC) is a mining development company with our attention geared toward high grade graphite. Our aim is to reset the standard for high quality graphite, becoming the frontrunner for the clean technology economy through an innovative mine-to-market strategy. Focus Graphite is the sole owner of the Lac Knife graphite deposit located 27 kilometres south of Fermont, Quebec. Lac Knife holds a Proven and Probable Reserves of 7,857 kt grading 15.13% Cg. Our infill drilling is now complete; our pilot plant confirmed our large, medium and small flake distribution can be upgraded to 98%Cg with basic processing. We have successfully produced and tested our value added spherical material. The company is now preparing to move towards production with an offtake agreement in place.
INVESTMENT HIGHLIGHTS
On June 25, 2014, Focus Graphite Inc. was pleased to report the results of its Feasibility Study ("FS") for the Lac Knife Project. The study was based on a 25-year mine life that produced a Pre-tax Net Present Value ("NPV") of $383 million calculated at a discounted cash flow ("DCF") rate of 8% Pre-tax, the financial model has an Internal Rate of Return ("IRR") of 30.1% and a capital payback period of 3.0 years. Reduced operating costs from $458 per tonne of concentrate to $441 per tonne within close range of the Updated PEA study released November 7th, 2013.
On December 19, 2013, Focus Graphite made mining history by securing a 10-year offtake agreement with a Chinese industrial conglomerate for the purchase of a minimum of 20,000 tonnes per year over the life of the agreement – some 45% of Lac Knife's future concentrate production.
The offtake agreement de-risks the Lac Knife Project in advance of financing and underscores our company's long-held strategic goal of competing in any market – including China.
Signed a Pre-Development Agreement ("PDA") with the Uashat Mak Mani-Utenam Innu ("ITUM") First Nation Band Council, for the Lac Knife Mine Development Project. The intent of ITUM-Focus Graphite agreement is to enter into a collaborative relationship in order to better understand the impacts of the project and to incorporate ITUM's concerns into the Lac Knife mine development project planning. The PDA further lays out the possibility that future negotiations could pave the way to a long-term partnership that would allow for the sustainable development of the project in the region as well as innovative opportunities in the secondary transformation market, all the while working with ITUM to address the community's social needs and supporting its long term vision and aspirations.
The Lac Knife graphite deposit holds one of the highest concentrations of flake graphite in the world at 15% head grade that can be concentrated to 98% Cg with basic processing.
Focus Graphite's revised PEA indicate a mine life of 20 years, a pre-tax internal rate of return ("IRR") of 36.4% (28.6% after tax) and a pre-tax net present value of $ 316.9 million ($185.3 million after tax) at an 8% discount rate exclusive of value added estimates using a weighted average price of US$1866 per tonne of run-of-mine concentrates.
Focus Graphite's vertically integrated business strategy includes a spheronization, purification and coating unit to maximize operational and shareholder value. On May 27th, 2014 Focus Graphite released the test results performed on Lac Knife Spherical Graphite. The results demonstrate an 80% improvement over commercial benchmark grades, indicating Focus Graphite's capability to tailor lithium ion battery anode grade graphite to meet the most stringent customer requirements.
Management has in depth experience and knowledge in mining and processing graphite to produce downstream value added graphite products.
Focus Graphite holds a substantial investment in Grafoid Inc., an advanced complete graphene solutions company expanding on a global scale. Grafoid deems MesoGraf™ graphene sets the global standard for graphene on the bases of its high energy density, economic scalability, purity and environmental sustainability.
KEY PROJECT
Lac Knife Graphite Mining Project, Quebec, Canada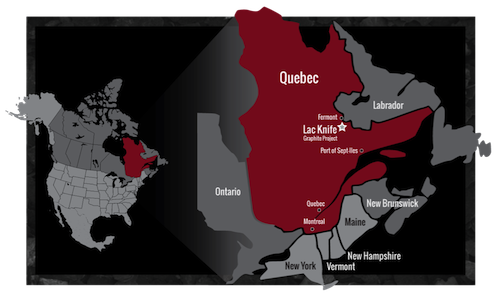 The Lac Knife graphite deposit is located on the Labrador border, 27km south of Fermont, Quebec. It contains a Proven and Probable Reserves of 7,857,000 t grading 15.13% Cg, making it one of the highest-grade graphite reserves in the world. The deposit absorbed 9,217 meters of historic exploration drilling and 9,103 meters of infill drilling by Focus Graphite that defined our reserve over 700 meters of strike length, and remains open to the southwest and at depth. The remaining Measured and Indicated Resources within the Lac Knife deposit that did not make it into the reserve will help develop the mid and long-term growth profile for the company.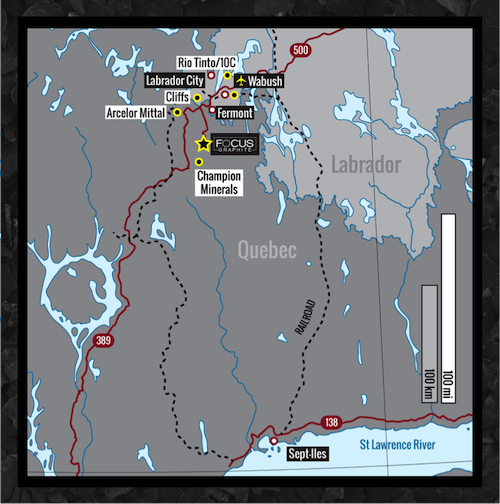 The Mineral Resource Estimate is based on both the 2012 and 2013 additional exploration and definition drilling programs for a total of 92 holes, and 9,103 meters to upgrade the quality of existing Indicated and Inferred Resources to the Measured and Indicated Resource categories in January 2014. Now with our recent feasibility Study completed, we have updated our Resource to a Reserve. The area hosts excellent infrastructure, with affordable Hydro Quebec electric grid power, and nearby access to road, rail and port facilities. Lac Knife is also close to Wabush and Labrador City which serve as bases for three iron ore mines in the area, one of which being ArcelorMittal, the largest open pit iron ore mine in North America.
SUMMARY
Focus Graphite is an emerging graphite mining company and the sole owner of the Lac Knife graphite project located in the Côte-Nord region of northern Québec. Lac Knife hosts a Proven and Probable Reserves of 7,857,000 t grading 15.13% Cg.
Focus Graphite's goal is to assume an industry leadership position by becoming one of the lowest cost producers of high-grade, high-purity graphite in the world. Our reserve has been proven; our pilot plant confirmed our large, medium and small flake distribution can be upgraded to 98%cg with basic processing. The company is now preparing to move towards production.
MANAGEMENT
Gary Economo – President, Chief Executive Officer and Director
Mr. Economo has a distinguished business leadership career, serving as CEO for a number of public and private high technology companies during the last 20 years. A former President and CEO of Dynasty Components Inc., Mr. Economo enjoys a long history of graphite marketing and sales for high-tech applications. Immediately prior to joining Focus Graphite Inc., a company he founded with Jeffrey York, he served as Director, Corporate Communications and Investor Relations for Everton Resources Inc.
Over the span of his business career, Mr. Economo provided strategic consulting and representation services to technology companies in North America and Asia. In particular, he has a track record of success and expertise in building shareholder value when tasked with bringing discovery companies to market. Born in Greece and raised in Montreal, Mr. Economo is tri-lingual and lives with his family in Ottawa.
Jeffrey York – Chairman and Director
As a co-founder and Chairman of the Board of Focus Graphite Inc., Mr. York is an activist director in terms of shaping the company's business growth and development. He graduated from Princeton in 1986 with a degree in Economics and obtained his Chartered Accountant designation in 1989. Mr. York is currently Chief Executive Officer of Farm Boy stores, named one of the best managed companies in Canada in 2011.
A chartered accountant, Mr. York began his professional career with Ward Mallette, Chartered Accountants, before joining Giant Tiger Stores, a regional retail chain which he grew into a national, billion dollar company. During his 20-years with Giant Tiger, he served as President and CEO of the company for 10 years. Mr. York is an active member of the Young Presidents Organization and has been involved in that executive network since 2002.
Benoit Lafrance – Vice President of Exploration
Mr. Lafrance assumes his responsibilities with Focus Graphite after serving three years as scientific researcher for CONSOREM, an applied research group for mineral exploration. His previous experience includes four years with Cogitore Resources Inc. as senior geologist and five years with the Quebec Government geological survey.
Judith T. Mazvihwa-MacLean – Chief Financial Officer
A Vancouver-based geologist, Ms. Mazvihwa-MacLean has over 16-years experience in mineral exploration, mining, management and corporate finance. Prior to joining Focus Graphite Inc., Ms. Mazvihwa-MacLean was the CFO for Golden Harp Resources Ltd., Logan Resources Ltd., and Acme Resources Ltd (formerly, International KRL Resources Corp.).
She also served as a member of the Board for both Logan Resources Ltd., and Acme Resources Ltd. She has a significant academic background. She holds a B. Sc. (Geology) from the University of Zimbabwe, an M. Sc. from Brunel University in England and earned her MBA at Simon Fraser University in British Columbia. She was accredited a Certified Management Accountant by the Certified Management Accountants Society of British Columbia.
Francis Pomerleau – Director
A Civil Engineer, Mr. Pomerleau was born and raised in St. Georges, Quebec. He joined the Pomerleau Group of companies in 1991 as an assistant project manager. Currently, Mr. Pomerleau serves as a Director of the Pomerleau Group and is President of Ottawa-based Pomerleau Ontario. He also serves as Co-President Beaubois, an architectural millwork company.
In addition to his day-to-day management responsibilities, Mr. Pomerleau is actively involved with several industry-linked committees and is Chair of the General Contractor Council of the Canadian Construction Association. Mr. Pomerleau holds a civil engineering degree from École Polytechnique de Montréal, and an MBA from the International Institute for Management Development (IMD) in Lausanne, Switzerland.
Chester Burtt – Director
Mr. Burtt is President of Chester Burtt & Associates Ltd. (CBAL), a corporate and public affairs advisory firm that specializes in connecting private and public companies with domestic and international opportunities. CBAL also arranges for the provision and supply of financial services in mergers, acquisitions and joint ventures. Working through an international network and associate firms, CBAL has a 25-year history of offering a full range of services to assist companies with strategy development and decisions to best suit their investor and corporate relations. Mr. Burtt graduated with a BA from Waterloo Lutheran University and MA from Wilfrid Laurier University in Political Science.
Marc-Andre Bernier – Director, Senior Technical Advisor, and Qualified Person
Mr. Bernier is Focus Graphite's Qualified Person. A geoscientist with more than 26 years professional experience, Mr. Bernier specializes in exploration geochemistry in support of regional and international mineral development initiatives. A resident of Chibougamau, Quebec, Mr. Bernier has directed or managed mining development projects in Canada, the Caribbean, Africa and South America. Mr. Bernier also holds the position of Senior Geoscientist with the Table Jamésienne de Concertation Minière (TJCM) a regional development agency dedicated to promoting sustainable mineral development across northern Québec and an advisor to Makivik Corporation, the economic and political representative of the Inuit of Northern Québec.
He is past-president of Majescor Resources Inc.; a director of SIMACT Alliance Copper-Gold Inc. (Canada) and Daraina Exploration SARL (Madagascar); a director and executive vice-president of SOMINE SA (Haiti); Vice-President and a director of Chibougamau-Chapais SADC and remains an active member of the Association of Professional Geoscientists of Ontario and the Ordre des géologues du Québec, as well as a member of the Canadian Institute of Mining and Metallurgy.
Dr. Gordon Chiu, B.Sci, M.Sci, MSTP recipient, ND. – Advisor and Chief Scientist
Dr. Gordon Chiu is Focus Graphite's Chief Scientist and is Vice President and co-founder of Grafoid Inc., Focus Graphite's joint venture to develop, patent and secure the global rights for specific graphene technologies. Described as an "execution-driven businessman," Dr. Chiu has combined domestic and international experience in the biomedical, chemical, cosmetic, medical, and technology industries. A lecturer and corporate advisor, Dr. Chiu is engaged in the discovery and research of graphene on behalf of Grafoid and provides advice on project selection with a view to increasing overall shareholder value.
Dr. Chiu is a former research scientist at Pfizer Inc. and Merck & Co., Inc. and has healthcare and marketing experience with strong links to Wall Street and Asia. He holds a B.S. degree summa cum laude in chemistry from Rensselaer Polytechnic Institute; graduated with an M.S. degree in chemistry from Seton Hall University with honors, and is globally distinguished by his acceptance as an MD/PhD candidate under the National Institutes of Health's Medical Scientist Training Program at the Mount Sinai School of Medicine. He jointly combined his cumulative training with an ND degree in naturopathic medicine from the University of Bridgeport.