Overview
Universal Ibogaine (TSXV:IBO,OTCQB:IBOGF,FSE:JC4) is a Canadian company working to develop the gold standard for addiction treatment.
The company is developing an ibogaine based drug franchise to treat addiction and related mental health issues. These treatments will be administered within a global network of owned and franchised state-of-the-art holistic treatment clinics.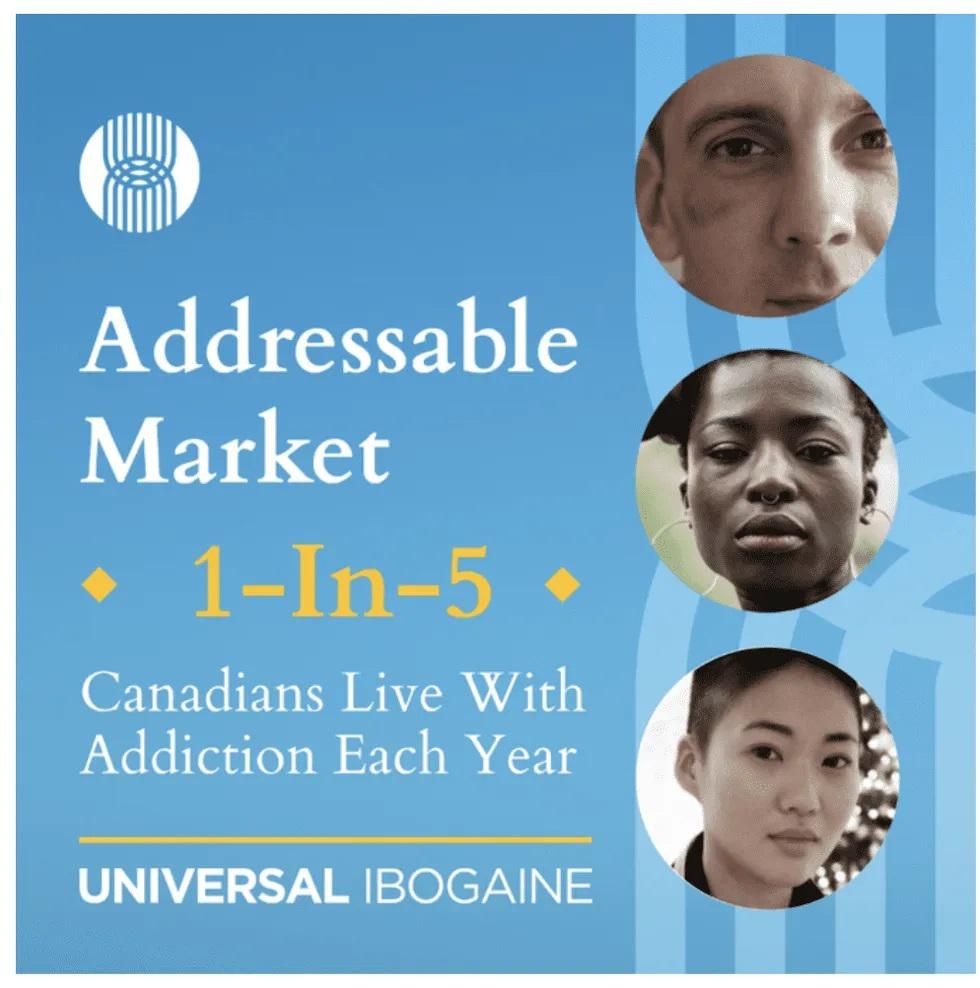 Addiction doesn't just affect 1 in 5, it affects everyone.
Addiction and the underlying mental health challenges are the true epidemic of our time. No family has not been touched by the problem of addiction. The pointed end of the addiction crisis is opioid related overdose death. Opioid overdose has become the leading cause of accidental death in North America. Approximately 150 people die every day in North America. In Vancouver BC, the center of the opioid problem in Canada, one person dies from opioid overdose every two hours.
Opioids can be found in methamphetamine licit and illicit forms. Several opioid medications, including codeine, fentanyl, morphine, oxycodone and diacetylmorphine are produced and used most often to treat pain. Problematic opioid use generally occurs when a patient finds they are unable to discontinue use upon the completion of their prescription. The patient is then forced to turn to illicit sources.
What is Ibogaine?
Ibogaine is a psychoactive alkaloid extracted from the root bark of Tabernanthe iboga, a Central West African rain forest shrub called iboga. Iboga has been used by local cultures as a rite of passage for centuries.
Ibogaine has been shown to provide rapid detox from opioid use by regenerating opioid receptors in the brain, thereby resetting the brain to a pre-addicted state. Ibogaine also converts to a long-acting metabolite which continues to support brain development for 2 to 4 months post treatment. This time, along with an aftercare program, provides the patient an opportunity to establish healthy new habits and rebuild their lives.
Universal Ibogaine Co-Founder Dr. Alberto Sola has provided ibogaine detox treatment to over 3700 patients, more than any other doctor in the world. Universal Ibogaine is leveraging the treatment data developed by Dr. Sola to advance a clinical trial in Canada for the use of ibogaine in opioid detox.
Universal Ibogaine also owns and operates a traditional addiction recovery center where it will develop a state-of-the-art holistic pretreatment, detox and aftercare programs into which the ibogaine treatment protocol will be inserted upon successful completion of the human proof of concept study.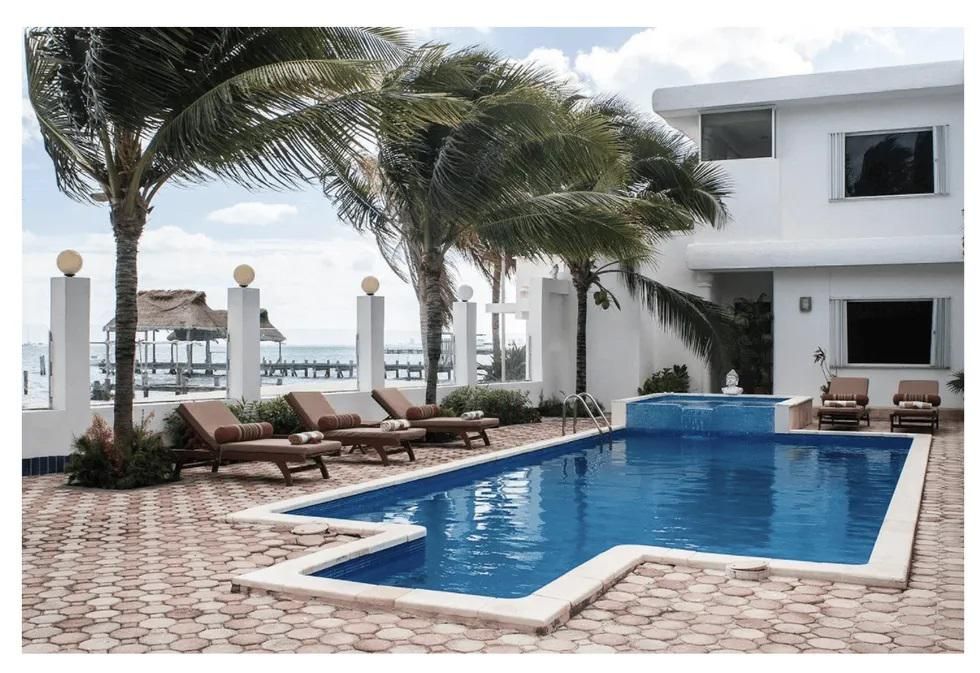 Studies have shown the potential for opioid detoxification with ibogaine, with evidence that suggests a lack of withdrawal symptoms after a single dose. "Individuals typically do not go back into withdrawal following opioid detoxification with single doses of ibogaine despite opioid abstinence, suggesting a persistent modification of neuroadaptations associated with opioid tolerance or dependence," said Tamara Antonio in the study "Effect of Iboga Alkaloids on µ-Opioid Receptor-Coupled G Protein Activation." Ibogaine is currently a Schedule I substance according to the US Drug Enforcement Agency.
In Canada, ibogaine sits on the Prescription Drug List, meaning the pathway to medicalization faces significantly less barriers. With the addition of the real world treatment data, Universal Ibogaine is confident in their ability to bring this medicine to market in a timely fashion.
Universal Ibogaine Inc. has completed a reverse-takeover Qualifying Transaction with P Squared Renewables (TSXV:PSQP), a Capital Pool Company, allowing the company to list on the TSX Venture Exchange.
In concert with the Qualifying Transaction, Universal Ibogaine has completed a C$6 million financing.
Company Highlights
The only pure-play public ibogaine company in the world
Focused on Ibogaine drug development plus state-of-the-art treatment clinics
Co-Founder Dr. Alberto Sola has administered over 3700 ibogaine treatments, more than any other doctor in the world.
CEO Dr. Rami Batal has a 25-year successful track record in developing experimental medicines.
De-Risked bio-tech drug development backed by real world treatment data set.
Treatments to occur in a safe clinical environment, through the development of gold-standard addiction treatment clinics
Arranging for clinical trials to medicalize ibogaine in Canada, including securing contract research organization (CROs), drug supply, and institutional partners
Acquired an active addiction treatment center in Canada to perfect the wrap around treatments and roll out ibogaine once approved in Canada.
Partnering with Canadian First Nations to investigate treatment possibilities on sovereign indigenous territories.
Acquired land in Belize with an eye toward co-development of an addiction aftercare treatment center.
Key Projects
Kelburn Addiction and Mental Health Treatment Center
The Kelburn Clinic is an established and respected conventional addiction treatment center located near Winnipeg Manitoba in Canada. The center was acquired through the financing and qualifying transaction with P Squared Renewables. The center will be re-branded as Clear Sky Recovery and will host the research and development side of Universal Ibogaine's Canadian operations.
Having an operating treatment center makes Universal Ibogaine revenue positive will in clinical trials, it offers the team a development platform for the creation of its state of the art addiction treatment models.
The pre and post ibogaine treatment protocols can be expanded into a network of owned and franchised facilities during the ibogaine drug development process. The network of clinic will then provide the runway to deliver the approved ibogaine medicines according to the treatment protocols developed in the original Clear Sky Clinic.
The Kelburn clinic also sits on a 50-acre development parcel which holds promise to further expand research and treatment facilities in the near term.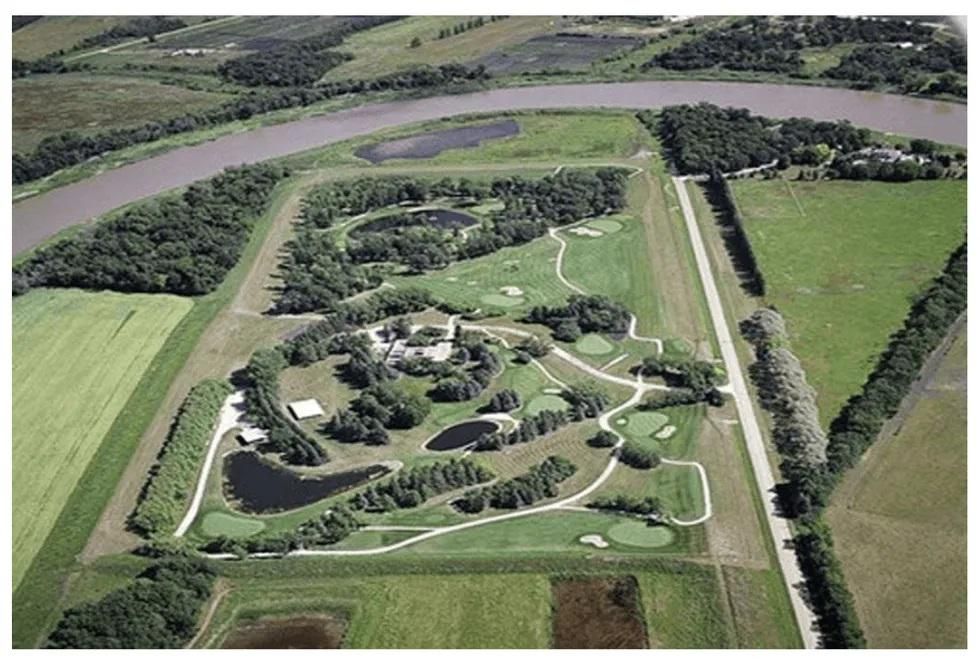 Clear Sky Recovery Clinic
Universal Ibogaine Inc. has acquired the exclusive worldwide licensing rights as well as a purchase option from Clear Sky Recovery Cancun, the world leading ibogaine treatment center based in Cancun, Mexico.
The facility has provided over 3700 ibogaine treatments using a proven protocol designed to ease the withdrawal symptoms associated with a variety of addictive drugs including opioids such heroin, OxyContin & Oxycodone, methadone, buprenorphine (Subutex and Suboxone), methamphetamines, cocaine, and alcohol.
According to the company, ibogaine has the potential to eliminate 95 percent of symptoms associated with opioid withdrawal. Ibogaine seems to produce a flood of neurotrophic growth factor which targets and repairs damaged receptors in the brain. During the treatment the opioid receptors are repaired to a pre-addicted state. Certain psychological experiences during the treatment also help to reveal and heal underlying trauma that may have contributed to substance abuse and addictive behaviors.
After the treatment, opioid receptors are rendered "naive". It is as though the brain has never taken an opioid. Ibogaine also produces a long-acting metabolite which helps to reduce cravings and continues neurogenic growth for up to 4 months after the treatment. This allows the patient time to create healthy new habits and rebuild their lives through an effective aftercare program.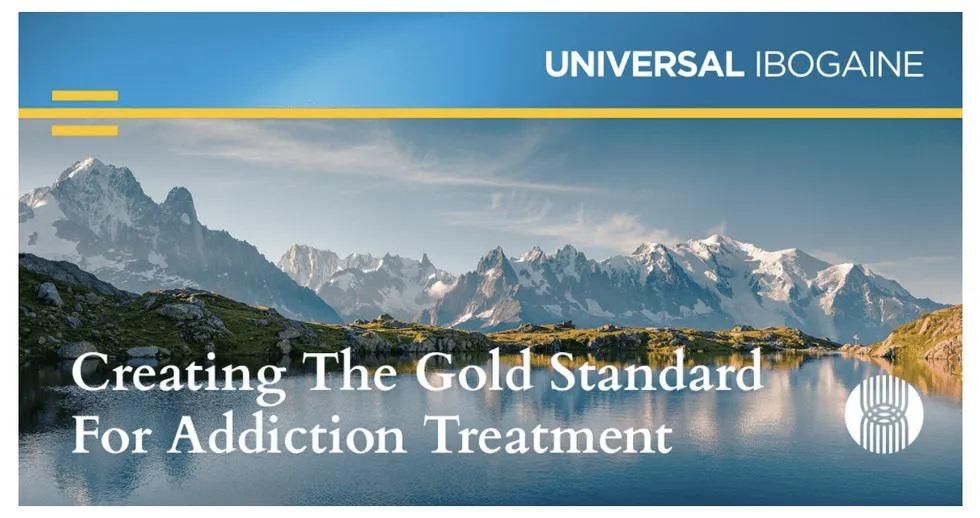 The facility's treatment protocols are designed to meet the specific needs of individual patients and their unique medical background. The facility is an oceanfront private hospital located in the Punta Sam resort area of beautiful Cancún that aims to provide a safe and effective setting for ibogaine treatment for interrupting drug dependency disorders. Clear Sky provides a comprehensive pre-care and aftercare package that can be customized to cater to a patient's unique needs.
Over the last 13 years, Dr. Alberto Sola has treated thousands of patients at Clear Sky Recovery. He believes ibogaine has significant potential in combating drug dependency issues. "We have a once in a lifetime to help the sufferers of a modern-day epidemic, the opioid crisis, by bringing them a safe and effective, seven-day treatment with ibogaine. It's an opportunity to save lives, change paradigms in the addiction industry and pioneer a brand-new market."
Management Team & Board of Directors
Nick Karos - Chief Executive Officer
Mr. Karos is based in Los Angeles, USA, and is a seasoned financier. His career includes senior roles with US investment banks, including serving at Piper Jaffray as head of Nasdaq Trading and Agency Services, and most recently as CEO of Private Trading Group, which has provided business development and capital raising services for several successful start-up ventures.
Greg Leavens, CPA - Chief Financial Officer
Greg Leavens, CPA CA - is a financial executive, CFO and Controller with 30 years of experience in public accounting and industry, including the oil & gas exploration / production and service sectors. Greg started his career with KPMG, and has extensive experience in leadership, strategic planning, due diligence reviews, financing, forecasting, financial reporting, treasury and risk management, and regulatory compliance.
Dr. Ian Rabb - Chief Clinics Officer
Dr Ian Rabb is one of the most recognized and respected leaders in Addiction Treatment in Canada today. Dr. Ian Rabb is a certified Interventionist and addictions specialist who has helped thousands of people overcome addiction. In his 20 years of sobriety, he has founded Two Ten Recovery and Destiny House — Winnipeg's only sober living housing organization. Ian was the visionary founding member of Aurora Recover Centre in Gimli Manitoba and most recently held the position of Director of Business Development at Edgewood Health Network, Canada's only national addiction treatment center brand. Prior to his work in addiction treatment Ian was a practicing Doctor of Optometry.
Dr. Glenn Copeland - Senior Medical Advisor
Dr. Copeland is internationally recognized for his work as the former founder, chairman and CEO of the renowned Cleveland Clinic Canada. He also established the Rehab and Wellbeing Centre and Sports Medicine Centre at Mount Sinai Hospital in Toronto.
Chief Ian Campbell, MBA - Chairman (Independent)
Chief Ian Campbell (Xalek) is a hereditary chief of the Squamish Nation located in Vancouver, British Columbia. He has served as an elected member of council since 2005 and was appointed as a Political Spokesperson in 2008. Since 1999 he has been the Cultural Ambassador and Negotiator for the Intergovernmental Relations Department of the Squamish Nation, advancing Aboriginal rights and title, while invigorating substantive economic opportunities through negotiations, collaboration, and partnerships. Ian graduated from Simon Fraser University with an MBA in Aboriginal Business and Leadership.
Dr. Alberto Sola, BSc, MD
Clear Sky Addiction Solution's President, Dr Sola is a thought leader in entheogenic treatment. He has the distinction of having treated more patients with ibogaine than any other person in the world and is head of operations at Clear Sky Recovery. Dr. Sola graduated from Universidad Anahuac. As the Medical Director of Amerimed, he opened four emergency hospitals for tourists in Puerto Vallarta, Cancun, and Cabo San Lucas.
Nick Karos - Director, Capital Markets
Mr. Karos is based in Los Angeles, USA, and is a seasoned financier. His career includes senior roles with US investment banks, including serving at Piper Jaffray as head of Nasdaq Trading and Agency Services, and most recently as CEO of Private Trading Group, which has provided business development and capital raising services for several successful start-up ventures.
Robert Turner, ICD.D, MBA - Director (Independent)
Mr. Turner is President of his own incorporated consulting firm and a Principal within Western Management Consultants. His consulting focus is providing guidance to boards on their governance including proper CEO oversight. Mr. Turner brings experience as a CHRO in both the private and public sectors. Subsequently, he joined Mercer Canada as a Partner focused on consulting within Canadian health care. Robert has served on Universal Ibogaine's Advisory Board since December 2018. Robert has an ICD.D certification from Rotman Business School, an MBA from the Ivey Business School and a BSc (Biochemistry) from the University of Toronto. He serves on the Boards of two other corporations – one private and one not-for-profit.
Marilyn Loewen Mauritz, ICD.D, JD - Director (Independent)
Marilyn Loewen Mauritz is a senior corporate executive with over 25 years of experience in diverse industries. From 2015 to January 2021, Ms. Mauritz held several senior executive positions at Central 1 Credit Union, a leading provider of financial, digital banking and payment solutions, including serving as the interim Chief Executive Officer. Most recently, she served as Central 1's Chief Transformation & Legal Officer, where she led the Legal, Compliance, Governance, Strategy, Information Technology and Government Relations teams. Prior to joining Central 1, she was General Counsel and Corporate Secretary at Interfor Corporation. She currently serves on the Board of YWCA of Greater Vancouver, chairing the Governance and Nominating Committee. Marilyn obtained her Bachelor of Law degree from the University of Calgary and holds a Bachelor of Arts degree from McMaster University. She is a graduate of the Institute of Corporate Directors, ICD.D.
Anthony DeCristofaro - Director
Mr. DeCristofaro is currently CEO of Qnext Corp., a global developer of disruptive apps and private cloud technologies, and his extensive experience includes thirty years in the computer industry and three M&A transactions valued at more than $600 million. Over the course of his career, DeCristofaro has been sought out as a member of several high-profile public Boards, including Hartco, Delrina, Synchronica, and TransGaming. He also currently serves on the Board of Directors of Jack Nathan Medical Corp.
David Danziger, CPA, CA - Director
David Danziger is Senior Vice President, Assurance & National Leader, Public Companies of MNP LLP, Chartered Professional Accountants ("MNP"), Canada's fifth largest accounting firm. He is a member of the firm's management team and responsible for providing leadership and direction to MNP's Assurance practice across Canada. David has extensive experience in both Canada and USA public market transactions and leverages significant expertise, having served as a director on many public companies listed on the TSX, the TSX Venture, the CSE and the New York Stock Exchange.
Julie Dumouchel - Director Clinical Trials
Julie Dumouchel brings 25 years in the pharmaceutical industry, where she has held various clinical research roles, developing a deep understanding of the drug development process. Julie is passionate about clinical operations and the drug development process. Her experience leading strong research teams to advance clinical trials while navigating changing regulations will augment UI's planned business platforms of drug development and clinical service delivery.
Near Term Goals and Milestones
The team at Universal Ibogaine is currently expanding, with notable hires in Clinic Operations, Drug Development, and additions to the board in Corporate Finance and Governance expected through Q4 2021.

Concurrent OTC and FSE listings completed through Q4 2021.
Drug development program with initial Canadian Clinical Trial expected to be underway by Q1 2022 with the goal to launch into Phase 2 Human Proof of Concept.
Additional revenue producing clinic acquisitions through 2022.
Request an Investor Kit
EXCITING upcoming projects!
IN-DEPTH reliable insights!
SUCCESSFUL growth strategies!
VALUE-BASED content!
Universal Ibogaine