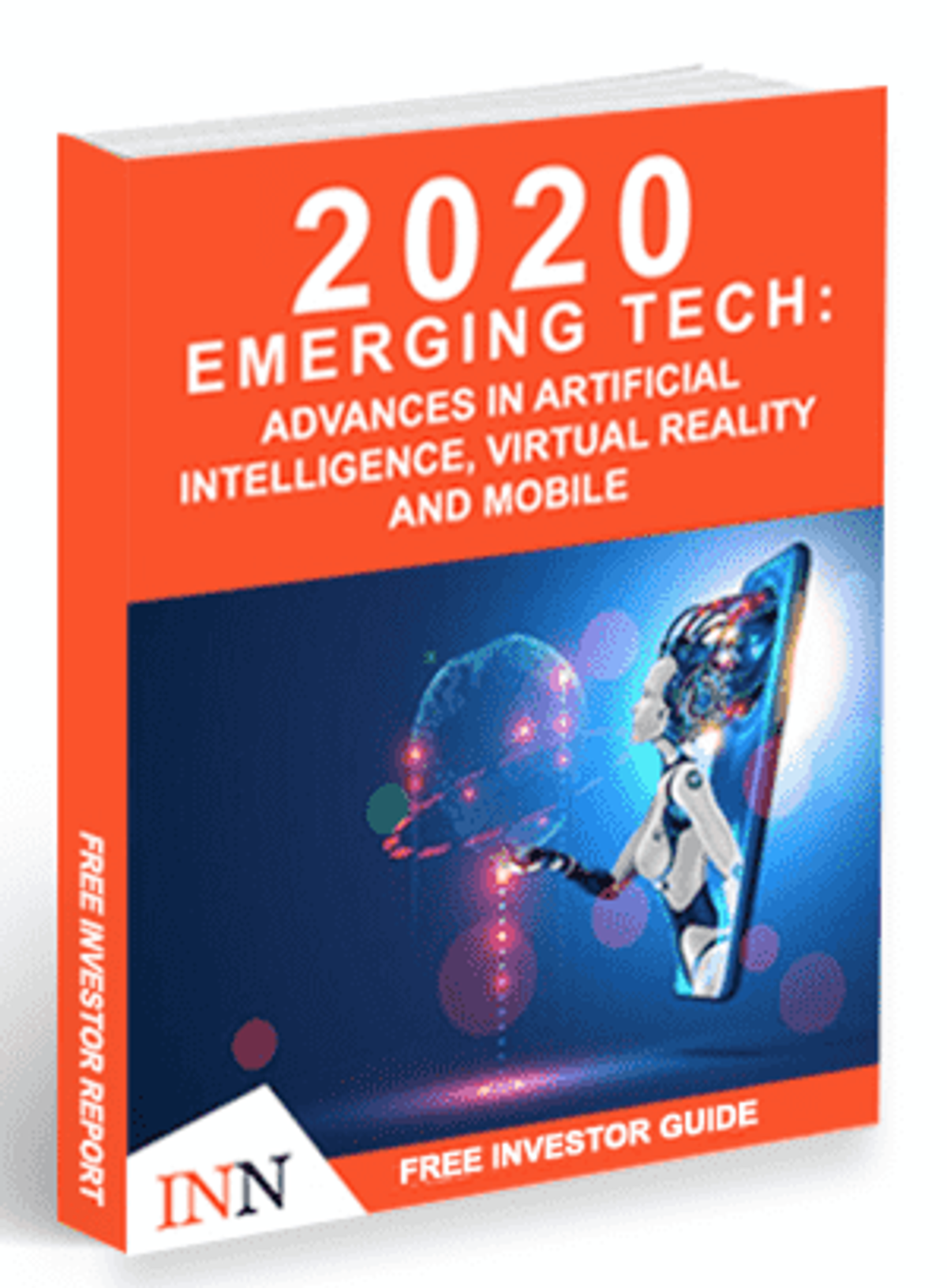 ---
INN provides access to this report for investors who want the historical content. However, it has not been updated since the original publish date of January 17, 2020.
Please go here for the most current list of INN Reports.
---
Newfound advances in mobile, virtual reality (VR) and artificial intelligence (AI) were notable this past year, although unsurprisingly this was coupled with heightened security vulnerabilities. With the 2020 year well on its way, INN spoke with experts and analysts who shared their key outlooks for emerging technology for the rest of 2020. Read our FREE outlook report on the emerging tech market for this valuable information, and more!
Table of Contents
Emerging Tech Trends 2019: NLP and VR Show Promise
Emerging Tech Outlook 2020: Expect Advances in XAI, Mobile and VR
5 Top Emerging Tech News Stories of 2019
Dear Emerging Tech Investor,
There are new emerging tech trends across several sectors, such as mobile, virtual reality, artificial intelligence and more. According to Counterpoint Research, despite a slowdown in mobile phone sales in 2019, revenues will pick up into 2020. Although the research firm anticipates that mobile shipments will decline 3 percent in 2019, advances in 5G will help spark mobile sales next year. What can new investors expect in the emerging mobile and tech market? Our FREE 2020 outlook report has exclusive interviews with industry experts, market forecasts and valuable insight. Read yours today!
Regarding the virtual reality sector, Daniel Japiassu, CEO of YDX Innovation stated, "This [2019] was a slow year for VR. I believe that from 2020 on it will just get bigger and more stable," Healthcare, education and corporate training are other key areas where VR is showing signs of growth, added Japiassu. In addition, gaming is a natural industry that VR flourishes within.
Another notable sector is the increasingly popular artificial intelligence sector. Overshadowing advances in AI is, unsurprisingly, the question of job replacement. When it comes to the finance industry, for example, rather than as a displacement.
The bottom line is that in 2019 there was no shortage of innovative companies producing cutting-edge technologies. Going into 2020, like always, the key for emerging technology firms will be sustainability and financial prudence. Our FREE 2020 outlook report on the emerging tech market is filled with analytical data, trend analysis, and exclusive interviews with industry experts. Read yours today and feel confident in your future investments in the emerging tech market!
What's ahead for the Emerging Tech Market?
What do industry experts predict growth will look like in the stock market? Which sectors and stocks should investors keep an eye on to maximize their potential profit? Our FREE outlook report on investing in the emerging tech market has this insight, and more!
What you've read above is just a small snippet of the content we have available within our report. On top of expert insights and pricing analysis, we've found high quality emerging tech stocks that every investor should be keenly aware of.
Our report includes perspectives from stock investing experts, market research and more.
This FREE special report is designed to help you!
How much would you pay for all of that? We are here to offer it for free. Why? Because educating investors with unbiased information is simply good business. It's as simple as that.
Of course, after first asking, "Is the emerging tech market a good investment?" your next question might be what are the credentials of the Investing News Network…
Who We Are
Investing News Network is a growing network of authoritative publications delivering independent, unbiased news and education for investors. We deliver knowledgeable, carefully curated coverage of a variety of markets including gold, silver, copper and many others. This means you read nothing but the best expert advice, and never have to waste your valuable time doing hours, days or weeks of research yourself.
At the same time, not a single word of the content we choose for you is paid for by any company or investment advisor: We choose our content based solely on its informational and educational value to you, the investor.
So if you are looking for a way to diversify your portfolio emerging tech investing might be on your radar.
This is the place to start. Right now.
Remember, it costs you nothing to read this special report, and it could make or break your investment in the emerging tech market this year. We're pleased to be able to make it available to you at no cost, and hope you'll take advantage of the expertise it delivers.
Millions of other investors have already taken steps to secure their futures and sleep soundly at night – why would you wait any longer to get started yourself?
So I urge you to sit down today and carefully read Emerging Tech: Advances in Artificial Intelligence, Virtual Reality and Mobile. Keep an open mind, give its insights careful thought and take your time in making any decisions. Remember, this FREE Special Report is yours to keep, so you can refer back to it at any time to guide your future moves.
Thank you for hearing me out and for your interest in the Investing News Network. Join me soon as a confident emerging tech investor!
Yours for financial self-reliance,
Nick Smith
Publisher.