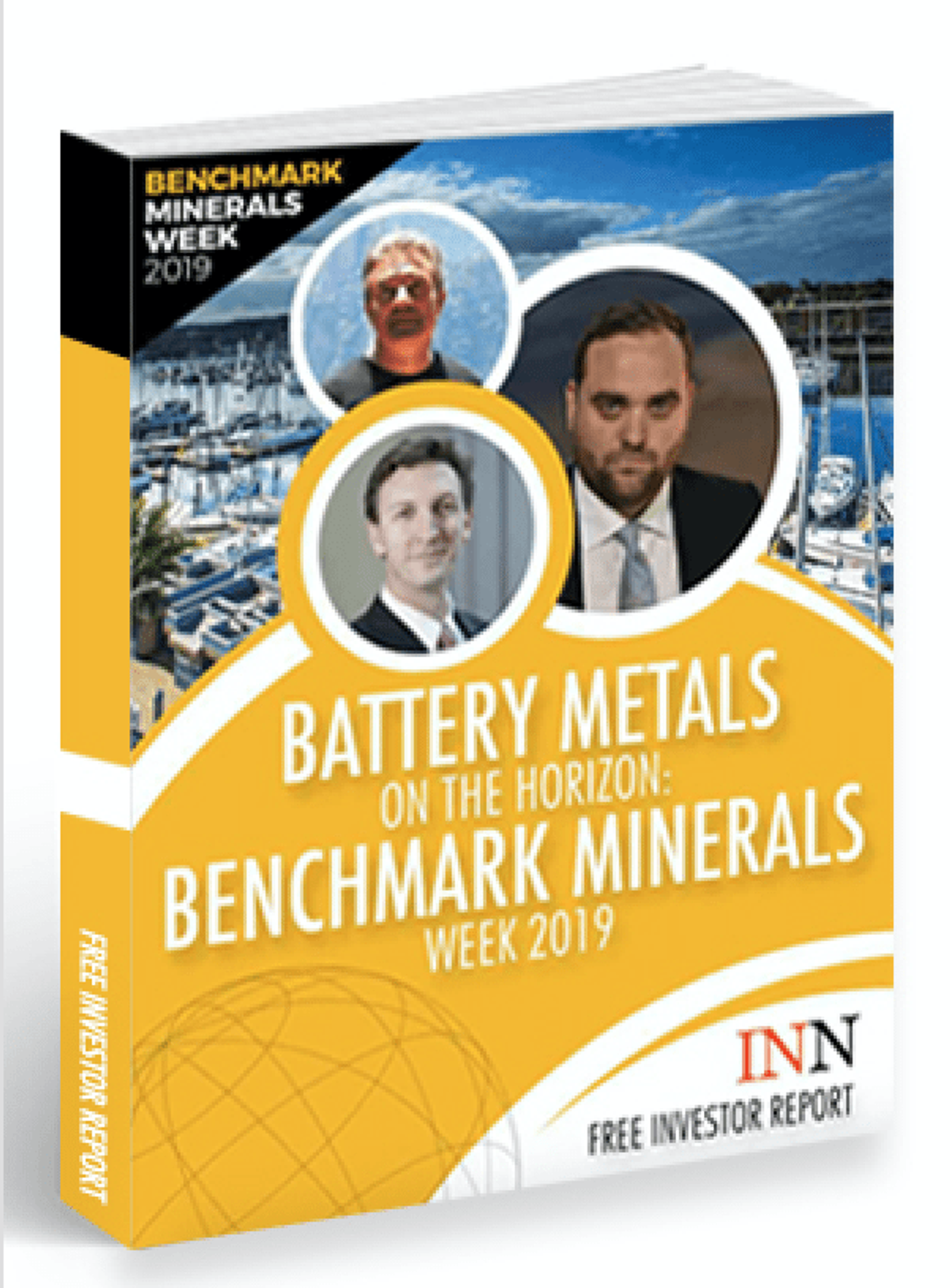 ---
INN provides access to this report for investors who want the historical content. However, it has not been updated since the original publish date of December 6, 2019.
Please go here for the most current list of INN Reports.
---
Battery metals have become an increasingly lucrative market that has commanded the attention of investors across the globe. This rising demand was a the theme for the acclaimed 2019 conference: Benchmark Minerals Week. Investing News Network (INN) journalists attended this conference and have compiled a FREE report of the informative lectures, along with exclusive interviews with battery metal CEO's and industry experts. Click now to read your FREE conference report!
Table of Contents
VIDEO — Simon Moores: 2020 is the Battery Metals Revolution Decade
VIDEO — Joe Lowry: Now is the Time to Put Money in High-quality Lithium Stocks
VIDEO — Chris Berry: 2 Factors That Will Determine Lithium Winners
VIDEO — Andrew Miller: Lithium Prices Certainly Close to Bottoming
VIDEO — Howard Klein: We'll Bottom in Lithium 2.0, then Lithium 3.0 Will Start
VIDEO — Rodney Hooper: Price isn't Everything When Choosing Lithium Stocks
VIDEO — Sam Jaffe: Global Lithium-ion Battery Market Still Set to Double by 2020
VIDEO — Emily Hersh: Pay Attention to Social Unrest in the Lithium Triangle
VIDEO — Pilbara Minerals: We Have Not Lost Faith in the Lithium Market
VIDEO — Altura Mining: Aiming to be WA's Lowest-cost New Lithium Producer
VIDEO — Caspar Rawles: Will Cobalt See a Reversal of Fortunes in 2020?
VIDEO — Adam Panayi: Quality and Availability Key for EV Batteries in the Short Term
VIDEO — Anthony Milewski: Exceptionally Bullish on Cobalt, Nickel
VIDEO — Jim Lennon: 3 Nickel Price Factors to Watch in 2020
Dear Battery Metals Investor,
The annual Benchmark Minerals Week took place this November in Las Vegas, Nevada. With dozens of keynote speakers from leading battery metals organizations across the globe, this was the premier event for lithium ion battery and electric vehicle supply chain discussions.
The Investing News Network (INN) was at the 2019 Benchmark Minerals Week to document keynote speeches and interview notable industry experts. Would you like to gain access to this invaluable information? We're offering it for FREE in this conference report below! Sign up below to gain free access now!
Loaded With Value
What you've read above is just a small snippet of the content we have available within our report. On top of expert insights and pricing analysis, we've found high quality cannabis stocks that every investor should be keenly aware of.
Our report includes perspectives from battery metal experts, investors, major institutions and more.
This FREE Special Report is designed to help you!
How much would you pay for all of that? We are here to offer it for free. Why? Because educating investors with unbiased information is simply good business. It's as simple as that.
Of course, after first asking, "Is the battery metals market a good investment?" your next question might be what are the credentials of the Investing News Network…
Who We Are
Investing News Network is a growing network of authoritative publications delivering independent, unbiased news and education for investors. We deliver knowledgeable, carefully curated coverage of a variety of markets including gold, silver, copper and many others. This means you read nothing but the best from the entire world of investing advice, and never have to waste your valuable time doing hours, days or weeks of research yourself.
At the same time, not a single word of the content we choose for you is paid for by any company or investment advisor: We choose our content based solely on its informational and educational value to you, the investor.
So if you are looking for a way to diversify your portfolio, battery metals investing might be on your radar.
This is the place to start. Right now.
Remember, it costs you nothing to read this special report, and it could make or break your investment in the battery metals market this year. We're pleased to be able to make it available to you at no cost, and hope you'll take advantage of the expertise it delivers.
Millions of other investors have already taken steps to secure their futures and sleep soundly at night – why would you wait any longer to get started yourself?
So I urge you to sit down today and carefully read Battery Metals on the Horizon: Benchmark Minerals Week 2019. Keep an open mind, give its insights careful thought and take your time in making any decisions. Remember, this FREE Special Report is yours to keep, so you can refer back to it at any time to guide your future moves.
Thank you for hearing me out on this special report, and for your interest in the Investing News Network. Join me soon as a battery metals investor!
Yours for financial self-reliance,
Nick Smith
Publisher.