10 Top Gold-producing Companies
Interested in the gold space? Here's an overview of the 10 top gold-producing companies of 2016.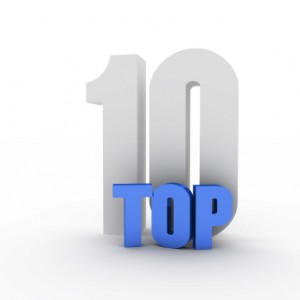 Regardless of how the gold price is doing in any given year, there will always be companies looking to mine the yellow metal.
2016 was a volatile year for the gold market due to increasing geopolitical uncertainty. According to Thomson Reuters GFMS, gold production increased by less than 1 percent that year. While there were increases in output from Australia and North American countries, they were offset by declines in production in Mexico, Peru and Mongolia.
But what were the top gold-producing companies of 2016? The list below was put together by Dante Aranda, senior mining analyst at Thomson Reuters GFMS, and it shows which companies produced the most gold last year. Read on to learn a little bit about each of them.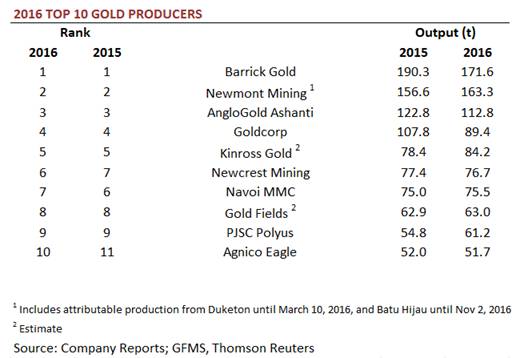 Chart via Thomson Reuters GFMS. 
1. Barrick Gold (TSX:ABX,NYSE:ABX)
Production: 171.6 tonnes
Barrick Gold took the top spot on the list in 2016 despite seeing a slight decline in output from the previous year. The company's production dropped more drastically between 2013 and 2014, when it declined from 222.9 tonnes to 194.4 tonnes. That fall came as Barrick went through structural shifts that led to modifications in production. Those adjustments allowed the industry leader to become more flexible with its finances, but changed its pace of production.
The company reported proven and probable reserves of 85.9 million ounces of gold in December 2016. Early in 2017, Barrick said it expected to produce 5.6 to 5.9 million ounces of gold for the year, but it reduced its guidance to 5.3 to 5.5 million ounces in its Q3 report.
2. Newmont Mining (NYSE:NEM,TSX:NMC)
Production: 163.3 tonnes
Newmont Mining has significant operations in North and South America, as well as Asia, Australia and Africa. The company produced 163.3 tonnes of gold in 2016, an increase from 2015's 156.6 tonnes. In 2017, the company expects to increase its output to between 5 and 5.4 million ounces. Full-year production at its Merian and Long Canyon mines should more than offset declines at its Twin Creek and Yanacocha operations.
3. AngloGold Ashanti (NYSE:AU)
Production: 112.8 tonnes
AngloGold Ashanti produced 112.8 tonnes of gold in 2016, a relatively substantial drop from the 122.8 tonnes it produced in 2015. The South African company has 17 gold operations in nine countries, as well as numerous exploration projects around the world. Its production forecast for 2017 is between 3.6 and 3.75 million ounces of gold, as its Obuasi mine is not expected to produce this year.
4. Goldcorp (TSX:G,NYSE:GG)
Production: 89.4 tonnes
Next on the list of last year's top gold-producing companies is Goldcorp, whose gold production decreased from 107.8 tonnes in 2015 to 89.4 tonnes last year. The company is one of the world's fastest-growing senior gold producers, and operates four mines in Canada, three in Mexico and four in Central and South America. In its third-quarter report, Goldcorp confirmed that it expects to produce 2.5 million ounces of gold in 2017. 
5. Kinross Gold (TSX:K,NYSE:KGC)
Production: 84.2 tonnes
Kinross Gold has projects in Brazil, Chile, Ghana, Mauritania, Russia and the US. In 2016, the company produced 84.2 tonnes of gold — up from the 78.4 tonnes it produced in 2015. According to the company, in 2016 it achieved a fifth straight year of meeting or exceeding production and cost guidance. In 2017, Kinross expects to produce 2.5 to 2.7 million gold equivalent ounces.
6. Newcrest Mining (ASX:NCM)
Production: 76.7 tonnes
Newcrest Mining produced 76.7 tonnes of gold in 2016, slightly down from the 77.4 tonnes it produced the previous year. The company operates mines in four countries, and says it has one of the largest group gold ore reserves of any company in the world. With an estimated 69 million ounces of gold ore reserves, Newcrest's reserve life was approximately 28 years as of June 2016.
7. Navoi Mining and Metallurgical Combinat
Production: 75.5 tonnes
Navoi Mining and Metallurgical Combinat bumped its production to 75.5 tonnes of gold in 2016 compared to 75 tonnes produced the year before. According to the Uzbekistan-based company, active government support and constant attention from President I.A. Karimov are the primary reasons it has been able to grow into one of the world's largest gold-producing companies.
8. Gold Fields (NYSE:GFI)
Production: 63 tonnes
Gold Fields is a globally diversified gold producer with eight operating mines in Australia, Ghana, Peru and South Africa. In 2016, the company produced 63 tonnes of the metal, a small increase from the 62.9 tonnes it produced in 2015. Gold production for the company in 2017 is expected to be between 2.1 and 2.15 million ounces; this estimate remains unchanged from the guidance Gold Fields provided in 2016.
9. Polyus Gold International (LSE:PGIL)
Production: 61.2 tonnes
Polyus Gold International produced 61.2 tonnes of gold in 2016, slightly higher than its 2015 total, which was 54.8 tonnes. The company is the largest gold producer in Russia and holds over 67 million ounces of proven and probable gold reserves. Its main operations are located in Eastern Siberia and the Far East; those include five operating mines, alluvial operations and several advanced development projects.
As of Q3 2017, Polyus was on track to deliver its production guidance of 2.075 to 2.125 million ounces of gold for the year. The firm also "expects total gold output to increase further to 2.35-2.40 million ounces in 2018 and 2.8 million ounces in 2019." 
10. Agnico Eagle Mines (TSX:AEM)
Production: 51.7 tonnes
Finally, Agnico Eagle Mines made it onto the list of top gold-producing companies with gold production of 51.7 tonnes, a drop from its 2015 output of 52 tonnes. "New operations, along with optimizations at existing mines, are expected to result in production growth from current levels to approximately 2.0 million ounces in 2020, along with a decline in unit costs," Sean Boyd, Agnico Eagle's CEO, commented in a release from the first quarter of 2017.
Check back with us in early 2018 to see which gold-producing companies make the top 10 for 2017.
This is an updated version of an article first published by the Investing News Network in 2015.
Don't forget to follow us @INN_Resource for real-time news updates.
Securities Disclosure: I, Amanda Kay, hold no direct investment interest in any company mentioned in this article.