Montana and North Dakota Oil Exploration and Production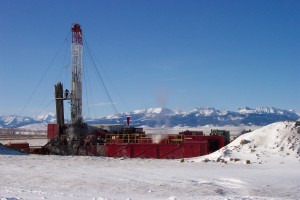 By Dave Brown —Exclusive to Oil Investing News
In 1951 a significant oil discovery was made on the Bakken Formation, which is a very old geological deposit occupying about 520,000 square km of the subsurface of the Williston Basin, covering parts of Montana, North Dakota, and Saskatchewan.  Efforts to produce the oil have historically met with difficulties.
The greatest Bakken oil production comes from the Montana Elm Coulee Oil Field, where production is expected to ultimately total 270 million barrels. Three years ago, production from Elm Coulee averaged 53,000 barrels per day which was more than the entire state of Montana had produced earlier in the decade.
An April 2008 USGS report estimated the amount of technically recoverable oil within the Bakken Formation at 3.0 to 4.3 billion barrels and the state of North Dakota has also released a report which estimated that there are 2.1 billion barrels of technically recoverable oil in the Bakken.
A rekindled oil boom developed in 2007 when EOG Resources (NYSE:EOG) reported that a single well it had drilled into an oil-rich layer of shale below Parshall, North Dakota was expected to produce 700,000 barrels of oil. This combined with oil drilling tax breaks enacted by the state of North Dakota in 2007, shifted exploration activities in the Bakken from Montana to the North Dakota side.
Current Events
Last month, North Dakota overtook Oklahoma's position as the third most active oil drilling jurisdiction in the United States and last year North Dakota similarly eclipsed  Oklahoma to become the fourth largest oil producer in the U.S.  Additional positive news for the oil interests within the region came yesterday, as a recent ruling by the state Public Service Commission will mean Montana oil companies have a better shot at putting their oil in a proposed pipeline from Canada to the Gulf of Mexico.  TransCanada Corp. (TSX:TRP), was seeking multistate approval for a 1,980-mile Keystone XL pipeline, facing political pressure to let Montana and North Dakota crude oil into the pipeline.  The Governor for Montana, Brian Schweitzer issued very optimistic comments, "Montana oil producers who don't have access to a pipeline have to pay as much as $15 to $30 a barrel to ship it by rail.  A pipeline is a much cheaper way to move crude and would make Montana oil more competitive".
Investment Considerations
There are a number of publicly traded oil and gas companies that have drilling rigs in the Bakken region.
Marathon Oil Corporation (NYSE:MRO) holds 336,000 net acres in the Bakken Shale in North Dakota. Peak net production of approximately 22,000 barrels of oil equivalent per day (boepd) anticipated by 2013.  Analysts have pointed out that Marathon Oil has generated an average of 85 percent of its revenue from refining and profit from the upstream division was weighted by taxes and royalties. As a result, the company has traditionally been valued much more like a refiner than a true integrated oil company.  Its price to sales ratio of 0.4 is much closer to the independent refiner multiple than the 0.7 average afforded to the integrated companies that Marathon counts as its peers.
Rosetta Resources (NASDAQ:ROSE) has 239,000 net acres under lease in the Alberta Basin in the Cut Bank field. The company has drilled three test wells here to date and has been encouraged by the results. Rosetta Resources has demonstrated good results at several different formations besides the Bakken, including the Lodgepole, Three Forks and the Nisku. The company will decide how much capital to allocate here sometime during the current quarter.
Primary Petroleum (TSXV: PIE) holds approximately 110,000 net acres in the Alberta Basin Bakken Fairway in western Montana and 20,000 net acres in the Saturn prospect in eastern Montana.  Last month the company announced that it has had significant interest in its Montana prospects and has commenced presentations to potential industry partners.
Brigham Exploration (NASDAQ:BEXP) has nearly 84,000 acres in Montana that the company feels is prospective for the Bakken Shale and Three Forks formation. The company has budgeted for one well in 2010 on its Montana acreage. Brigham Exploration Company said it would test out both the Bakken and Three Forks formation in this well, and that the formations here have properties similar to that of its Rough Rider acreage. The executive management team will be presenting at Enercom's 2010 Oil & Gas Conference in Denver on Monday, August 23.
Continental Resources Inc. (NYSE:CLR) is developing acreage in Montana near the Elm Coulee field. The company has 163,500 acres here and has allocated $43.5 million in capital in 2010 to develop this acreage. Continental Resources recently drilled the Rognas 2-22H, which produced at a seven day average rate of 841 barrels of oil per day.  Earlier this month the company announced solid second quarter results, highlighted by strong, organic production growth and a net income increase. The company's objective is to monetize non-strategic assets and maintain operating and capital discipline in accelerating production growth.
With help from Assistant Editor Vivien Diniz