10 Top Graphite-producing Countries
In 2016, China was the largest graphite producer by a wide margin, followed by India and Brazil. Find out which other countries made the list.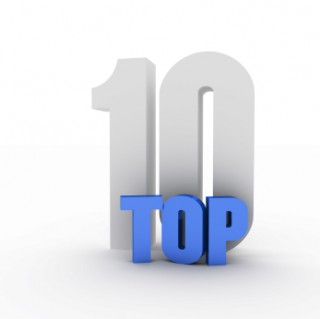 Graphite is an excellent conductor of heat and electricity, and also has the highest strength of any natural material. However, it wasn't until recently that the metal began to gain popularity. 
Interest in graphite is increasing in large part because lithium-ion batteries are becoming more and more common. These batteries are used in everything from phones to electric vehicles, and graphite is one of their key components. As the use of lithium-ion batteries continues to increase, graphite production is only expected to rise.
On that note, it's interesting to look at which countries produce the most graphite. In 2016, China took the top spot, with India and Brazil coming in second and third, respectively. Here's a brief overview of graphite production in those countries and in the other top produers last year. All stats are based on the most recent data from the US Geological Survey.
1. China
Mine production: 780,000 MT
As mentioned, China was the world's largest graphite producer in 2016. It put out 780,000 MT of the metal, the same amount it produced in 2015. According to the US Geological Survey, the country accounted for 66 percent of world graphite production last year, and 35 percent of consumption.
Despite China's stranglehold on the graphite market, investors shouldn't necessarily expect the Asian nation's dominance to continue forever. That's because in recent years the country has made an effort to streamline graphite production, and part of that process has been taking polluting producers offline.
2. India
Mine production: 170,000 MT
India produced much less graphite than China in 2016, but is still the world's second-largest producer of the metal. Its total output last year came to 170,000 MT, the same amount it put out in 2015.
The country's graphite reserves vary widely from state to state — as this Industrial Minerals article shows, Arunachal Pradesh holds 43 percent of India's graphite reserves. The country has eight main graphite producers, including Tirupati Carbon & Graphite, Chotanagpur Graphite Industries and Carbon & Graphite Products.
3. Brazil
Mine production: 80,000 MT
Brazil is the world's third-largest graphite producer, and with 80,000 MT of output in 2016, came in significantly behind India as well as China. As with those two countries, Brazil's 2016 graphite output was flat from 2015.
Little information is available about the Brazilian graphite industry, as the country's top producers of the metal are private. However, ETF.com does state that the country's two largest graphite producers are Extrativa Metalquimica and Nacional de Grafite.
4. Turkey
Mine production: 32,000 MT
Last year, Turkey's graphite output remained steady from 2015 at 32,000 MT. The country produces low-quality amorphous graphite, another Industrial Minerals article states, and production has been irregular over the last few decades. Little other information is available about the country's graphite industry.
5. North Korea
Mine production: 30,000 MT
Graphite production in North Korea stayed even from 2015 to 2016, coming in at 30,000 MT. There is little data on any of the country's mining activities, as per The Wall Street Journal; however, reports suggest that the country's graphite output may not be as high as the US Geological Survey has said.
Overall, North Korea is thought to be sitting on possibly trillions of dollars worth of mineral resources, according to a South Korean research institute. However, the country's mining operations are said to be in a state of neglect.
6. Mexico
Mine production: 22,000 MT
Mexico's graphite production came in at 22,000 MT in 2016, the same amount it put out in 2015. Graphite production in Mexico — mainly centered around the Hermosillo area in Sonora — began as early as the mid-1890s. In the past, Mexico was a globally dominant graphite producer; in fact, during the 1980s, the country was the second-largest graphite producing nation on the planet.
7. Canada
Mine production: 21,000 MT
Canada's graphite production dropped significantly in 2016 to come in at 21,000 MT — that's 9,000 MT less than in 2015. Interest in Canada as a potential source of graphite has been rising for the past few years, particularly since Tesla Motors (NASDAQ:TSLA) said it plans to source the lithium, graphite and cobalt it needs for its Nevada-based lithium-ion battery gigafactory from North America.
Many graphite companies are now working in Canada, with a few being Berkwood Resources (TSXV:BKR) Canada Carbon (TSXV:CCB), Canada Strategic Metals (TSXV:CJC), Eagle Graphite (TSXV:EGA), Focus Graphite (TSXV:FMS), Lomiko Metals (TSXV:LMR), Northern Graphite (TSXV:NGC) and Zenyatta Ventures (TSXV:ZEN).
8. Russia
Mine production: 15,000 MT
In 2016, Russia's graphite output clocked in at 15,000 MT, just as it did in 2015. The country expects to significantly increase its production during the next several years due to the implementation of two investment projects, Dalgrafit and Uralgraphite. As with many of the countries on this list, little further information is available on graphite in Russia.
9. Norway
Mine production: 8,000 MT
Norway's graphite output was flat from 2015 to 2016 at 8,000 MT. All graphite deposits in the country contain flake graphite, and are generally low tonnage. That said, many are in favorable locations — for example, close to the sea or to the electrical grid.
10. Madagascar
Mine production: 8,000 MT
Though listed as number 10 on this list, Madagascar is actually tied with Norway in terms of graphite production. In 2016, it produced 8,000 MT of the metal, up 3,000 MT from 2015. A few companies exploring for graphite in the country are Bass Metals (ASX:BSM), Lithium Australia (ASX:LIT) and NextSource Materials (TSX:NEXT). Click here to learn more about those and other graphite companies in Africa.
This is an updated version of an article first published on Graphite Investing News in 2015.
Don't forget to follow us @INN_Resource for real-time news updates!
Securities Disclosure: I, Sivansh Padhy, hold no direct investment interest in any company mentioned in this article.
Editorial Disclosure: Berkwood Resources, Canada Carbon, Eagle Graphite, Focus Graphite, Lithium Australia, Lomiko Metals and NextSource Materials are clients of the Investing News Network. This article is not paid for content.