Cannabis ETFs – Should You Invest?
Cannabis stocks can be precarious, but what about cannabis ETFs?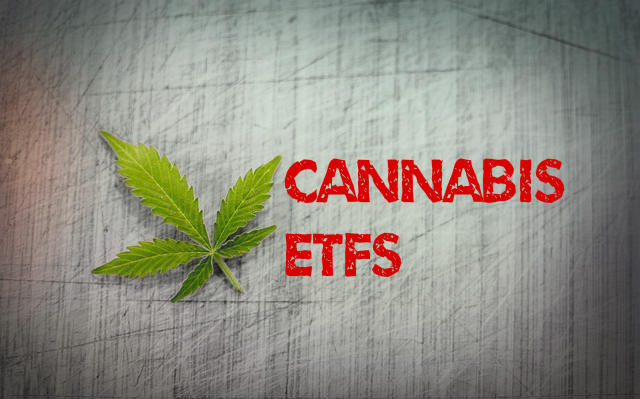 In early 2017, cannabis ETFs didn't exist. Sure, there was speculation, but that's it. Fast forward to today and cannabis ETFs have become a budding industry.
So, what cannabis ETFs are on the market and what are their holdings like? Currently, there are two major cannabis ETFs on the market in Canada, with more on the horizon.
Here, the Investing News Network (INN) takes a look at the two major cannabis ETFs and what they have to offer investors.
What are the cannabis ETFs in Canada?
The Horizons Marijuana Life Sciences Index ETF (TSX:HMMJ; OTC:HMLSF) was the first marijuana ETF on the block, having officially launched on April 4, 2017, and is comprised of 10 different cannabis related stocks.
These include: Canopy Growth Corp.(TSX:WEED), Aurora Cannabis (TSX:ACB), Aphria (TSX:APH), MedReleaf (TSX:LEAF), Scotts Miracle-Gro (NYSE:SMG), GW Pharmaceuticals (NASDAQ:GWPH), Cronos Group (TSXV:MJN), Canntrust Holdings (CNSX:TRST), INSYS Therapeutics (NASDAQ: INSY), and Newstrike Resources (TSXV:HIP).
The Horizons ETF currently has net assets of $633 million and charges a management fee of 0.75 percent plus tax to its shareholders.
Alternative Harvest ETF (NYSE:MJX) is more of an international affair as it currently tracks both Canadian and American cannabis companies on its holding, as well as several other assets from around the world. The ETF was officially incepted back in 2015 however, this is a bit of a misnomer because the fund was previously known as Tierra XP Latin America Real Estate ETF, and as the name suggests, was focused on real estate assets. Alternative was not a cannabis holdings ETF until late December 2017.
Alternative has a number of various cannabis related stocks. Its top ten holdings include many of the same as Horizons: Cronos Group, Canopy Growth Corp, Aurora, MedReleaf, Canntrust, GW Pharmaceuticals, Cannimed Therapeutics, and INSYS. Plus they have Supreme Cannabis (TSXV:FIRE) and Huabao International (HKEX:336).
However, it also holds roughly 20 other stocks, namely in the tobacco and pharmaceutical industries. It's also not limited to Canadian or US-based companies either; in fact, companies from as far away as Denmark are included in the ETF. Therefore, it presents a distinct offering from Horizons that's up to the individual investor. It's also the first cannabis ETF to be sold in the USA. Like Horizons they also charge a management fee of 0.75 percent plus tax to its shareholders.
To diversify or not diversify?
There are benefits on either side of the cannabis ETFs. Legalities present the biggest hurdles when it comes to cannabis. So, keeping with Canadian and American only stocks via Horizons means vulnerability from just two government regulations, as opposed to several nations. For example, an announcement that Attorney General Jeff Sessions would be rescinding non-interference marijuana policies has meant that cannabis companies with US assets could get shut down by federal officers at any time. This has, of course, affected cannabis stocks and made investors wary of marijuana stocks, particularly those with US assets. Therefore, the more countries involved, the greater chance that more announcements like these could come out and decimate stock values.
Then again, risk assessment is very individual. Diversifying with other well established industries such as pharma and tobacco via Alternative might seem like a more stable choice.
How have they performed?
Horizons has fared quite well since inception. Yes, it has had its share of ups and downs, however, those peaks and valleys are much less pronounced than the individual companies the cannabis ETF represents.
Horizons, for example, opened at $10.25 in April and, despite a recent dip, is still holding at $21.64 at the close on January 16, 2018 more than double its original starting price. The full graph can be found here.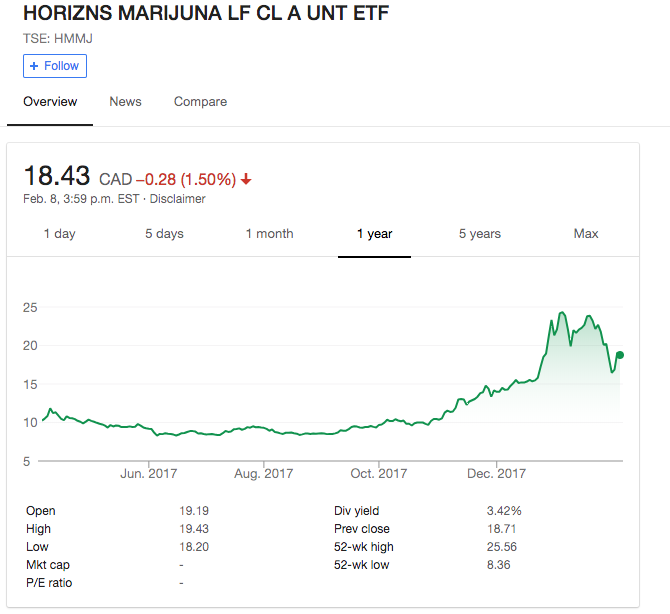 Then again, Alternative Harvest has had a very different level of performance which cannot be compared because it only debuted its cannabis holdings at the end of December. See their chart below: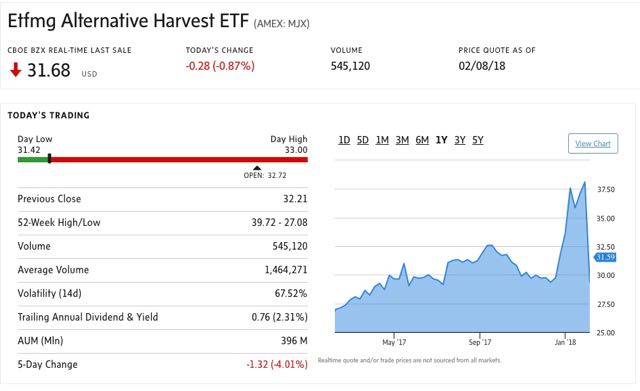 As we can see, the ETF shot up shortly after its cannabis debut. We'll see in the coming months how stable the ETF is and how well it compares with Horizons. The full graph can be found here.
When it comes to the majority of cannabis stocks and ETFs, they seem to experience sometimes extreme swings in price in conjunction with legislative announcements, whether Canadian or American.
Cannabis ETF Outlooks – How will they perform and who might join?
Evolve has plenty of other ETFs and decided to expand into the cannabis market when it announced it had filed a preliminary prospectus with Canadian securities regulators on January 12, 2018. Evolve has applied for the ticker "SEED", and is pitching its product as the first actively managed cannabis ETF.
Rolling off the success with its first cannabis ETF, Horizons Marijuana Life Sciences Index has filed a preliminary prospectus for a second fund, the Horizons Junior Marijuana Growers Index ETF (HMJR). This cannabis ETF differs in that it will include companies with $50-500 million market cap and it will have assets with both Canadian and US operations.
The general sentiment on cannabis investing is bullish, although there is a great deal of buyer beware out there. It's been called a highly speculative market and even a green bubble by some. The great unknown is whether the stocks will soar or sink post legalization. Then there's the question of what will happen when Big Pharma inevitably arrives. There is a great deal of speculation about which way it will pan out but truly, only time will tell.
On the potential of new ETFs launching for the consideration of investors, Horizons ETFs is preparing for the launch of one index entirely focused on smaller cannabis companies. The Horizons Emerging Marijuana Growers Index ETF is set to launch under the ticker symbol HMJR in the Aequitas NEO Exchange.
"HMJR will give investors direct exposure to a growing group of Canadian and global marijuana cultivation and distribution companies," Steve Hawkins, president and Co-CEO of Horizons ETFs said in the company's announcement.
One of the main differences this new ETF will see compared to its fellow Horizons one, is its focus on small-cap companies. The boundaries for companies in this new index will be greater than $50 million in market cap but below $500 million.
HMJR will ask for a payment through an annual management fee of 0.85 percent of the ETF's value in the returns.
Why you might like to invest in a cannabis ETF
To put it bluntly, cannabis stocks have been known for their volatility. Investing in cannabis ETFs gives one an opportunity to invest in the sector, while enjoying a broad exposure, which is intended to offer meditated risk.
Whether you would like to keep your holdings national, international, diversified or siloed, big caps or small caps, soon the choice will be yours for the picking.
Would you invest in a cannabis ETF? If so, which one would you select? Let us know in the comments below.
Don't forget to follow us @INN_Cannabis for real-time news updates.
This is an update by Bryan Mc Govern to an article originally published on the Investing News Network in 2018.
Securities Disclosure: I, Amanda Kay, hold no direct investment interest in any cannabis ETF mentioned in this article.