Overview
Electric vehicles aren't just the hottest trend in Silicon Valley anymore. With wider cultural acceptance in green power alternatives, more accessible technologies and increasingly supportive legislative action, analysts expect this market and the demand for metals that supply it to climb to exponential highs.
In the United States, the government has named lithium a vital component in electric vehicle batteries and a strategic metal of importance. In 2021, President Joe Biden announced a US$2.3 trillion Infrastructure Plan, which outlines the intent to bring electric cars fully to the mainstream with investments of US$174 billion to promote this technology and construct necessary charging stations. This significant spending demonstrates exciting early-mover investment opportunities for lithium production companies and electric industries alike.
Cypress Development (TSXV:CYP, OTCQX:CYDVF) is an advanced-stage mineral exploration company focused on developing its 100 percent owned Clayton Valley lithium project in Nevada, USA. The company's extensive exploration and development have led to discovering a world-class lithium-bearing claystone resource adjacent to the Albemarle (NYSE: ALB) Silver Peak mine, North America's only lithium brine operation.
The company's discovery of the massive resource made Clayton Valley a premium American source of lithium that has the potential to impact the supply of lithium for the fast-growing energy storage battery market.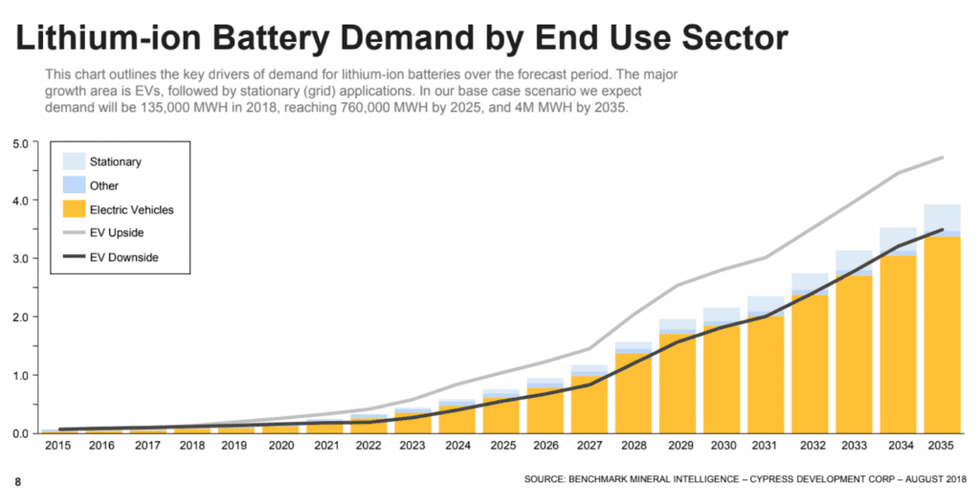 "We're in Nevada and we're in a country that badly needs lithium. We would be the most environmentally friendly project, and the lowest acid consumer. We're able to eliminate sulfuric acid in our process and that would make us an extremely environmentally friendly, large, inexpensive low cost producer in the heart of the United States." said Cypress Development CEO Dr. Bill Willoughby.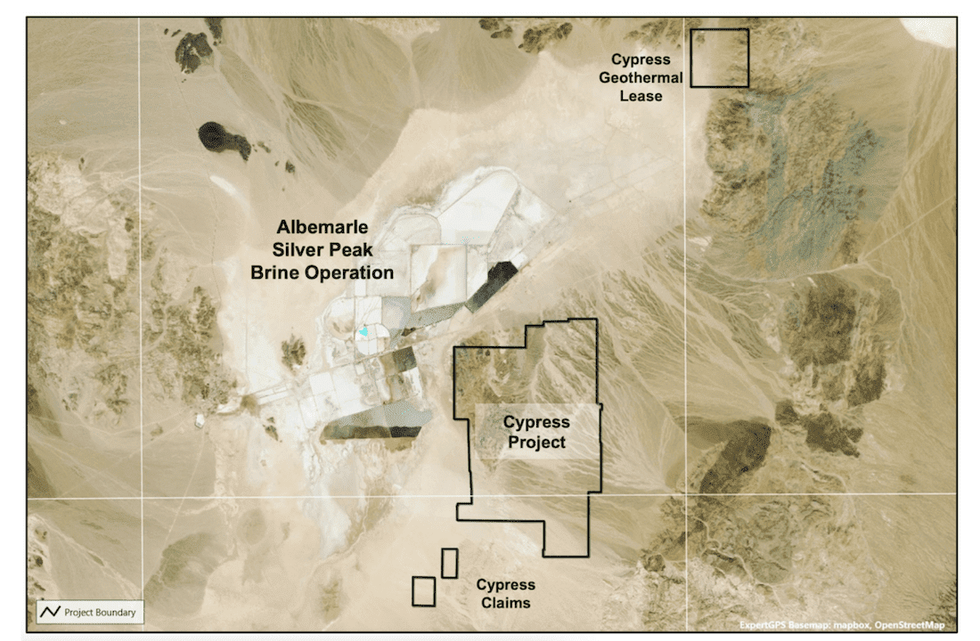 Clayton Valley Lithium Project, Nevada claims map
The company is using environment-friendly mining alternatives through saltwater and hydrochloric acid instead of the traditional fresh water and sulfuric acid method. This significant proposal could mean Cypress will no longer compete for Nevada's scarce fresh water supply for Nevada's freshwater resources for project advancement when it comes time for mining.
In August 2020, Cypress released the results of its pre-feasibility report, which provided a positive snapshot of Clayton Valley's prospective production scope. Probable reserves stand at 213 million tonnes at 1,129ppm lithium with an average annual production of 27,400 tonnes Lithium Carbonate Equivalent (LCE) and a mine life of over 40 years. After-tax IRR stands at 25.8 percent with a CAPEX of CAD$493 million.
"This PFS is a major milestone for Cypress. These positive results take us closer to our goal of developing a world-class lithium deposit. Cypress' land position and resources afford us the opportunity for a long-life project with low operating costs and potential to be a significant source of lithium for the United States," Dr. Willoughby said.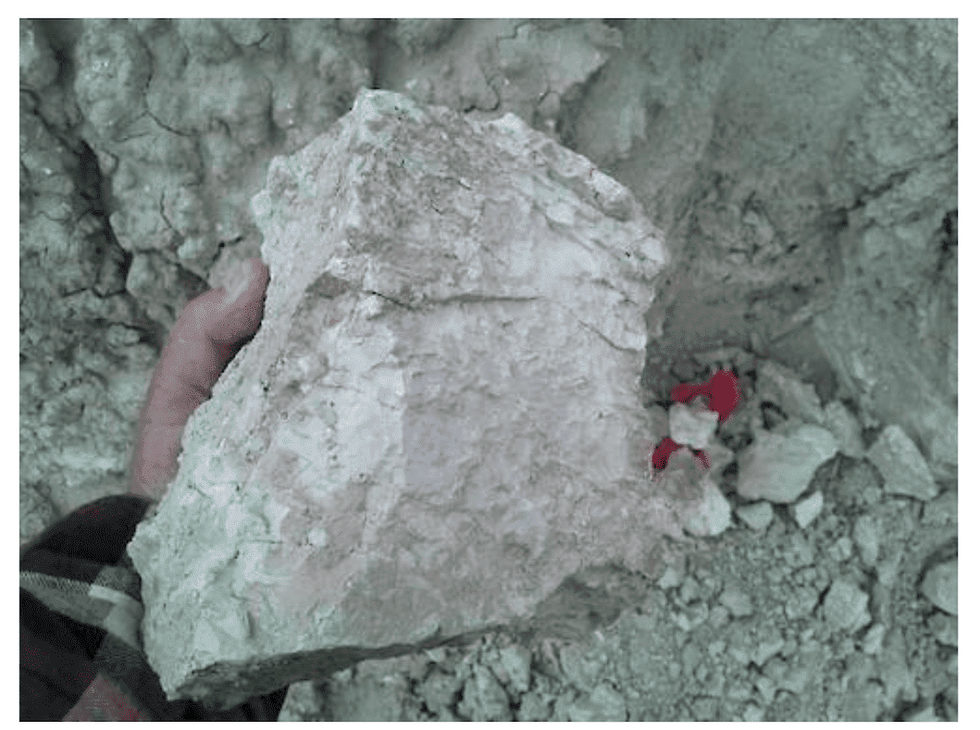 Lithium enriched claystone on surface at Clayton Valley Project, Nevada
The company recently initiated the selection and purchasing of materials to commission a pilot plant and extraction facility for the lithium-bearing claystone from its Clayton Valley Lithium Project in Nevada. The pilot plant is planned to operate at a rate of one tonne/day and will be designed for correct interaction and testing of the major components within the extraction process and assessment of the resulting lithium products.
Company Highlights
Cypress Development is one of a handful of companies that are post-pre-feasibility, advancing towards production. The company is well advanced to become a long-term, low-cost lithium producer with potential expansive international reach.
The Clayton Valley lithium project in Nevada has an extensive surface deposit in a unique setting adjoining Albemarle's Silver Peak brine operation.
Operating out of the prolific Nevada state provides the company with world-class exploration opportunities, mineral-rich geological resources and proximity to the Tesla gigafactory.
In 2020, the company released strong economic standing with its pre-feasibility study, including a probable reserve estimate of 213 million tonnes at 1,129ppm lithium, IRR of 25.8 percent and CAPEX of CAD$493 million.
Cypress possesses very favorable economic and geographic positioning in leveraging a present strong demand for lithium, world-class mining jurisdiction and an advanced stage operation in their flagship Clayton Valley lithium project.
2021 plans include the commissioning of the Clayton Valley lithium project's pilot plant, which could see significant tonnage in lithium and clay production. Cypress is also looking to complete its feasibility study based on the data from this pilot plant operation.
Cypress has acquired 24 unpatented mining claims in Clayton Valley, Nevada bringing the Company's land holdings to 6558 acres in total.
Key Project
Clayton Valley Lithium Project
The 100 percent owned Clayton Valley lithium project spans 5,430 acres in southwest Nevada and sits immediately east of the Albemarle's Silver Peak mine, North America's only lithium brine operation. The asset hosts tremendous potential with Cypress' discovery of a world-class resource of lithium-bearing claystone adjacent to the brine field to the east and south of Angel Island.
Lithium enriched drill core from Clayton Valley Project, Nevada
Lithium mineralization occurs on the property within montmorillonite clays throughout the sediments to a depth of at least 150 meters. Metallurgical testing has indicated low-cost processing possibilities through leaching with low acid consumption of 126 kg/t and high lithium recovery over 85 percent lithium. This lithium claystone deposit's unique large flat-lying nature allows for mining with a low strip ratio due to minimal overburden and no interbedded waste, which is hugely economically advantageous for Cypress.
Future plans for the Clayton Valley lithium project include commissioning of the pilot plant, which Cypress proposes could process one tonne a day continuously in 2021. The company also intends to use the data from the pilot plant towards the completion of the project's feasibility study. Cypress also has the acquisition of water rights for Clayton Valley in the works, which pushes significant advancement in the 2021 and 2022 seasons.
Management Team
William Willoughby, PhD, PE
President, Chief Executive Officer & Director
Dr. Willoughby is a mining engineer with 38 years of experience in all aspects of natural resources development. Since 2014, he has been principal and owner of consulting firm Willoughby & Associates, PLLC. Prior to that, he was President and COO of International Enexco Ltd., which was acquired by Denison Mines in 2014. He previously held various positions with Teck (Cominco). Dr. Willoughby has been a Professional Engineer since 1985 and received his Doctorate in Mining Engineering & Metallurgy from the University of Idaho in 1989.
Abraham (Braam) Jonker, CPA, CA
Chief Financial Officer
Mr. Jonker is an accomplished financial leader in the mining industry with almost 30 years of experience. Mr. Jonker has played a pivotal role in several business recoveries and restructurings, was a key team member in management and at the board level in the strategic growth of a number of public companies and has participated, raised and overseen the raising of more than $750 million in the form of equity and debt instruments in the mining industry. He is a registered Chartered Accountant in British Columbia, (Canada), England, Wales and South Africa. He is also a member of the Chartered Institute of Management Accountants in the United Kingdom and holds a Master's degree in South African and International Tax from the Rand Afrikaans University, South Africa.
Spiros Cacos, MA
Vice President, Investor Relations
Mr. Cacos has over 20 years of investor relations experience working with public mining companies, ranging from early-stage exploration and development to production. Most recently, Mr. Cacos served as Vice President, Investor Relations for First Mining Gold, a Canadian gold development company listed on the TSX and OTCQX, focused on the development and permitting of the Springpole Gold Project, one of the largest undeveloped gold projects in Canada. His prior roles include serving as Vice President, Investor Relations for Group Eleven Resources Corp., a mineral exploration company focused on advanced stage zinc exploration in Ireland, and as Director of Investor Relations for Great Panther Mining Limited (formerly Great Panther Silver Limited), a primary silver mining company listed on the TSX and the NYSE with two mining operations in Mexico. Mr. Cacos holds a Master's degree in International Relations and Diplomacy, from the Schiller International University in Paris, France, and a Bachelor of Arts Degree from Simon Fraser University in British Columbia, Canada.
Corby G. Anderson, PhD, CEng, FIMMM, FIChemE
Technical Advisor, Metallurgy
Dr. Anderson is a registered engineer with nearly 40 years of global experience in industrial operations, corporate level management, consulting, engineering design, research and education and is an expert in the fields of extractive metallurgy, mineral processing, waste minimization and recycling. He holds degrees of BSc in Chemical Engineering from Montana State University, MSc in Metallurgical…
Adam Knight, PE
Project Manager
Mr. Knight is a professional mining engineer, active in the mining industry since 1994. Before joining Cypress, he worked as a consultant and project manager for Practical Mining LLC of Elko, Nevada. He was Vice President Operations for EMC Metals Corp. until 2015. Prior to that, Mr. Knight worked in various operational capacities for Teranga Gold, Premier Magnesia, and AngloGold. He has experience…
Daniel W. Kalmbach, CPG
Manager, Geology
Mr. Kalmbach has practiced geology for over 21 years and has held various positions with private and public companies in the field of geology, including greenfield and generative exploration, development, mining, and environmental science. He has supported and/or authored multiple technical reports on mineral properties. Mr. Kalmbach began his career at Barrick Gold Corp. as a production geologist…
Todd S. Fayram
Technical Advisor, Metallurgy
Mr. Fayram brings over 30 years of metallurgical engineering experience to his role which include extensive diversified experience in the consulting and operating fields of various mining and milling operations across the globe. His industrial experience includes project and construction management; planning, design and engineering of precious and base metal heap leach and milling operations; industrial mineral development and operations, project evaluation for prefeasibility, feasibility and bankable documents; and metallurgical testing and interpretation of numerous mineral deposits. Mr. Fayram has also held positions in mine and process development, construction, expansion, start-up, and operation of numerous mines to include Minefinders-Dolores, American Bonanza Copperstone, Americas Silver-Cosala, Middle Tennessee Zinc-Gordonsville, Getty Copper Getty Project and others. Mr Fayram is a MMSA Qualified Professional in Metallurgy and holds a degree of Bachelor of Science degree in Mineral Processing Engineering and a Master of Science in Metallurgical Engineering from Montana Tech of the University of Montana.
Request an Investor Kit
EXCITING upcoming projects!
IN-DEPTH reliable insights!
SUCCESSFUL growth strategies!
VALUE-BASED content!
Cypress Development