Developing a Diversified Base and Precious Metals Portfolio
This profile is part of a paid investor education campaign.*
Overview
Tartisan Nickel Corp. (CSE:TN) is a Canadian mineral exploration and development company focused developing its nickel-copper-cobalt project in Ontario, Canada as well as on gold, silver, and zinc projects in Peru. Part of the Tartisan Nickel portfolio of holdings consists of an over 20 percent equity stake in Eloro Resources Ltd (TSXV:ELO), including ownership of a 2 percent NSR for the company's La Victoria property. Originally discovered by Tartisan, the La Victoria property lies within a 300 km belt in the Peruvian Andes which hosts 12 operating mines, 9 of which are precious metal and 3 of which are world class producers. Eloro launched a 16-hole drill program on the property's Rufina zone in October 2017, the results of which are expected in January 2018.
Tartisan Nickel also owns a 100 percent stake in the Don Pancho zinc-lead-silver project, located just 9 kilometers from Trevali's (TSX:TV) Santander Mine, which has historical grades of up to 4.4 percent zinc, 3.3 percent lead and 61 g/t silver over 1.15 meters. The third of Tartisan's Peruvian holdings is a 100 percent stake in the Ichuna copper-silver project, contiguous to Buenaventura's San Gabriel property.
Moving beyond Peru, Tartisan has recently signed a Definitive Agreement to acquire Canadian Arrow Mines Limited (TSXV:CRO), a Canadian nickel-copper-cobalt company with two proven resources in Ontario. Through a Plan of Arrangement, a special meeting of Canadian Arrow's shareholders is scheduled to vote on the Tartisan Offer on January 19, 2018. Should the offer be accepted by shareholders, final approval would be obtained in a January 25, 2018 court date.
Canadian Arrow's primary property, the Kenbridge project, has a combined open-pit and underground, measured and indicated resource of 7.14 million tonnes at 0.62 percent nickel, 0.33 percent copper. Canadian Arrow published a PEA for the project in 2008 with a subsequent revised update with an NPV (7.5 percent) of $253 million and have developed strong local relationships with the First Nations communities.
Tartisan Nickel has an experienced management team who are actively engaged in exploring and advancing projects to increase shareholder value. Additionally, the company's shares are tightly held as management owns approximately 6.5 million shares and 60 percent of total shares are held by approximately 10 shareholders. Key shareholders include Palisades Capital, which owns 11.2 million shares.
Company Highlights
Acquisition of Canadian Arrow and its Ontario-based nickel-copper-cobalt properties to close in January 2018.
Canadian Arrow's Kenbridge property has a measured and indicated resource of 7.14 million tonnes at 0.62 percent nickel, 0.33 percent copper.
20 percent stake in Eloro Resources and 2 percent NSR in their La Victoria property with expected drill results in January 2018.
Strong management team with proven experience in advancing projects to production readiness and increasing shareholder value.
Tightly held share structure with 50 percent owned by approximately 10 investors
Canadian Arrow Acquisition
In October 2017, Tartisan announced an agreement with Canadian Arrow Mines to acquire all of their issued and outstanding shares. The terms of the agreement will be approved during a Canadian Arrow Special Meeting on January 19, 2018.
Canadian Arrow Mines owns two advanced nickel-copper projects located in Ontario, Canada, the Kenbridge Project and the Kelex deposit. By incorporating these properties into the fold, Tartisan is diversifying its portfolio and taking advantage of the recent growth in the base metals market.
Similar to the demand for cobalt, the demand for nickel is on the rise as it is a key material in lithium-ion batteries used in electric vehicles. According to Battery University, nickel-based lithium-ion batteries offer the greatest energy densities on the market, making nickel an appealing material for battery manufacturers.
Kenbridge Project
Canadian Arrow's Kenbridge nickel-copper project is located in Northwestern Ontario, 70 kilometers southeast of Kenora. The project has available road access and sits 40 kilometers away from a power grid. The company has also fostered good relationships with the First Nations in the region, positioning the project favorably.
The Kenbridge project was discovered in 1937 and was owned by Falconbridge Ltd. between 1952 and 1958. During that time, Falconbridge conducted significant work including 27,000 meters of drilling, the build of a 600-meter shaft and a bulk sampling program.
The property has also seen a number of metallurgical testing programs that have determined a high recovery rate for both nickel and copper. The deposit—open at depth and along strike—also has traces of cobalt and precious metals.
Kenbridge resource estimate
In 2008, Canadian Arrow published an NI 43-101 resource estimate that outlined a combined open-pit and underground, measured and indicated resource of 7.14 million tonnes at 0.62 percent nickel, 0.33 percent copper. This is supported by an inferred resource of 118,000 tonnes at 1.38 percent nickel and 0.87 percent copper.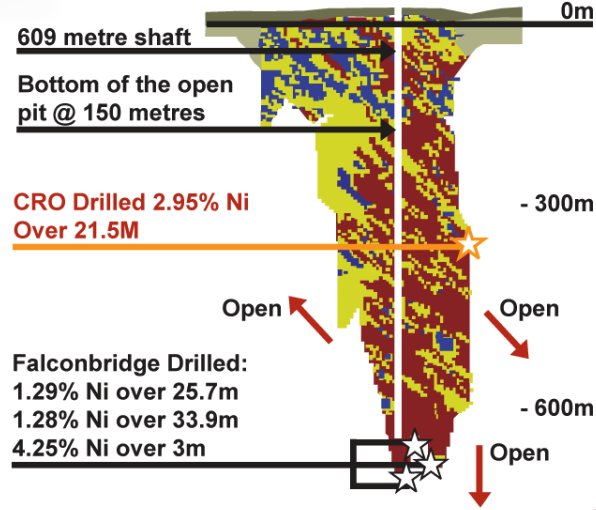 Kenbridge preliminary economic assessment (PEA)
In early 2008, Canadian Arrow also released a PEA for the project, which was updated in September 2008 following the publication of the resource assessment. The updated PEA included the following highlights:
Pre-tax NPV (7.5 percent) of $253 million
IRR of 65 percent
Mine life of 8 years
Mine life recovery of 84.6 million pounds of nickel
Total operating costs of $45.87 per tonne
Once the acquisition is finalized, Tartisan Nickel plans to continue exploration and increase the size of the resource and land package for the Kenbridge project. To further that, the company recently announced that they've expanded the land package around its existing claims on the Kenbridge Nickel-Copper Cobalt deposit.The land package of patented and unpatented claims now encompasses 1,762 hectares. Additionally, the company plans to redo the PEA, advancing the economics of the project forward.
Don Pancho Property
The wholly-owned Don Pancho property is located in the central region of Peru, nine kilometers west of Trevali Mining's Santander mine, which has a measured and indicated resource of 3.8 million tonnes grading 4.85 percent zinc, 0.83 percent lead and 1.23 oz/t silver and an inferred resource of 12 million tonnes at 4.22 percent zinc, 0.23 percent lead and 0.56 oz/t silver. The 600-hectare property sits upon a polymetallic trend which also includes the world class Iscaycruz and Yauliyacu mines, operated by Glencore (LSE:GLEN). The project is supported by existing mining infrastructure, including gravel access roads, and it sits nearby the Tingo hydroelectric plant.
Historical exploration
The Don Pancho deposit was first identified in 1997 and was acquired by application in 2007. To date, $1.5 million has been spent on exploring the property, including extensive surface mapping and sampling. Additionally, a previous owner, Stellar Mining, also conducted a 2,021-meter diamond drilling program across six holes, all of which intersected zinc-lead-silver mineralizations. Results from this drilling program included grades of up to 4.4 percent zinc, 3.3 percent lead and 61 g/t silver over 1.15 meters and outlined an 800 meter by 200 meter exposed breccia zone on the property.
Upcoming exploration plans
Following the acquisition of the property in March 2017, Tartisan announced that it had contracted GEADES Consulting SAC to develop the documents necessary to complete an environmental impact assessment report on the property. Once these are put together, the company will submit the report to the Ministry of Energy and Mines in Peru as part of its application for a drill permit. This permit would allow for up to 20 drill pads and an exploration adit of up to 50 meters.
Having analyzed the work conducted on the property to date, Tartisan believes that the next round of exploration should be conducted with drilling at right angles of the previous holes.
"The Company is excited to start a new phase of exploration targeting lead-zinc-silver mineralization along this extensive altered brecciated zone," said Tartisan CEO Mark Appleby. "Besides being located in a prolific polymetallic belt, having a better understanding of the structural controls for locating new mineralized zones and the recent renewed interest in zinc, the Don Pancho Property is a great opportunity for our company."
La Victoria
Tartisan's portfolio also includes a 20 percent equity stake (6 million common shares) in Eloro Resources Ltd. Eloro's flagship property is the 8,930-hectare La Victoria gold-silver property, which was previously owned by Tartisan from 2009 until late 2016. Eloro acquired the property from Tartisan and, as part of the agreement, Tartisan holds a 2 percent net smelter royalty (NSR) on the La Victoria project.
Located in Central Peru, the property sits within a 300-kilometer andean belt which hosts world-class, low-cost gold producers including Tahoe Resources Inc (TSX:THO) and Barrick Gold Corp (TSX:ABX). It is supported by excellent infrastructure including road access, water supply and an industrial power corridor. While the property has been privately owned for 30 years, it has never been drilled until now as Phase I with two drills on the property is currently ongoing with results expected in January 2018.
In March 2017, Eloro announced a $5 million option agreement with Cott Oil and Gas Ltd, whereby the latter now has a 25 percent interest in the La Victoria property. The earn-in completion date for this agreement is July 31, 2018.
Mineralization on La Victoria
The La Victoria property is made up of nine registered mining concessions and has shown five primary mineralization zones that have been the focus of Eloro's exploration activities: San Markito, Rufina, Victoria, Victoria South and Ccori Orcco.
The vein systems on the property measure between 20 meters to 70 meters wide and up to 500 meters long, running in a northwest to southeast direction.
Since acquiring the property at the end of 2016, Eloro has conducted a series of geological mapping, geophysical survey and sampling activities. Results from the sampling program included 0.8 g/t gold and 229 g/t gold over 3.5 meters in the San Markito zone; 20.5 g/t gold over 0.4 meters and 14.4 g/t gold over 0.5 meters in Rufina; 8.4 g/t gold over 1.2 meters in Victoria; and 13.66 g/t gold over 1.1 meters and 33.02 g/t gold over 0.3 meters in Victoria South. These results helped to further identify the drilling targets for the company's first phase of drilling.
Drilling program
As part of their work in determining the size of the La Victoria resource, Eloro has identified four drilling targets distributed across the San Markito, Rufina, Victoria and Victoria South zones.
Having obtained a use of water permit from Peruvian regulatory officials, Eloro kicked off its drilling program in October 2017 on the Rufina zone. The program included 16 holes, totalling 3,500 meters, with each hole measuring 150 meters to 280 meters. Results from this first drilling program are expected in mid to late December 2017.
Management
D. Mark Appleby—President and CEO, Director
Mark Appleby was appointed President and Chief Executive Officer and a member of the Board of Directors of Tartisan Nickel Corp. in December 2010. He has over 30 years of experience in a variety of disciplines relating to investment banking, corporate finance and the capital markets. His career began in 1983, where he served as an intern at Manulife in the equity and fixed income departments. In 1987 he joined First Boston Canada Ltd, where he reached the position of Vice-President-Bond Trading. Subsequently, Appleby has worked as an investment executive with Scotia Mcleod Inc., and is co-founder of The Atlantis Group, a Company specializing in a variety of disciplines including the resource sector. Mr. Appleby was also a Director of Guyana Goldfields Inc (TSX: GUY) for five years.
Dan Fuoco—CFO
Dan Fuoco, is the Chief Financial Officer of Tartisan Nickel Corp. He is also currently CFO of Northern Sphere Mining Corp., (C:NSM). From 1998 to 2011 he held various positions at Magna International Inc. and MI Developments Inc. including Finance Director, Special Projects Chairman's Office/Vice Chairman's Office. Prior to that, he was Senior Manager, Financial Audit at Deloitte & Touche Toronto office from 1986 to 1998. Fuoco is a Chartered Accountant and has a Bachelor of Business Administration Degree from the Schulich School of Business York University, Toronto, Ontario.
Yves P. Clement, PGeo—Director
Yves Clement is a professional geologist with over 28 years' experience in the generation, evaluation and development of a wide variety of mineral resources hosted by a broad spectrum of geological environments in Canada, South America and West Africa. He has held Exploration Manager and VP, Exploration positions in several countries, and has extensive joint venture generation / project management experience and hands-on exploration experience in Archean / Proterozoic greenstone and Andean Cordillera settings.
Clement is currently VP, Exploration of Xtra-Gold Resources Corp. (TSX: XTG), a junior mineral exploration company focused on gold exploration in Ghana, West Africa. Yves is fluent in Spanish and has extensive exploration / project management experience in Latin American countries, including: Peru, Chile, Colombia, Ecuador, Venezuela, and Mexico. Prior to joining Xtra-Gold, he was VP, Exploration of Ginguro Exploration Inc. (TSX-V: GEG) and VP, Corporate Development of Golden Sierra Resources Corp, where he was responsible for the generation of precious and base metal exploration opportunities in Chile and Ecuador. He received a Geological Engineering Technology diploma from Cambrian College of Applied Arts and Technology, Sudbury, Ontario; and is a member of the Association of Professional Geoscientists of Ontario ("APGO").
Denis Laviolette, BSc—Director
Denis Laviolette is an intermediate level mining and exploration professional with approximately 10 years of experience in exploration, advanced mine operations, start-up mine management, QA/QC, grass roots exploration, financing and acquisitions, working in Northern Ontario (Timmins, Kirkland Lake and Red Lake), Norway and Ghana. He is also experienced with respect to GIS, 3D-modeling, resource delineation/estimation and large scale regional target delineation and production work, with a focus in Archean meso-thermal gold terranes and structural geology. He is currently applying for APGO (Association of Professional Geoscientists of Ontario) membership. Laviolette received his BSc, Earth Science (Geology) from Brock University, in St Catharines, Ontario. He is currently employed with Brownstone Energy Inc in Toronto and is also a director of Xtra-Gold Resources Corp. (T:XTG) and Northern Sphere Mining Corp. (C:NSM).
Douglas M. Flett, JD—Director
Douglas M. Flett graduated from the University of Windsor Law School in 1972 and was called to the (Ontario) Bar in 1974. He practiced in his own corporate-commercial law firm until 1996 when he retired from practising law for a career in the resource industry. He continues to be a member of the Law Society of Upper Canada. He has been a Director of KWG Resources Inc (KWG:CNSX) since 2006. He is a past Director of Kenora Prospectors & Miners Ltd, and is past President and currently a Director of Fletcher Nickel Inc and a Director of Debuts Diamonds Inc. Flett is a member of the Compensation and Audit Committees for Tartisan Nickel Corp. He has completed the Rotman Institute of Corporate Directors SME Program.
---
*Disclaimer: The profile provides information which was sourced and approved by Tartisan Nickel Corp. in order to help investors learn more about the company. Tartisan Nickel Corp. is a client of the Investing News Network (INN). The company's campaign fees pay for INN to create and update this profile page, to which links are placed on Investingnews.com and channel newsletters.
The company description, investment highlights and catalysts were sourced by INN and approved by the company. INN does not guarantee the accuracy or thoroughness of the information contained on this page.
INN does not provide investment advice and the information on Investingnews.com profile should not be considered a recommendation to buy or sell any security.
INN does not endorse or recommend the business, products, services or securities of any company profiled.
Readers should conduct their own research for all information publicly available concerning the company.