This profile is part of an investor education campaign. The profile provides detailed information which was sourced and approved by Strongbow Exploration Inc. in order to help investors make better investment decisions. The Company's support of Investing News Network ensures we can continue to bring you unbiased, independent news and information.
Resource Investing News Featured Stock
Overview
Strongbow Exploration (TSXV:SBW) is a Canadian mineral exploration company building a portfolio of strategic metals assets in North America and the United Kingdom. The company's cornerstone property is the South Crofty tin project, one of the world's highest-grade tin resources, located in Cornwall, UK. The project has the potential to be the only high-grade tin producer in Europe; tin is designated as a strategic metal by the European Union.
Strongbow is fast-tracking toward production at South Crofty following the release of a positive preliminary economic assessment in 2017. The company has permits in place including a mining permit that doesn't expire until 2071 and a permit to build a new processing facility on site. Water treatment trials were recently completed and the company is preparing the water discharge permit application and expects to receive the permit by end of the summer. Strongbow expects to receive this final permit in mid-2017 which will allow the company to move forward with its production plans beginning with the construction of the water treatment plant to aid in dewatering the mine.
The tin market is experiencing a growing supply/demand imbalance, pushing the price of the metal up 50 percent last year to approximately US$20,000 per tonne (US$9.09 per pound) by January 2017. Nearly 50 percent of worldwide tin consumption is attributed to the high-tech electronics industry and new research is underway focusing on the use of tin in the anodes of lithium-ion batteries as well as in new generation solar panels. Based on increased demand and a lack of new supply in the market, analysts are projecting the price of tin will reach US$22,000 per tonne by 2020.
In addition to South Crofty, Strongbow's portfolio includes interests in exploration properties prospective for gold, tin, and nickel. Through its strategic alliance with Osisko Gold Royalties, the company acquired royalties in the Cantung (1 percent) and Mactung (4 percent) tungsten properties located in Yukon and Northwest Territories.
The Cornwall region is highly prospective for the discovery of commercial quantities of lithium in hot spring brines. Strongbow signed an agreement in January 2017 to allow the privately-held Cornish Lithium Limited to explore for lithium in hot springs on all the company's mineral rights.
In addition to South Crofty, Strongbow's portfolio includes interests in exploration properties prospective for gold, tin, and nickel. Through its strategic alliance with Osisko Gold Royalties, the company acquired royalties in the Cantung (1 percent) and Mactung (4 percent) tungsten properties located in Yukon and Northwest Territories.
Strongbow Exploration's management and board is stacked with award-winning mining industry leaders including Chairman D. Grenville Thomas, 2009 Canadian Mining Hall of Fame inductee, Founder Aber Resources (Diavik Mine); Director John Burzynski, Prospector of the Year 2007, Northern Miner's Mining Men of the Year 2009, CEO of Osisko Mining and Director of Osisko Gold Royalties; Director Patrick Anderson, Northern Miner's Mining Men of the Year 2009, co-founder Dalradian Resourcers; and Director Ron Netolitzky, Canadian Mining Hall of Fame 2015.
Investments Highlights
100-percent ownership of the South Crofty tin project, UK.
High-grade Mineral Resource and known metallurgy in low risk jurisdiction with mine license valid until 2071.
Excellent potential to significantly increase the Mineral Resource base.
PEA published February 2017.
Planning permission to construct a new process plant on site.
Water discharge permit anticipated for summer 2017—final permit needed to move project toward production.
Portfolio of tin, gold, and nickel assets in the UK and North America.
Holds royalty on the Cantung and Mactung tungsten assets in Yukon / NWT, Canada.
Intends to explore an AIM listing in 2017.
Tight share structure: management/directors, 13.2 percent; Osisko Gold Royalties (TSX:OR), cornerstone shareholder, 24 percent.
Tin price expected to rise alongside ITRI-projected growth tin supply deficit over next 4 years.
Flagship Project: South Crofty Tin Project, United Kingdom
Strongbow Exploration's 100-percent owned South Crofty tin project is located in the Central Mining District of Cornwall, in south west England. Tin mining in this region dates back to 2,300 B.C. Large-scale production at South Crofty first started in the mid-1600s. The mine has been in operation intermittently since then, with the last closure in 1998 coming after a prolonged period of depressed tin prices. Historical production between 1700 to 1998 totaled over 400,000 tonnes of tin from the Central Mining District.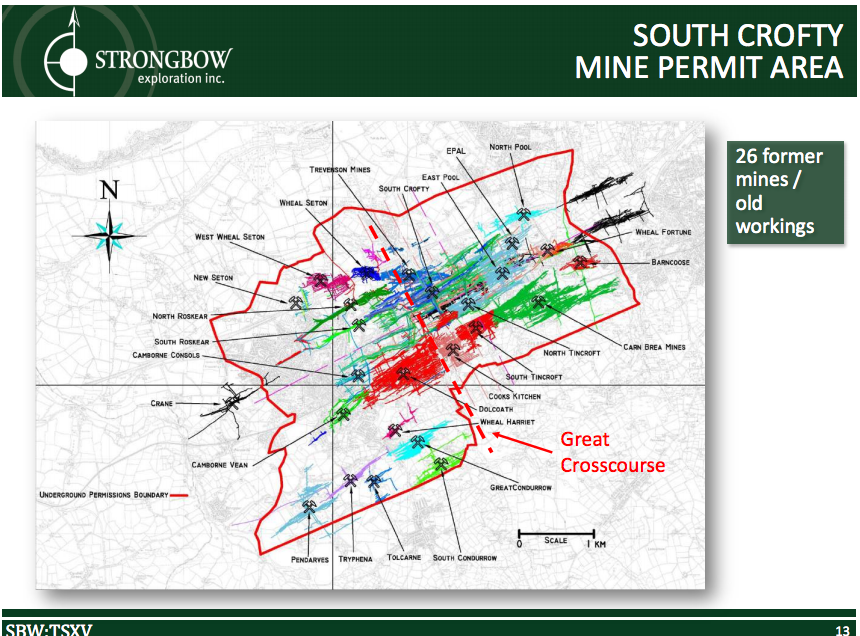 Recent efforts to revive operations at South Crofty include securing the current mine permit as well as a site for future construction of new processing facilities. The Underground Mine Permission area covers 1,490 hectares and includes twenty-six former producing mines. Current infrastructure on the property includes three usable vertical shafts and a partially completed 300-meter decline from surface. Today, a typical 1,000-meter deep shaft would cost an estimated $40 million to sink. Regional infrastructure includes excellent access to power, roads and rail. The process plant site is adjacent to the railway line and accessible grid power. The South Crofty project is in close proximity to the internationally-recognized Camborne School of Mining.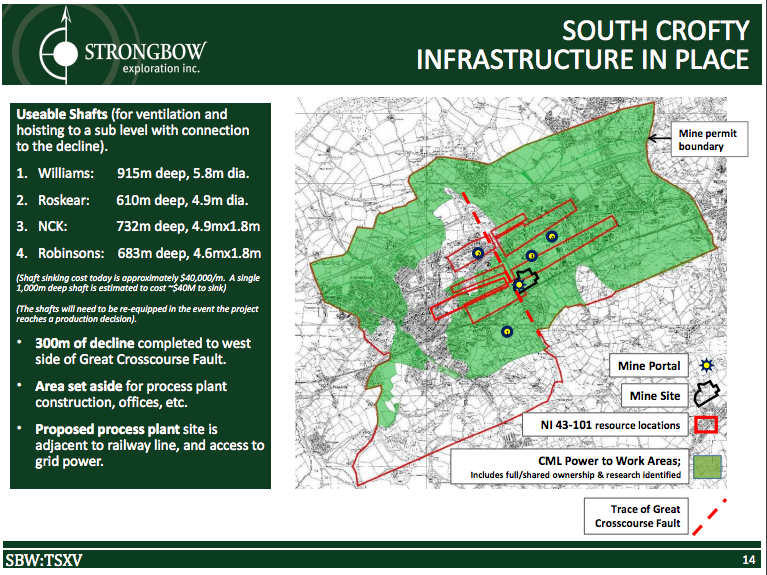 South Crofty mineralization occurs in laterally extensive lode structures with some over 5 kilometers long covering several kilometers of strike length and extending to a vertical depth of at least 1,000 meters.
2016 NI 43-101 Mineral Resource Estimate
The 2016 Mineral Resource Estimate for South Crofty is split into two sections: the Lower Mine with tin only resources and the Upper Mine with polymetallic resources including copper and zinc.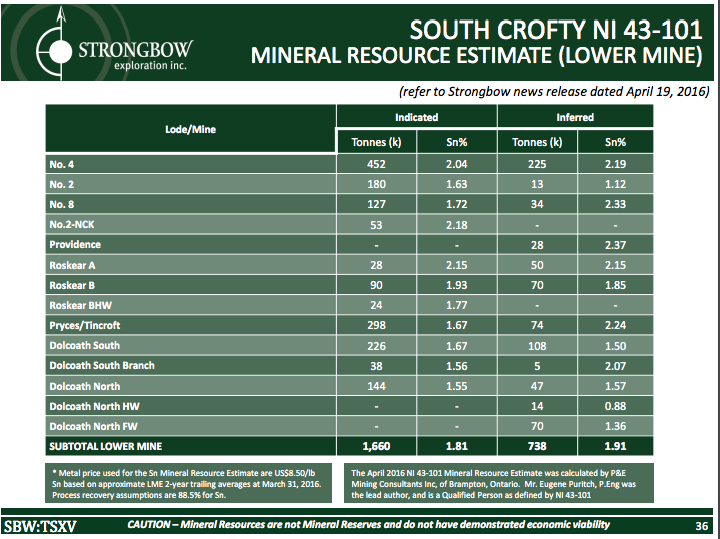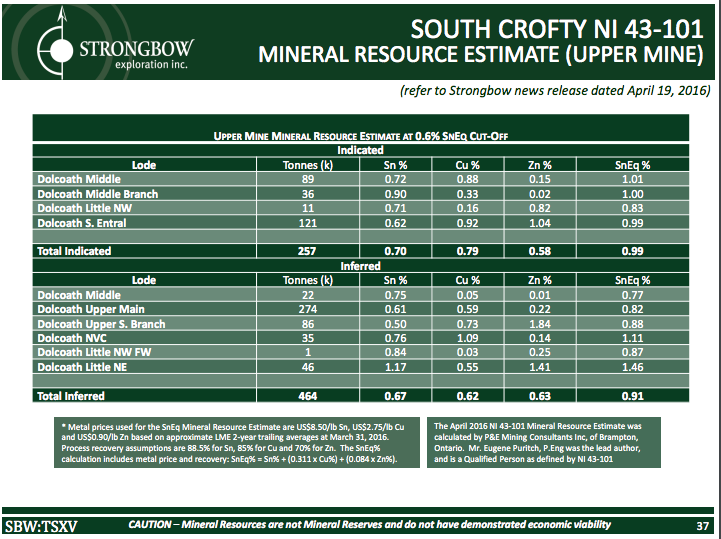 2017 Preliminary Economic Assessment
Strongbow Exploration completed a positive Preliminary Economic Assessment (PEA) on South Crofty in February 2017. Highlights from the PEA include:
Base Case assumptions US$10/lb tin price / 5-percent Discount Rate
Pre-tax Net Present Value $165.9 million
After-tax Net Present Value $130.5 million
Internal Rate of Return 23.4 percent
Pre-production CAPEX $118.7 million
Payback period of 3.8 years
Life of Mine (LOM) sustaining CAPEX $83.8 million
Mine Life of 8 Years
Average LOM cash cost $3.36/lb tin equivalent
Average LOM all-in sustaining cash cost $4.44/lb tin equivalent
Mineralized material mined 2.575 million
Average grade 1.55 percent tin equivalent
Near-term production with water discharge permit process underway
The Mine Permit for South Crofty is in place and valid until 2071. Strongbow Exploration is preparing the water discharge permit application and expects to receive the permit by the end of the summer 2017. Once the permit is in place, the company can begin the 18 to 24-month process of dewatering the mine in preparation for commencing production at South Crofty.
Strongbow has been working with the Environment Agency on water treatment trials to meet the agency's standards for water discharge quality. The company plans to build a permanent water treatment facility capable of treating 10,000 cubic meters of mine water per day, and a second 15,000 cubic meter per day temporary plant. The water treatment plant will offer a permanent environmental solution to the untreated mine water already discharging into the nearby Red River.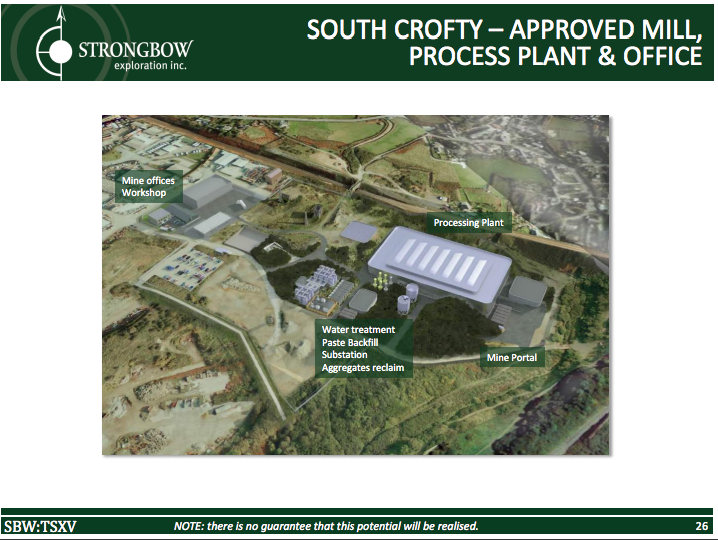 Strongbow is projected construction of the water treatment plant to begin in the second half of 2017 with dewatering of the mine to commence in the first quarter of 2018.
Grade Comparison with Other Tin Projects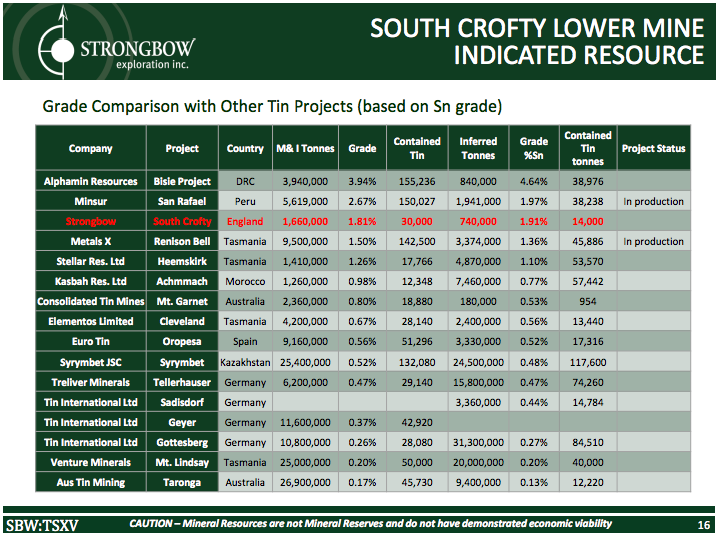 South Crofty Exploration Upside
Excellent potential to significantly increase the Mineral Resource base with a number of targets that remain open along strike and open to depth.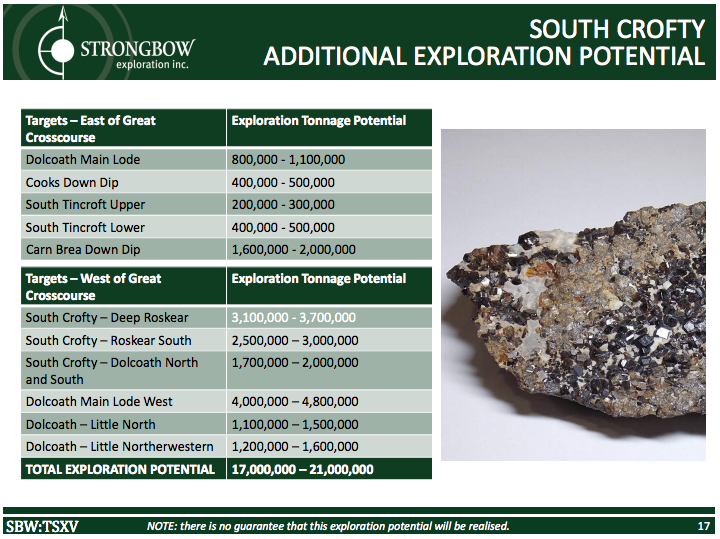 Management
Grenville Thomas, Chairman
Grenville Thomas has over 50 years' experience in the mining industry, during which time he has built an impressive track record of discovery, most notably the world-class Diavik diamond mine and the Thor Lake rare metals deposit. He was the founder (and held positions of Chairman, President and Director) of Toronto-based Aber Resources (now Dominion Diamond Corp.). Thomas is also Chairman, CEO and Director of North Arrow Minerals; President, CEO and Director of Westhaven Ventures; and Chairman of Helio Resource Corp. His discoveries have earned him many honors, including "PDAC Prospector of the Year" for 1999; "Man of the Year" by The Northern Miner newspaper (2001); and in January of 2009 he was one of four individuals inducted into The Canadian Mining Hall of Fame.
Richard Williams: President, CEO & Director
Richard Williams is a Professional Geologist with a B.Sc (Hons) degree in Geology from Portsmouth University, and a Masters degree in Mineral Exploration from Queen's University, Ontario. He also serves as CEO of Helio Resource Corp, an exploration company with a gold project in Tanzania. He has over 25 years of experience in the mining and mineral exploration sector principally in southern Africa, and south and Central America. Williams has spent the last 12 years in public company corporate management, and has developed a wide network of business and financial contacts.
John Burzynski, Director
John Burzynski, P.Geo., is the President and CEO and a Director of Osisko Mining Corporation. He is also a Director with Osisko Gold Royalties Ltd. He has over 25 years' experience as a professional geologist on international mining and development projects, including work from acquisition to production on Canada's largest gold mine, Canadian Malartic. He was one of the three founding members of Osisko Mining Corporation, and was also a founding member of EurAsia Holding AG and EurAsia RH, a private European resource investment group. He was a co-winner of the Prospectors and Developers Association of Canada's "Prospector of the Year Award" for 2007, and among other awards was named as one of the "Mining Men of the Year" for 2009 by The Northern Miner. He is also a member of the Board of Directors of Condor Petroleum Incorporated.
Patrick Anderson, Director
Patrick Anderson is an exploration geologist, entrepreneur and business executive with 20 years of experience working in the resource sector. After graduating with a geology degree from the University of Toronto, he moved to Venezuela to work as the resident project geologist on a successful kimberlite exploration program. Since then, he has been a consulting geologist on gold, base metals and diamond projects for junior explorers, major producers and mineral industry consulting firms in South America, North America and Europe. Anderson was a director, President, Chief Executive Officer and co-founder of Aurelian Resources Inc., which discovered a 13.7 million-ounce gold deposit in 2006 and was acquired by Kinross Gold in 2008. He is currently CEO of Dalradian Resources. He sits on the board of Osisko Mining Inc. He was named Mining Man of the Year by The Northern Miner in 2009 and received the PDAC's Thayer Lindsley award for an international mineral discovery in 2008.
Ron Netolitzky, Director
Ron Netolitzky has over 40 years' experience in mineral exploration, achieving exploration success on three major gold deposits, which have subsequently been put into production: the Eskay Creek, Snip and Brewery Creek mines. He holds a B.Sc. degree from the University of Alberta and a Master of Science degree from the University of Calgary, both in Geology. He served as President and CEO of Santoy Resources, is currently a Director of Eros Resources Corp, and a Director of Skeena Resources Corp, and has served as director on numerous other publicly listed exploration companies.
Ken Armstrong, Director
Ken Armstrong has over 20 years of experience in the exploration industry, a decade of which, from 2005-2015, was spent President and CEO of Strongbow. Previously he worked as a geologist for a number of companies including Rio Tinto, Aber Resources (now Dominion Diamond Corporation) and Navigator Exploration. Armstrong currently serves as President, CEO and Director of North Arrow Minerals Inc. He is a graduate of the University of Western Ontario (1992) and Queen's University (1995) and is a registered Professional Geoscientist in the Province of Ontario.
Zara Boldt, CFO
Zara Boldt is a professional accountant (CPA, CGA) with over fifteen years' experience in the mineral exploration and development industry. Most recently, she served as the CFO for Kaminak Gold, which was acquired by Goldcorp in 2016. Prior to Kaminak, she was CFO of Stornoway Diamond Corporation where she was a member of the senior management team responsible for arranging financing for the development of the Renard Diamond Mine in Quebec. She also served as a director and Chair of the Audit Committee of Troon Ventures Ltd. between 2007 and 2014 when Troon completed a business combination with Grenville Strategic Royalty Corp.
Owen Mihalop, COO
Owen Mihalop, MIMMM, C.Eng., has 20 years' experience in the mining industry, ranging from grass-roots geological exploration through to production mining. He started his career as an exploration geologist and then gained experience in mining engineering and production in both open pit and underground mines, following which he became a mining consultant specializing in feasibility studies, project management and project evaluation, gaining broad experience of the mining industry as a whole. In recent years he has concentrated on project development, advancing projects in Europe and Africa towards production.