This profile is part of an investor education campaign. The profile provides detailed information which was sourced and approved by Lithium Chile Inc in order to help investors make better investment decisions. The Company's support of Investing News Network ensures we can continue to bring you unbiased, independent news and information.
Resource Investing News Featured Stock

Lithium Chile Inc. — Exploring High-Grade Lithium in the Lithium Triangle
Overview
Lithium Chile Inc (TSXV:LITH) is a resource company currently exploring 15 wholly-owned lithium-rich properties in the Chilean portion of the lithium triangle. Located in Northern Chile, the Lithium Chile properties make up a collective 134,200 hectares and are all located within a 300-kilometer radius of the Atacama salar, which hosts the largest lithium from brine production in the world. Lithium Chile is currently conducting preliminary exploration activities on four of its properties.
The lithium triangle is a region that covers areas of Northern Chile, Northwestern Argentina and Southwestern Bolivia and includes the Atacama, Olaroz and Uyuni salt flats. Responsible for 54 percent of global lithium resources, it also represents three jurisdictions with contrasting approaches to lithium exploration. While Bolivia has barely scratched the surface of their lithium resource and Argentina has only recently ramped up exploration activities following the introduction of a more mining-friendly government, Chile has purveyed a strong lithium market for many years. Chile is also far ahead of both other countries when it comes to ease of doing business, levels of corruption, cost of production and facilitating entry for foreign companies.
Lithium Chile entered this lithium-rich region in 2015 with the staking of their 11 properties and immediately conducted a surface sampling program of which all samples ranged from 400 ppm lithium to 1,400 ppm lithium. With these results, the company established five target properties—Coipasa, Helados, Atacama, Talar and Turi—which are currently undergoing geophysical surveys. Following this, an initial drilling program is targeted to start in December 2017 and Lithium Chile expects to release initial resource estimates by the end of the year.
The company announced the completion of its second tranche of private placement funding in October 20, 2017, with total proceeds of C$4 million between the first and second tranches. Following further interest from European investors, Lithium Chile announced a third non-brokered private placement on October 30, 2017 for a maximum 7.6 million units at $0.46 per unit, which was also fully subscribed.
Lithium Chile is led by a strong management team with over 100 years of experience between its members and unprecedented knowledge of the Chilean jurisdiction. Collectively, management also holds 63 percent of the company's shares.
Investment Highlights
15 Chilean lithium-rich properties making up 134,200 hectares in the lithium triangle
Near-surface lithium brines with highs of 525 mg/L to 1,410 mg/L on five properties
Moderate magnesium to lithium ratios of 3.4 to 8.8
Conducting geophysical surveys on the top five properties
Plans for drilling at top five projects in December 2017
Initial NI 43-101 resource estimates expected by mid 2018
Debt-free and $7.5 million in private-placement funding
Low valuation compared to peer group
Experienced management team with over 100 years of experience and strong Chilean connections
Tightly held share structure with 63 percent of shares held by management team
Property Portfolio in the Lithium Triangle
In 2015, Lithium Chile staked claims on 15 lithium properties totaling 134,200 hectares in Northern Chile, all within a 300-kilometer radius of the Atacama salar. The wholly-owned properties (Coipasa, Turi, Helados, Talar, Norte, Ollague, Carcote, Ascotan, Atacama, Los Morros, Mariposas, Aguilar and three additional properties purchased in November 2017) are high-value lithium prospects and some were previously held by Barrick (TSX:ABX,NYSE:ABX), Newmont (NYSE:NEM) and SQM (NYSE:SQM).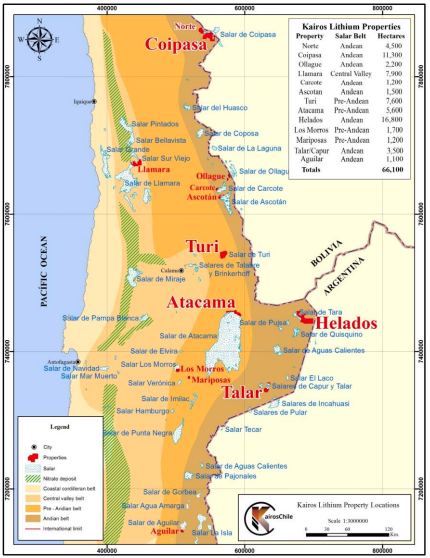 At only $3.00 per hectare, the staking costs of the properties totaled $162,000 and maintenance costs for all projects remain low. There are also no outstanding work commitments on any of the properties. Since the acquisition, Lithium Chile has conducted sampling on all the projects and this effort helped establish the target properties for geophysical surveys: Coipasa, Turi, Helados and Talar. While the geophysical analysis of these four projects is underway, Lithium Chile is looking to commence drilling of up to 4,000 meters on their targets by December 2017, with initial NI 43-101 resource estimates expected by mid 2018.
Exploring the top five properties
Coipasa is a 11,300-hectare property on an Andean salar belt and on the border of Northern Chile and Bolivia. Lithium Chile currently controls approximately 90 percent of this prospect. Preliminary exploration shows a range of results measuring 310 mg/L to 1,410 mg/L lithium.
The Helados project is made up of 16,800 hectares and sits on the border of Chile and the northwest corner of Argentina, on an Andean salar belt and less than 100 kilometers from the Atacama salar. Preliminary exploration has produced results ranging from 390 mg/L to 1,280 mg/L lithium. The property also hosts a lake where water samples tested 1,100 ppm lithium.
The Atacama project is a 5,600-hectare property which sits on the border of the Atacama salar, just over 30 kilometers away from the Chilean border with Argentina. Near-surface samples from recent exploration work on the property have shown samples of up to 1,330 mg/L lithium, grades that are comparable to production grades at SQM and Albemarle Salar de Atacama plants.
Talar is a 3,500-hectare project that sits on an Andean salar belt, less than 40 kilometers away from the Chile and Argentina border. The project's preliminary exploration results range from 290 mg/L to 740 mg/L lithium.
The Turi property is located on a pre-Andean salar belt, approximately 50 kilometers from the city of Calama and less than 40 kilometers from the Chilean border with Bolivia. Made up of 7,600 hectares, the property has shown preliminary exploration results of 260 mg/L to 525 mg/L lithium. Two hydrothermal springs are also located on the property with grades of 175 ppm lithium in the water.
Preliminary results have also shown promising salar chemistry with moderate magnesium to lithium ratios ranging between 3.4 and 8.8.

Results from the ongoing geophysical surveys are expected prior to November 2017, when Lithium Chile is slated to commence their drilling program. The goal of the program is to delineate NI 43-101 compliant lithium resource estimates for the projects by the second quarter of 2018. The estimated total cost of all proposed follow up exploration programs is US$1.87 million.
Management
Steven Cochrane—President and CEO
Steven Cochrane has 36 years of investment industry experience during which he has participated in raising in excess of $500 million for a variety of small cap public companies in various businesses and industry sectors including mining. In addition to having been associated with numerous domestic transactions, he has also been involved with many international opportunities—primarily in China as well as in Cambodia.
Terry Walker—VP Exploration
Highly-experienced geologist and a leading expert in hydrogeology. He has spent over 25 years in Chile's mining industry and is well-connected throughout the sector.
Al Kroontje—Director
Al has more than 45 years' experience in the natural resources sector, focused on the
mining, oil and gas industries.
Andrew Bowering—Director
Andrew Bowering has over 28 years of experience in the mining sector, including operating in South America since 2007. He has founded and operated successful mineral exploration and development companies worldwide. He is a founder, director and significant shareholder of Millennial Lithium Corp, one of the leading Argentine lithium exploration companies. Millennial Lithium recently gained market attention through a 17 percent strategic investment by one of the world's leading clean energy companies.