This profile is part of an investor education campaign. The profile provides detailed information which was sourced and approved by Vangold Mining Corp in order to help investors make better investment decisions. The Company's support of Investing News Network ensures we can continue to bring you unbiased, independent news and information.
Resource Investing News Featured Stock
Overview
Vangold Mining Corp (TSXV:VAN; OTC:VGLDF) is a silver and gold mining company focused on bringing the historic high-grade El Pinguico mine on the Mexican silver belt in the Guanajuato region to near-term production.
Unlike traditional mining projects, El Pinguico is unique in that it has over 700,000 tonnes of stock ore—at surface and underground—remaining from historical mining done on the property in the early 1900s. As Vangold Mining carries the project towards production, the company has been confirming historical assay grades and conducting a diamond drilling program on the underground stockpile.
To date, assay results from Vangold's 2017 sampling program on the underground stockpile have shown average grades of 1.75 g/t gold and 183.58 g/t silver, which align with results from historical sampling conducted in 2012 by the Servicio Geologico Mexicano (SGM). Following further drilling on the area and the development of an NI 43-101 inferred resource and preliminary economic assessment (PEA), the company expects to begin production on the surface ore by early 2018 and on the underground stockpile by mid 2019. Production of the stockpiled ore will provide near-term cash flow, enabling further work on the property.
Looking beyond the El Pinguico mine stockpiles, Vangold is also further exploring the property so as to understand its mineralization. A 2017 sampling and mapping program has demonstrated a consistent average grade of 10 g/t gold equivalent at surface and underground, and has outlined multiple parallel and perpendicular vein systems. As Vangold heads towards the production of its stockpile, it will continue to explore and develop the remainder of the property so as to align the launch of new production with the depletion of the stockpile.
Additionally to the El Pinguico mine, Vangold Mining also owns eight more properties that sit on the Mexican silver belt, distributed between its two wholly-owned subsidiaries: Ombras Mineras El Pinguico Holdings SA de CV (OMP) and CanMex Silver SA de CV (CanMex).
Vangold is led by a seasoned team of industry experts with proven experience in bringing projects to production. The team includes Vangold CEO Cameron King, who previously founded a mining engineering firm focused on implementing mining efficiencies; Hernan Dorado, who brings extensive knowledge of the region as well as varied experience on multiple large projects; and Mark Ashley, who brings over 30 years of experience in mine development and corporate and strategic optimizations.
Investment Highlights
Nine strategic properties collectively covering 4,000 hectares on the historic Mexican silver belt

Flagship property situated on the Veda Madre vein, which is host to over a billion ounces of silver and millions of ounces of gold

El Pinguico project has unique ore stockpile of over 700,000 tonnes, situated both at surface and underground

2017 assay results for the underground stockpile include 1.75 g/t gold and 183.58 g/t silver

Expected start of production of surface ore stockpile in early 2018 providing near-term cash flow

Upcoming agreements with local mill to process stockpiled ore

Further exploration on the property outlining multiple parallel and perpendicular vein systems

Expert management team with proven operational success across Latin America, Australia and North America
Flagship Project: El Pinguico Property
The El Pinguico project is Vangold's wholly owned property which was purchased in December 2016. The project is made up by two land concessions covering 71 hectares and sits 6.5 kilometers away from the colonial city of Guanajuato, a jurisdiction rich with mining history and an experienced pool of skilled labor. The property is also easily accessed by roads and highways and is in close proximity to mining infrastructure, water and power sources.
The land package hosts the Pinguico vein, which is considered to be at the top of the 25-kilometer Veta Madre vein system, the primary vein in the Guanajuato silver district and host to significant silver and gold deposits. The Pinguico vein is supported by a fissure of gold and silver mineralization that proves the property's historical roots and its potential for future production.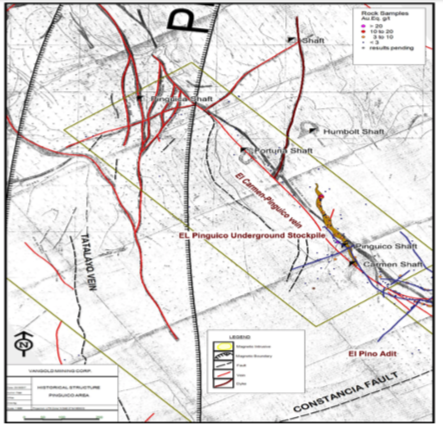 History
The Guanajuato region is one that is rich in mining history, as it was one of the areas explored by Spanish 'conquistadors' in the mid-sixteenth century. The discovery of silver led to the development of settlements in the region. During this time, the Veta Madre vein was discovered and this triggered an exploration period that uncovered a number of important silver occurrences. Between 1760 and 1810 the mines in the Guanajuato jurisdiction accounted for 20 percent of the world's silver production.
The first instances of exploitation on the El Pinguico property began in 1904, when it was held by the Guanajuato Development Company—later named the Pinguico Mining and Milling Company. The Pinguico mine was in production from 1908 to 1913, and in that time it produced over 200,000 ounces of gold equivalent. The mine then closed down due to the Mexican revolution, leaving 700,000 tonnes of stockpiled ore that is located both at surface and underground.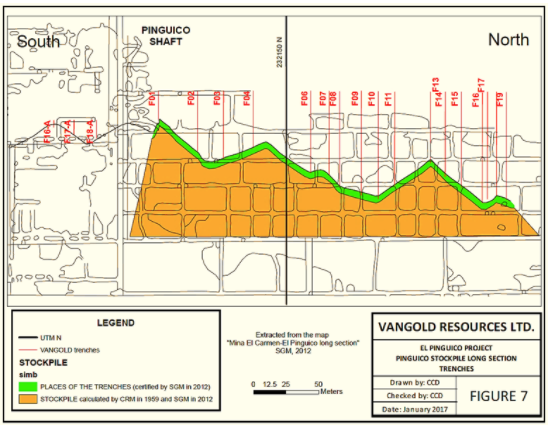 In 1959, the Consejo de Recursos Minerales (CRM) conducted a topographic survey of the stockpile and estimated a total 103,415 tonnes with an average grade of 3.2 g/t gold and 288 g/t silver, and a cutoff grade of 15 g/t gold equivalent. They also determined that there were 4,921 tonnes in situ, with average grades of 5.4 g/t gold and 424 g/t silver. These results were validated in 2011 by EMBSA, which set out to compare its own results against those of the CRM.
In 2012, EMBSA requested that the Servicio Geologico Mexicano (SGM) develop a (non-NI 43-101) reserve certification and additional topographic survey on the same stockpile. The results from this certification showed average grades of 1.67 g/t gold and 167 g/t silver in 25,600 tonnes and a potential 96,828 tonnes in the total stockpile. The company has determined that the discrepancy between these results and the CRM results are viable as the stockpile might not have been so diluted by falls of waste rock from the walls of the mine in 1959.
Exploration efforts
Focused on its near-term production plan for the mine, Vangold conducted a trenching sampling program on the stockpile, which runs for over 500 meters and 200 meters in depth. With the aim of comparing their results against those produced by the CRM and SGM, the company collected 57 samples from hand dug trenches in the same areas as the historical samples. The NI 43-101-compliant results are aligned with those produced by SGM in 2012 and include average grades of 1.75 g/t gold and 183.58 g/t silver. The results from the program are indicative of probable mineable-grade mineralization at depth within the stockpile.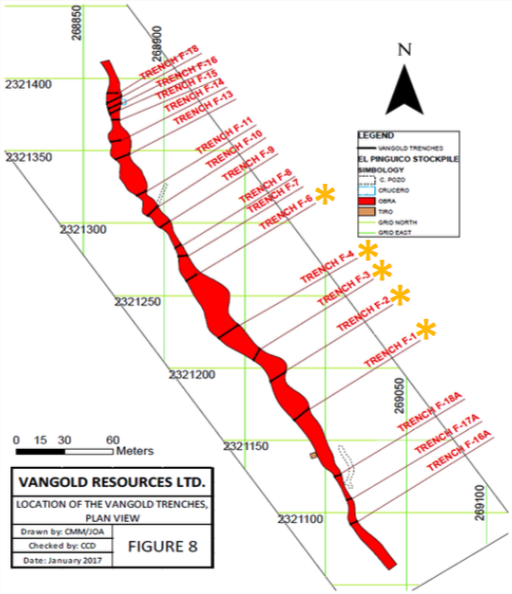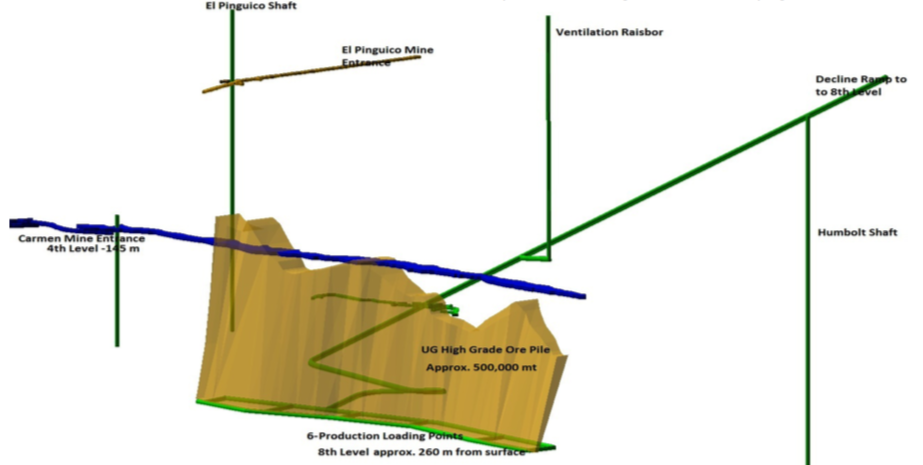 Additionally to the exploration work conducted on the stockpiled ore, Vangold also conducted extensive surface and underground mapping, surveying and compiling an additional 383 samples, the results of which will be used to identify grid spacing and drill locations. Assays from surface and underground samples consistently showed 10 g/t gold equivalent, showing extensive multi-vein mineralization. Detailed mapping on the property also demonstrated that there are multiple parallel and perpendicular vein systems that run across the land package.
2018 diamond drilling program
In January 2018, Vangold began its initial diamond drilling program on the property. The first phase of the program is focused on drilling 15 holes from three different drill stations within the underground stockpile. The goal of this phase is to define the existing mineralization for a potential inferred resource estimation covering the 700,000 tonne material. In parallel, the company are also conducting metallurgical tests to understand the recovery rates for gold and silver. Following the determination of the NI 43-101 resource, Vangold will develop a PEA for the stockpile.
The second phase of the program will look beyond the stockpile and focus drilling in the lower Pinguico vein to depth and along its northwestern and southeastern extension, determining the size of the vein.
"The drilling program is to define and expand the potential mineralization at El Pinguico," said Vangold CEO Cameron King. "We are fully aware of the historical cutoff grade mined at 15g/t gold equivalent, now it's our job to prove it. With drill results, we can define a resource over the underground stockpile and document its value. Phase 2 drilling is the start of Vangold's future growth strategy, proving the El Pinguico vein system continues at depth adds years of development and production."
Moving El Pinguico stockpile to production
Vangold's upcoming activities on the El Pinguico property are aimed at promptly bringing the stockpiles to production while also exploring the rest of the property for additional mineralization.
Working towards commencing production on the surface ore by mid 2018 and on the underground stockpile by mid 2019, the company will continue drilling the property and develop an inferred NI 43-101 resource and PEA for the stockpile within 2018. Vangold is also entering into a deal with a local mill to process the ore, negating the need to construct a mill on the property. Furthermore, Vangold will be working on acquiring its permits and commencing the construction of a decline to the level on which the stockpile sits.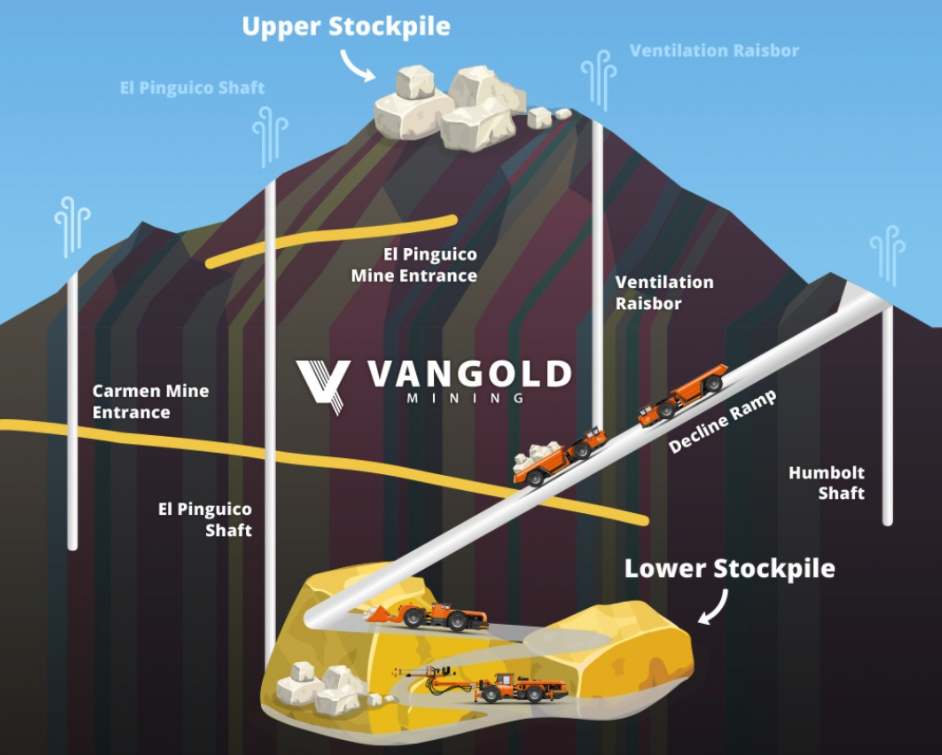 Additional Properties
Expanding their presence in Mexico, Vangold has also acquired 100 percent of eight other highly prospective properties on the Mexican silver belt that they plan to carry through to production: San Carlos, Patito I and II, Analy I and II, Camilla, Ysabela and El Ruso. The first three are managed by OMP and the latter five by CanMex. Some of the properties are briefly described below.
Patito I and II
The Patito I and II properties make up 646 hectares on strike with the Veta Madre vein and include several structures that could be a possible parallel vein system to the Veta Madre and El Pinguico veins. Historical sampling on the property has shown numerous gold-silver rock chip anomalies and the mineralization is associated with brecciation and epithermal quartz veining.
Analy I and II
The Analy properties are two land claims that add up to 722 hectares near the town of San Miguel de Allende, in the center of the Guanajuato mining region. The properties have presented significant quartz sulfide oxidation from surface samples and host several adits, which show evidence of historical hand mining performed by local workers. The properties also host an extensive tunneling system that follows the high-grade silver vein at surface.
Ysabela
The Ysabela project sits on mountainous territory in close proximity to the town of Rio Blanco and adjacent to an active mercury mine being mined by locals. Peter Swiridiuk, Vangold Geophysicist, has confirmed that mercury is a precursor of gold and silver, which is usually found at lower depths than the mercury.
As no significant mining has been conducted on the property to date, Vangold's initial plan is to begin a mapping and soil sampling program to identify any anomalies on the property. In the meanwhile, a collection of rock samples from the surface have been acquired and are in the process of being assayed.
El Ruso
The El Ruso property is located on the eastern border of the Guanajuato mining district and on the base of the Sierra Gorda. While the property has limited to no historical mining data, it does host geologically significant aspects such as substantial quartz structures within basement source rock and an ore body that travels up a limestone wall structure on the eastern border of the property.
Vangold's initial plans for the property include an four-week mapping and sampling program conducted by a geologist and local labor team.
Camila
The Camila project is a 700-hectare property located on mountainous terrain on the edge of the Queretaro mining region, which hosts a number of high-grade historical mines that were active up to 50 years ago. The property also sits nearby the town of Rio Blanco, which provides a skilled labor pool of artisanal miners.
The Camila mine was known having been high-grade copper mine, and the local geology seems to show potential for a large deposit. Further drilling and exploration is needed to confirm this, however. Vangold plans to commence a 43-101 compliant exploration program to confirm historical data and determine the property's potential.
Management
Cameron King—President and CEO
Cameron King brings over 25 years experience in investment banking strategy, mergers and acquisitions and building corporate development relationships. He was a member of the Corporate Banking team with the Bank of Nova Scotia specializing in M&A and Senior VP Mid-Market Finance with Jendens Financial, London UK. Throughout his career, he has held director positions with Petro Novus AG, Endeavor Energy, Quest Oil and Holloman Energy Corporation. He founded the mining engineering firm Camline Mining Wear Technologies Ltd in 1994, specializing in mineral processing, operations and efficiencies. He obtained his MBA in 1991 from Lake Superior State University, Michigan and holds a degree in Chemical Engineering and Bachelor of Commerce from McMaster University.
Kurt Bordian—CFO
Kurt Bordian is a designated Chartered Professional Accountant in Canada, and holds a Bachelor of Commerce (Honours) Degree from the University of Manitoba. He has worked primarily in the mineral and exploration and oil and gas industries over the past 20 years, and has held a variety of positions with many entities: Chief Financial Officer, Controller or Director. He has managed all aspects of the accounting and finance operations, and compliance. He was the chief financial officer of Alpha Minerals Inc when it was acquired by Fission Energy Corp in December 2013 for $189 million.
Hernan Dorado—Director
Hernan Dorado Smith is a fifth generation mining engineer and possesses 15 years of underground and open pit mining experience. He has in-depth and local knowledge of the El Pinguico mine and the surrounding geological formation. He has worked with several world class producers on major projects, such as, New Gold at Peak Mine, Australia and Rainy River, Canada; Panamerican Silver at Navidad, Argentina and La Preciosa, Mexico. His experience at the various stages of mining, pre-feasibility, feasibility, construction and operations bring considerable value to Vangold. He graduated as a Mining Engineer from Universidad de Guanajuato in 2003, received an Executive MBA from Escuela Europea de Negocios, Salamanca in 2013, and is a member of the Mining of the Mineral and Metallurgical Society of America (MMSA).
Mark Ashley—Director
Mark Ashley, is a successful resource executive with over 30-years' experience in asset selection, mine development and corporate and strategic optimizations. Vangold will be relying on him to bring his in-depth knowledge of the technical, commercial, and financial aspects to the development of the El Pinguico Mine. As CEO of LionOre Mining International based in Australia, he led the successful growth of the company culminating in its takeover by Norilsk Nickel in 2007 for US$7 billion. He has held senior executive roles with several internationally listed entities including Normandy Mining, Cluff Resources, Kagara Zinc and Apex Minerals. He is a Fellow of the Chartered Institute of Management Accountants.
Dal S. Brynelsen—Director
Dal S. Brynelsen is the Chairman of Vangold Mining and has been a member the Board of Directors of Griffin Mining Ltd. (LSE:GFM) for 20 years, a senior zinc and gold producer in northern China. His career spans 40 years as a pioneer in public market listings and corporate finance. He previously held positions with Vanoil Energy Ltd, IBC Advanced Alloys Corp, Coppermoly Ltd and Ikona Gear International, Inc. He also served on the board at International Beryllium Corp, Green Park Capital Corp and Janina Resources Ltd. He received his undergraduate degree from the University of British Columbia.
Michael Cooney—Director
Michael Cooney is Chariman and CEO of NEMI (Northern Energy and Mining Inc), was a market maker on Chicago Board of Options for 20 years and currently operates a private investment fund. He obtained a Bachelor of Science in Mechanical Engineering from University of Michigan in 1984 and BA in Physics from Kalamazoo College, Michigan in 1983.