Providing Clean Green Certified Cannabis in the US
This profile is part of a paid investor education campaign.*
Overview
Grown Rogue (CSE:GRIN | OTC:GRUSF) is a vertically-integrated multi-state cannabis that coined the term seed-to-experience. Based in Medford, Oregon with assets in Oregon, California, and Michigan, Grown Rogue now has 22 licenses under control and expanding quickly.
Grown Rogue intends to expand operations across multiple states. The company entered California in September 2018 and secured a 16,000-square-foot facility that will be built out to include a manufacturing lab and retail operations. Grown Rogue intends to provide distribution services to licensed local farmers and processors and will be distributing their own products throughout the state. The company has also entered into a letter of intent (LOI) for three cannabis operating permits in Michigan. Moving forward, Grown Rogue plans to enter other strategic states that fit Grown Rogue's expansion plans.
Typically, licensed producers (LPs) remain disconnected from their consumers, interacting primarily with other businesses in a B2B model. As a seed-to-experience producer, Grown Rogue is committed to providing premium, Clean Green Certified cannabis to consumers and remains actively engaged with them following the sale. The company is using consumer feedback to develop a unique view of how cannabis strains, dosage amounts, product type and individual attributes might affect consumers' experience.
Understanding the variety of consumer needs and experiences, Grown Rogue has developed product classifications, each with different characteristics. These are designed to relax, optimize, groove, uplift and energize (ROGUE). The products are sold in a variety of formats including flower, pre-rolls, cartridges, concentrates and an edibles line.
Additionally, Grown Rogue has recently unveiled an affordable cannabis brand, GRAM, which will offer products at an affordable price. Products to be launched under this line include strain-specific flower, pre-rolls, and concentrates. The company has also launched their edibles line with Jeff Shepard, one of North America's top 10 chocolatiers.
Grown Rogue has achieved a 25 percent month-over-month revenue growth in 2018 despite the surplus in product and price compression due to the transition from medical regulation to recreational regulation. This positions the company to successfully navigate other markets that might face similar price-pressures in the near future.
Part of Grown Rogue's success comes from excellent leadership, including that of its President and CEO Obie Strickler, who brings over 15 years of experience in the cannabis space. The management team is made up of talented experts in a wide range of disciplines from marketing to finance to investor relations with impressive corporate experience with companies like Nike, 1-800-Flowers, MJ Packaging, Bedrock.
Company Highlights
Fully-integrated seed-to-experience cannabis company with assets in Oregon, California, and Michigan.
Headquartered in the world renowned micro-climates of southern Oregon.
28 percent month-over-month revenue growth in 2018, despite lower prices.
Entered the California market in September 2018.
Secured three licenses to begin operations in Michigan.
Distribution network of approximately 240 dispensaries.
Grow Classic 2018 first place winner for Highest Percentage THC, first place winner for Highest Percentage Terpenes and third place in the Growers Choice overall.
Clean Green Certified on all cannabis products.
Partnership with one of North America's top 10 chocolatiers, Jeff Shepard.
Customer experience survey to ensure quality and a positive experience.
President and CEO has over 15 years' experience in the cannabis industry.
Growing team brings over 75 years of combined experience.
Vertically Integrated, Multi-State Operations
As a vertically-integrated organization, Grown Rogue has developed operations across different facets of the cannabis supply chain, including cultivation, extraction, distribution and retail.
Cultivation
Grown Rogue is located in southern Oregon, which is at the northern tip of the famous Emerald Triangle. The company operates both indoor and outdoor growing facilities, with over 40 acres (approximately 1.7 million square feet) including approximately 100,000 square feet licensed and constructed canopy, with an annual production capacity of 3,000 kilograms. These facilities provide optimal growing conditions for each strain being developed.
The indoor facilities control light intensity, temperature, humidity, air movement and nutrient mixes. Grown Rogue's outdoor facilities are located in Oregon's micro-climates, 25 kilometers from California's border, which allows the company to achieve favorable growing conditions, at a much lower cost than licensed producers in California.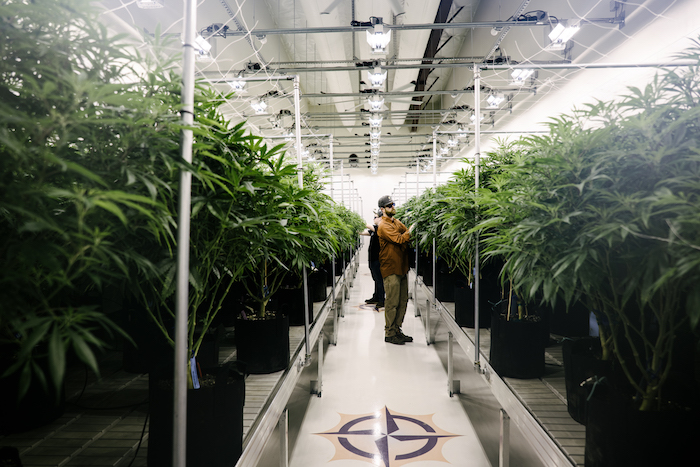 As part of the cultivation strategy, Grown Rogue strives to achieve a consistent standard. This also allows the company to collect and monitor scientific data regarding the terpene, cannabinoid (CBD) and tetrahydrocannabinol (THC) levels in particular strains. As such, the company's product is consistent and effective. Grown Rogue is also meticulous in maintaining Clean Green standards, and uses an integrated pest management regime to protect the plants.
Distribution
In 2017, Grown Rogue had established a wholesale distribution subsidiary, Rogue Distribution, to support the company's dispensary and supplier partners and drive efficiency in the cannabis supply chain. The goal of the subsidiary is to facilitate partnerships between companies from a variety of industries to bring cutting edge solutions to the cannabis space.
Some of Rogue Distribution's partners include Grown Rogue, Liontree Farms, Sterling Gold Extracts, Loud Extracts, Aardvark Extracts and GRAM.
To date, the company works through a distribution network of approximately 240 dispensaries. This number will grow to over 300 through organic growth and acquisitions. Due to the Grown Rogue's strategic location near Nevada and California border, the company is strategically poised to take advantage of inter-state sales once they become legalized, particularly as the cost for production is lower in Oregon than in California.
Beyond Oregon
Grown Rogue intends to expand its presence beyond Oregon through strategic opportunities and partnerships to states that fit strategic expansion plans.
Grown Rogue entered the dynamic California market in September 2018 by securing a 16,000-square-foot facility in Humboldt County, California and intends to build out the facility to include a manufacturing lab and retail operations. The company will also be providing distribution services to local licensed farmers and processors as well as distributing its own products that will be sourced or produced in California.
"In California, we are replicating successful operations, cultivation, distribution, and brand integrity that has been so effective for Grown Rogue in Oregon," said Strickler. "Unlike most California producers, we have first-hand experience operating under the changing supply chain logistics and compliance, which allows us to replicate our proven business model within these new jurisdictions like California."
The company has also entered into an LOI to acquire three licenses in Michigan. As Michigan has a fixed number of cannabis licenses through city and municipal opt-in rules, this will also position Grown Rogue with a valuable first mover advantage in a State where the barriers of entry are very high.
The expansion into Michigan includes acquisition of  two retail dispensary licenses, a 19,000-square-foot indoor cultivation and processing center in Detroit and an interest in 28 acres of land in the lower peninsula. The 19,000-square-foot indoor cultivation facility houses two Class C growing licenses and has a projected production capacity of 2,500 kilograms.
"There is already such a significant adoption of cannabis by the general population in Michigan that we can really hit the ground running with our established brand and proven business processes," said Grown Rogue Chief Strategy Officer Jacques Habra. "This strategic partnership, in one of most exciting states in the US, continues our focus on building a multi-state cannabis company."
Active Consumer Engagement
Fueling its seed-to-experience model, Grown Rogue is committed to staying engaged with its customers, consistently gathering feedback. This is done in part through the Rogue Study, a scientifically-based survey designed at the University of Santa Barbara. It analyzes the psychological and physiological status of the consumer, both before consumption and within 30 minutes afterwards, thus measuring the effect of the cannabis product.
Through this survey, Grown Rogue is developing the first cannabis consumer database, that measures how the cannabis plant, dosage and consumer attributes affect consumer experience. The company has also partnered with academic research psychologists and plant scientists to quantify the effects of cannabis. They have created proprietary algorithms based on quantitative data collected from the plant, and from the qualitative data collected from the survey.
This has led to the design of Grown Rogue's five product classifications, each of which individually promotes Relaxation, Optimization, Groove, Uplift and Energy (ROGUE). This variety provides consumers with the opportunity to select the right experience.
Grown Rogue also plans to use the resulting data to help the public better understand the different effects that cannabis has on the consumer's experience.
Management
Obie Strickler — CEO
Grown Rogue is led by founder and CEO, Obie Strickler, with a B.S. in Geology from Southern Oregon University. Obie has over 15 years of cannabis experience, and organically scaled his first medical garden in 2006, from a 15-plant single facility to four facilities and approximately 100,000 square feet of indoor and outdoor cultivation. Strickler founded Grown Rogue in 2016 to capitalize on the opportunity to seize market share in this burgeoning recreational cannabis space. Today, Grown Rogue is in 3 states and controls 22 licenses.
In addition to his cannabis expertise, Obie brings a diverse private sector background. This includes running the Oregon division of a regional environmental consulting company, founding a firm to provide full management services for multi-billion-dollar natural resource projects and co-founding a hyper-velocity impact technology company.
Jacques Habra — Chief Strategy Officer
Jacques Habra is an award-winning serial entrepreneur recognized by national and regional media for excellence in entrepreneurship, leadership and innovation. He was the lead investor in FirstClick, SelfEcho and TrackR, which recently won $50 million in Series B funding through the Amazon Alexa Fund.
Habra has led early-stage fundraising for Grown Rogue and as Chief Strategy Officer, where he focuses on brand creation and development, management and marketplace strategy. He has graduated with degrees in philosophy and English from the University of Michigan with Honors.
Adam Wolf — COO
Adam Wolf has extensive operational and leadership experience which includes 15 years with Hyatt and Hilton Hotels and leadership roles at Teleflora, one of the largest subsidiaries of the multi-billion dollar "The Wonderful Company." Most recently, he was Chief Operating Officer for MarijuanaPackaging.com, the largest privately held packaging and supply company in the cannabis industry where he led and directed all facets of operations. He has also been responsible for overseeing sales and marketing in his executive roles, driving brand recognition and a solid track record for achieving sales growth and profitability targets.
Michael Johnston, CPA, CA — CFO
Michael Johnston is a graduate of Western University, and joined Forbes Andersen LLP, Chartered Professional Accountants in 2004 and became a partner in 2012. Johnston has over 10 years of experience with both private and public companies in various capacities, including that of Chief Financial Officer.
Heather Wilberger – CIO
15 years of experience in information technology, both in the public and private sectors.  Leadership positions at OHSU, Randall Group, Bedrock Detroit.
---
*Disclaimer: The profile provides information which was sourced and approved by Grown Rogue in order to help investors learn more about the company. Grown Rogue  is a client of the Investing News Network (INN). The company's campaign fees pay for INN to create and update this profile page, to which links are placed on Investingnews.com and channel newsletters.
The company description, investment highlights and catalysts were sourced by INN and approved by the company. INN does not guarantee the accuracy or thoroughness of the information contained on this page.
INN does not provide investment advice and the information on Investingnews.com profile should not be considered a recommendation to buy or sell any security.
INN does not endorse or recommend the business, products, services or securities of any company profiled.
Readers should conduct their own research for all information publicly available concerning the company.