Using Proprietary Technology to Enhance Cannabis Product Portfolios
This profile is part of a paid investor education campaign.*
Overview
Green Growth Brands Inc. (CSE:GGB OTCQB: GGBXF) is a vertically–integrated cannabis company that focuses on creating exceptional retail experiences and brands. By developing emotional brands and intuitive retail spaces, the company expects to create a network of loyal customers across the United States.
To date, the company has developed six cannabis retail brands: The+Source, CAMP, Meri + Jayne, Seventh Sense Botanical Therapy, Green Lily and Xanthic Biopharma. The+Source is located in Las Vegas, Nevada.
Xanthic is a wholly-owned subsidiary of GGB that has developed a patent-pending technology enabling tetrahydrocannabinol (THC) and cannabidiol (CBD) to be soluble in water. GGB intends to create premium flavored THC and CBD-infused drinks and powders under their existing cannabis retail brands. Additionally, Xanthic's technology will be used to develop new product offerings and can be licensed out to producers, offering GGB an additional revenue stream.
GGB's Seventh Sense brand will offer consumers CBD-infused beauty products to awaken the mind, body and spirit for a renewed sense of calm and wellbeing. Seventh Sense recently launched with a premium assortment of CBD-infused botanical body care products, sold exclusively in Seventh Sense shops, through exclusive partnerships with national retail powerhouses like DSW and through eCommerce site Shopseventhsense.com.
GGB's remaining brands, Green Lily, CAMP and Meri + Jayne are still under development, but will incorporate a variety of cannabis- and CBD- infused products for a variety of demographics. Their diverse portfolio of brands will allow them to bring an element of localization and personalization to each of their consumers.
GGB intends to roll out each of their brands throughout the US and eventually into Canada. The company has acquired dispensaries in Massachusetts and Arizona, marking GGB's entrance into the cannabis markets throughout the US. Additionally, GGB has stated its intent to acquire Aphria Inc., a leading Canadian cannabis company, with the goal of entering into the Canadian market.
GGB is led by a management team with expertise in retail and brand development with extensive experience at major retail brands such as Victoria's Secret (NYSE:LB), DSW (NYSE:DSW), Bath & Body Works and American Eagle Outfitters (NYSE:AEO), among others. Heading the team is GGB CEO Peter Horvath, who was responsible for taking DSW public on the NYSE at $1.5 billion.
Company Highlights
Leadership team with decades of experience building the iconic, publicly traded retail and personal care brands
A diversified business strategy that take advantage of the huge potential growth in both cannabis and CBD
US cannabis market is expected to reach USD$40 Billion in revenue by 2023*.
US CBD market is expected to reach USD$22 Billion in revenue by 2022**
Six developed cannabis and CBD retail brands.
The+Source dispensary located in Las Vegas and the option to acquire the second The+Source location in Henderson, Nevada.
The+Source Las Vegas dispensary is a high-revenue and productivity location with an industry leading average revenue per selling square feet
Subsidiary Xanthic has developed a patent-pending technology and three product offerings.
Xanthic technology can be licensed to other LPs, providing an additional revenue stream.
Expansion throughout the rest of the US is underway.
Strong leadership team with vast experience in developing premium international retail brands.
* Source: Ackrell Capital: 2018 Cannabis Investment Report
**Source: Brightfield Group
A Retail-Focused Business Model
Green Growth Brands is a vertically-integrated cannabis company whose business model primarily focuses on creating engaging cannabis brands and exceptional retail spaces. The company's leadership team has experience at international retail powerhouses and are the first company to bring that experience to the cannabis industry. This becomes increasingly more important as the US cannabis market continues to grow. It is expected to reach $146.4 billion by the end of 2025.
Due to their extensive retail experience, GGB's management team knows that the industry is ever-changing, and the way companies sell and brand their products is becoming more important. Notable changes to the industry include the rise of e-commerce transactions and the role social media plays in the way consumers and retail brands interact with each other. On top of all these changes is the fact that consumers still want exceptional and remarkable experiences that, if successful, will generate long-term customer loyalty.
With this market understanding in place, GGB has developed six cannabis and CBD retail brands that focus on creating these remarkable experiences for their customers. Because millennials tend to seek out smaller businesses due to their distrust of corporate brands, the company is focused on creating brands that are tailored to specific neighborhoods instead of having a city or state focus. This allows GGB to tailor their brands more specifically to each individual subset of consumers.
"Coming up with consumer experiences that are localized and relevant and reflective of where they live is absolutely going to get you 20 or 30 percent more sales, [rather] than just popping in a generic cookie-cutter experience that is everywhere else in the US," said Green Growth Brands CEO Peter Horvath.
Additionally, the company will be building dispensary locations that offer easy and educational navigation and always-in stock assortments in prime retail locations. Intuitive layouts and stigma-dispelling store formats will encourage customers to explore, while a strong online and digital presence will cater to convenience and forward-pushing industry standards.
In order to create unique brand experiences and innovative products, GGB will team up with strategic partners, continue to acquire strategic retail locations and establish distribution channels across the US.
Brand Portfolio
As part of their business model, Green Growth Brands is committed to developing emotional brands that create exceptional retail experiences for their customers. To this aim, Green Growth has developed six cannabis brands that will target a wide variety of demographics and lifestyles.
Currently, the company is in the process of developing its Seventh Sense, Green Lily, CAMP and Meri + Jayne brands. Seventh Sense will feature botanical, CBD-infused body care, and Green Lily will offer luxurious CBD- and THC-infused wellness products to the growing female demographic. CAMP focuses on bringing premium cannabis products that support and enhance active lifestyles. Meri + Jayne will offer consumers a unique mix of cannabis products in a laidback lifestyle environment to encourage longer brand interaction. GGB will continue to develop the established The+Source and Xanthic brands.
The+Source
The+Source is a branded cannabis dispensary with locations in Las Vegas and Henderson, Nevada. The+Source is a vertically-integrated medical and retail cannabis company that holds four cannabis licenses in Nevada for dispensary, cultivation, production and distribution capabilities.
The+Source has an industry leading average revenue per selling square feet. The company attributes its success at this location due to its meticulous layout, efficient operation and knowledgeable and friendly staff.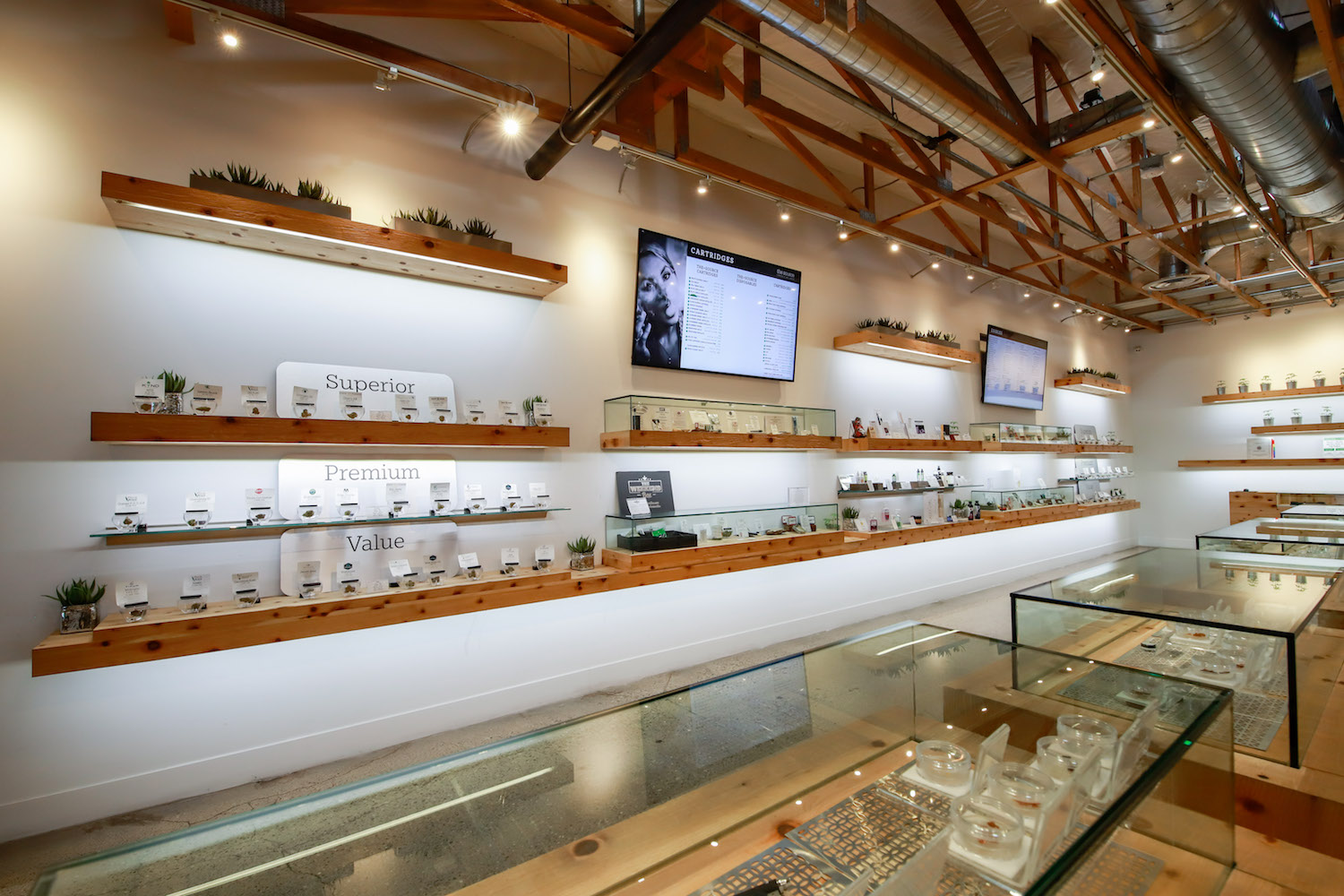 Seventh Sense Botanical Therapy
Seventh Sense is GGB's CBD-infused body care line, making CBD easily and readily accessible to the mass market. With premium formulas and familiar forms, Seventh Sense will encourage consumers along a self-care journey that is enhanced with CBD. Seventh Sense recently launched its eCommerce site and opened its first shop in the United States. Shops will continue to open throughout the United States, and the brand will sell some of its assortment through exclusive partnerships with iconic retailers such as DSW.
Green Lily
Green Lily will connect with women to emphasize the exploration of new paths to wellness with their products, which will include botanically-led beauty and wellness offerings, supplemented with luxury lifestyle items. Each Green Lily branded shop will feature beautiful, inviting and comfortable interiors along with friendly and knowledgeable staff members to guide a growing demographic.
CAMP
CAMP will bring premium cannabis products to a broad and diverse demographic with a focus on creating an interactive lifestyle experience that anyone can enjoy. Everybody deserves the opportunity to go to camp, and this brand brings that opportunity to life.
Meri + Jayne
Meri + Jayne will offer consumers a unique mix of cannabis and CBD products in a laidback lifestyle environment. With a focus on fun, authenticity and being yourself, Meri + Jayne will target young adults who live in the moment.
Xanthic
In July 2018, GGB acquired its wholly-owned subsidiary Xanthic Biopharma, the developer of a patent-pending proprietary process that will make CBD and THC water soluble. From this technology, GGB will develop a portfolio of THC or CBD-infused drinks and powdered mixes that are easy to consume anytime, anywhere.
Cannabis Retail Presence
Nevada Holdings
Green Growth has positioned itself to be one of the largest cannabis operators in the state of Nevada. To date, the company has been awarded seven retail cannabis dispensary licenses throughout the state. As per their business model, the company is committed to developing exceptional store experience to promote customer loyalty and to effectively display their engaging cannabis brands.
GGB owns The+Source dispensary in Las Vegas and the option to acquire an additional location in Henderson, Nevada. The company also owns a grow and production facility in Las Vegas.
As Green Growth Brands looks to expand its footprint in Nevada, the company has been focused on becoming a vertically-integrated player in Nevada's cannabis market. The company has entered into a definitive agreement with Wellness Orchards of Nevada LLC (WON) and Panorama WON LLC to acquire the Pahrump, Nevada cultivation facility in order to expand the company's cultivation footprint to two facilities. WON operates a 12,000-square-foot cannabis cultivation facility and Panorama owns the property and assets the facility operates on.
Following the closing of the agreement, Green Growth Brands intends to increase the cultivation space to 150,000 square feet. The expansion will help support the company's growing retail and wholesale operations.
Massachusetts and Arizona Holdings
Part of Green Growth's business strategy, the company intends to roll out their branded offerings throughout the US. Green Growth acquired a 100 percent interest in Just Healthy LLC, which holds provisional certificates for the registration of a registered cannabis dispensary and a cultivations and processing site located in Northampton, Massachusetts. GGB also acquired ZLJT LLC, a management company for Arizona Natural Pain Solutions, Inc., a not-for-profit corporation doing business as the Desert Rose Dispensary in Phoenix. These acquisitions are the company's first locations outside of Nevada, and they present the opportunity to extend retail and production operations across the US.
"We are excited at the prospect of competing in high-potential cannabis markets in the US," said Horvath. "Our team's experience in store operations and branding will allow us to bring a superior cannabis retail experience to Massachusetts. The potential to operate vertically will allow for stronger margins and the prospect of wholesale revenue from cultivation."
Management
Peter Horvath — CEO
Peter Horvath is a dynamic creative brand leader, team builder and specialty retail veteran with deep roots in finance. Horvath has served in critical senior management roles for brands like Victoria's Secret, American Eagle Outfitters, DSW and Limited Brands where he led strategy and execution across all company channels. Under his leadership, shoe retailer DSW went public on the NYSE at $1.5 billion.
Horvath's unique ability to understand the big picture while never missing the subtle details is a critical factor in Green Growth Brands success as a company and the brands' popularity with consumers.
Scott Razek — CMO
Scott Razek is a brand strategist, storyteller and strategic marketer who has spent 25 years of his career leading creative teams and marketing efforts for retail brands such as Victoria's Secret, Bath & Body Works, Limited Stores and American Eagle Outfitters. His guiding philosophy is that great brands are well defined: Consistent, clear, relevant, differentiated. His experience in brand building, product development and customer experience are a key differentiator for Green Growth Brands portfolio.
Ed Kistner — CAO
Ed Kistner brings 33 years of multi-faceted experience at leading retail businesses, including leadership roles at DSW and Victoria's Secret, in finance, merchandise planning, operations and stores. His well-rounded experiences in fast-changing environments, position him to be the architect of operational execution at Green Growth Brands.
Brian Logan- CFO
Brian Logan, CPA, brings nearly 20 years of global public company experience in corporate finance, international finance, and investor relations. Logan joins Green Growth Brands from Abercrombie & Fitch Co., a USD$3.5 billion specialty apparel retailer operating over 850 stores and websites in over 20 countries. He is expert leading cost effective and efficient expansion into international markets, implementing profit improvement initiatives, and developing high-performing teams.
Kellie Wurtzman – CSO
Kellie Wurtzman brings significant retail leadership to Green Growth Brands and has a proven track record of leading high-performing stores and teams at brands like Luxottica, Victoria's Secret and Virgin Entertainment. She brings a wealth of experience in office, field and analytics that allows her to solve complex problems with innovative, customer-focused solutions.
Wurtzman has managed operations across multiple retail sectors that have given her the skills to help growing organizations succeed in a newly emerging industry. Her unmatched experience in identifying and supporting developing business opportunities is ideal for evolving the cannabis industry and instrumental in expanding Green Growth Brands' operations.
---
*Disclaimer: The profile provides information which was sourced and approved by Green Growth Brands in order to help investors learn more about the company. Green Growth Brands is a client of the Investing News Network (INN). The company's campaign fees pay for INN to create and update this profile page, to which links are placed on Investingnews.com and channel newsletters.
The company description, investment highlights and catalysts were sourced by INN and approved by the company. INN does not guarantee the accuracy or thoroughness of the information contained on this page.
INN does not provide investment advice and the information on Investingnews.com profile should not be considered a recommendation to buy or sell any security.
INN does not endorse or recommend the business, products, services or securities of any company profiled.
Readers should conduct their own research for all information publicly available concerning the company.