Investing News Featured Stock
Overview
DelMar Pharmaceuticals (NASDAQ:DMPI) is a biopharmaceutical company focused on the development and commercialization of new cancer therapies. The company's lead product candidate, VAL-083, is a first-in-class small molecule chemotherapy with the potential to overcome chemo-resistance in cancer patients and surpass the current standard of care in a range of cancers.
VAL-083 was originally developed by the US National Cancer Institute (NCI), whose research team evaluated the drug as a treatment against several types of cancer. The NCI conducted 42 Phase I and Phase II clinical trials on the use of VAL-083 to treat lung, brain, cervical, ovarian and hematologic cancers.
"We are starting with a drug that we know works—which takes a giant risk off the table," explained Jeffrey Bacha, DelMar's chairman and chief executive officer. "We also have an experienced team that has done this all before successfully along with a well-vetted business model. Based on good science, we're unlocking the value of VAL-083 into major billion dollar cancer markets. "
Published pre-clinical and clinical data has demonstrated that not only is VAL-083 active against a wide range of cancers, but the drug is also unaffected by DNA repair mechanisms that are widely implicated in chemo-resistance and poor patient outcomes. For example, in glioblastoma multiforme (GBM), the most common and aggressive form of brain cancer, approximately two-thirds of patients have high levels of an enzyme known as "MGMT", which causes resistance to the currently approved chemotherapy. Prior NCI trials demonstrated that VAL-083 is active against GBM; DelMar has shown that that activity is independent of MGMT thus unlocking a new therapeutic paradigm for a serious and deadly cancer with few treatment options.
DelMar Pharmaceuticals' goal is to further demonstrate to the medical and investment community that VAL-083 represents a viable solution to chemo-resistance and improving patient outcomes across a wide range of cancer indications, including GBM, non-small cell lung cancer (NSCLC) and other solid tumors.
The company is currently conducting Phase II clinical trials for the treatment of refractory GBM using VAL-083. The results of this study will be the basis for advancing VAL-083 into a planned registration-directed Phase II/III trial in 2016.
DelMar Pharmaceuticals plans to initiate clinical studies in newly diagnosed GBM and NSCLC in 2016. The company and its research partners are also exploring further opportunities for VAL-083 in other cancer markets, including ovarian cancer and sub-types of malignant pediatric brain tumors.
Furthermore, DelMarPharmaceuticals has also made key advancements for VAL-03 as a treatment for GBM patients, for the quarter ending March 31, 2017, the third quarter of the Company's 2017 fiscal year, whose tumors express features, such as high expression of the enzyme MGMT, that make their cancer resistant to, or unlikely to, respond to currently available therapy.
Market: Cancer Therapeutics
The global market for cancer drugs hit $100 billion in annual sales in 2014, according to a research report by drug data provider IMS Health. The report projects that total could reach $147 billion by 2018. Rising cancer rates brought on by an aging population is the biggest growth driver in this market. The number of individuals over the age of 65 is expect to triple by 2050 to 1.5 billion, translating to a 70 percent increase in the rate of cancer, according to the World Health Organization.
Lung cancer is the leading cause of cancer deaths worldwide and NSCLC accounts for as much as 90 percent of all lung cancers. The global market for NSCLC treatment is expected to grow from $6.9 billion in 2014 to $10.9 billion by 2021 (CAGR 8.5 percent), according to GBI Research.
The current front-line chemotherapy for GBM, temozolomide, sold nearly $1 billion annually before coming off patent in 2013. The current global GBM treatment market has an expected CAGR of 11.4 percent between 2014 and 2022 to reach $0.91 billion, according to Transparency Market Research. GBM is the most common and aggressive form of malignant brain tumors and increasing incidence of this cancer is the main growth factor for the therapeutics market.
Lead Cancer Therapeutic Product Candidate: VAL-083
VAL-083 is approved for the treatment of chronic myelogenous leukemia and lung cancer in China. DelMar Pharmaceuticals has acquired certain commercial rights in China through an exclusive collaborative partnership with Guangxi Wuzhou Pharmaceutical (Group) Co. Ltd., the only company licensed by the Chinese authorities to manufacture the drug in China. DelMar has also established its own global intellectual property position for VAL-083 through its own patent filings. DelMar now holds seven allowed United States patents and eight international patents with more than 100 additional patent filings from thirteen patent families representing patent claims covering VAL-083 to 2036. "We can protect our market share because we are in the driver seat in terms of being able to control the global intellectual property for VAL-083 products," said Bacha.
The Company continued enrolling its Phase 2 clinical study of VAL-083 in patients with MGMT-unmethylated GBM at first recurrence/progression prior to bevacizumab (Avastin®) exposure in collaboration with the University of Texas MD Anderson Cancer Center ("MD Anderson"). Additionally, DelMar received ethics committee approval, retained a contract research organization, and submitted an application to the China Office of Human Genetic Resources Authority ("OHGRA") to allow for initiation of the Company's planned Phase 2 clinical trial in newly diagnosed patients with MGMT-unmethylated GBM at Sun Yat Sen University in Guangzhou, China. DelMar also entered into a sponsored research agreement with Duke University to evaluate VAL-083 as a front-line treatment for newly diagnosed patients with GBM.
The Company presented data supporting the effectiveness of VAL-083 against chemotherapy-resistant ovarian cancers at the 11th Biennial Ovarian Cancer Research Symposium. Additionally, data was presented indicating that VAL-083 offers potential therapeutic alternatives in difficult-to-treat pediatric brain tumors – Advances in Pediatric Research: From Mechanisms and Models to Treatment and Survivorship. In April, new non-clinical data supporting the differentiation of VAL-083 in the treatment of lung cancer was presented at the American Association for Cancer Research's ("AACR") annual meeting. And in May, the Company presented new research at the 5th Quadrennial Meeting of the World Federation of Neuro-Oncology Societies demonstrating that VAL-083 circumvents both of the primary mechanisms correlated to chemoresistance to temozolomide, the current standard of care in the treatment of GBM.
Research Highlights
Completed Phase I dose-escalation in the clinical trial. Data support a dose-dependent response and clinically meaningful survival benefit.
Completed enrollment for Phase II expansion cohort and confirmed maximum tolerated dose of 40mg/m2.
Presented data on the activity of VAL-083 against temozolomide-resistant GBM.
First target market: A new chemotherapy for GBM
VAL-083, one of the few drugs able to naturally pass through the blood-brain barrier, is under clinical evaluation for its safety and efficacy in the treatment of refractory glioblastoma multiforme or GBM brain cancer. The Phase II trials are being conducted at the Sarah Cannon Research Institute, Mayo Clinic and the UCSF Medical Center. Patients in the Phase II clinical trials for VAL-083 must have failed both temozolomide (Temodar®) and bevacizumab (Avastin®).
Temozolomide chemotherapy combined with radiation treatment and followed by maintenance therapy with temozolomide is the current front-line treatment for GBM following surgical resection. However, temozolomide is ineffective in approximately two-thirds of newly diagnosed patients. Those patients have been found to have a high expression of a naturally occurring DNA-rapid enzyme known as MGMT. This high expression of MGMT is correlated with a gain-of-function mutation of in the p53 gene pathway—integral in the activity of many chemo drugs. This mutation and related high MGMT levels in effect block the anti-cancer activity of temozolomide.
Bevacizumab is used as second-line therapy for patients failing temozolomide; however, data suggests that it does not prolong survival for refractory GBM patients.
VAL-083: A potential paradigm shift in the treatment of GBM
To date, DelMar Pharmaceuticals has demonstrated that VAL-083 anti-cancer activity is independent of the p53 gene pathway and not subject to MGMT-resistance, making the drug a potential product candidate to replace temozolomide in the treatment of GBM.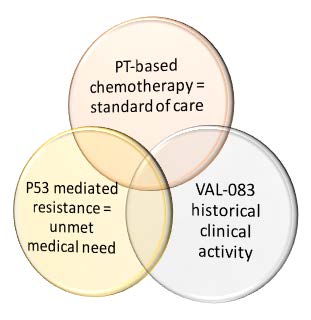 The oncology community is in need of a drug that can cross the blood-brain barrier, is active in GBM and isn't subject to this MGMT-resistance, said Bacha. "We think that is exactly what VAL-083 is and we have been working to prove it. In clinical trials we've shown that VAL-083 is active in the two-thirds of patients that won't respond to Temodar® due to MGMT-mediated resistance. So we have a solution that can overcome a major problem today."
In November 2015, the company presented interim Phase II survival data at the 20th Annual Meeting of the Society for Neuro-Oncology. The survival data from the 14-patient expansion cohort is consistent with observations from the Phase I dose-escalation portion of the trial. Based on this preliminary interim data, a Kaplan Meyer survival estimate projected a greater than 9-month median survival in refractory GBM patients whose tumors recurred following both temozolomide and bevacizumab treatment—essentially doubling the current median survival rate for these patients.
"These results continue to support the potential of VAL-083 to address the significant unmet medical need for these patients who currently have no approved therapeutic options," stated Bacha.
In the Phase I dose-escalation study, VAL-083 was well tolerated at doses up to 40mg/m2 using a regimen of three times a day every 21 days. Adverse side effects were typically mild to moderate with no serious adverse side effects reported at doses up to 40 mg/m2. Low platelet counts observed in two of six patients at higher doses, which recovered rapidly and spontaneouslyu, represent the only dose limiting toxicity observed in DelMar's trials to date.
Potential therapeutic uses for VAL-083 in other cancer indications
DelMar Pharmaceuticals is also exploring the potential of VAL-083 as a front-line treatment for NSCLC, ovarian cancer and pediatric brain tumors.
"Because our drug is active independently of the p53 gene pathway we can start looking at the viability of VAL-083 to treat other types of chemo-resistant cancer. This opens up huge doors in very large market indications," said Bacha.
Non-small cell lung cancer
In April 2015, DelMar Pharmaceuticals presented preclinical data supporting the potential of VAL-083 as a therapeutic option in the treatment of NSCLC, especially in patients who have failed or are unlikely to respond to standard treatment which includes platinum drugs such as cisplatin or oxaliplatin. Working with leading researchers at MD Anderson cancer center, DelMar was able to demonstrate that VAL-083 retains its high level of anti-cancer activity in p53 mutated NSCLC in vitro. Furthermore, results also support the potential benefit of a VAL-083/platinum combination therapy in newly diagnosed NSCLC.
At the 16th World Conference on Lung Cancer in September 2015, DelMar Pharmaceuticals presented an overview of its planned clinical trial protocol for the use of VAL-083 in the treatment of NSCLC. To be conducted in Shanghai, the open-label post market will further evaluate the activity of VAL-083 in NSCLC for patients who have failed the standard therapy.
DelMar Pharmaceuticals is planning to initiate the study in the first quarter of 2016. "The upcoming Phase IV trial will further evaluate VAL-083's potential to address a significant unmet need in platinum drug-resistant NSCLC," stated Bacha. "The clinical outcomes from this study will be important in developing additional CFDA (China Food and Drug Administration) treatment guidelines to expand VAL-083 beyond its currently approved indication in lung cancer in China."
More importantly, the company believes the data from this study will help to establish global proof-of-concept to support a global clinical development program to investigate the use of VAL-083 in treating types of NSCLC that are underserved by todays modern medicines.
Ovarian cancer
At an American Association for Cancer Research (AACR) conference in October 2015, DelMar Pharmaceuticals presented positive pre-clinical data from research was conducted with in collaboration with the MD Anderson Cancer Center. The data demonstrates that VAL-083 has the potential to treat ovarian cancer tumors as a single-agent or in combination with platinum-based chemotherapeutics.
"We believe that these data, coupled with evidence of historical clinical activity against ovarian cancer, represent the promise of VAL-083 to address a major modern unmet medical need by providing a potential new treatment option for ovarian cancer patients whose tumors exhibit resistance to platinum-based therapy," explained Bacha.
Pediatric brain tumors
In November 2015, at the AACR Advances in Pediatric Research conference, DelMar Pharmaceuticals presented promising pre-clinical and clinical data supporting VAL-083 as a potential chemotherapy treatment for malignant pediatric brain tumors.
"As the next step, we expect to establish discussions with leading clinical investigators in the field in order to undertake the necessary steps to advance VAL-083 into clinical studies as a potential treatment for children suffering from recurrent medulloblastoma or high grade gliomas," stated Bacha.
Upcoming Catalysts 2016
Initiation of Phase II/III registration trial of VAL-083 as a new treatment option for refractory GBM.
Initiation of Phase II clnical trials with VAL-083 in newly diagnosed GBM
Initiation of Phase IV NSCLC trial funded by DelMar collaboration with Chinese manufacturer.
Advancing VAL-083 into clinical studies as a potential treatment for children suffering from recurrent medulloblastoma or high grade gliomas.
Advancing VAL-083 into clinical studies as a potential treatment for ovarian cancers.
Continued non-clinical research with VAL-083 as a potential treatment option for chemo-resistant cancers.

Management
Jeffrey Bacha, B.Sc., MBA—Chairman and CEO
Jeffrey Bacha is a seasoned executive leader with nearly twenty years of life sciences experience in the areas of operations, strategy and finance. His background includes successful public and private company building from both a start-up and turn around perspective; establishing and leading thriving management and technical teams; and raising capital in both the public and private markets. From July 2006 to August 2009, Bacha was Executive Vice President Corporate Affairs and Chief Operating Officer at Clera. From March 2005 to July 2006, he was Consultant and held various positions at Clera, Urigen Holdings and XBiotech. From 1999 through 2004, he served as President & CEO of Inimex Pharmaceuticals, a venture-capital funded drug discovery and development company and is a former Senior Manager and Director of KPMG Health Ventures. Bacha holds an MBA from the Goizueta Business School at Emory University and a degree in BioPhysics from the University of California, San Diego.
Dennis M. Brown, Ph.D.—Chief Scientific Officer
Dr. Dennis M. Brown has more than thirty years of drug discovery and development experience. He has served as Chairman of Mountain View Pharmaceutical's Board of Directors since 2000 and is the President of Valent. In 1999 he founded ChemGenex Therapeutics, which merged with a publicly traded Australian company in 2004 to become ChemGenex Pharmaceuticals, of which he served as President and a Director until 2009. He was previously a co-founder of Matrix Pharmaceutical, where he served as Vice President of Scientific Affairs from 1985-1995 and as Vice President of Discovery Research, from 1995-1999. He also previously served as an Assistant Professor of Radiology at Harvard University Medical School and as a Research Associate in Radiology at Stanford University Medical School. He received his B.A. in Biology and Chemistry (1971), M.S. in Cell Biology (1975) and Ph.D. in Radiation and Cancer Biology (1979), all from New York University. Dr. Brown is an inventor of about 34 issued U.S. patents and applications, many with foreign counterparts.
Scott Praill, CPA—Chief Financial Officer
Since 2004, Scott Praill has been an independent consultant providing accounting and administrative services to companies in the resource industry. Praill served as CFO of Strata Oil & Gas from June 2007 to September 2008. From November 1999 to October 2003, he was Director of Finance at Inflazyme Pharmaceuticals. He completed his articling at Price Waterhouse (now PricewaterhouseCoopers LLP) and obtained his Chartered Accountant designation in 1996. Praill obtained his Certified Public Accountant (Illinois) designation in 2001. He Praill received a Financial Management Diploma (Honors), from the British Columbia Institute of Technology in 1993, and a Bachelor of Science from Simon Fraser University in 1989.
This profile is part of a investor education campaign. The profile provides detailed information which was sourced and approved by DelMar Pharmaceuticals in order to help investors make better investment decisions. The company's support of Investing News Network ensures we can continue to bring you unbiased, independent news and information.