This profile is part of a investor education campaign. The profile provides detailed information which was sourced and approved by Thunderstruck Resources in order to help investors make better investment decisions. The Company's support of Investing News Network ensures we can continue to bring you unbiased, independent news and information.
Resource Investing News Featured Stock
Overview
Thunderstruck Resources Ltd. (TSXV:AWE) is developing a diverse portfolio of zinc, copper and gold properties on the main island of Fiji, Viti Levu. The company's two flagship properties are the high-grade zinc-copper Nakoro and Wainaleka projects, with historical drilling returning average grades of 7% zinc and 1-2% copper.
Thunderstruck's Fijian property portfolio covers nearly four percent of the main island and includes four main assets; the Nakoro and Wainaleka zinc-copper projects, the Liwa Creek gold project, and the Rama Creek copper porphyry.
In October 2016, Thunderstruck acquired a private Fijian company holding the assets that Thunderstruck Resources had previously under option.
"After three years of working toward this achievement, we now own 100 percent of these highly prospective zinc, copper and precious metal targets and have commenced exploration, said Bryce Bradley, Thunderstruck's President and CEO. "The company has satisfied the multiple conditions required by the various Fijian authorities, and are entertaining joint venture opportunities on one of our properties."
Thunderstruck is conducting mapping, geochemical and trenching programs on its Nakoro, Liwa Creek and Rama Creek properties to determine drill targets. Both the Nakoro and Wainaleka zinc-copper projects are the site of successful historic drilling by Anglo American.
Thunderstruck Resources is managed by an experienced team of geology, mining and financial professionals. The company's Country Manager, Bill Brook, has worked as a geologist in Fiji for more than four decades and conducted preliminary exploration work on Thunderstruck's project areas in the 1980s before discovering the 787,000 ounce gold deposit nearby that is now in development with Lion One Metals (LIO-TSXV). Co-founding directors Brien Lundin and Bryce Bradley have a long history of raising capital and other strategic roles in the natural resource sector to support the advancement of discoveries like their current Fijian projects.
Investment Highlights
With asset purchase complete, Thunderstruck owns a vast land package of zinc, copper, gold and silver assets covering nearly four percent of the main island of Fiji.
Significant mineral deposits on the main island including Vatukoula Gold Mine, Tuvatu Gold deposit and Namosi copper project.
26 holes drilled by Anglo with grades up to 12.7 percent zinc and two percent copper.
High-grade zinc, copper, silver and gold targets.
Mineralization remains open at depth and along strike.
Accomplished management and exploration team.
Q4 2016 exploration work has been completed, and JV partners are being sought.
Close to Asian markets.
Mining in Fiji
When most people think of Fiji, mining usually isn't the first thing that comes to mind. However, mining in the South Pacific nation has been ongoing since the opening of the Emperor (now Vatukoula) Gold Mine in 1934.
The island archipelago is located on the Pacific Ocean's Ring of Fire, which contains many of the world's major gold and copper deposits. One of the most developed economies in the Pacific, Fiji is served by a mining-friendly government, and a reasonable royalty (five percent gross profits) and tax structure (20 percent corporate).
The Vatukoula Mine is still in operation and has produced more than seven million ounces of gold. In addition to gold, Fiji also hosts several undeveloped major porphyry copper-gold deposits.
Australian miner Newcrest, along with joint venture partners that include Mitsubishi Materials Corp., has a pre-feasibility stage copper-gold project immediately adjacent to Thunderstruck's properties on the main island of Viti Levu. The Namosi project contains an estimated resource of 2.2 billion tonnes @ 0.34 percent copper and 0.11 g/t gold.
Fiji is close to Asian markets and Viti Levu has excellent infrastructure including a deep-water port and hydroelectric dam.
Key Properties
Nakoro Zinc-Copper Project
Thunderstruck Resources' main asset is the Nakoro zinc-copper volcanogenic massive sulphide (VMS) project on the main island of Fiji, Viti Levu. Thunderstruck Resources recently acquired 100-percent ownership of the base metal and gold properties portfolio and has recently completed its Q4 exploration work. Forestry roads extend across the property and the hydroelectric power station at the Monasavu Dam is only 20 kilometers northeast of Nakoro. The project is in the same district as Newcrest's Namosi JV Project.
Previous drilling by Anglo American on a massive sulphide body discovered grades of about five to 12 percent zinc, with zones of high-grade copper at surface. Further surface exploration work will focus on expanding known zones of zinc and copper mineralization, and gold potential on the property will also be assessed. In 2015, Thunderstruck exposed a small, siliceous, gold-bearing rock sample of 3.37 g/t gold north of the zinc mineralization.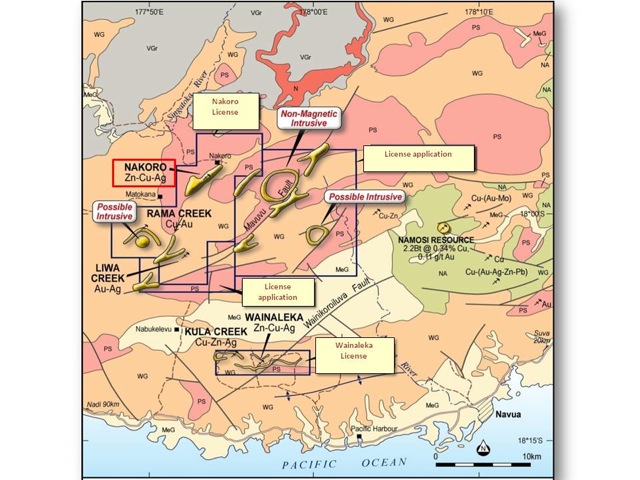 Between 1975 and 1977, Anglo American completed two diamond drill programs at Nakoro totaling 2,614 meters in 20 holes over a strike length of approximately 300 meters. Historical drill results include:
12 meters @ 12.7 percent zinc, 0.3 percent copper and 56g/t silver;
23.2 meters @ 5.1 percent zinc, 0.5 percent copper and 22g/t silver; and
7.4 meters @ 7.2 percent zinc, 0.3 percent copper and 54g/t silver.
Diamond drilling by the previous owner located a new zinc-copper rich zone close to the surface. Anomalous intersections include:
1.3 meters @ 1.5 percent zinc, 3.3 percent copper, and 37.6 g/t silver; (ending in mineralization) and
1.6 meters @ 10.9 percent zinc, 3.0 percent copper, and 40.5 g/t silver (ending in mineralization).
In addition, float samples taken at that time assayed 21.1 percent copper, suggesting the property has the potential to host zones of high-copper values.
The historical and recent exploration work at Nakoro has shown a copper zone located at surface with only a few meters of surface oxidation, and the historically drilled massive zinc zone open along strike and at depth.
Thunderstruck Resources conducted a surface exploration program at Nakoro in 2014. Assay results from the field work confirmed the potential for high-grade copper mineralization as well as high-grade zinc and silver. Results from the initial samples include values of 19.3 percent and 11.3 percent copper; 25.6 percent and 14.0 percent zinc; 1,026 gold g/t and 498 g/t silver g/t.
Wainaleka Zinc-Copper Project
Thunderstruck Resources' second flagship project is the Wainaleka zinc-copper VMS project. The property is approximately 10 kilometers from the south coast of the main island and 50 kilometers by modern highway from the deep-water port at the Fijian capital of Suva.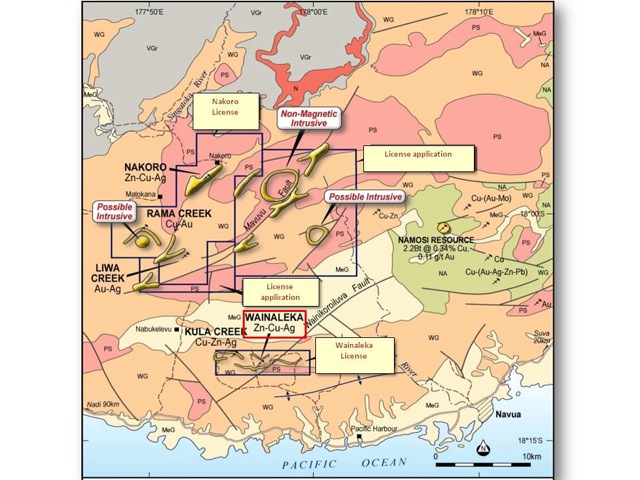 Historical drilling on the property by Anglo American totaled 1,763 meters. Results showed that the main mineralized zone is open at both ends and at depth. Drill work intersected high grade values including:
6 meters at 12.0 percent zinc, 1.75 percent copper, and 25g/t silver;
10 meters at 5.5 percent zinc, 2.0 percent copper, and 47g/t silver; and
15.5 meters at 1.3 percent zinc, 1.4 percent copper, and 5.0g/t silver.
Results from exploration work by the previous owner included:
surface sampling with assay results from two samples showing 2.7 percent copper and 19.9 percent zinc; and 7.1 percent copper and 14.4 percent zinc;
trenching returned an intersection of 5.5 meters at 2.6 percent copper, 6.8 percent zinc and 212g/t silver (ending in mineralization); and
a shallow diamond drilling intersection of 2.2 meters at 1.9 percent copper, 11.8 percent zinc and 8.9 g/t silver (ending in mineralization).
Two stacked mineralized zones are apparent at Wainaleka including a high-grade central zinc zone, and an underlying and adjacent copper zone. The project has the potential for an initial open pit with only a few meters of surface oxidation which will maximize tonnage for flotation.
Liwa Creek Gold Project
The Liwa Creek Gold Project is a prospective high-grade gold property on the main island of Fiji, near the company's Nakoro and Wainaleka copper-gold VMS projects. This high-priority area contains classic epithermal, high-grade gold veins, breccia bodies and silicification zones. Other than regional sampling, minor trenching and grab sampling, little exploration has been completed. Numerous rock samples over a nine-square-kilometer area range in grade from five g/t to 30 g/t gold, with locally high silver.
Historical data at Liwa Creek includes:
assays of 8.4 g/t gold and 93 g/t silver from a siliceous, pyritic rock sample taken by Amoco Minerals Fiji Ltd. in the 1970s;
soil samples assaying up to 9.6 g/t gold; chip sampling from trenches showing 15 meters of 1.9 g/t gold; and 5.5 meters of 2.01 g/t gold from soil sampling and trenching conducted in the 1980s by Geopacific Limited; and
a chip sample assaying 5.7 g/t gold over seven meters has shown the potential for a regional target area.
This data suggests the area should be the target of further exploration work and has excellent potential to host gold and silver deposits. Both the Country Manager and Project Manager worked on the project.
Rama Creek Copper-Gold Project
The Rama Creek copper-gold porphyry prospect, similar geologically to the adjacent giant Namosi porphyry copper-gold deposit, is located about five kilometers northwest of the Liwa Creek project. Anglo American previously drilled only four wide-spaced holes with the central hole DDH 1 intersecting stockwork porphyry mineralization over 244 meters grading 0.22 percent copper and 0.16 g/t gold, including 72 meters at 0.38 percent copper and 0.29 g/t gold. High-grade silver assays were reported in samples from the periphery.
Thunderstruck Resources' exploration program is focusing on the surrounding area of 14 square kilometers of anomalous gold values derived from stream sediment sampling in the 1990s. The area is highly prospective for gold and silver as such copper-gold porphyries typically have gold vein systems around them.
Management
Brien Lundin – Co-Founder and Chairman of the Board
Thunderstruck Resources Co-Founder Brien Lundin was appointed Chairman of the Board in August 2016. Lundin has been an active investor and speculator in the mining and technology sectors for over four decades. He is also a Director of Sojourn Ventures, Inc. (SOJ.V), and Co-Founder and Chairman of Natcore Technology, Inc. (NXT.V). He serves as President and CEO of Jefferson Financial, Inc., a privately company that hosts the annual New Orleans Investment Conference. Lundin publishes Gold Newsletter, a monthly publication that covers small cap resource stocks as well as geopolitics and macro-economics, a newsletter that has been the cornerstone of precious metals advisories since 1971.
Bryce Bradley – President and CEO, Co-founding Director
With a strong background in Capital Markets and Investment Banking, Bryce Bradley has facilitated the structuring and financing of dozens of private and publicly traded small and micro-cap companies. She founded and served as President of Saltus Mercantile Corp. (now Robson Capital Partners Corp.), a merchant bank focused on capital raising and advisory services for mining exploration companies, before selling it in 2013. Prior to this she headed Capital Markets for other brokerage firms and merchant banks. Bradley graduated with an Honors B.Sc. degree from the University of Toronto in 1996 and completed the Canadian Securities Course, as well as the Partners, Directors and Senior Officers Course.
Michael Page — Technical Director
Michael Page has served as Chief Geologist, VP Exploration, and/or Director for multiple publicly traded companies. These include MMC Norilsk Nickel, Ivanhoe Mines subsidiaries in China and Southern Africa, Golden Shamrock Mines and Etruscan Resources. He owns a consulting company, Exploration Service International, whose clients have included BHP Billiton, Gold Fields, and Rio Tinto. Page is a Qualified Person under Australian JORC and Canadian NI 43-101 regulations.
Bill Brook — Country Manager
Bill Brook is a graduate of the University of Tasmania with over 40 years of experience in the industry, including senior positions with Goldstralian and international exploration and mining companies. He has been working as a geologist in Fiji since 1980, and with the formation of Geopacific Limited in 1986 conducted preliminary sampling on Thunderstruck's portfolio of properties before discovering the Tuvatu 787,000 ounce gold deposit to the northwest.