Providing Turnkey Infrastructure Solutions to Cannabis Producers
This profile is part of a paid investor education campaign.*
Overview
Bougainville Ventures Inc. (CSE:BOG, FRA:8BV) provides infrastructure and seed-to-sale services to licensed tenant cannabis growers in Washington state. Many cannabis companies face challenges as they set up their business, such as high capital costs and a lack of access to traditional funding. Bougainville Ventures provides these companies access to cultivation facilities, as well as ancillary services, such as recycling, soil remediation, equipment leases, property management, consulting and advisory services and yield optimization technology.
At the core of its business model, Bougainville Ventures owns a four-acre property in the Okanogan Valley in Washington state. On this land, the company has developed a 10,000-square-foot greenhouse, which has already been leased to a tenant grower. The company is in the process of building out two additional 10,000-square-foot greenhouses. Bougainville Ventures will be expanding their land package by at least six acres. Additionally, the company has also secured senior water rights for the property, providing them with an ample water supply for their operations. Once established in Washington, the company intends to penetrate the Canadian cannabis market and to expand into other legalized states with their turnkey solutions.
Aside from their turnkey solutions model, Bougainville Ventures is also exploring opportunities in the hemp industry. When compared to other cannabis plants, hemp is more cost-effective to grow and it is easier to extract cannabidiol (CBD) from it.
Bougainville Ventures benefits from their partnership with the Marijuana Company of America (MCOA) (OTCMKTS:MCOA), which has provided the company with $1 million of financing to build out their facilities in the Okanogan Valley.
Bougainville Ventures' management team also provides the company with a wealth of experience. Bougainville Ventures' CEO Amandip Jagpal has worked with Cannabis Science Inc. (OTCMKTS:CBIS), a cannabis biotech company based in California for over 10 years and Director Richard Cindric has worked with New Age Farm (CSE:NF), a turnkey growing infrastructure and services company for licensed growers and processors. Additionally, management notably owns 95 percent of the company's shares.
Company Highlights
Turnkey infrastructure solutions for cannabis producers.
Seed-to-sale and ancillary services for their tenants.
Option to purchase and additional six acres of prime growing land in the Okanogan Valley.
Tenant already in place in fully constructed 10,000-square-foot growing facility.
Holder of senior water rights on their property.
Potential expansion into the hemp industry.
Potential expansion into other states and the Canadian cannabis market.
Partnership with MCOA in place with $1 million in financing received so far.
Management notably holds 95 percent of the company shares.
The Market
According to an article by ArcView Research, the legal cannabis market is projected to reach $23.4 billion by 2022. This will be achieved in part through the emergence of luxury and craft cannabis brands that are bolstered by advances in plant genetics. This will also help normalize and standardize products as producers strive towards maintaining pharmaceutical-grade products.
There will also be an emergence of new markets as more countries from across the globe legalize cannabis use. Experts are also predicting a boom in the ancillary businesses associated with the industry as well as the growth of cannabis and CBD wellness products.
Despite the federal stance on cannabis in the US, the cannabis market is continuing to grow and expand, creating a wealth of opportunities for those looking to enter into the market. This was further confirmed when Thomas Jefferson University opened the first US research institution that would solely focus on researching cannabis.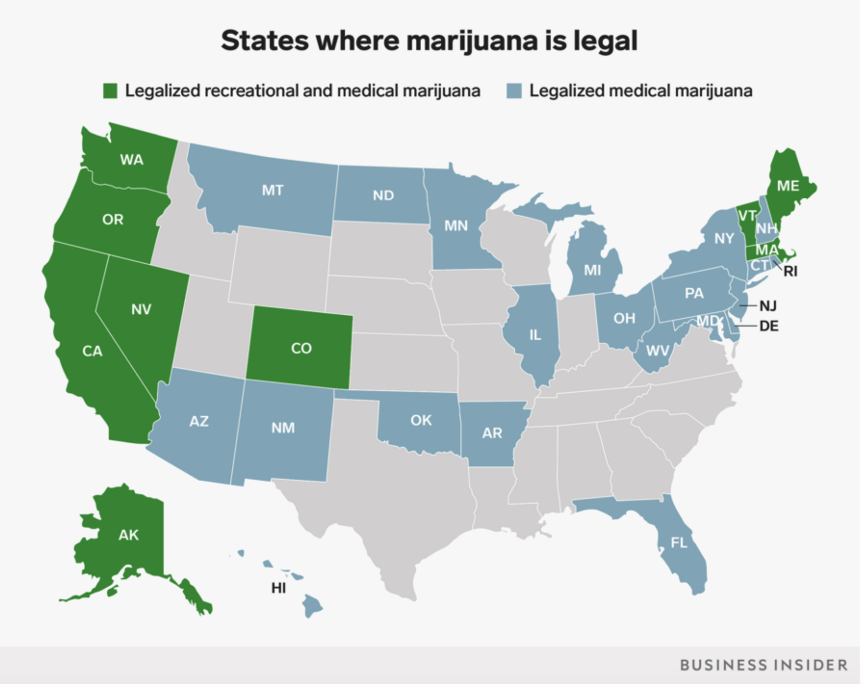 Cannabis in Washington State
In 2017, the Washington cannabis market saw approximately 650,000 recreational cannabis users that resulted in approximately $1.48 billion in annual sales. Cannabis sales consist of 59 percent of dried flower, 21 percent concentrates, nine percent edibles and 10 percent pre-rolls.
Turnkey Growing Facilities
Bougainville Ventures' business model revolves around their turnkey property model. Many cannabis companies face high capital costs in order to establish a viable commercial farm operation and face limited funding options as most traditional models are unwilling to do business with cannabis companies due to federal legislation. Experts estimate that Washington state needs $679 million in infrastructure and $27 billion to be able to address the full legal market. As a way to combat this problem, Bougainville Ventures has been setting up greenhouses and outdoor growing facilities at their Oroville property to lease to cannabis companies.
Aside from providing cannabis companies with a space to work in, the company also provides specific services, such as recycling, soil remediation and equipment leases, property management services, a consulting and advisory service and yield optimization technology services. Bougainville Ventures also offers the services of their master grower, who has competed and placed in relevant industry competitions.
Moving forward, Bougainville is also looking at deploying their turnkey model in other US states and in the Canadian cannabis market as well.
Aside from their work in the cannabis space, the company is also planning on entering the hemp industry, which is not as developed as the medical and recreational cannabis industries. The hemp plant also allows for an easier extraction of CBD and has proven more cost-effective to produce.
Oroville, Washington
Bougainville Ventures has secured four acres of farmland in the Okanogan Valley near Oroville, Washington. The Okanogan Valley is well-known for its ability to produce high-value fruits and vegetables as well as cannabis crops.
The company has built a I-502-compliant, 10,000-square-foot greenhouse that has been optimized for low-carbon and sustainable operations. The greenhouse has been leased out to a Tier 3 I-502 production and processing license holder with established relationships with 13 dispensaries in the state. The grower has the ability to produce on up to 30,000 square feet of canopy space.
Bougainville is in the process of building two additional 10,000-square-foot greenhouses that will then be subsequently leased. The property can be expanded to eventually include a minimum of an additional six acres. The company plans on housing 10 different licenses on the property.
Senior Water Rights
Bougainville Ventures is a 50 percent senior water right holder on the main stem of the Eden Valley aquifer and has access to two supplemental groundwater wells. Being a water right holder in Washington is a significant investment for the company. Not only do they have access to water so they can develop their greenhouses and associated facilities, but they also can treat their water rights as if it was a piece of real estate subject to the appropriate regulations.
Water rights in Washington are judicially decreed and senior water right holders are entitled to access water before junior water rights holders. This makes senior rights holders more consistent, reliable and valuable than junior rights.
Strategic Partnerships
MCOA
Bougainville Ventures has formed a joint venture partnership with the MCOA, a cannabis company focused on selling hemp and conducting hemp-based R&D, as well as on providing leasing opportunities to licensed cannabis growers and expanding into the ancillary businesses associated with the cannabis industry. MCOA's management team is comprised of industry veterans that provide their expertise and insights along with their $1 million contribution to Bougainville Ventures. The company has used the money to build out their facilities and greenhouses in Washington.
Management
Amandip (Andy) Jagpal — CEO
Amandip Jagpal holds a Bachelor of Science from the University of British Columbia. He has taken numerous courses in Business Management. He was a research assistant with the Dean of Plant Science and with Agriculture Canada. He was also involved in establishing an integrated pest management program with a large agriculture supply corporation.
As an entrepreneur, he formerly held the position of President of Alliance Vancouver, an executive office business center which helps incubate new companies as well as assist existing companies with their back end business management, including telephone answering, word processing, telecom management, accounting, property management and staffing. He is also involved with Intrinsic Capital Corp., an investment group focused on taking unique and financially viable projects public, providing access to venture capital and helps companies with mergers and acquisitions.
Richard Cindric — Director
Richard Cindric brings with him many years of experience in entrepreneurship, corporate finance, sales and marketing for public and private companies. He has significant experience in venture capital, early-stage equity and debt financings and regulatory compliance in the cannabis industry. He has many key contacts and invaluable relationships in the cannabis industry.
As an investor relations expert, he has helped raise substantial funds in private and public financings for start-ups and early growth-oriented companies. As an entrepreneur, he also is President of Green Venture Capital Corporation, a real estate investment company.
Teja Singh, CPA, CGA — Director
Teja Singh has worked as a manager at PricewaterhouseCoopers LLP where his duties included accounting, tax and business advisory services for private companies in addition to tax structuring and planning for real-estate development companies.
He has also worked as a Tax Manager for KPMG LLP and was charged with handling corporate tax compliance and SRED filings for public and private companies, merger and acquisition transaction support and pre-IPO corporate restructuring and tax planning. Additionally, he helped clients at KPMG with international tax planning and compliance for public and private companies. Currently, Singh is a Partner in Goldtree Capital Partners LP, a real estate investment firm.
Daniel Goldman — Director
Daniel Goldman is a pioneer in the telecommunications, wireless, wholesale, transportation, mining and software community with experience managing publicly traded companies. Between 2005 and 2007, he served as the Chief Financial Officer for Transnational Auto Group, a publicly traded company. Goldman studied finance and accounting at San Diego State University.
---
*Disclaimer: The profile provides information which was sourced and approved by Bougainville Ventures in order to help investors learn more about the company. Bougainville Ventures is a client of the Investing News Network (INN). The company's campaign fees pay for INN to create and update this profile page, to which links are placed on Investingnews.com and channel newsletters.
The company description, investment highlights and catalysts were sourced by INN and approved by the company. INN does not guarantee the accuracy or thoroughness of the information contained on this page.
INN does not provide investment advice and the information on Investingnews.com profile should not be considered a recommendation to buy or sell any security.
INN does not endorse or recommend the business, products, services or securities of any company profiled.
Readers should conduct their own research for all information publicly available concerning the company.