Cannabis Cultivation in Atlantic Canada with a Global Perspective
This profile is part of a paid investor education campaign.*
Overview
Biome Grow Inc. (CSE:BIO) is a Canadian cannabis company with operations mainly concentrated in Atlantic Canada.  Founded on the idea that biomes are groups of biological communities that have been created in response to a common climate or goal, the company has developed a business model that focuses on catering to specific areas. Through the company's subsidiaries, Biome is working to establish unique consumer, regional and B2B brands, products and services that are overseen by a centralized management team.
To date, over 70 percent of Access to Cannabis for Medical Purposes Regulations (ACMPR) licenses have been granted in either Ontario or British Columbia. An integral part of Biome Grow's business model is the placement of their five wholly-owned subsidiaries, which service underserved regions in Canada. The company's most advanced-stage subsidiary, Highland Grow, operates a 6,500-square-foot facility in Antigonish, Nova Scotia. Once expanded, the facility will include extensive R&D facilities that will be used in partnership with St. Francis Xavier University to conduct research on creating unique cannabis genetics, developing new cannabis delivery methods and mechanisms and new ways of growing and cultivating cannabis on an industrial scale.
Due to encouraging demand for Biome Grow's Nova Scotia-based brand, the company has announced plans to expand its operations by adding 25 new jobs to scale production. The first five of these jobs will be appointed by the Mi'kmaw Native Friendship Centre through a Memorandum of Understanding with Biome Grow.
The company's Ontario and Newfoundland facilities are both in the final stages of their ACMPR licensing stages. The Newfoundland facility will target the Newfoundland and Labrador cannabis market under the brand Back Home. All three facilities are in various stages of construction as Biome Grow expands their operations. When complete the facilities will total more than 300,000 square feet.
Through its subsidiary Back Home, Biome Grow has secured a supply agreement with the province of Newfoundland and Labrador. The deal is one of the largest of its kind in Canada, and is expected to ultimately represent close to $100 million in revenue per year. Back Home will establish five retail locations across the province, with the first expected to open in western Newfoundland in 2019.
As a supplement to their cannabis holdings, Biome Grow has acquired an educational virtual reality (VR) platform, Weed VR. The platform uses a 3D scanning process that will upload existing and new cannabis strains from around the world. This data will be paired with scientific data and consumer reviews to help an individual make an informed choice about the cannabis they purchase.
Biome Grow's management team is comprised of leaders from a variety of industries, including former Ontario Minister of Health George Smitherman, who joined Biome's executive management as Senior Vice President of Corporate Affairs. Members of the company's management team have held positions in finance, government office, growing technologies, regulatory affairs, business building and marketing. The team has experience in securing capital and providing additional resources to ACMPR applicants to help them obtain their licenses as well as deploying institutional investor capital. Biome Grow's management team are considered to be thought leaders in the industry and they have often been cited by major news outlets such as CTV, CBC News, Global News, BNN and various local news publications, among others.
Company Highlights
Licensed producer in Nova Scotia
Late-stage ACMPR license applicants in Ontario and Newfoundland and Labrador.
Secured supply agreements with the province of Newfoundland and Labrador and the Nova Scotia Liquor Corporation (NSLC).
Released first shipments of finished product to Newfoundland and Labrador in January 2019.
Reached a memorandum of understanding to purchase up to 20,000 kgs of hemp-grown CBD per year from CBD Acres, Canada's first Marijuana for Medical Purposes Regulations (MMPR) licensed cannabis grower
Capitalizing on the untapped cannabis markets in Atlantic Canada.
Global expansion opportunities.
More than 300,000 square feet of cannabis production and research space between multiple facilities once operational.
Cannabis education platform to be launched with Weed VR in all jurisdictions.
R&D multidisciplinary collaboration partnership with St. Francis Xavier University in Nova Scotia.
Highly respected and experienced management team including former Ontario Minister of Health George Smitherman.
The Canadian and Global Cannabis Markets
The Canadian cannabis market is projected to exceed $7 billion in sales in 2019 according to a report by Deloitte. Approximately $4.34 billion dollars are expected to go to the recreational market alone. Most of the market is centered in Ontario and British Columbia as they have been issued the most licenses under the ACMPR framework, leaving some provinces with limited cannabis operations. This provides Biome Grow the opportunity to establish themselves firmly within niche provincial markets.
Despite the untapped cannabis avenues in Canada, Biome Grow is looking beyond the Canadian market. The company intends to expand into the global cannabis market as well, particularly in areas that are considering legalization. According to a report released by Grand View Research, the global market is expected to be worth $146.4 billion by 2025.
A Locally Focused Business Model
To date, Health Canada has issued 179 licenses to cannabis companies across Canada. More than 70 percent of those licenses have been issued to companies in either Ontario or BC which leaves approximately 50 percent of the population with little to no established local production. This leaves most of the country undersupplied and underrepresented in the Canadian cannabis market.
In order to capitalize on these untapped markets, Biome Grow's business model is centered around creating unique consumer, regional and B2B brands, products and services. These products and services are then delivered to consumers through decentralized operating and production assets, or wholly-owned subsidiaries, that are overseen by a centralized management team. Their business model is easily replicable and the company intends to take their model to each jurisdiction that they operate within.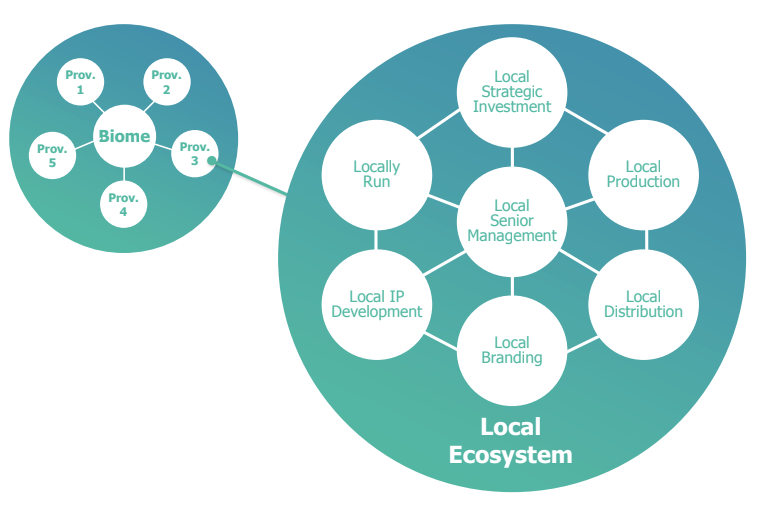 Subsidiaries
Highland Grow Inc.
As part of Biome Grow's business model, the company acquired its subsidiary Highland Grow, a medical cannabis licensed producer under the ACMPR. Highland Grow received its cultivation license from Health Canada in December 2017, allowing Highland Grow to cultivate cannabis plants, dry cannabis and cannabis seeds for three years.
Biome Grow has also been granted a license that allows them to sell to other licensed producers as well as sell and distribute dried and fresh cannabis and cannabis plants and seeds to businesses. The license was later amended to allow Biome Grow to also sell cannabis products to end-users.
The company's 6,500-square-foot facility in Antigonish, Nova Scotia sits on 19 acres of land. The company plans to upgrade the facility to 100,000 square feet in two phases of 50,000 square feet each. The expanded facility will include extensive R&D facilities that will be used by St. Francis Xavier University and other external partners of the company.
Biome Grow will also be working on developing new ways to grow pharmaceutical-grade cannabis on an industrial scale. This will allow the company to scale up their operations without the challenges other licensed producers have experienced in the past. Being able to achieve full capacity with a consistent and predictable level of quality should greatly reduce the company's operating costs and ensure that they are compliant with the regulations set forth by the ACMPR.
In January 2019, Biome Grow secured its first purchase order from the NSLC. The order contained three genetic varieties that have proven to be very popular in the local market. Biome Grow will be expanding its genetic and product offerings later this year.
Back Home
In April 2018, Biome Grow acquired the Back Home Medical Cannabis Corporation, a late-stage ACMPR cultivation license applicant. Back Home is expecting to obtain its cultivation license once Phase I of construction on the Newfoundland facility is complete.
The Newfoundland facility will encompass up to 168,000 square feet once it is completed. Phase I of construction is focused on retrofitting the ground floor of the existing structure into an 18,000-square-foot licensed facility. Phase II will add 50,000 square feet and Phase III will add an additional 100,000 square feet. The company expects the project to employ more than 100 people and will have the potential to generate more than $70 million in revenue.
Contingent on the approval of the appropriate Health Canada licenses, Biome Grow intends to open approximately five retail locations throughout Newfoundland and Labrador to primarily sell Back Home products to the local market.
In November 2018, Biome Grow secured a production and supply agreement with the province of Newfoundland and Labrador. The company will be supplying the province with 24,000 kilograms of cannabis for three years.
Under the terms of the agreement, Biome Grow will be supplying 4,000 kilograms of cannabis in the first year of the agreement, with 10,000 kilograms per year for the remainder of the contract. Additionally, the agreement will facilitate the creation of at least 120 jobs at its production facility and an additional 80 jobs at the five retail locations the company intends to open throughout the province. The first of five stores will be located in Western Newfoundland near the production facility.
In February 2019, Biome announced it had released its first shipment of finished product to Newfoundland and Labrador. The products were delivered directly to retail locations across the province in order to be ready for sale and distribution.
Weed VR
In June 2018, Biome Grow signed an agreement to acquire Weed Virtual Retail Inc., a virtual reality platform focused on the medical and recreational cannabis markets. The platform is designed to educate, engage and inform consumer cannabis purchases.
Weed VR's proprietary digital 3D scanning process allows Biome Grow to create a comprehensive strain library that will contain strains from around the world and will incorporate new strains as they are developed. The platform will then pair this data with that collected from scientific lab data and consumer reviews to provide consumers with the information needed to make an educated cannabis purchase without having to visit a physical dispensary.
Biome and Weed VR intend to launch the retail platform in approved jurisdictions and the educational platform more widely.   Both companies are also looking into other emerging technologies, such as holograms and augmented reality, to further develop the platform and to provide the best experience for consumers as possible.
Red Sands Craft Cannabis
In October 2018, Biome Grow introduced their new brand and subsidiary, Red Sands Craft Cannabis Co. Red Sands will be focused on providing Prince Edward Island's (PEI) local and tourist markets with locally produced and regionally grown cannabis products. The Red Sands cannabis brand will reflect PEI's iconic red sand beaches and the locally produced craft goods and services.
Although PEI is one of Canada's smallest provinces in terms of population and land area, the province has a robust tourism industry. In 2017, the province recorded over one million overnight stays, 1.56 million visits and $447 million in expenditures. When coupled with approximately 153,000 residents living on the island, this creates an appealing and diverse market for Biome Grow.
Great Lakes Cannabis Co.
In October 2018, Biome Grow introduced their Ontario-based brand and subsidiary, Great Lakes Cannabis Co. Great Lakes Cannabis is located in Norwich, Ontario and will serve the company's national and international markets with Canadian-grown cannabis.
The new brand will service Ontario like the rest of Biome Grow's provincial cannabis brands; however, their associated production facility will be able to and designed to supply jurisdictions outside of the province.
Norwich Facility
Biome Grow is currently retrofitting their 12,000-square-foot Ontario facility to ensure it complies to ACMPR standards and expects to receives its cultivation license from Health Can

ada in the near term. The Ontario facility will be initially supplying products to Biome Grow's other holdings until they are producing enough to be brought online fully.
Once this is complete, Biome Grow intends to conduct a two-phase expansion that will increase the square footage to 87,000. Phase I will expand the facility by 12,000 square feet and will consist mainly of retrofitting the existing building. Phase II will focus on expanding the facility an additional 75,000 square feet.
Partnerships
St. Francis Xavier University
In December 2017, Biome Grow and St. Francis Xavier University entered into a partnership that will focus on a multidisciplinary three-year collaboration to conduct various R&D initiatives. These initiatives include but are not limited to creating unique cannabis genetics that may be used in future clinical trials, developing new delivery methods and mechanisms for cannabis, new approaches for growing and cultivating cannabis on an industrial scale. The university will assist in providing human capital from its students and will help Biome Grow work with provincial and regional authorities to support their R&D initiatives.
CBD Acres
In February 2019 Biome Grow and CBD Acres Manufacturer Inc announced a memorandum of understanding (MOU) that would provide Biome with preferential access to a high quality and low-cost supply of cannabidiol concentrate from CBD Acres. The MOU covers a five-year period during which Biome may acquire up to 20,000 kilograms of hemp-based CBD extracts from CBD Acres. CBD Acres is currently working with 4,500 acres of hemp farmland in Canada, including 1,000 acres of organic grow.
Management
Khurram Malik — CEO
Khurram Malik holds the position of Partner and Head of Research at Jacob Capital Management Inc., an advisory firm that provides strategic and financial advisory services to companies in the power, infrastructure, technology, energy and mining sectors. He has worked in capital markets for over 15 years and the bulk of his career has been in equity research where he has covered property-casualty insurance, industrials, airlines, hardware technology, cleantech, cannabis and water sectors.
With respect to cannabis, he was the first research analyst in North America to publish a report on the sector and is regularly quoted in the media with respect to his views and forecasts on the global cannabis market. Malik has provided financial and strategic advice to over 20 cannabis companies around the world, including applicants and licensed producers in Canada. 
Abbey Abdiye — CFO
Abbey Abdiye has extensive experience in the financial sector in both public and private companies. He is a Chartered Professional Accountant (CPA) and is currently the Chief Financial Officer of Orca, Ceylon Graphite Corp., Tower One Wireless Corp. and Crop Infrastructure Corp., where he is responsible for all financial, fiscal management, regulatory compliance matters and reporting aspects of company operations.
Abdiye also provides strategic guidance and direction in capital structuring and engages in innovative financing programs to leverage sales and development. As Chief Financial Officer, he provides leadership and coordination in the administrative, business planning, reporting and budgeting functions for Biome. He oversees Biome's financial reporting, internal controls, corporate governance management systems, annual audit and regulatory compliance matters. Abdiye obtained a Bachelor of Business Administration from Simon Fraser University and a Co-op Education certificate.
George Smitherman — Senior Vice President of Corporate Affairs
George Smitherman is Biome's SVP of Corporate Affairs, a position that leverages his extensive experience in regulatory and health policy.  He is also a director of THC BioMed Intl Ltd. and Global UAV Technologies Ltd. He was the Principal and Chairman of G&G Global Solutions from April 2011 until April 2014. Smitherman was formerly the CEO and a director of Alta Vista Ventures Ltd.
During a 12-year career in politics, Smitherman has held several key positions in the Ontario Government, including Minister of Health and Deputy Premier. He is an advocate for renewable energy and a noted expert on energy and infrastructure policy. His tenure as Ontario's Minister of Energy & Infrastructure was distinguished by the seminal Green Energy Act. He serves as a Member of Advisory Board at Inerjys Ventures Inc. He was also a candidate for the mayoralty of Toronto.
Mark Lievonen, C.M., LLD — Director
Mark Lievonen is an industry veteran with over 30 years' experience. He is the President of Sanofi Pasteur Limited, the Canadian vaccine division of Sanofi, which he joined in 1983. Under his leadership, Sanofi Pasteur has become a billion-dollar enterprise in Canada, manufacturing over 50 million doses of vaccines for both domestic and international markets. He began his career in Finance and rose through Sanofi Pasteur's ranks, guiding the company through a number of significant milestones and initiatives.
Beyond his work in the biopharmaceutical industry, Lievonen has always been a passionate advocate for public health access, education, and giving back to the community. He is an ex-officio and former Chair of the Markham Stouffville Hospital Foundation. He has received the Queen's Golden and Diamond Jubilee Medallions, Lifetime Achievement Awards from Life Sciences Ontario and the Pharmaceutical Sciences Group, an Honorary Doctor of Laws degree from York University and in 2015 he was appointed to the Order of Canada. He was named a Chevalier de l'Ordre National de Mérite by the government of France in 2007 and was inducted into Canadian Healthcare Marketing Hall of Fame in 2013.
Steven Poirier — Director
Steven Poirier currently manages SMP Management Consultants, which specializes in strategy consulting to the beverage alcohol industry. Prior to this, he spent over 25 years in the Canadian beverage alcohol industry holding senior positions in the Wine, Beer and Spirits industry. He has a broad spectrum of experience, having performed at the general management level as President of Moosehead Breweries and Treasury Wine Estates, in sales as the Senior Vice President of Sales for Arterra Wine Canada, and in marketing and new product Development as Vice President of Marketing for FBM Distillery.
His national experience provides him with a thorough understanding of consumer attitudes and the regulatory environment of the alcohol beverage market. He has developed strong relationships with the provincial government Liquor Boards and private retailers in all regions, which is particularly evident within Atlantic Canada where he lived for 11 years when he was President of Moosehead Breweries. Before entering the beverage alcohol industry. Having worked in medium to large firms, as well as public and private firms he has a sound understanding of the complexities of various business models.
---
*Disclaimer: The profile provides information which was sourced and approved by Biome Grow Inc. in order to help investors learn more about the company. Biome Grow Inc. is a client of the Investing News Network (INN). The company's campaign fees pay for INN to create and update this profile page, to which links are placed on Investingnews.com and channel newsletters.
The company description, investment highlights and catalysts were sourced by INN and approved by the company. INN does not guarantee the accuracy or thoroughness of the information contained on this page.
INN does not provide investment advice and the information on Investingnews.com profile should not be considered a recommendation to buy or sell any security.
INN does not endorse or recommend the business, products, services or securities of any company profiled.
Readers should conduct their own research for all information publicly available concerning the company.