This profile is part of a paid investor education campaign.*
Resource Investing News Featured Stock
Overview
ALX Uranium Corp. (TSXV:AL; FSE:6LLN; OTC: ALXEF) has built a strong portfolio of prospective uranium properties totaling over 140,000 hectares in the world's highest grade uranium district, Saskatchewan's Athabasca Basin. The company is actively exploring on its projects with a focus on integrating modern exploration techniques with historical data to identify high-priority drill targets.
The Hook-Carter Project is the cornerstone of ALX's portfolio and is on trend with some of the most notable uranium discoveries in the region, including the Triple R deposit at Patterson Lake South (PLS). In 2016, the company sold an 80 percent interest in the property to Denison Mines Corp. for 7.5 million common shares of Denison, and Denison has agreed to fund the first $12 million in exploration expenditures.
In 2017 Denison Mines plans to conduct an exploration program at Hook-Carter which will include initial ground resistivity and EM surveys followed by a 2,700-meter diamond drill program focused on the southwestern portion of the property.
ALX's Gorilla Lake project is located 15 kilometers north of AREVA's past-producing Cluff Lake uranium mine. The 2017 Exploration Program at Gorilla Lake is testing previous drill results as well as an anomaly within a northeast-trending gravity low recently defined by geophysical surveys.
The company has several other drill-ready projects close to notable mines and deposits in the Athabasca Basin, including the Newnham Lake and Lazy Edward Bay projects. A series of geophysical, geochemical, gravity and radon work has been recently completed at both properties, leading to better target definition for planned drill programs.
ALX Uranium is led by an impressive management and technical team with a wealth of experience in the uranium mining industry, specifically the Athabasca Basin.
Warren Stanyer, Chairman and Director — corporate level and director positions in several uranium companies; Alpha Minerals Director during the PLS uranium discovery in 2012, which led to the takeover of Alpha by Fission Uranium Corp. in 2013.
Sierd Eriks, President and CEO — long track-record of success in the Athabasca Basin; directing programs that led established mineral resources for three uranium deposits.
Benjamin Ainsworth, Director — over forty-year mining career includes the discoveries at PLS and Roughrider uranium deposits; recipient of 2013 AMEBC Colin Spence Award for Excellence in Global Mineral Exploration in recognition of the PLS discovery.
Jody Dahrouge, Director — professional geologist; past President and COO of Fission Energy; instrumental in acquisition of key Fission exploration properties including Waterbury Lake and PLS.
Steve Khan, Director — key player in the negotiation of Strathmore's Roca Honda Joint Venture with Sumitomo Corp of Japan; the partnership between Korea Electric Power Corp and Fission and later joint venture with Strathmore Minerals.
Charles Roy, Technical Committee Chairman — four decades-long uranium mining career including 33 years with the world's leading major uranium mining company, Cameco Corporation; expertise specifically focused on the unconformity model and the Athabasca Basin.
Investment Highlights
One of the strongest portfolios of uranium properties in the Athabasca Basin; drill‐ready projects and targets on trend with existing discoveries.
Large land package in a district with well‐established infrastructure and low geopolitical risk.
Led by a professional team with extensive technical and field experience in the Athabasca Basin.
Exploration philosophy integrates modern techniques with historical database.
Exploration underway at Hook-Carter Project (20 percent ALX/80 percent Denison); Denison committed to $12.0 million in exploration expenditures.
Exploration underway at Gorilla Lake project (80 percent ALX/20 percent Logan Resources).
Strong Portfolio of Uranium Projects in Canada's Athabasca Basin
Projects with drill‐ready targets on trend with existing discoveries in the world's most prolific uranium district.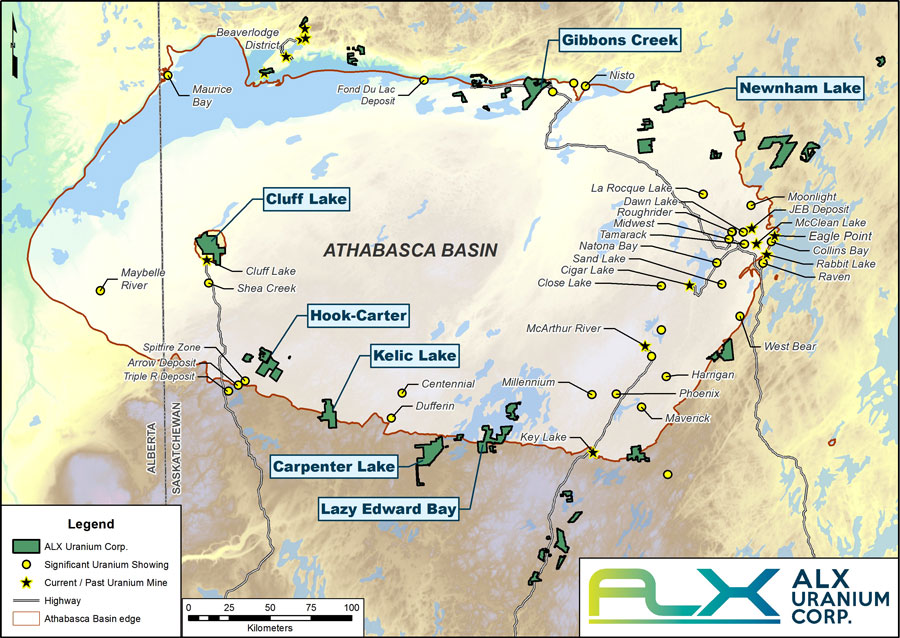 Hook-Carter: On Trend and On Target
The Hook-Carter uranium project covers 19,573 hectares in the emerging PLS district located in the southwestern portion of Saskatchewan's Athabasca Basin. The property lies at the northern end of three important structural conductor trends: Patterson Lake, Derkson and Carter.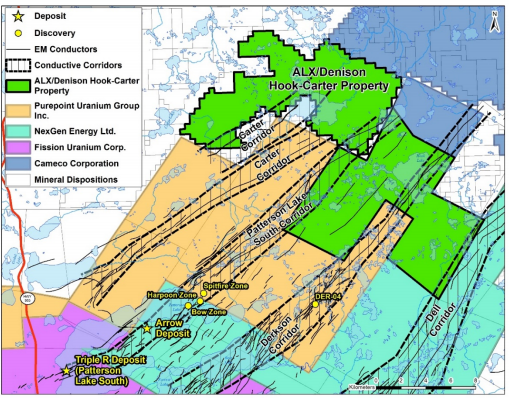 The Patterson Lake trend hosts three of the Athabasca region's most notable recent discoveries, which are within 8 to 20 kilometers of Hook-Carter:
Triple R (PLS) Deposits: 81 million pounds at 1.83 percent U308 (Indicated), and 27 million pounds at 1.57 percent U308 (Inferred); Fission Uranium Corp.
Arrow Deposit: 179.5 million pounds at 6.88 percent U308 (Indicated), and 122.1 million pounds at 1.30 percent U308 (Inferred); NexGen Energy
Spitfire Zone: Hole HK16‐53 10 meters at 10.30 percent U308; Purepoint Uranium/Cameco/AREVA JV
The three discoveries are located at crosscutting structural trends along the northeast-southwest corridor. The residual total magnetic field map below shows that similar magnetic disruptions occur on the Hook-Carter property.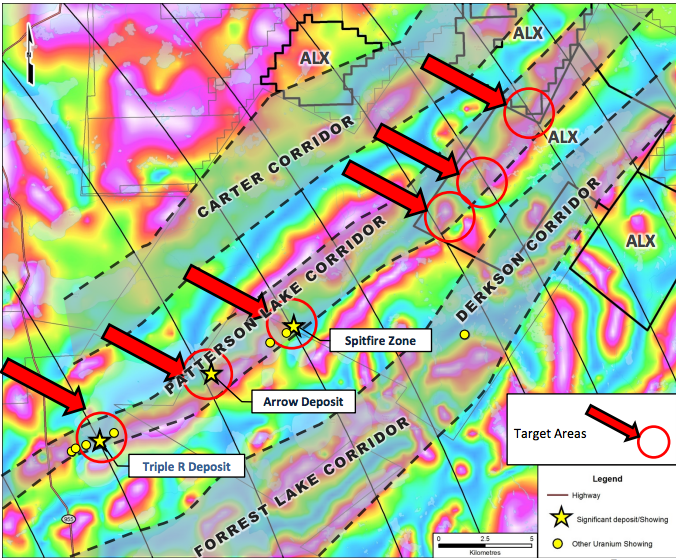 Between 250 to 700 meters of sandstone cover overlays the basement rocks that define the structural trends present at Hook-Carter, indicating the potential for both basement-hosted and unconformity-hosted uranium mineralization. The results of historical exploration work at Hook-Carter—including boulder and lake sentiment sampling, airborne and ground electromagnetic (EM) surveys, and drilling—further indicate the presence of uranium mineralization on the property (see Hook-Carter Technical Summary).
Historically, only five holes were drilled along the Patterson Lake Corridor and three holes on the Derkson Corridor prior to 2013. These holes were shallow with few of them more than 100 meters deep, leaving the basement unexplored.
A 2014 interpretation report completed by Condor Consulting reviewed recent airborne EM and magnetic geophysical surveys conducted on the property by CGG Aviation and identified several high-priority target areas at Hook-Carter. In 2016, Peridot Geoscience completed an interpretation report that identified several geochemical and radiometric anomalies coincident with the earlier Condor report.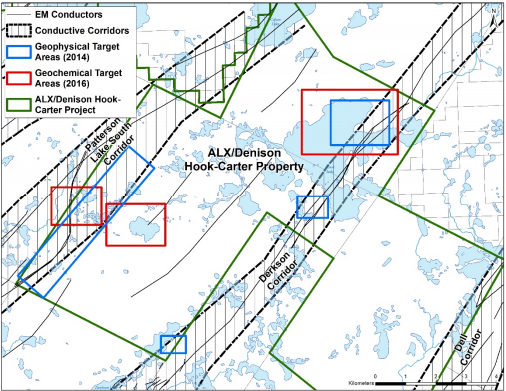 Newnham Lake: Basement-hosted uranium style targets
The wholly-owned Newnham Lake uranium project covers 11,737 hectares in the northern margin of the Athabasca Basin. The geology of the property is prospective for uranium mineralization with a 25-kilometer strike length of conductive basement rock trend present under a shallow sandstone cover of less than 100 meters in depth.
Historical exploration conducted in the 1980s by Saskatchewan Mining and Development Corporation encountered anomalous uranium in lake sediments and drill holes.
A suite of modern ground geophysics and airborne geophysical work (ZTEM, VTEM, gravity and magnetic surveys) was completed on the property by the previous operator. ALX is re-interpreting and integrating the results of the historical surveys to search for deeper mineralization than was historically encountered, where most drill holes were stopped early. An I.P./resistivity survey is planned as a complement to the current geophysical compilation prior to drilling the best targets.
The planned 2017 exploration program will focus on defining basement-hosted uranium targets up to 700 meters below unconformity.
Gorilla Lake: Near AREVA's past-producing Cluff Lake mine
The Gorilla Lake uranium project is a joint-venture between ALX (80 percent) and Logan Resources (20 percent) with ALX as the operator. The 7,552-hectare property is one of the company's three Cluff Lake group of properties which adjoin the former Cluff Lake mine in the western portion of the Athabasca Basin. The Cluff Lake mine produced more than 62 million pounds of U308 over a 22-year mine life. Gorilla Lake is also 95 kilometers north of the Triple R uranium deposit and 30 kilometers north of the Shea Creek uranium deposit.
Limited historical drilling at Gorilla Lake encountered basement-hosted uranium mineralization.
Hole CAR 425 intersected 0.85 percent U308over 2.3 meters (1979, Amok, a predecessor of AREVA).
Hole CLU‑01 intersected 0.46 percent U3O8over 1.5 meters from 174.0 to 174.5 meters (2006, ESO).
Hole CLU‑07 intersected 0.17 percent U3O8over 7.0 meters from 153.0 to 160.0 meters, including 0.82 percent U3O8 over 1.0 meter; and 0.20 percent U3O8 over 2.0 meters from 175.0 to 177.0 meters (2006, ESO).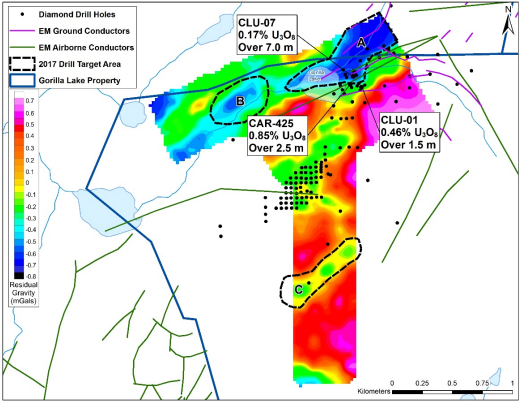 The 2017 Exploration Program at Gorilla Lake is designed to follow up on the results of the holes drilled in 2006 in the northern portion of the property. The program includes four drill holes totaling 1,000 meters. The program will also test an anomaly within a distinct northeast-trending gravity low located approximately 1,500 meters south of Gorilla Lake which was defined by recent airborne and ground EM surveys and a ground gravity survey.
Lazy Edward Bay: Defined targets for exploration
The wholly-owned Lazy Edward Bay uranium project covers 18,575 hectares in the southern margin of the Athabasca Basin. The property is located 55 kilometers west of the Key Lake uranium deposit and 55 kilometers east of the Centennial uranium deposit. Lazy Edward hosts a shallow sandstone cover of less than 200 meters in depth and at least six underexplored conductive trends.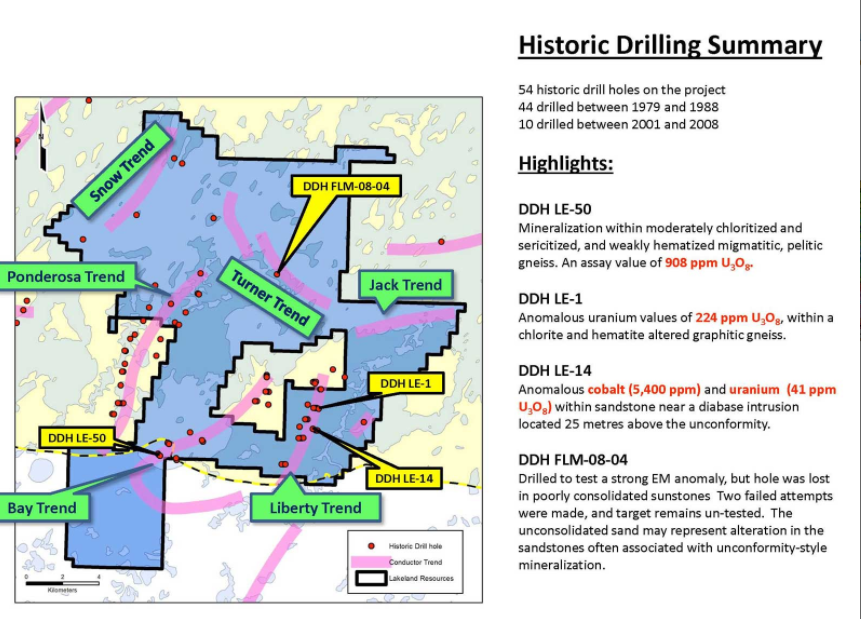 Recent airborne EM and gravity, ground EM and radon‐in‐water surveys along with geochemical interpretation have led to defined targets for a future drill campaign on the property.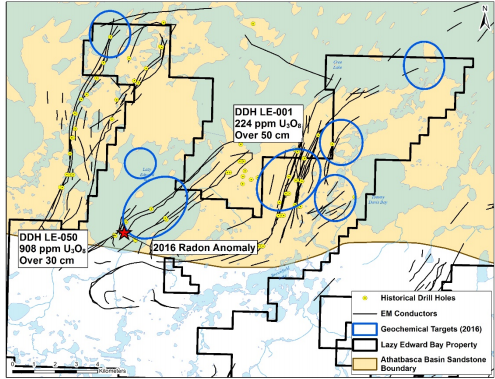 Board of Directors and Management
Warren Stanyer — Chairman of the Board
Warren Stanyer has over twenty years of experience in the mineral exploration industry, focused mostly on uranium in the Athabasca Basin. Warren held the positions of Corporate Secretary and Vice President, Corporate Development in Pioneer Metals (prior to its acquisition by Barrick Gold in 2006), and in UEX Corporation. In 2007, he began consulting for Northern Continental Resources, a junior exploration company focused on uranium in the Athabasca Basin. He was appointed President and CEO in 2008, and in 2009 he steered the successful sale of the company to Hathor Exploration Limited. Warren has also held executive-level and director positions at Guyana Frontier Mining Corp., Alpha Minerals Inc. (during the Patterson Lake uranium discovery in 2012), and Fission Uranium Corp. Currently, Warren serves as President, CEO and a Director of Nevada Sunrise Gold Corporation and as Director of Eureka Resources Inc. He is also a Director of New Moon Minerals Corporation, a private mineral exploration company.
Sierd Eriks, P. Geo., B.A (Geology) — President and CEO (Interim)
Sierd Eriks has worked in mineral exploration for over thirty-five years with a focus on uranium exploration for the past two decades. From 1979 to 1998, Sierd gained geological and managerial experience with major mining companies, including Saskatchewan Mining and Development Corporation (now Cameco Corporation), Falconbridge Limited, Noranda Exploration Co. Ltd. and Cogema Resources Inc. (now AREVA Resources Canada Inc.) in base metals, gold, platinum group metals, and uranium exploration. In 1999, he became a consulting geologist and worked on numerous uranium exploration programs in the Athabasca Basin. Prior to joining ALX,  Sierd was Vice-President, Exploration with UEX Corporation from 2007 to 2014. In this position, Sierd managed projects with annual exploration budgets of up to $29.0 million and directed drilling programs leading to the establishment of mineral resources for three uranium deposits in the eastern Athabasca Basin in northern Saskatchewan.
Benjamin Ainsworth, MA (Oxon), PEng BC. — Director
Benjamin Ainsworth brings a very diverse and valuable range of experience to ALX from more than 40 years in the mineral exploration sectors. Ben had a senior role at Alpha Minerals, the precursor to Alpha Exploration, from 2005 to 2013, as Director and originally as VP Exploration and eventually as President and CEO. He led the development of the company's exploration portfolio and directed its exploration efforts, including the joint venture partnership, additional staking and eventual and grass roots exploration program and discovery at the Patterson Lake south property, Saskatchewan. He was a Director at Hathor Exploration from 2005 until its successful sale to Rio Tinto in 2012. Initially he acted as VP Exploration, and was active in the grass roots exploration that led to the discovery of the Roughrider uranium deposit, the first significant high grade discovery ever made by a junior in the world's premier high grade uranium district in the world, the Athabasca Basin, Saskatchewan. Ben was the recipient of the 2013 AMEBC Colin Spence Award for Excellence in Global Mineral Exploration in recognition of the Patterson Lake south uranium deposit discovery. Qualified and registered as a Professional Engineer in British Columbia and Saskatchewan, and acts as a "Qualified Person" under the definition used in National Instrument 43 101.
Jody Dahrouge, B.Sc., Sp.C., P. Geo. — Director
Jody Dahrouge is a professional geologist with 25 years of experience in Canada and internationally, and has a successful background in uranium exploration and project generation within the Athabasca Basin. Since 1998, Jody has been the president of Dahrouge Geological Consulting Ltd., a geological services company that provides consulting services to a broad range of public and private exploration and mining companies. He is a professional geologist (Alberta) and holds Bachelor of Science degrees in geology and computing science, both from the University of Alberta. Until September 2007, Dahrouge was President and COO of Fission Energy Corp., and played a key role in the acquisition of several of Fission's key exploration properties, including Waterbury Lake, Patterson Lake and Patterson Lake South (PLS). Two very significant uranium occurrences were eventually discovered at those projects, including the J-Zone at Waterbury Lake, and the Triple R uranium deposit at PLS.
Steve Khan, BSc, MBA, CFA — Director
Steve Khan spent close to twenty years in senior management positions in all aspects of the Canadian investment industry, including retail, institutional sales, corporate finance, capital markets, and investment banking. In 2003, he started his own consulting firm that focuses on corporate development and capital fund raising for early stage private and public companies. In recent years, he has successfully completed numerous joint ventures, including corporate and government partnered ventures in Canada, United States, Japan, China, and Korea. Steve currently sits on the board and is an executive officer of a number of private and public companies. Steve has also held executive management and board positions in a number of uranium companies such as Energy Fuels Inc., Strathmore Minerals Corp. and Fission Energy Corp. He was an instrumental part of the team that negotiated Strathmore's Roca Honda Joint Venture with Sumitomo Corp of Japan in 2007, as well as he was part of the team that brought Korea Electric Power Corp (KEPCO) to Fission and later to another joint venture with Strathmore Minerals.
Dr. Howard Haugom, BA, MA, Ph.D — Director
Mr. Haugom is co-owner of Quilts Etc., a national linen retail chain and a partner at Burkehill Uranium Corp, a Vancouver based private equity firm. He has taught extensively at Simon Fraser University, worked for both the private (Canadian Pacific) and public sectors (BC Treasury Board) as an Economist, and has been a consultant to the gold resource sector. Mr. Haugom received Economic degrees (specializing in international trade/finance and Resource Economics from the University of Victoria – BA and MA, 1984) and a PhD ( 1991) from Simon Fraser University.
Roger Leschuk, CIM, FCSI — Vice President, Corporate Development
Mr. Leschuk has the designation of Chartered Investment Manager, CIM, and has more than 20 years experience in the Financial Services and Investment Industry. Mr. Leschuk successfully managed client accounts on a full range of financial services which included stocks, mutual funds, tax sheltered investments, lines of credit and mortgages for over 15 years. Mr. Leschuk is also a member of the Fellow of the Canadian Securities Institute, FCSI.
Patrick Groening CPA, CA — CFO
Mr. Groening's previous roles with public companies include serving as CFO for both Strathmore Minerals Corp. and Fission Energy Corp. for more than nine years combined. He filled the same role for Jalna Minerals Ltd., Sernova Corp., and Papuan Precious Metals Corp, and dual roles of CFO and Corporate Secretary For Wolf Capital Corp. and Pacific Asia China Energy Inc.
Christina Boddy — Corporate Secretary
Ms. Boddy is a member of the Canadian Society of Corporate Secretaries and has acted as Corporate Secretary for a number of public companies in recent years, including Levon Resources Ltd. (TSX:LVN), Nevada Sunrise Gold Corporation (TSXV:NEV), Aton Resources Inc. (TSXV:AAN), and Resinco Capital Partners Inc. (TSXV:RIN). Ms.Boddy acts as a consultant to public and private companies through Rhodanthe Corporate Services, a B.C.-based private company.
Charles Roy, P.Eng., P.Geo. — Chairman, Technical Committee
Charles Roy brings a rare depth of experience and success in uranium exploration from a career largely with the world's leading major uranium mining company, Cameco Corporation. Between 1982 and 1989, Charles was employed by the Mining Engineering and Geological Consulting firm of David S. Robertson and Associates. His work included fluorspar exploration in Newfoundland, uranium exploration in northern Michigan, USA and a uranium and coal evaluation study for the Kingdom of Lesotho, southern Africa. He joined the Saskatchewan Mining Development Corporation (SMDC, now Cameco) in 1979 as a Project Geologist in Uranium City, thus beginning a career with Cameco that spanned some 33 years. Between 1994 and 2012, Charles managed and supervised both greenfield and brownfield uranium exploration programs in the Athabasca Basin. The last two years spent with Cameco,  he was Director of Exploration Agreements and worked closely with Corporate Development and Legal Departments to negotiate new exploration opportunities for Cameco and help to consolidate and streamline the worldwide exploration portfolio.
Charles Roy has evaluated uranium opportunities worldwide but his expertise and knowledge is most specifically focused on the unconformity model and the Athabasca Basin. During his time at Cameco, he over saw district exploration budgets of up to $35 million, and was involved with exploration teams responsible for the discovery and delineation of seven significant uranium deposits, including Millennium most recently.
Donald M. Wright, B.Sc. (Hons.), M.Sc., P.Geo. — Technical Advisor
Donald Wright is a principal of Peridot Geoscience Ltd., of Ottawa, Ontario, Canada, and is engaged primarily in the definition of the relationships between elements, mineral deposits, and their host environment, applying these geochemical signatures to help focus mineral exploration effort, thereby reducing risk and enhancing exploration success for client companies. Peridot Geoscience Ltd. was established by Wright after six years with Cameco as a Senior Geoscientist (Exploration Division). During his time at Cameco, he expanded the role of geochemistry in Cameco's uranium exploration efforts, developing and applying modern quality assurance and geochemical interpretation techniques. Prior to joining Cameco, Mr. Wright was engaged in mineral exploration and geoscience research in a number of roles in academia and industry, including work in British Columbia, Saskatchewan, and Newfoundland and Labrador, investigating the tectonic settings of the Trans-Hudson Orogen and the Nain Plutonic Suite, and consulting to various companies engaged in exploration for gold and base metals.
---
*Disclaimer: The profile provides information which was sourced and approved by ALX Uranium in order to help investors learn more about the company. ALX Uranium is a client of the Investing News Network (INN). The company's campaign fees pay for INN to create and update this profile page, to which links are placed on Investingnews.com and channel newsletters.
The company description, investment highlights and catalysts were sourced by INN and approved by the company. INN does not guarantee the accuracy or thoroughness of the information contained on this page.
INN does not provide investment advice and the information on Investingnews.com profile should not be considered a recommendation to buy or sell any security.
INN does not endorse or recommend the business, products, services or securities of any company profiled.
Readers should conduct their own research for all information publicly available concerning the company.