Overview
Baselode Energy (TSXV:FIND, OTCQB: BSENF) is a uranium-focused exploration company with two high potential projects in the Athabasca Basin area, which accounts for roughly 20 percent of global annual uranium production. Baselode Energy is exploring for basement-hosted deposits outside of the traditional "unconformity-controlled"-type uranium deposits, with emphasis on avoiding sandstone cover, and instead focusing on near-surface, structurally-controlled mineralization that could be mined easier than deposits underneath sandstone cover.
The Athabasca Basin is located in the top Canadian mining investment jurisdiction of Saskatchewan, based on the Fraser Institute Annual Survey of Mining Companies 2019. Since 2008, basement-hosted, high-grade uranium deposit discoveries have spurred and reinvigorated an exploration rush in the Basin, with a number of discoveries having been made, especially by junior companies which have created massive shareholder returns. The highest-grade uranium mines in the world are all situated within the Athabasca Basin area and they include Cameco's (TSX:CCO,NYSE: CCJ) Cigar Lake, the world's highest grade uranium mine, as well as McArthur River/Key Lake, NexGen Energy's (TSX:NXE) Arrow project and Denison Mines' (TSX:DML) Phoenix and Gryphon deposits.
Baselode's strategy and exploration model, Athabasca 2.0, is to explore overlooked and easily accessible basement rocks with little to no sandstone cover along deep structural corridors that host known high-grade uranium deposits. Baselode Energy's 100 percent owned Shadow project covers one of these corridors along the Virgin River Shear Zone, which was recently confirmed by an airborne magneto-telluric survey.
Baselode Energy has a solid management team made up of individuals with technical and capital markets experience. CEO James Sykes has a proven track record as he brings more than 15 years of Athabasca experience and discoveries to the team. He has been directly and indirectly involved in the discovery of over 550,000,000 pounds of uranium in the Basin.
Company Highlights
Focused on exploring for near-surface, basement-hosted high-grade uranium deposits in the Athabasca Basin area—the Athabasca 2.0 model
Maiden drill program at Shadow slated for Q4 2020/Q1 2021
Baselode uses "out-of-the-box" thinking and unique methodologies to increase the chances of making a discovery
Directed by an excellent management team with the right technical and capital markets experience
Tight capital structure with ~40 million shares outstanding and ~50 percent controlled by insiders, meaning potential for massive shareholder wealth
Both Shadow and Hook projects are located within 50 km of highways, they are near power lines and the Hook project is in close proximity to a uranium mill
Saskatchewan is rated as one of the top 10 global jurisdictions for mining investment on the Fraser Institute Annual Survey of Mining Companies 2019, and the top jurisdiction in Canada
Baselode intersected numerous intervals of elevated radioactivity within two new diamond drill holes at the ACKIO target on its Hook Uranium project Athabasca Basin area, northern Saskatchewan.
Key Properties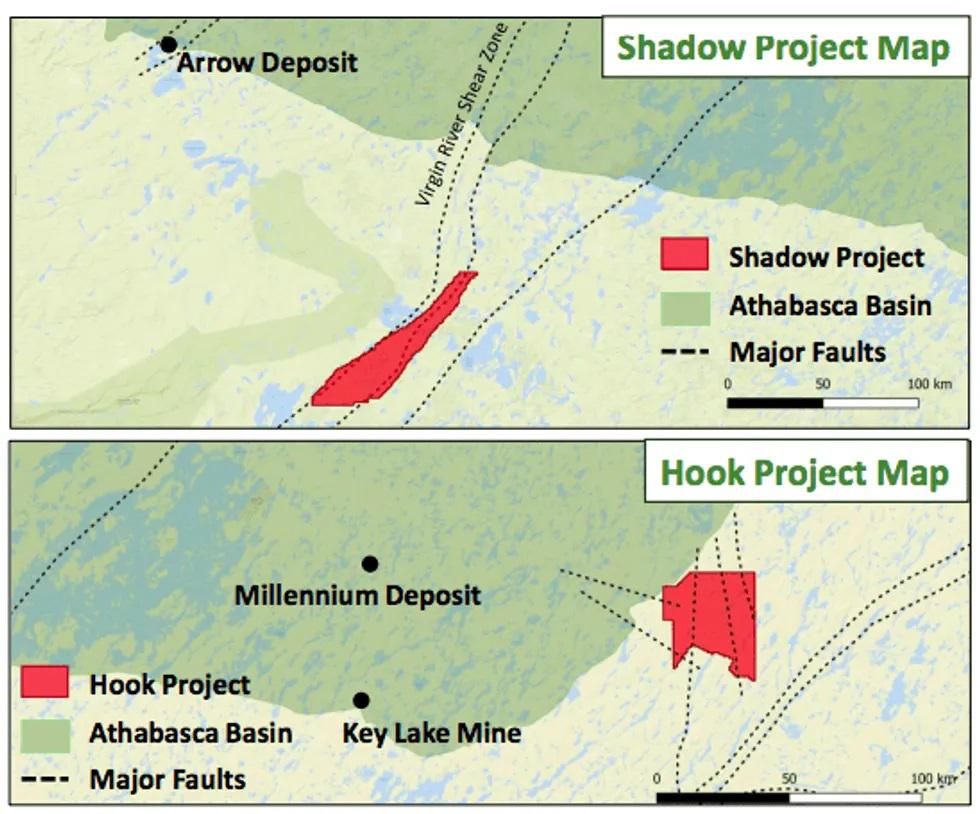 Baselode Energy's primary properties are the Shadow and Hook projects. Both properties are located outside the Athabasca Basin but share similar geology as those corridors that host high-grade uranium deposits. The 100,000 km² Basin hosts the highest uranium grade deposits in the world. Uranium was first discovered in the region in the 1940s, giving the Basin a rich exploration and mining history.
Shadow Project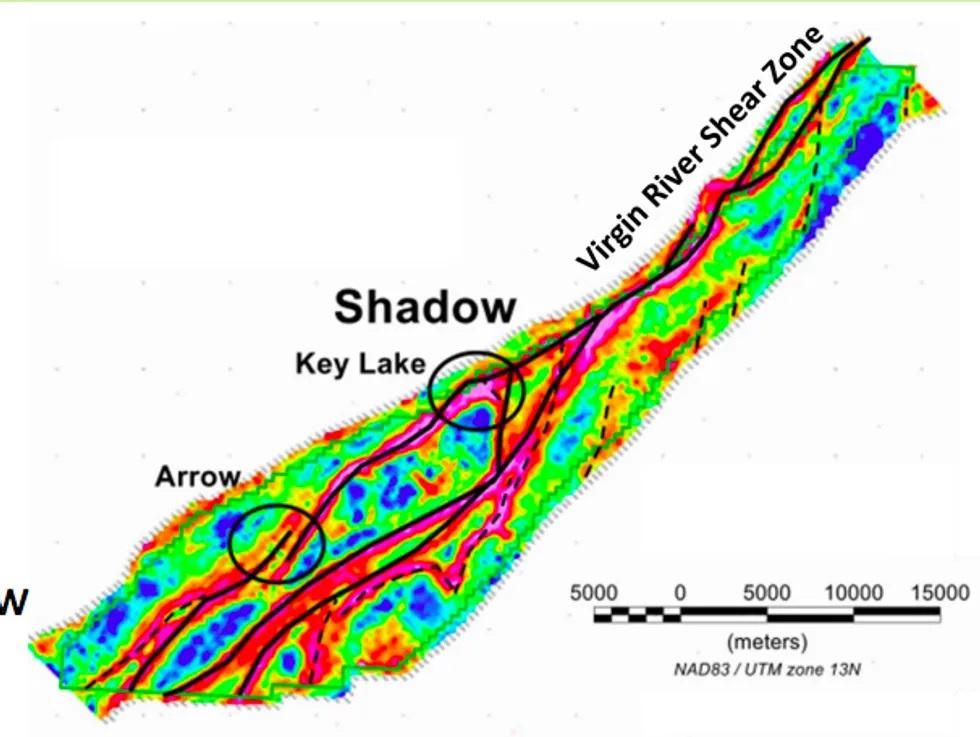 The Shadow Project is a 42,000 hectare property located along the Virgin River Shear Zone (VRSZ) to the south of the Athabasca Basin. The property is 100 percent owned by Baselode Energy with no underlying royalties. Shadow has structural and geophysical features similar to multiple high-grade deposits across the entire Athabasca Basin, and the VRSZ is already a host to several uranium deposits. The geophysical features showcase that the Shadow property covers a deep-rooted structural corridor with numerous loci for structural fluid traps. The Shadow property is conveniently located along a regional dilational jog along the VRSZ, a perfect place to draw in uranium-rich fluids for deposition and deposit formation.
The basement rocks underlying the VRSZ are naturally rich in uranium. An airborne radiometric anomaly over 10 km in length has been discovered on the property, pointing to either a large boulder field, bedrock exposures with elevated concentrations of uranium or possibly high-grade but narrow uranium veins. Baselode Energy plans to explore the property and test some high-priority target areas with diamond drilling scheduled for Q4 2020/Q1 2021, and the company also plans to assess the airborne radiometric anomalies during the summer months of 2021.
Hook project
The Hook project property, which covers 30,000 hectares, is situated about 60 km northeast of the Key Lake mill and 75 km southeast of the McArthur River mine. The property was staked between two high-grade uranium occurrences: Cameco's McArthur River mine to the northwest and the Hook Lake high-grade surface showing (average 44.5 wt% U3O8) to the southeast. The property location provides Baselode the confidence that the Hook project is ripe for discovery. Although Hook is located outside the Athabasca Basin, the area was once covered with Athabasca sandstones, which have since been eroded. The basement rocks of the property are those of the Wollaston domain, which hosts the highest-grade uranium deposits in the world. This property is 100 percent owned by Baselode Energy without option agreements or underlying royalties.
Although the Hook Lake high-grade uranium showing is adjacent to the property, that showing already indicates something fundamental about the potential for additional high-grade uranium discoveries waiting to be made in the area. Baselode's Hook property covers a few uranium showings of interest: the Art Lake showing with visible uranium stains at surface and a radioactive boulder train. For Baselode, exploration of the Hook project will combine mapping structural displacements, research of historic work on the property and follow-up ground prospecting and geophysics in search of high quality targets for drill testing. Once the company has identified the target areas, the project will be ready for diamond drilling.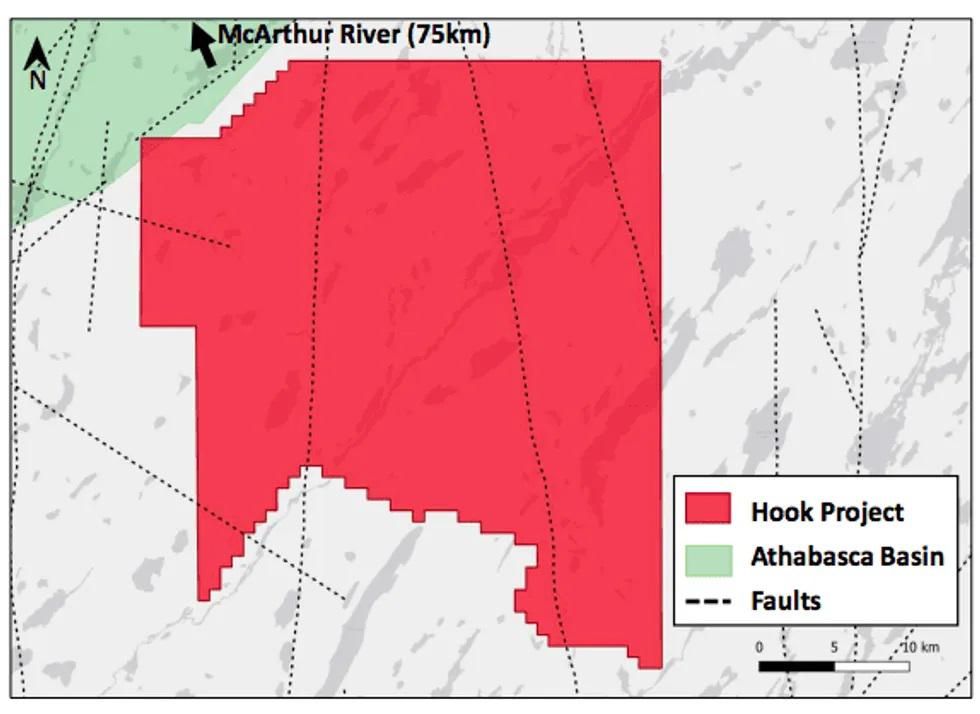 Management Team
James Sykes - CEO, Director
Mr. James Sykes is a successful geologist with multiple uranium discoveries. The professional has 15 years of experience in Athabasca Basin uranium exploration and discovery. He has previously been involved with NexGen's Arrow deposit discovery and Hathor Exploration's Roughrider deposits, both of which successfully created large shareholder wealth. There is a good chance that Sykes, who has helped discover 550 million pounds of uranium, will find more.
Cameron MacKay - Vice-President, Exploration & Development
Cameron has been instrumental for the Company's success and discovery of the high-grade Uranium ACKIO zone on the Company's Hook project, as well as managing the technical and logistical requirements for Baselode's project portfolio. Prior to joining Baselode, Cameron had spent five years with Purepoint Uranium Group (TSXV: PTU) as Senior Exploration Geologist helping delineate the high-grade Uranium Spitfire prospect. His technical background also includes working as a Senior Bedrock Mapper with the Canada-Nunavut Geoscience Office. He is currently a member in good standing with the Association of Professional Engineers and Geoscientists of Saskatchewan , and holds an M.Sc. in Geology from the University of Saskatchewan .
Joel Friedman - Chief Financial Officer
Joel Friedman is a finance professional with over 13 years of experience working in the mining and cannabis industries. Most recently, Joel served as the CFO of Khiron Life Sciences Corp, prior to this, he was Vice President, Finance at CannTrust Inc., and Director of Finance at Primero Mining Corp. and senior finance roles at Banro Corporation and Iamgold Corporation. Mr. Friedman began his career at Deloitte in the Real Estate and Resources group, where he worked with a variety of publicly listed clients throughout the mining lifecycle, from exploration to multi-asset operators. Mr. Friedman holds a CPA, CA and Honours Bachelor of Business Administration from the Schulich School of Business at York University, Canada.
Stephen Stewart - Director
Stephen holds a Bachelor of Arts, Master of Business Administration and Master of Science. Apart from serving as a director at Baselode Energy, he is also the CEO and Director of Orefinders Resources Inc. and PowerOre Inc. In addition, Stephen is also Managing Partner of Minvest Partners and founder and chairman of Young Mining Professionals Scholarship Fund.
Charles Beaudry - Director
Charles Beaudry is an accomplished geologist with over 30 years of experience. The professional is also experienced in project generation, exploration chemistry, business development and project management. Between 2008 and 2009, Charles served as the General Manager of new business opportunities at IAMGOLD Corporation.
Gautam Narayanan - Director
Gautam Narayanan wears many hats. The geologist and business administration executive is the VP of Corporate Development for Power Ore Inc. and Orefinders Resources Inc. He is also a Director of Mistango River Resources. In the past, Gautam worked at Canaccord Genuity, where he focused on equity research.
Michael W. Mansfield - Director
Mr. Michael Mansfield is an investment professional with more than 20 years' experience. He has helped numerous companies go public by assisting in the completion of qualifying transactions. Michael works with Industrial Alliance Securities Inc. and also as an investment advisor in the Canadian venture market.
Request an Investor Kit
EXCITING upcoming projects!
IN-DEPTH reliable insights!
SUCCESSFUL growth strategies!
VALUE-BASED content!
Baselode Energy