By Melissa Pistilli—Exclusive to Silver Investing News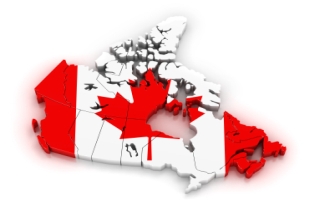 Trade in natural resources is the lifeblood of the Canadian economy, making the mining industry crucial to the nation's survival. Each one of Canada's ten provinces and three territories is home to a number of mining operations, and nearly 80 percent of total mineral production is exported. The North American nation is amongst the top world-leading producers of uranium, zinc, potash, nickel, molybdenum, and gold. However, in terms of silver production, Canada ranks 11th with 19.6 million ounces produced in 2009, according to the Silver Institute.
While global silver mine production rose by nearly 4 percent in 2009, its seventh straight annual gain, Canada posted a loss of more than 1 million ounces, says the Institute. Canada's lack of primary silver mines may be responsible for its lower ranking as primary silver supply accounted for 30 percent of total global mine production last year.
Most mined silver is a by-product from other metal mines, and silver production in Canada fits that description. According to Natural Resources Canada (NRC), the nation's mines are primarily polymetallic; so, it's no surprise that the main sources of silver in Canada are copper-zinc, copper-nickel, gold, and lead-zinc ores.
NRC research shows that in 2008, the majority of silver mine reserves were held mostly in copper-zinc ore (55 percent); other sources include gold and silver ore (23 percent), lead-zinc ore (18 percent) and nickel-copper ore (4 percent).
Despite the nation's lower rank, the silver mining industry played a significant role in the settlement of Canada. The country's most notable silver rushes occurred in Cobalt, Ontario and the Kootenay region of British Columbia, still known today for its wealth of precious metals.
Silver Mining by Province/Territory
As of December 2008, according to the NRC, the provinces of Ontario, British Columbia, Quebec and New Brunswick continue to dominate in terms of proven and probable mineable silver reserves in Canada. Quebec is the leader with 29 percent, followed by Ontario with 24 percent, New Brunswick  with 18 percent and British Columbia with 16 percent.
On average, Canada produces over 1000 tonnes of silver annually. The NRC reports that in 2009, New Brunswick produced 184 tonnes of silver; the province of Quebec produced 155 tonnes; Ontario was responsible for 138 tonnes; and British Columbia produced 74 tonnes of silver.
The province of British Columbia, and the territories of Nunavut and the Yukon have become hot beds for resource exploration and development projects with several companies on the hunt for the next silver find.
British Columbia
Not only is BC the corporate base for many Canadian mining firms, it's also a major producer of base and precious metals with a long history of silver mining. In production from 1909 to 2001, the Sullivan lead-zinc-silver mine was once one of the world's largest producing mines with an estimated total silver production of 280 million ounces. Barrick Gold's (NYSE:ABX; TSE:ABX) Eskay Creek mine, which operated from 1995 to 2008, was one of North America's highest-grade gold and silver deposits with annual silver production of 15.5 million ounces.
Silver Standard Resources Inc. (NASDAQ:SSRI; TSE:SSO), which claims to have "the largest in-ground silver resource of any publicly-traded primary silver company," has its flagship mine in Argentina. The Pirquitas mine is expected to be one of the largest open pit primary silver mines in the world. However, the company does have two advanced exploration projects in BC. It's wholly-owned Snowfield and Brucejack projects are a part of a mineralized gold-copper-silver-molybdenum system.
The Snowfield project lies immediately east of Seabridge Gold's (TSX:SEA; AMEX:SA) KSM property. As of December 2009, estimated resources at Snowfield include measured and indicated gold resources totaling 19.8 million ounces and silver resources totaling 50.9 million ounces; inferred gold resources total 10.1 ounces with inferred silver resources totaling 43.7 million ounces.
The Brucejack project is about six kilometers to the south of Snowfield. As of December 2009, estimated resources consist of measured and indicated resources of 4.04 million ounces of gold and 65.4 million ounces of silver with inferred resources of 4.9 million ounces of gold and 71.5 million ounces of silver.
Other companies with properties under exploration for silver resources include Silver Quest Resources Ltd. (TSXV:SQI), Huldra Silver Inc. (TSXV:HAD), Silvercorp Metals Inc. (NYSE:SVM; AMEX:SVM; TSE:SVM), Bard Ventures (TSXV:CBS), and Avino Silver and Gold Mines (TSXV:ASM)
Nunavut and the Yukon Territories
Metals and minerals prices took a hard hit in 2008, and "had a devastating impact on mining production and exploration across Canada," commented the Conference Board of Canada in an August 2010 report. However, the Conference Board presented an optimistic 2010 economic outlook for the nation's territories, forecasting "strong economic growth this year," due in large part to a recovering demand for diamonds, precious metals and other resources.
While Canada's territories don't come close to the annual silver production posted by the provinces, they are quickly becoming centers of new exploration, especially in Nunavut and the Yukon.
In Nunavut, "a rejuvenated mining industry" will help the province "post real GDP growth of 12.9% this year" with  "mining and exploration and deposit appraisal expenditures . . .  expected to increase to Cdn$238.3 million" in 2010, reports Mineweb's Dorothy Kosich.
Nunavut is home to Sabina Gold & Silver's (TSX:SBB) flagship properties, the Hackett River silver-zinc project and the Back River gold project, are both advanced exploration properties.
Advancing the Hackett River project is amongst the company's top three mandates. The property, says a recent Sabina news release, is one of the world's largest undeveloped silver-zinc volcanic massive sulphide deposits "with indicated resources totaling 43.6 million tonnes with diluted (recovery) grades of 4.15% zinc, 129 g/t silver, 0.35% copper, 0.58% lead and 0.27 g/t gold . . .  [and] inferred open resources totaling 16.0 million tonnes with diluted (recovery) grades of 3.53% zinc, 111 g/t silver, 0.24% copper, 0.46% lead and 0.25 g/t gold."
Commenting on the company's successes and financial results for the second quarter 2010, Sabina President & CEO, Tony Walsh credited progress at the Nunavut projects. "The first half of 2010 has been both productive and exciting for us," said Walsh. "Successes at our Nunavut projects have enabled us to access equity markets with a strong share price allowing us to fund our aggressive plans for Back River and Hackett River going forward. We are very pleased with the successes we've had to date, especially with the new discoveries at Back River."
Another company eyeing potential silver targets in Nunavut includes Aura Silver Resources (TSXV:AUU). Aura's flagship property, the Taviche project, is located in Oaxaca, Mexico; but its second silver project, Greyhound Lake, is found in Nunavut.
The Conference Board of Canada says the Yukon Territory lead all provinces and the other territories in economic growth for 2009, posting a 1.4 percent increase. The Conference Board expects the Yukon's GDP to rise by 4.9 percent in 2010. Real output from the territory's mining sector is expected to grow by about 60 percent this year to C$115 million.
As of December 2008, the Yukon held a mere 1 percent of proven and probable mineable silver reserves in the nation, producing 10 tonnes of silver in 2009. But those numbers could improve dramatically with the opening in a matter of weeks of what will be Canada's sole producing primary silver mine.
Alexco Resource Corp.'s (TSX:AXR; AMEX:AXU) Bellekeno silver mine, under construction since November 2009, is located within the historic Keno Hill Silver District, which produced more than 217 million ounces of silver between 1913 and 1989.
The deposit is comprised of polymetallic silver, lead and zinc vein-type mineralization with 401,000 tonnes of indicated resources graded at 921g/t silver, 9.4 percent lead and 6.5 percent zinc. Inferred resources are estimated at 82,981 tonnes graded at 289g/t silver, 2.8 percent lead and 22.2 percent zinc.
Bellekeno is expected to produce up to 2.8 million ounces of silver per year with a mine life of 3.5 years; however, exploration targets are anticipated to extend mine life while increasing annual production to 5 million ounces.
Other companies with silver targets in the Yukon include Klondike Silver Corp. (TSXV:KS), Silver Quest Resources (SVE:SQI), Habenero Resources (TSXV:HAO), and Tarsis Resources (TSXV:TCC).
With help from Assistant Editor Vivien Diniz
Get Our Expert Guide to Silver Investing FREE!
Download this FREE Special Report, 
When Will Silver Go Up: Is the Highest Price of Silver Still to Come?