10 World's Largest Gold Mines
Gold mines around the world come in all shapes and sizes, but it's hard not to wonder where the true behemoths are, and who owns them.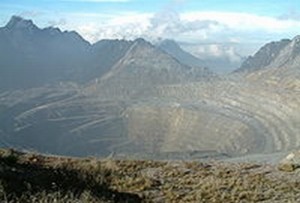 Gold mines around the world come in all shapes and sizes, but it's hard not to wonder where the true behemoths are, and who owns them.
The Investing News Network took a look at the 10 largest gold mines in the world, based on 2014 production figures from the Thomson Reuters GFMS Gold Mine Economics service. Gold Mine Economics includes comprehensive data on 350 gold projects around the world, and Janette Tourney, senior analyst, mine economics at Thomson Reuters GFMS, took a moment to go over some of the latest data on the world's largest gold mines.
The mines on the list are scattered all over the world, from Indonesia, to the US to the Dominican Republic. However, many of the world's biggest gold mines are owned at least in part by Barrick Gold (TSX:ABX,NYSE:ABX), the largest gold-producing company in the world last year.
It's worth noting that the list below only includes mines for which information has been made publicly available. Tourney explained that production from the Muruntau mine in Uzbekistan has been a state secret for some time, but that it's possible the mine is producing over 2 million ounces of gold per year.
"We don't know if that's the case, but if it is, that would make it the largest gold mine in the world," she said. Without further ado, here are the 10 biggest gold mines in the world.
1. Grasberg
Production: 1.13 million ounces
Grasberg, a copper-gold mine in Papua, Indonesia is the largest gold mine in the world. The mine is mostly owned by Freeport-McMoran (NYSE:FCX), with the government of Indonesia owning roughly 9 percent of the complex.
The open-pit mine at Grasberg has been in operation since 1990, and is expected to continue until 2017. After that, operations will transition to focus on underground orebodies beneath and nearby the Grasberg pit.
2. Pueblo Viejo
Production: 1.108 million ounces
One of the newer large gold mines in the world, Pueblo Viejo is owned in a 60/40 joint venture between Barrick Gold and Goldcorp (TSX:G,NYSE:GG). The mine is located in the Dominican Republic.
Pueblo Viejo was commissioned in 2012 and completed its production ramp up in 2014. The mine had proven and probable gold reserves of 15.53 million ounces as of the end of 2014, and is projected to have a 25-year mine life.
3. Yanacocha
Production: 970,000 ounces
The Yanacocha mine in Peru was bumped out of its number-two spot on the list of biggest gold mines in the world by Pueblo Viejo last year. It was once a much larger operation, but is "more mature now," Tourney explained. Yanacocha is jointly owned by Newmont Mining (TSX:NMC,NYSE:NEM) (51 percent) Beunaventura (44 percent) and International Finance (5 percent).
4. Carlin
Production: 907,000 ounces
Carlin is part of a much larger Nevada gold operation owned by Newmont Mining. However, Tourney explained that the company now reports production from Carlin individually. Thus, she thought it appropriate that the mine should get its own spot on the top 10 list.
Stakeholder Gold Corp. (TSXV:SRC)
a resource exploration company focused on its 100%-owned Ballarat Gold Project located in the proven White Gold District of the Yukon. 
Connect with SRC
to instantly receive their next catalyst.
5. Goldstrike
Production: 902,000 ounces
One of Barrick's biggest gold mines, Goldstrike, is located within Nevada's prolific Carlin trend. The property consists of the Betze-Post open-pit mine and the Meikle and Rodeo underground mines.
As of December 31 2014, Goldstrike held proven and probable reserves of 9.6 million ounces of gold.
6. Cortez
Production: 902,000 ounces
Another large mine owned by Barrick and located in Nevada, Cortez just about ties with Goldstrike in terms of production. Barrick is looking to expand operations at Cortez, and is planning to complete a feasibility study for underground mining below currently permitted levels in late 2015.
7. Olimpiada
Production: 726,000 ounces
Located in Russia, Olimpiada is an open-pit operation owned by United Kingdom-based Polyus Gold (LSE:POLG). Olimpiada began production in 1966, and is the company's largest gold operation. It holds proven and probable gold reserves of 30.01 million ounces.
8. Veladero
Production: 722,000 ounces
Veladero is located in the Frontera District of Argentina, and is yet another mine on the list owned by Barrick. The open-pit operation sits at elevations of 4,000 to 4,850 meters above sea level.
9. Boddington
Production: 696,000 ounces
Coming in at number nine, the Boddington gold-copper mine is one of the largest gold mines in Australia. It is owned by Newmont Mining, which bought out AngloGold Ashanti's (NYSE:AU) share of the project in 2009. Boddington began commercial production in 2009.
10. Kalgoorlie Super Pit
Production: 652,000 ounces
Rounding out the list of largest gold mines in the world is the Kalgoorlie Super Pit, also located in Australia. Kalgoorlie is jointly owned by Barrick and Newmont, with each holding a 50-percent interest in the project.
__________________________________________________________________________________
(Originally published July 17, 2013)
Gold is a rare commodity. Although estimates vary, recent data from Thomson Reuters GFMS suggests that there are only 171,300 tonnes of the precious metal in the world. Despite that fact, gold mines can be found in numerous countries.
Here's a look at the three largest gold mines in the world.
Grasberg mine
Operated by Arizona-based miner Freeport-McMoRan Copper & Gold (NYSE:FCX), the Grasberg mine is considered by most experts to be the biggest gold mine in the world. It is also one of the largest copper mines.
Grasberg is located in the province of Papua in Indonesia. Open-pit operations at the mine began in 1990 and the company expects that they will continue through 2016. As of December 31, 2012, the Grasberg open pit's recoverable proven and probable gold reserves sat at 6.5 million ounces.
The mine's targeted gold output for 2013 is 1.25 million ounces, but recent setbacks may cause it to only produce 80 percent of that estimate. A mine tunnel collapsed May 14, forcing Freeport to shut down operations, and production did not resume until July 9.
There are still expansion projects in progress in the Grasberg mineral district, including the development of large-scale, high-grade underground ore bodies, according to the company's 2012 annual report.
Yanacocha mine
Located in the Andes Mountains in Peru, the Yanacocha mine is the largest gold mine in Latin America. It opened in 1993 and contains three active pits. Since its inception, the mine has produced more than 26 million ounces of gold.
Yanacocha is owned and operated by Colorado-based gold producer Newmont Mining (NYSE:NEM,TSX:NMC). The company holds a 51.35-percent interest in the property and the rest is claimed by Compania de Minas Buenaventura (NYSE:BVN).
In 2012, Yanacocha produced 1.346 million ounces of gold. As of December 31, 2012, the asset had 3 million attributable ounces of gold reserves. It is part of a joint venture with Newmont's Conga Project in Peru. Together they are known as Minera Yanacocha.
The Yanacocha area has recently seen a number of protests from Peruvian residents who do not want the Conga project to proceed, as reported by The Peruvian Times. The opposition is due to the fact that the new mine will require Newmont to drain three lakes in the Cajamarca region.
Goldstrike mine
The Goldstrike mine is located on the Carlin Trend in Northeastern Nevada and is run by Barrick Gold (NYSE:ABX,TSX:ABX). Mining at Goldstrike began in 1987. The property is a compilation of the Betze-Post open-pit mine and the Meikle and Rodeo underground mines.
In 2012, it produced 1.17 million ounces of gold at a total cost of $541 per ounce. This year, Barrick expects to deliver between 0.87 and 0.94 million ounces of the precious metal at a total cost of $680 to $700 per ounce. As of December 31, 2012, Goldstrike's proven and probable gold reserves sat at 12.3 million ounces, according to Barrick's website.
At the end of June, the company announced that it will be downsizing its workforce by 55 people in Nevada and Utah because of lower gold prices, higher operating costs and a suffering stock price, The Associated Press reported.